All knowledgebase categories - Common Features & Settings - How do I enable Google API in the software?
How do I enable Google API in the software?
Using search engines API keys officially allows you to make automated queries without violating search engines' policies.
Google also lets you use its API for running searches. But starting from November 1, 2010 this search engine doesn't require getting an API key. To enable Google API in the software, please go to Preferences -> Search Engines API keys and check the Use Google API box.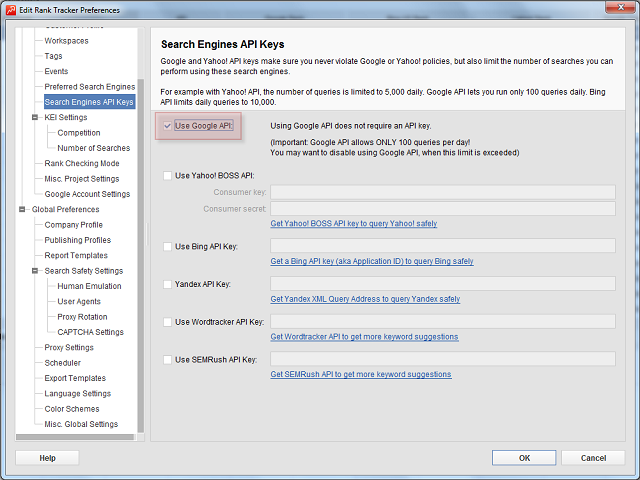 However, you should be aware of the fact that using Google API in our software may imply some issues:
the results Rank Tracker delivers with Google API enabled may differ from what you see in your browser. The reason for that is that with Google API on, you see results mainly for google.com. Hence, if you target a regional version (e.g. google.au, google.co.za, etc.) or have set local/regional search settings (like country/state/city), rankings can be several positions away from the ones you see in a browser.
Google API only allows up to 100 queries a day. If you go beyond that limit, you are at risk of being prompted to enter a CAPTCHA or even being temporarily blocked.
As a safer alternative (and more reliable for the regional versions of Google), we recommend using search safety mechanisms (such as short human emulation delays between queries).
---
Posted by: Dennis, Link-Assistant.Com Support
Created On: 19 December 2008 11:53 PM


This article was helpful
This article was not helpful
(1428 votes)