Link-Assistant.Com | Posted in category
Social Management Tools
Social Media
Surprise surprise!
BuzzBundle the social media management tool now supports Google+
As any seasoned social media manager knows, automating your work with Google+ is nearly impossible. And most software developers already quit trying to add Google+ to their list of supported networks.
Yes, we figure that too, but as you also know, Link-Assistant.Com team always tries harder.
Therefore - meet Google+ in BuzzBundle!
Here's what you can do now in Google+ with your perfect SMM software:
- Find posts that contain your keywords or URL
- Post replies right from the software (no need to go to G+ page)
- Schedule replies (comments) to be submitted at any time
If you already have BuzzBundle installed, just restart it to auto-update. If you don't have it yet, please go here for a download.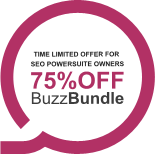 75%-off special for old users is good till Tomorrow
Right now, our old clients with an SEO PowerSuite license have a chance to get BuzzBundle for only 1/4 of its price. And sales are rolling indeed! 2104 sales got in overnight when BuzzBundle just launched, and then a few thousand more over last week.
No wonder: the tool's orders are covered with a 30-day money-back, it's working great, and it's a really important addition to any internet marketer's toolkit.
Jump here and get BuzzBundle at 75% off (1 day left!)
In the meantime, work at SEO PowerSuite is going at a great pace!
A huge amount of work was done for improving software core to work with latest Java 1.6 and 1.7 technology (this adds more stability to how SEO PowerSuite tools work). You'll see new features in scheduler and auto-recovery; new page quality factors (ex. Pinterest pins); more flexibility when choosing regions for rank checking; ability to edit ranks in reports and much more.
OK, and what's on the roadmap for BuzzBundle?
More new social networks, and more options in the networks which are already supported (Facebook likes, pages etc.). We'll be adding them fast, but why wait?

back to SEO blog