March 18th, 2014 | Link-Assistant.Com
Name:
Have you heard of "Broken link building"?
It's a highly effective and 100% legitimate link building tactic SEOs now use widely to build links after Penguin.
And you can start using it for your own site (with SEO PowerSuite and the easy 6-steps guide we've prepared today.)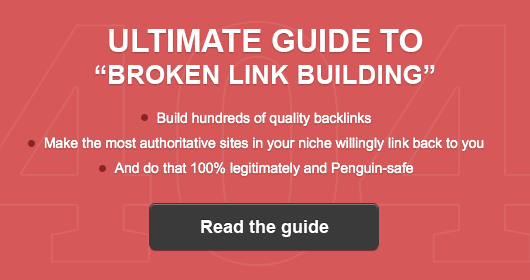 The concept behind broken link building is very simple. You just:
1) Find broken links on other niche-relevant sites
2) Contact webmasters and suggest your site as an alternative
3) Get your links placed instead of the broken ones.
Yet the little-known hack you'll learn today (and a few SEO PowerSuite non-standard use tips you haven't heard of) will help you make even more – and run "Broken link building" large-scale to get hundreds of backlinks with the least of efforts applied!
to easily build hundreds of quality links pointing to any site!