Step into 2013 with the most reliable SEM tools – SEO PowerSuite and BuzzBundle!
Wow, 2012 was a no-picnic year with all its Pandas, Penguins and EMDs pouring down on our heads… But it's the hardship that shows who's who!
Now that the year's passing and Christmas is round the corner, it's just the time for us to thank you. Thanks for staying with us, for your warm comments and support and for being the best users in the world!
Thanks for trusting your sites to SEO PowerSuite!

It seems that all the SEO shake-ups have only secured your confidence in our tools, with SEO PowerSuite paid users only growing over the hard times.
Getting lots of "Thanks, SEO PowerSuite's recovered my website from Google de-rank!", we sincerely hope that our tools have helped you too, letting you get over the Google's strokes with your rankings growing day by day!
Is your website ready for 2013?
2012 is almost behind us, but what's coming next? What on earth is Google going to throw at us in 2013 and is your website ready?
All through the year we've been improving SEO PowerSuite to make it the most flexible and reliable SEO solution, ready for any changes in the search world. And now, with all the feature and usability updates implemented, it's for sure - as long as you're doing SEO with SEO PowerSuite, you're ready for anything coming in 2013.
Here's a brief recap of what's been done in 2012:
1. Over 130 top-useful feature updates
Your SEO PowerSuite follows all SEO trends to let you catch up with any change in search technology. All in all, over 130 big and small features have been added to SEO PowerSuite tools this year. Here's just a smallest part of them:
And over a hundred other things not available in other SEO tools.
2. Non-stop performance and usability improvements
New modern and top-convenient interface, impressive both in its visual impact and improved features usability
7 huge performance upswings, speeding SEO PowerSuite up 20 to 100%
5 eye candy color schemes, making your SEO software reflect your own taste and style
3. The quickest algo updates for the biggest number of search engines
There have been 1843 updates of Search Engine algorithms. And 23 new search engines (and regions) were added to the tools, keeping your software in line with any smallest change in search engines' mood.
4. All kinds of guides and training materials on the most topical SEO issues
5. The long awaited, whole-new social media management tool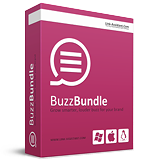 Well, over this difficult SEO year, SEO PowerSuite has proved the industry's most reliable SEO solution. And we just wanted to give you something as reliable, convenient, effective and up-to-date for your social media management as well.

Now being just a small part of what it's going to be in a couple of months, BuzzBundle already brings social media management to a completely new level. And we're glad to see the number of its users growing exponentially.

Ok, what's planned for SEO PowerSuite and BuzzBundle in 2013?
All that being said, what's planned for SEO PowerSuite and BuzzBundle in the coming year? The answer is – whatever YOU need to succeed.
Surely, the just-out BuzzBundle tool will be growing its functionality on and on, giving you Facebook Pages support, more social sources (LinkedIn, YouTube and more) and professional reports on your social media campaign.
SEO PowerSuite is to provide you with more ranking data and more specific ways to analyze it, giving more prominence to mobile SEO and adding a number of crucial features to assist you in it.
More to that, while SEO data is growing expensive and harder to get now (which makes many SEO tools costly or poorer in functionality), SEO PowerSuite will continue developing its in-house data sources (the backlink crawler in SEO SpyGlass, that lets you find up to 200K backlinks per site, plus the planned-to-be ranking crawler and keyword analysis tool). This way SEO PowerSuite will keep on being the most data-rich yet the most affordable SEO solution in 2013.
And surely, just as usual, we'll be following the latest trends and any fluctuations in SEO technology to ensure you run SEO and SMM with the most reliable and up-to-date toold.
---
Ok, it seems now you can dive into Christmas hustle confident that with SEO PowerSuite and BuzzBundle your biz enters 2013 to thrive and prosper.
And if for some reason, you've missed the chance to get your own SEO PowerSuite and BuzzBundle copy before… Here's the Christmas surprise we've got for you!
Huge Christmas sale starts tomorrow!
Wonders happen on Christmas!
For 3 days only, you'll have a chance to get the SEO PowerSuite and BuzzBundle with crazy discounts up to 60%!
Are we stupid to give away the industry-leading SEO toolkit at such a funny price? Maybe.
But we just want to make every SEO happier at Christmas time.