Expert Advice on How to Get New SEO Clients & Hot Leads
Proven strategies and tips on how to get SEO clients
From an industry expert Aires Loutsaris
Where do you find new clients in need of SEO, how do you pitch your SEO services to them and how do you track down clients more effectively? Today we turned to one of the best in the field for the answer: Aires Loutsaris, a leading SEO consultant from the UK (and a loyal SEO PowerSuite user).
Whether you've just decided to make some cash as an SEO consultant and are looking for your very first SEO client, or want to expand the SEO business you've been running for quite some time… First and foremost, you are in for some deep strategic planning as to where to find your prospects and how to turn the SEO leads into paying local SEO clients.
For SEO agencies and consultants that rank high on Google for related key phrases, the easiest way to convert clients is of course through inbound leads.
However, for those who don't rank for much or at all (oh the irony), there are not too many options left. Many SEO companies turn to paid advertising — and while it usually works if you want to gain some traffic, exposure and clients in the short term, this should never be used as a long-term strategy in my opinion.
---
"With paid advertising, the amount of capital required to bring in an SEO customer is too high, especially when you're able to reel in the same customer for free"
---
An alternative to paid ads is a strategy I'm going to dwell on — it's a little more time-consuming than just getting an ad posted, but way more effective (and completely free). This strategy has been working extremely well for me throughout my entire career in SEO.
Connect with your target audience
If your customers can't find you (through organic search or your advertising), the only option left for you is to go after them yourself.
This is where most of my efforts have been invested in these past few years and where I have been able to convert the biggest clients I have ever worked with.
Your strategy here would be to:
Establish the criteria for the search of new clients;
Find people who are looking for SEO services;
Reach out offering your help and expertise.
Before you start looking for new clients:
Build a list of your target keywords
You know you're searching for people seeking SEO help or looking for an SEO agency; but they will not always express their needs so explicitly. Your client prospects may be asking more specific questions that have to do with particular aspects of SEO — think recent Google updates or manual penalties. Before you start your search for clients, it's a good idea to sit down and make up a comprehensive list of keywords you'll use in your outreach campaign, both generic SEO-related terms and more specific key phrases — preferably related to aspects of SEO you specialize in. Here's an example of what your list may look like:
choosing an SEO agency
best SEO companies
recommend an SEO agency
how much do SEO services cost
recovering from Penguin
how to build quality links
getting rid of bad backlinks
Google manual penalty
Where to find clients for SEO agencies:
Here are the places to look for potential clients
Your potential new clients in need of search engine optimization help usually have similar questions, and they usually post these questions on similar websites:
1. SEO and business-related websites
How to find SEO clients? —LinkedIn Pulse posts, LinkedIn Groups, YouTube channels, SearchEngineJournal, SearchEngineLand, MOZ, SEOChat, DigitalPoint Forums, eConsultancy, UKBusinessForums and other SEO forums, etc — all these websites can be a perfect place to find potential SEO clients.
The strategy here is that you want to roam these websites looking for comments or posts regarding personal SEO ability or digital marketing experiences.
In order to quickly sieve through pages of these websites, use simple search commands on Google such as:
site:example.com your keyword
site:example.com "your keyword"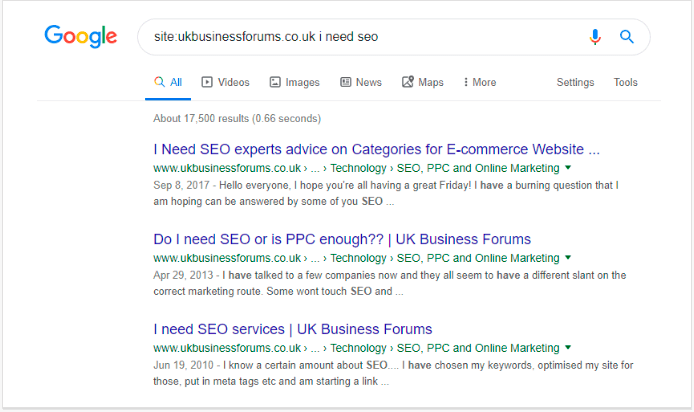 Tip:
Getting too many results?
If you're overwhelmed with the number of results you get for your queries, you can narrow it down to make sure you're only participating in the latest discussions and answering questions that were posted not long ago. To do that, hit Google Search Tools on a Google results page, click 'Any time', and select the date range you'd like to receive results for.
2. Yahoo Answers, Quora, and Google Product Forums
Countless amounts of site owners or SEO managers have either complained about a recent Google penalty that they have received or have asked for advice on the issue.
---
"Relationships gained from Yahoo Answers and Google Product Forums are responsible for around 90% of my client base."
---
Yahoo Answers and Quora are two great little hangouts for experts on any subject one can imagine, including all SEO-related topics. Simply run your site:answers.yahoo.com and site:quora.com searches on Google.
You'll probably be surprised how many questions don't have an answer yet. So get writing and attract SEO clients by building up your online reputation in the relevant niche!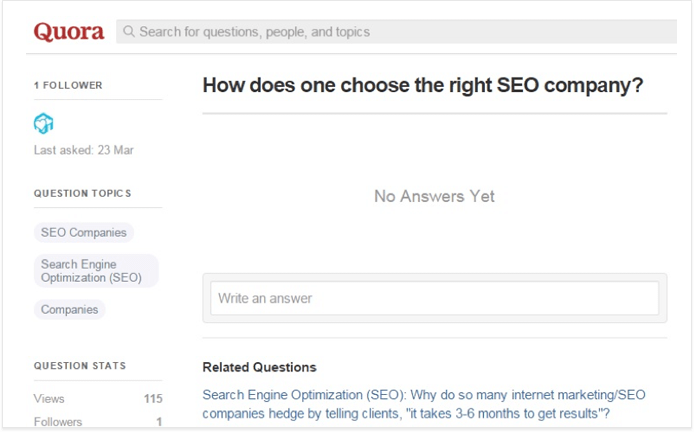 Google Product Forums is the place you go to ask for advice or share your expertise on a plethora of topics. Webmasters and business owners frequently share their SEO-related problems on the forums — a perfect spot for you to step in and offer advice.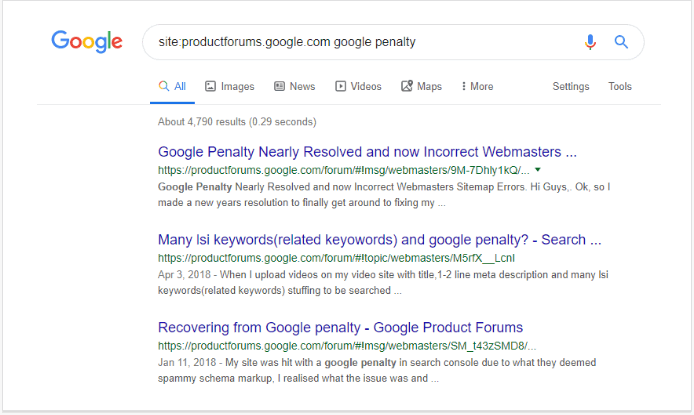 Tip:
Out of keyword ideas?
Don't worry if you've run out of keyword ideas to use for your prospect searches on Google. Browse through Google Product Forums' Webmaster section — you'll be surprised to find that no less than half of the posts have to do with SEO.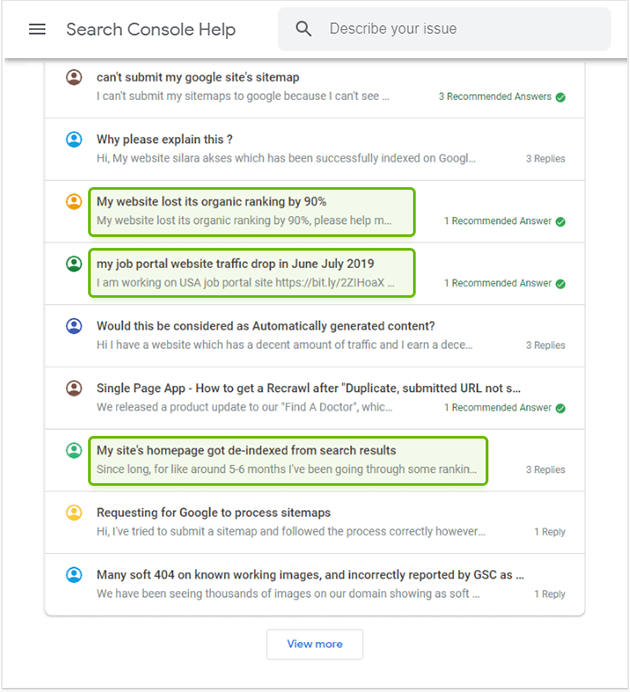 After you run the search, you should end up with a list of dozens of prospects you could potentially reach out and pitch SEO services to. But first, you need to categorize your prospects and build the right outreach strategy for pitching each group.
Who is your potential client:
Identify your market and segment your audience
Your ideal strategy will depend a lot on whether you're pitching your services to Big Brands or SMEs (small to medium enterprises). So before you get down to the outreach, you have to segment your prospects and refine your list to make sure you're reaching out to the right people in the right way.
If you are trying to connect with Big Brands, then the person who you have to communicate with will usually have a title that reads: Digital Marketing Director, SEO Manager, Head of SEO, Marketing Director, Marketing Manager, Digital Marketing Manager, etc.
If you are trying to connect with SMEs, the potential client will usually have the title that reads: Founder, Co-Founder, CEO, Business Owner, Co-owner, Managing Director, etc.
How to get SEO clients from prospects:
Pitch your services the right way!
Use the right tone with each group.
Your 'tone of voice' when dealing with each of the Big Brands and SMEs will be completely different. To acquire clients from Big Brand individuals, you will have to consistently be chasing and be insistent on arranging a chat or get together during work hours (9 to 5). Remember most of these marketing or SEO managers are not that keen to make a deal, especially since their participation on these forums might be outside of office hours or for personal gain rather than for the companies they represent.
Getting new clients among SME individuals is by far easier. Any time and any place to connect is ideal, you simply offer your two cents of advice and let them chase you.
Don't hard-sell to new clients, build trust instead.
When reaching out, you don't want to go in for the hard sell straight away. Offer your customized advice, guidance or tips on each case and go as far as to offer an hour of video consultancy or a face-to-face sit down. The trust and bond you will form will soon transform free advice into a paid business deal.
The first client I ever signed was an owner of a building company that was asking on a forum how hard it would be to rank for a certain keyword in the local area. So I did roughly one minute of keyword research and found out that this certain keyword only received 30 searches a month. I let him know and suggested a set of alternative key phrases that received much higher search volumes. Within a couple hours he had messaged me through the forum and through LinkedIn. He signed a contract later that afternoon and he remains one of my clients to this day.
Don't hackwork, be reliable.
Write such compelling arguments and justifications to back your answer up that your fingers are sore from typing and your brain is tired from thinking. The work you're doing now will give you a good return in client generation — many of your answers will get to rank high in Google (especially the ones from Quora) and you'll therefore get more SEO clients.
Allow those who want to have a consultancy right now to receive it.
You won't be surprised if I tell you that besides long-term clients, there's a big audience of people that want to receive a quick consultancy. Quite often, these are business owners who have a few questions they need to ask an expert, and then, based on your answers, to make a decision and move forward.
There are plenty of consultants who are spending their time answering those questions free of charge, but why not suggest to those clients that they pay you for your advice via a paid chat solution? That way, you'll be paid for your time, and your clients will value your expertise.
There are plenty of ways to organize this sort of consultation. For example, you might allow them to schedule a chat with you once they have paid for a brief session. Or, you might give them access to a chat service that charges them based on the number of minutes they're going to spend with you.
Give them more than they're asking for.
There is a little trick that I shouldn't be really giving away but here goes. Don't wait for an opportunity, but create it. When replying to a prospect's question, provide a free site audit report (don't just offer one — give it to them right away, without asking).
In what way does a free audit help you win the client over exactly? First, it lets you better understand the prospect's problem — and how serious it is. Second, chances are you'll find that there are more issues on their site than they are aware of. Informing them about those problems (and backing it up by a white-label audit report), and letting them know of the possible consequences could be perfect grounds for pitching your services.
---
"When helping a prospect regarding their site's SEO issues, I have seen conversions double by simply running their site through SEO PowerSuite's WebSite Auditor"
---
SEO PowerSuite's WebSite Auditor is especially handy for that. I find this tool very useful to analyze potential targets and help with my outreach efforts as it covers the widest range of SEO factors I've seen in an SEO app. WebSite Auditor doesn't have a limit on the number of audits you can run — so you can literally do as many audits for prospects as you want, and it doesn't cost you anything.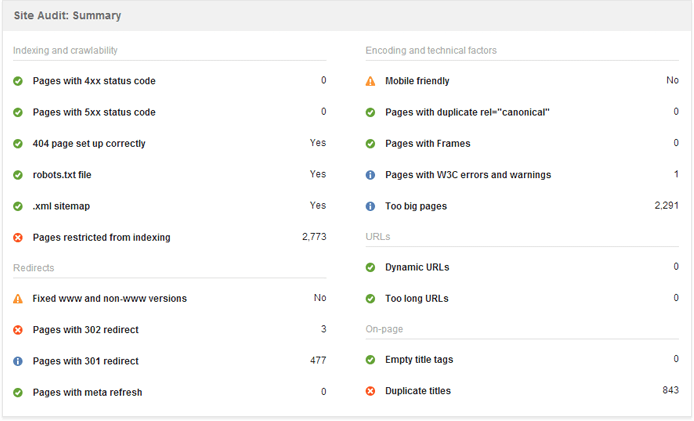 I came across a prospect on Quora who was looking for legit and quick ways to build links. I ran a quick WebSite Auditor scan and discovered the client hadn't even thought of on-site SEO — their meta descriptions and titles were too long, duplicated, or empty. Hardly any of their target keywords were to be found in the meta tags, H1s or H2s. The site was also mobile-unfriendly and full of errors like poor redirects. So I put together an extensive reply in terms of link building, but also mentioned that even with the best backlinks, they had very few chances of ranking well in Google in their competitive niche (beauty and fashion). I attached a report where they could see all the errors and issues their website had. They got back to me within an hour — I didn't even have to pitch my services to them. The simple audit report did the job.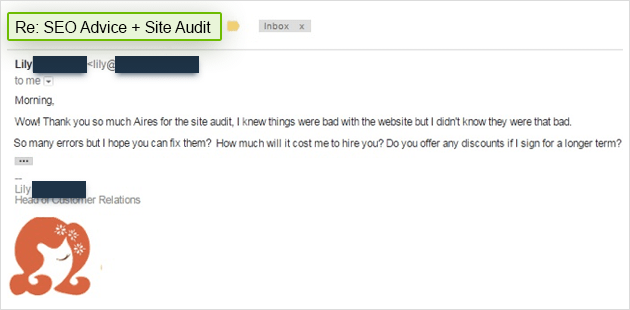 In a nutshell, the above is my client acquisition plan that I have used successfully to develop my own client base. Nothing too out of the ordinary, but certain procedures do need to be followed. If you do take away a few conclusions from this whole article, I would like it to be the following: Hang out in the right places, such as companies looking for SEO. Hang out with the right crowd. Don't sell first — offer help and the sale will complete itself. And make friends in the industry — referring clients to friends and experts they trust is incredibly common among SEO consultants.
Easy-to-use SEO Proposal Template PDF
How to win new SEO clients in 2020? Here's the template for you to use to pitch your SEO services to a client (it's free!)
Think strategically
Here are a few more ideas on how to generate SEO leads and turn them into new clients. While you've been up to your ears fishing for wild fish in the big lake, don't miss an opportunity to develop your brand naturally and make your clients find you by themselves.
1. Present your business clearly.
Create a good landing page for your services with an explicit call-to-action. It is important to have the ready-made kit for all occasions. Be ready to offer different types of services and different payment schemes. While some business owners want just to audit their site and find out what it costs them to increase their online visibility, others may want a full-pack promotion, including content marketing for social media, link-building outreach etc. So make sure they can get such information in no time. It's a good idea to make a short video explaining what you do in SEO and post it on YouTube.
2. Don't look for niche experts, become one.
Start a blog telling some important developments in your local niche regularly. Certainly, your information has to be up-to-date and add value to users. Mind your competitors: probably, you've entered a highly competitive niche, so a little bit of competitor research will help you find not only keywords for rankings, but also new business ideas.
3. Connect with Twitter, Facebook and LinkedIn.
You will need to use social media later to expand your business and generate ad revenue. However, at an early start, mind there are plenty of free opportunities to build up your audience and get new SEO clients via social media. Create a clear business profile and lead to your blog rather than to a sales page. You've got to raise curiosity in what you do, make people involved. Share your every new post with hashtags and mentions of your local SEO clients, if applicable. And of course, you need to respond to comments and keep the discussion going.
4. Post use cases.
Create a good portfolio with information about your services. Nothing is as persuasive as a good real-life example. With your business growing, you will certainly have a few good stories to showcase.
5. Entertain your audience.
People love entertainment, so you can take an approach to tell serious things by entertaining them. One form is a survey or an opinion poll about fresh updates. People love learning news from their peers. Another method is to create some regular news posts: review top rankings in the local area or a relevant niche, or introduce online upstarts of the month.
6. Local networking.
Beside that you place your contacts into the local business directory and make your company visible on Google Maps, you can generate additional value by creating a few more local buzz, and not only online. Deal out business cards, send "recommend us to a friend and get a discount" offering. And don't forget to invite your new clients to review or rate your services in the local business listings.
7. SEO outreach
If you decided to switch to general outreach methods and send cold emails, you should keep in mind a few things about effective SEO outreach. First, pay attention to the quality of your prospects and send your emails only to relevant addressees. Don't send a direct sales pitch, but rather investigate if the prospect is interested in your services, ask a question or offer an activity. It's important to send follow-ups. Probably, your prospect is too busy to respond to the first email, you know. If interested, your potential client is only a few emails away from getting into a real one.
Wish you good clients and enjoy your SEO!