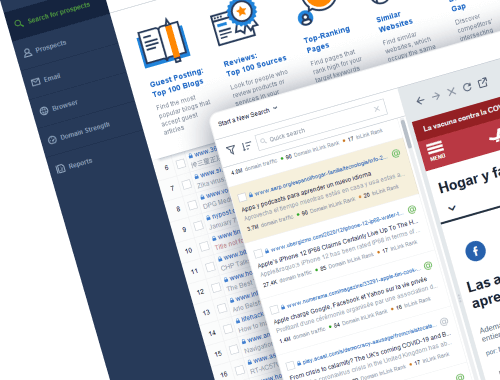 Are You Using LinkAssistant for Link Building?
Join our testing team and help us make the tool better!
Link building is tough, and I bet many SEOs would give anything for a decent tool to automate it. But building the tool is also tough:)
After launching a new link prospecting module in LinkAssistant last December, we've received a ton of user feedback. So we took the time to tweak the tool before showing it to you again.
And we'd REALLY appreciate it if you could take a moment to give the tool a try (sure, free access to all the features is on us) and help us figure out:
What you like and dislike about the tool
What other features you'd like added
What your ideal link building tool would look like (maybe you even have some examples in mind)
You can grab your free 2-week access to the tool on this page:
https://www.link-assistant.com/linkassistant/link-prospecting-tool.html
And don't forget to look through this article to get a better idea of how we intended for the module to be used. So that you're even better prepared to criticize what it turned out to be:)
Smart prospecting & more convenient management
The basic concept for rebuilding the tool was simple: what you need is better data and a seamless way to work with it. So the whole revamp thing focused on two aspects - smarter ways to look for link prospects and a streamlined workflow to manage them.
1. Backlink gap (or pages that link to several of your competitors but don't yet link to you)
This one is the most effective but the least known SEO shortcut to finding link prospects.
The websites, who link to just one of your competitors might be quite random. But those who link to several of your competitors are pretty sure to be relevant.
So here's what LinkAssistant does to find link opportunities for you:
Identifies the keywords your website ranks for
Figures out your top SEO competitors (websites ranking for a similar set of keywords)
Checks their backlinks
Compares their backlinks to yours to see if there are any pages linking to your competitors, but not yet linking to you.
You can access the data via the default method right here: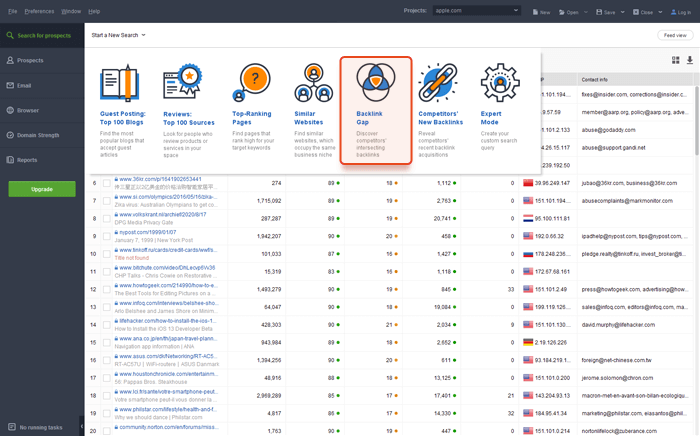 If you already have a list of competitors, simply enter them yourself. Or let the tool auto-suggest the list based on our keyword data:
And if you want even more flexibility, you can access the functionality via the Expert Mode. Just choose Expert Mode -> Advanced Backlink Analysis to able to tweak:
1) The intersection mode (say, if you don't need to find gaps, but want to collect backlinks for several websites at once, you can simply enter the list and switch the mode to Collect all backlinks)
2) The analyzed period (for instance, if you'd like to check for freshest backlinks only)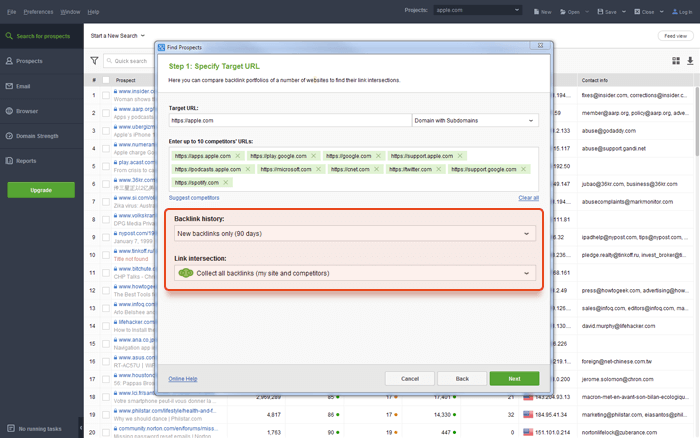 This method, Backlink Gap, is used automatically each time you create a new project. So that once you're in your dashboard for the first time, you already have it populated with your competitors' backlinks.

In the Note over here, you can see which competitor this backlinks points to: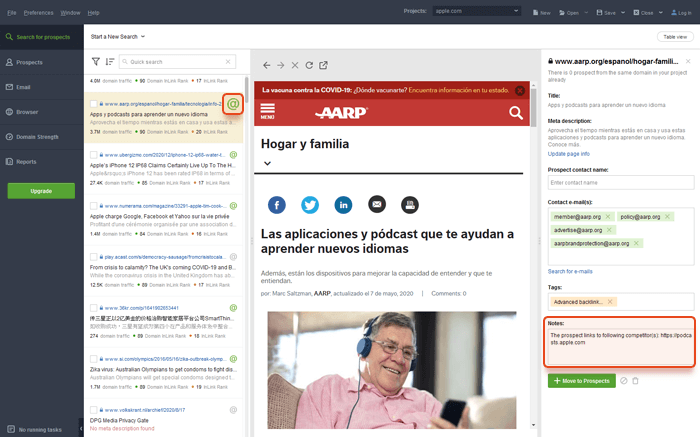 2. Top ranking pages (pages which currently rank best for a certain topic)
This is another super-quick way to find link opportunities relevant to any page or article on your website.
Say, you run a pet shop website, and you wrote an article about puppy training and an article about healthy pet nutrition on its blog. You can get a list of relevant and quality link prospects for each of the articles in a matter of seconds.
Simply enter a couple of keywords for the first topics: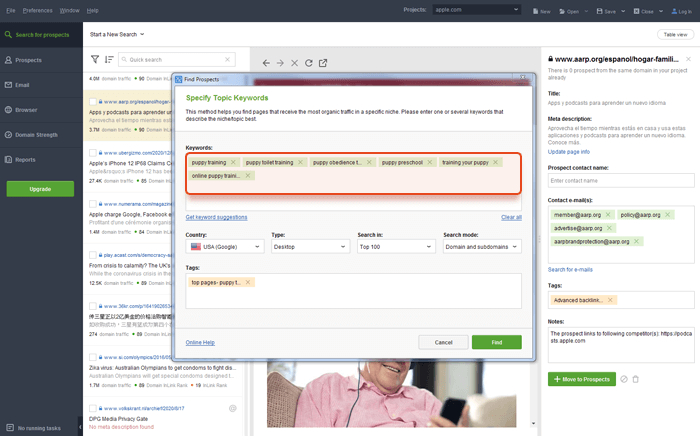 And a couple of keywords for the second one. I've also added custom tags for each of my searches so that I could easily filter my prospects by topic later on: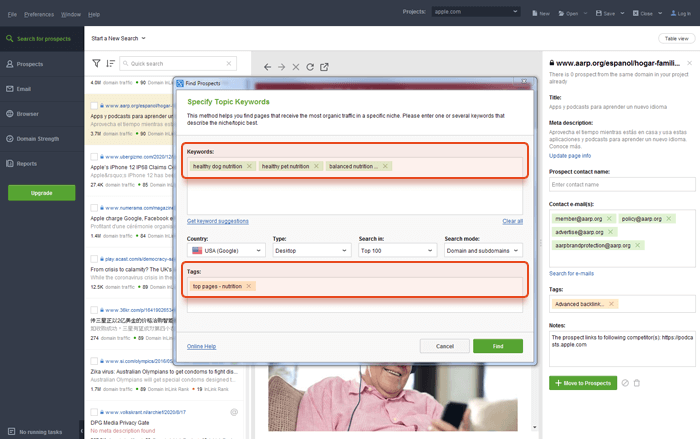 3. Similar websites (websites, ranking for the same keywords)
After you've used several search methods, you probably have a couple of dozens of perfect link prospects already. Can you get even more?
At this point, I put each of my prospects through the Similar Websites method.
What it does is it finds websites with a similar Google rankings profile (i.e. websites covering the same topics as the specified ones). It's a smart way to 10x your current prospect list, isn't it?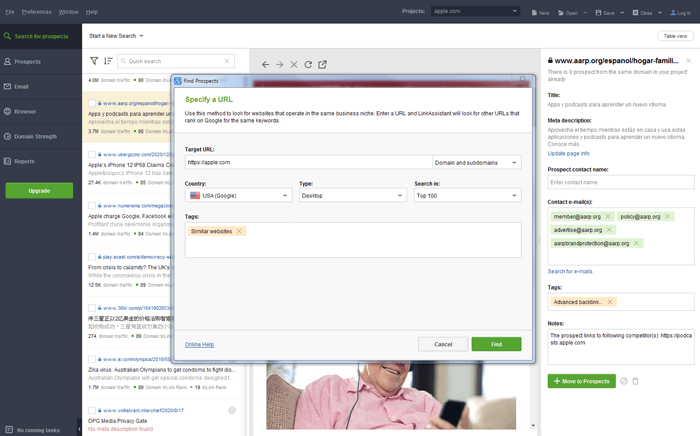 4. Advanced Google Searching (looking for various types of link prospects on Google)
For as long as I remember SEO, a go-to method to look for link opportunities was to google them. Google for blogs accepting guest posts, for local business directories, for websites reviewing similar products, and so on.
Before the update, this had been LinkAssistant's key functionality. And surely, it is still here.
The tool combines your topical keywords with all kinds of "marker" words (like "guest post", "guest author", and "write for us" for guest blogging websites) and finds many more prospects than you could have googled yourself.
You can choose one of the default methods to search for the top 100 blogs for guest posts and top 100 websites for reviews. But if you switch to Expert Mode -> Advanced Google Search, you will find many more options there.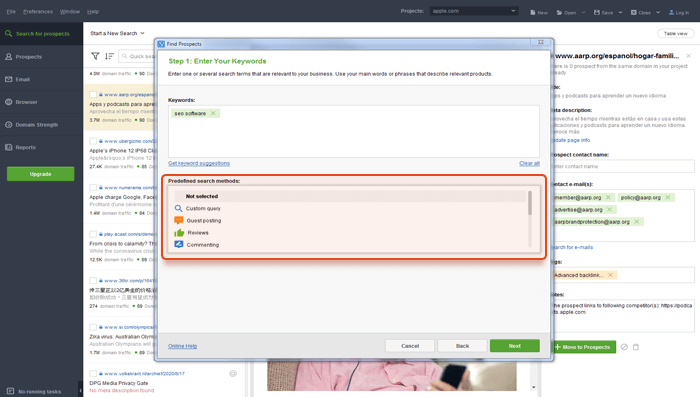 5. Streamlined workflow for prospect management
From my experience, when searching for link prospects, it is best to:
find as many options as possible
run a top-level analysis to get rid of the obviously lame options at once
carefully look through each of the remaining prospects (to check their relevance, quality, look-n-feel, etc.)
pick the best-matching options and put them aside for future outreach
So this was the workflow we tried to accommodate within the tool's interface.
First, all new prospects are added to your prospect feed (found under the Search for prospects module). To have a bird's view of the data and remove unwanted URLs, you can switch to the table view: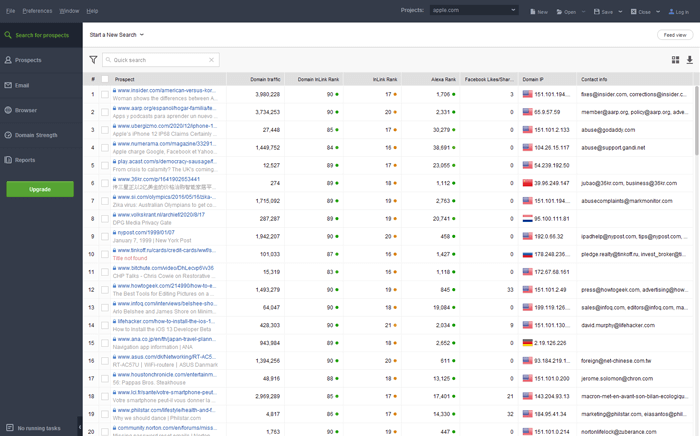 Back to the feed view, you can now look through each of the prospects in detail, even opening them immediately in the in-built browser: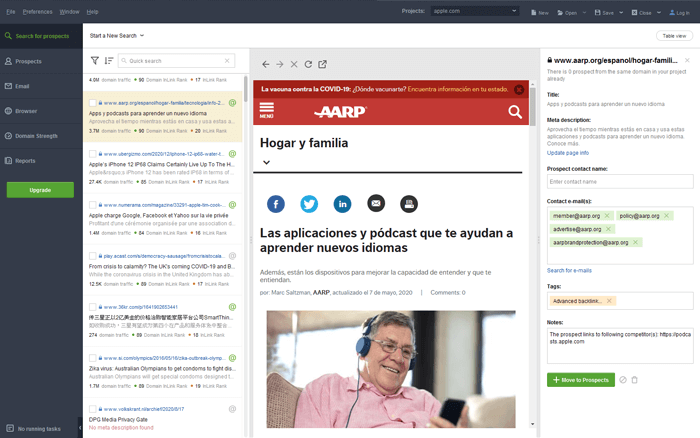 Now use the Move to Prospects button, so that the best prospects are moved to your "hand-picked" outreach list in the Prospects module.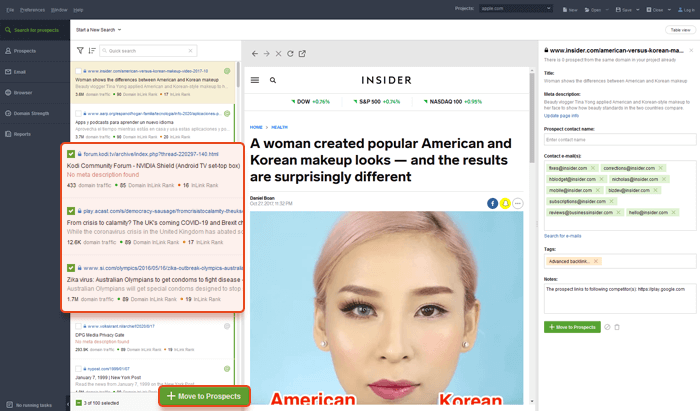 ---
Ok, this is about it:)
In this article, I'm not touching upon older LinkAssistant functionality, only the updated module. But please feel free to share your thoughts not only about the features I mentioned here but on everything you have in mind when it comes to link building.
Jump to our Trello board to share your thoughts and ideas: