All links to any site from the most up-to-date index.
Find all links to any domain with the Web's freshest backlink index, SEO PowerSuite Link Explorer, unique to SEO SpyGlass. To make sure your list of backlinks is unbeatably comprehensive, the tool also lets you pull links directly from Google Analytics and Google Search Console — an integration you won't find in any other backlink checker.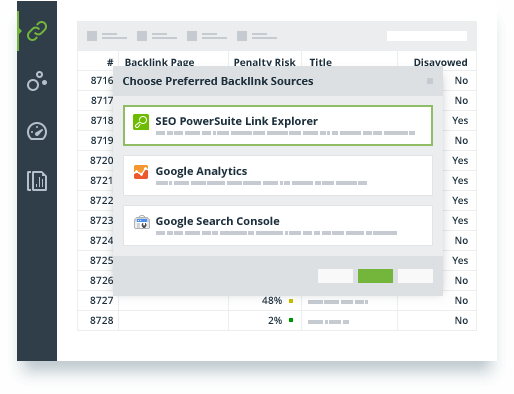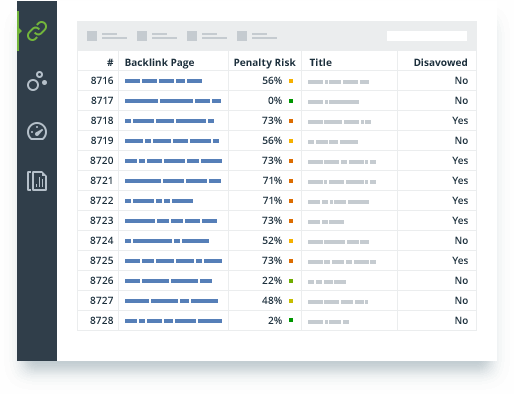 Anti-Penguin link audit & cleanup.
Don't miss a single link that can cause a Google penalty. Quickly identify spammy and harmful links with SEO SpyGlass' Penalty Risk metric, calculated based on the same factors Google is known to use in algorithmic and manual penalties.
Detected a threat? Neutralize it in a few clicks using the built-in disavow file generator, without having to bother about the tricky syntax of Google disavow files.
Powerful analytics.
The Summary module will give you comprehensive analytics on all links to any site — yup, even if it's millions. Looking to dig deeper into these stats? Go to Backlinks for details on every link, Linking Domains for an in-depth analysis of each referring domain, and Anchors & Pages for stats on anchor text and linked-to URLs.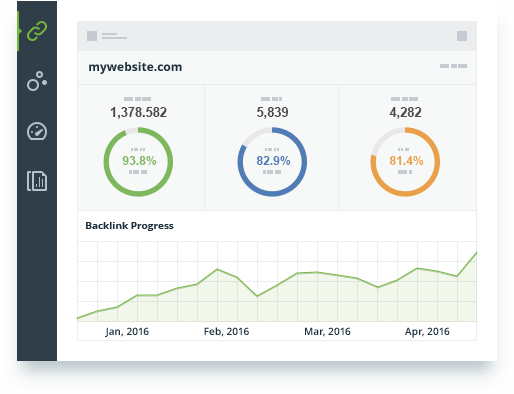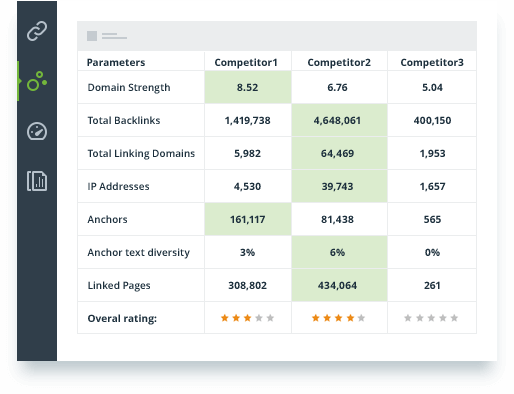 Competitors' links, revealed.
Discover your competitors' backlinks, get stats on their link profiles, and compare every detail of your rivals' strategies to your own. Find out their strengths and weaknesses, look up where their links intersect, and use these insights to build high quality links for your own site.
Real-time link checks.
If some of your links get taken down or switched to nofollow, link databases (and most backlink checkers) won't know about it right away. That's why SEO SpyGlass checks every backlink's status upon your request, in real time — so you can be sure you're always analyzing live links, and never make important decisions based on data that's incomplete or outdated.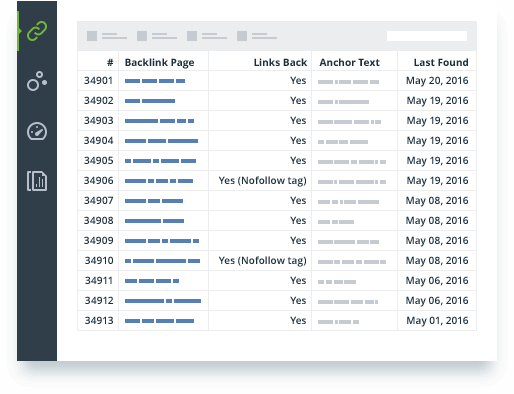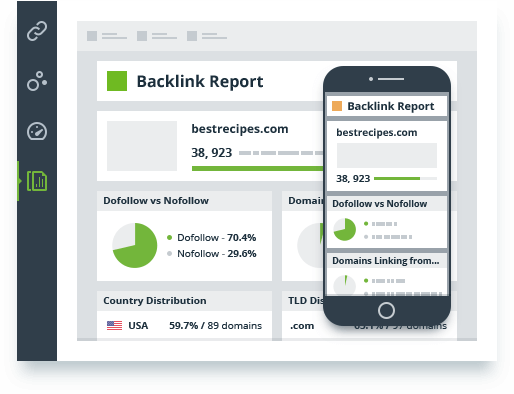 Custom backlink reports.
SEO SpyGlass' reports are customizable, white-label, and designed to look fab across devices. Easily share reports with clients by uploading them to the cloud and instantly getting a shareable link, or automate reporting completely by setting up a scheduled task. SEO SpyGlass will build reports on autopilot and deliver them to clients on your schedule, as a direct link or attachment, in a plain text or custom HTML email.
Why SEO SpyGlass?
No need to take our word for it. Here's what our users say.

This tool would be very helpful for those that need more than the basic backlink reports. SEO SpyGlass offers a substantial amount of information for a large number of links. All of the data can be saved and custom reports can be made. The amount of data is fantastic for backlink analysis and link building strategy planning.

Melissa Fach
Owner
SEO Aware

We purchased SEO SpyGlass just over a month ago, and were shocked to see how quickly we started experiencing results. The tool has enabled us to double our website traffic all simply from our executing SEO SpyGlass recommendations. We own the more expensive Enterprise version, and following SEO Spyglass' recommendations allowed us to pay for the cost of the license long before a month had even passed!

Jason Collier
Project Manager
CertFX

SEO Spyglass is a massive timesaver. The time I have saved with it is worth many times more than the cost of the software! SEO SpyGlass is a great tool for finding out more about how your competition build links. The way you can break down into anchor text, PageRank, Alexa Rank and more is very convenient.

Shashi Kapoor
Digital Marketing Consultant
The Marvellous Media Company
Try SEO SpyGlass for free.
No strings attached, no credit card required. Grab a free copy of SEO SpyGlass and take it for an unlimited test drive.