Support Center
Request support by submitting a new support ticket to Free Customer Support.
After you submit a ticket, one of our support professionals will get back with you shortly with answers or assistance.
Learning Center

Learn how to use SEO PowerSuite with our full video
training course!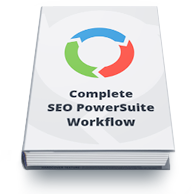 SEO PowerSuite Workflow is both a detailed SEO guide that takes you through all steps of an effective SEO campaign — and a most complete SEO PowerSuite user manual, as it tells you exactly how to implement these steps using the SEO PowerSuite tools.
This guide is also available for free download in PDF