How to re-check failed tasks in SEO PowerSuite?
If you get undone or failed tasks during your searches with SEO PowerSuite, you can re-check them without actually searching for them throughout your whole project. This became possible after introducing cache feature in SEO PowerSuite. The period cached results are stored in memory for is 23 hours from the previous check. You may enable/disable the feature or clear cache in Preferences -> Misc Global Settings. The results you previously got won't be affected or modified and will be re-checked during the next search. The feature is enabled by default in all of the tools of SEO PowerSuite.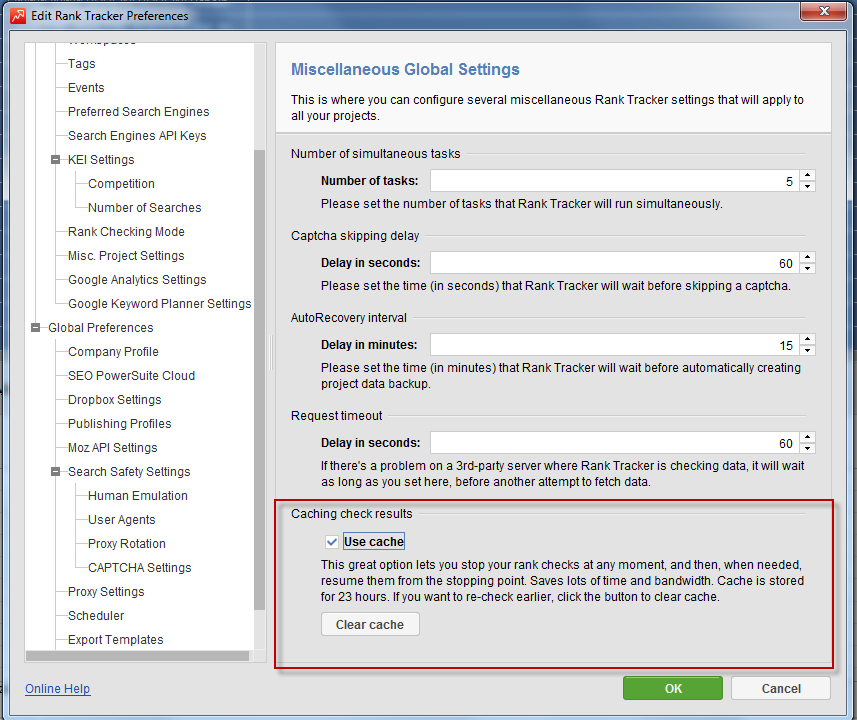 Rank Tracker
This incredible feature lets you re-check failed rank checks. Rank Tracker remembers the tasks which for this or that reason were not successful and will check them for you when you press the Check button next time within 23 hours from the previous check. Successful tasks won't be checked during this period.
SEO SpyGlass & LinkAssistant
Ranking factors of backlinks will be cashed in SEO SpyGlass if cache is switched on. If you press the Update button the program will not reset the already collected results. Just on the contrary it will add new results (backlinks factors) to the results that are already in your project.
Website Auditor
If you update your site pages' ranking factors with cache switched on – the program will check only the failed tasks/factors.
So you can re-run the following types of failed/incomplete tasks: ranking results in Rank Tracker, backlink ranking factors in SEO SpyGlass and LinkAssistant and page ranking factors in WebSite Auditor.
---
Posted by:
Created On: 22 February 2013 01:05 PM