What is Penalty Risk and how do I update it?
SEO SpyGlass' Penalty Risk feature will let you detect harmful links in your backlink profile and evaluate exactly how dangerous each of your backlinks can be for your website's SEO.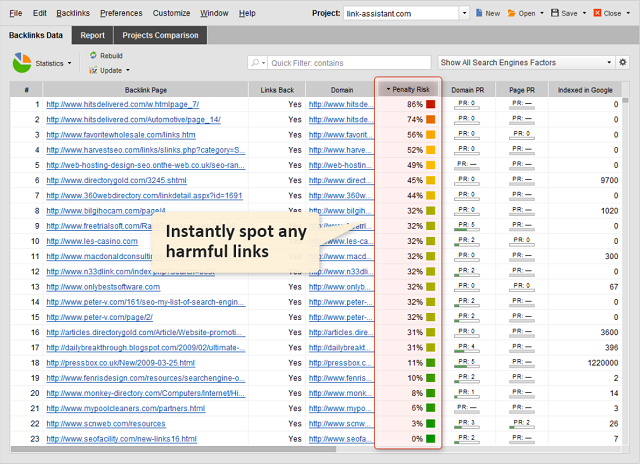 To calculate Penalty Risk, make sure you have the Penalty Risk column in your workspace. You may have to scroll right a little to be able to see it if you've got quite a few columns in there. If the Penalty Risk column isn't there, please add it manually by following the instructions from here.
Now that you have the Penalty Risk column in your workspace, you might need to update certain factors for Penalty Risk to be calculated. If you can see a percentage value right away, please skip the next step.
Updating Penalty Risk
If you are seeing 'Not yet calculated' in the Penalty Risk column for your backlinks, that means some of the factors that are necessary for Penalty Risk to be calculated have not been updated yet. To see what these factors are, please click the Info button in the Penalty Risk Column.

Now that you know which factors you need to update to calculate Penalty Risk, please select your backlinks and hit the Update button. You'll see a list of backlink factors – select the ones that you have just seen when you pressed the Info button. If some of the necessary factors are not on the list, just hit the Add more backlink factors button to select more. Hit Next to update the factors you selected.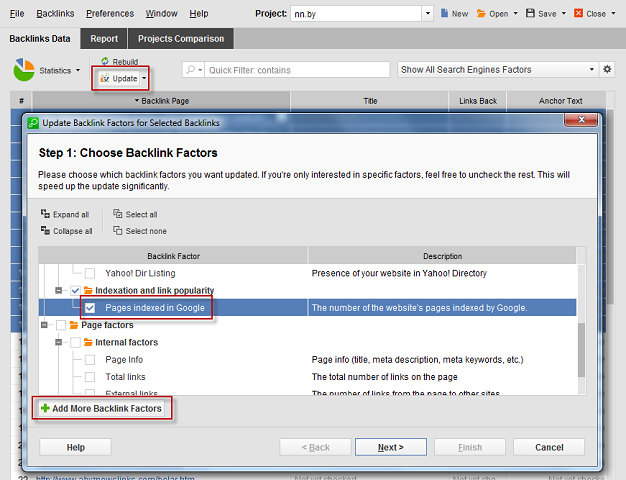 Now that your Penalty Risk column is populated with % values, you might like to sort your links by Penalty Risk (to do that, simply click the header of the Penalty Risk column). Links with a Penalty Risk value of 70 to 100% should be checked immediately – these are most likely to get your website penalized by Google. A 30 to 70% risk would mean the link is potentially harmful and it's recommended that you take a closer look at it. Links with a 0 to 30% Penalty Risk value are those with no or minimal penalty risk – these are safe to have in your link profile.
---
Posted by: Masha, Link-Assistant.Com Support
Created On: 10 April 2014 05:11 PM