How to avoid temporary blocks
Like any other SEO-software, when checking ranking positions of a website, Rank Tracker sends automated requests to search engines, which sometimes can make search engines temporarily block the IP address of your machine.
While this block does not do any harm to your website and you can resume working with search engines in about 1-2 hours, we introduced the special anti-CAPTCHA solution, so that you can work with no CAPTCHA interruptions and without getting your IP blocked.
Below is a brief guide on staying out of the CAPTCHA trouble with two editions of the software - free and paid.
Professional and Enterprise editions
With a paid edition of SEO PowerSuite (either Professional or Enterprise version), you are secured with the software's in-built anti-block for CAPTCHA. Although the feature is enabled by default, you may still check your project preferences to make sure it's on.
Under Preferences > Search Safety Settings, the anti-block gets activated once you've enabled the safe querying mode: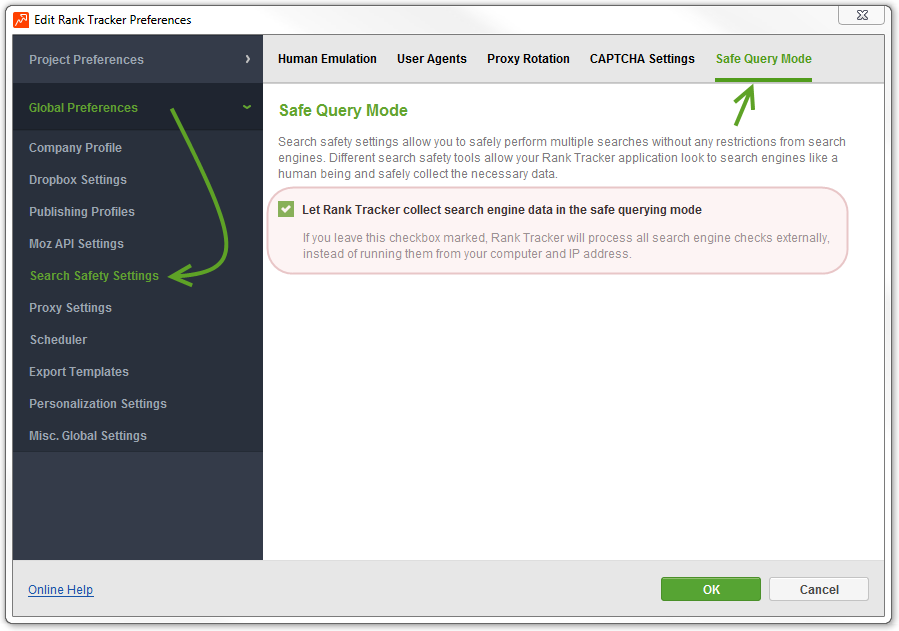 With the safe querying mode on, your queries are forwarded to our internal servers, which means your IP stays off the radar of Google, Bing, and Yahoo! during ranking checks. However, some queries involve advanced search operators and are therefore not covered by the anti-block. To see the full list of queries considered advanced, please refer to our detailed introduction of the safe querying mode.
Free edition
With the free edition of SEO PowerSuite, the anti-block solution is not available, but you can still prevent temporary IP blocks by applying additional measures before retrieving data from search engines.
1) Use proxies. Using proxies will hide your IP and let you check many more keywords. A set of 5 dedicated proxies will let you check up to 1000 keywords per day. You can add your proxies into Preferences > Search Safety Settings > Proxy Rotation section.
2) Use Anti-CAPTCHA. Before blocking your IP address, some search engines (Google in particular) may prompt you with CAPTCHAs to make sure that you are a human, not a robot. So, as long as you keep solving CAPTCHAs, you are able to continue the search.
The free version of Rank Tracker provides you with several possibilities to solve this: you may either enter CAPTCHAs manually or use an Anti-CAPTCHA key, and all CAPTCHAs will be resolved automatically for you.
If you prefer to solve CAPTCHAs by yourself, go to Preferences > Search Safety Settings > CAPTCHA Settings, and enable the two options to show CAPTCHA for all queries: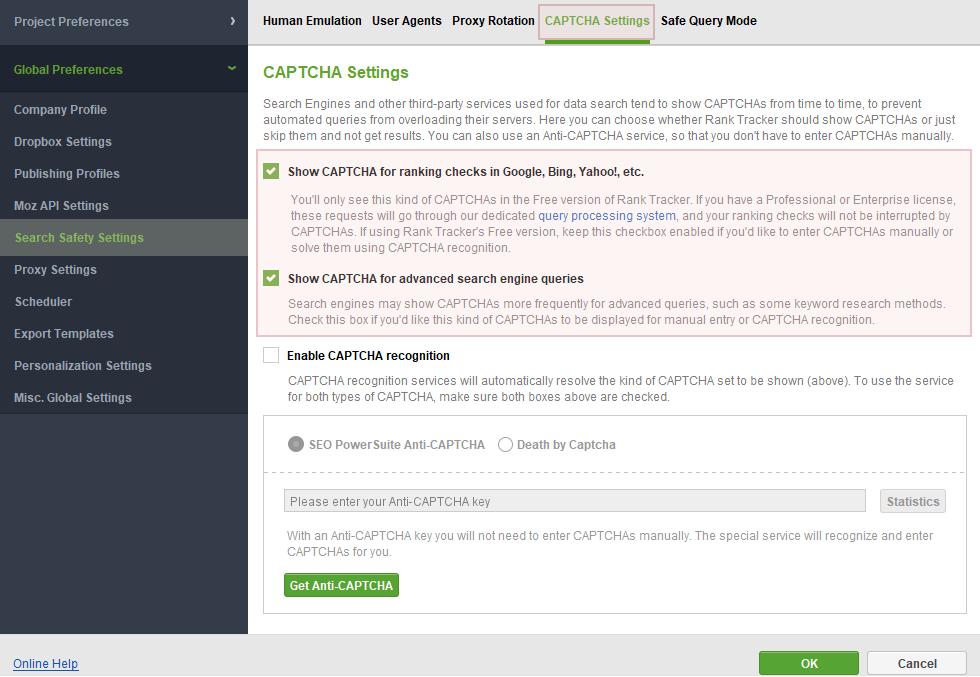 If you'd like CAPTCHAs to be solved automatically for you, you may purchase an Anti-CAPTCHA key and insert it into the same section: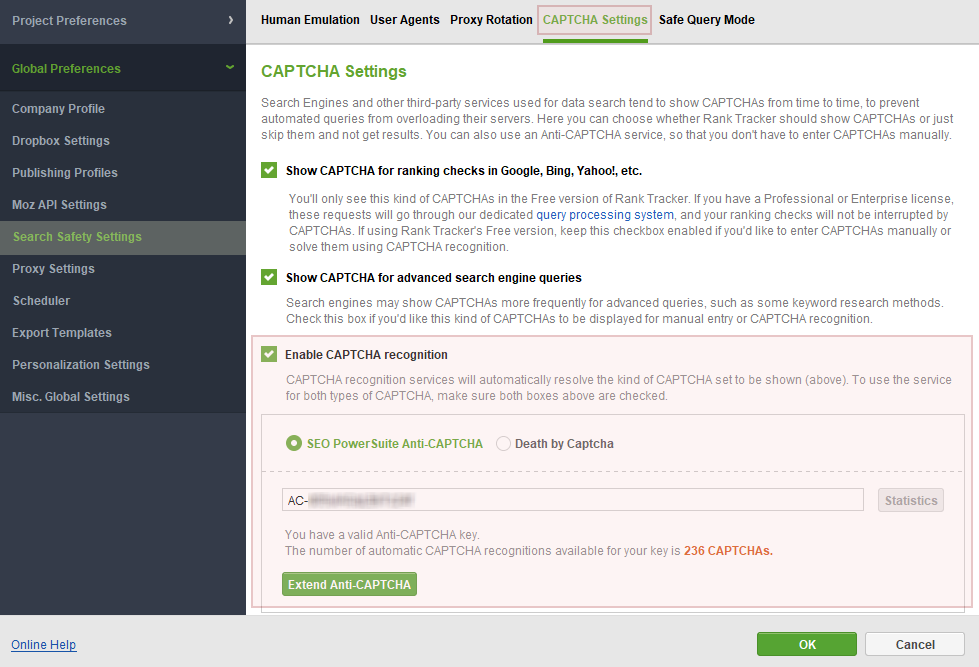 Please note that increasing the number of keywords and search engines makes the total number of requests increase as well, so at a certain point you may need to add more proxies to be able to remain undetected.
---
Posted by: Alexander, SEO PowerSuite
Created On: 04 June 2014 04:49 PM