How to avoid temporary blocks
Like any other SEO-software, when checking ranking positions for a website Rank Tracker sends automated requests to search engines, which sometimes can make search engines temporarily block the IP address of your machine.
This block does not do any harm to your website and in about 1-2 hours you can resume working with search engines again. However, following certain recommendations described below can help you avoid such issues and let you check your keywords without experiencing any problems with search engine blocks.
Small projects (up to 200 keywords)
For small projects it is preferable to use the following combinations of settings:
1) Go to the Human Emulation section and apply the following delays: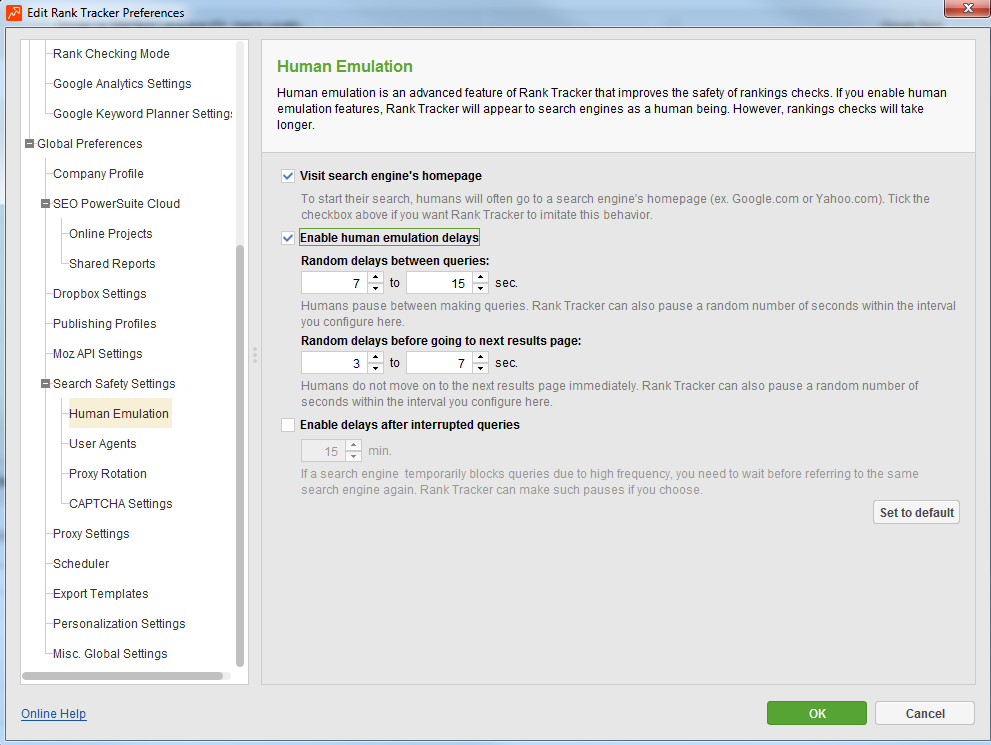 2) Visit the Misc. Global Settings section and set the number of simultaneous tasks to 1.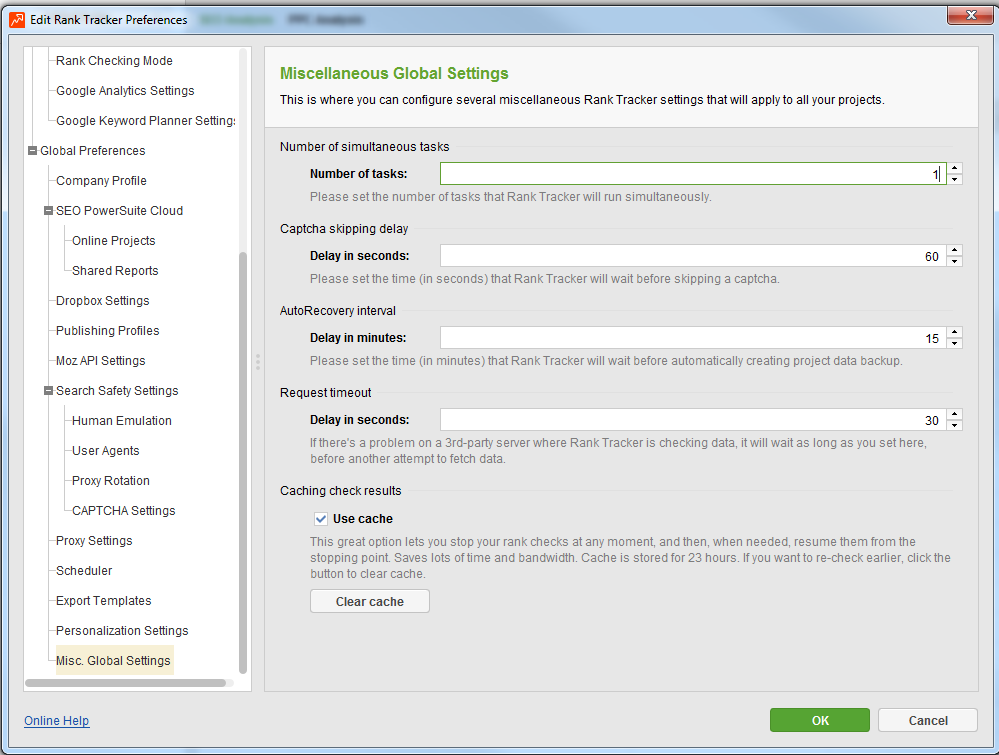 All other settings you may leave as suggested by default. Such set of preferences will let you check up to 200 keywords within 3-4 hours without problems with search engines.
Big projects (over 200 keywords)
Using big projects makes Rank Tracker send a lot of requests which at certain point inevitably leads to temporary blocks. That is why in such cases it is advisable to apply additional measures which will let you finish the task.
1) Use proxies. Using proxies will hide your IP and let you check many more keywords. A set of 5 dedicated proxies with the combination of settings described in the previous section will let you check up to 1000 keywords per day. You can add your proxies into Preferences – Search Safety Settings –Proxy Rotation section.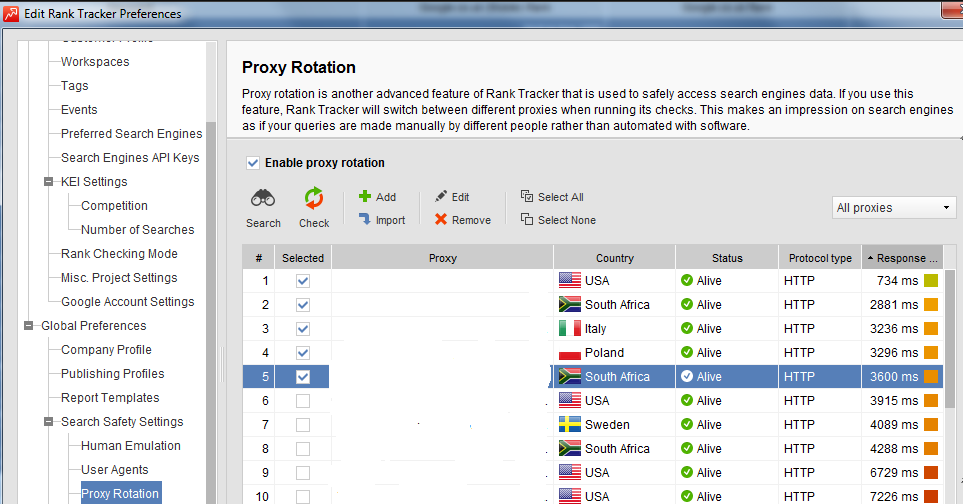 2) Use Anti-captcha. Before blocking your IP address some search engines (Google in particular) may prompt you with captchas to make sure that you are a human, not a robot. So, as long as you keep entering captchas you are able to continue the search.
Rank Tracker provides you with several possibilities to solve this: either to enter captchas manually yourself or to use the anti-captcha key, so that all captchas will be resolved automatically for you.
If you wish to solve captchas by yourself, go to Preferences – Search Safety Settings – Captcha Settings and enable the option to show captchas.
If you wish captchas to be solved automatically, you may purchase an anti-captcha key and add it to into the same section.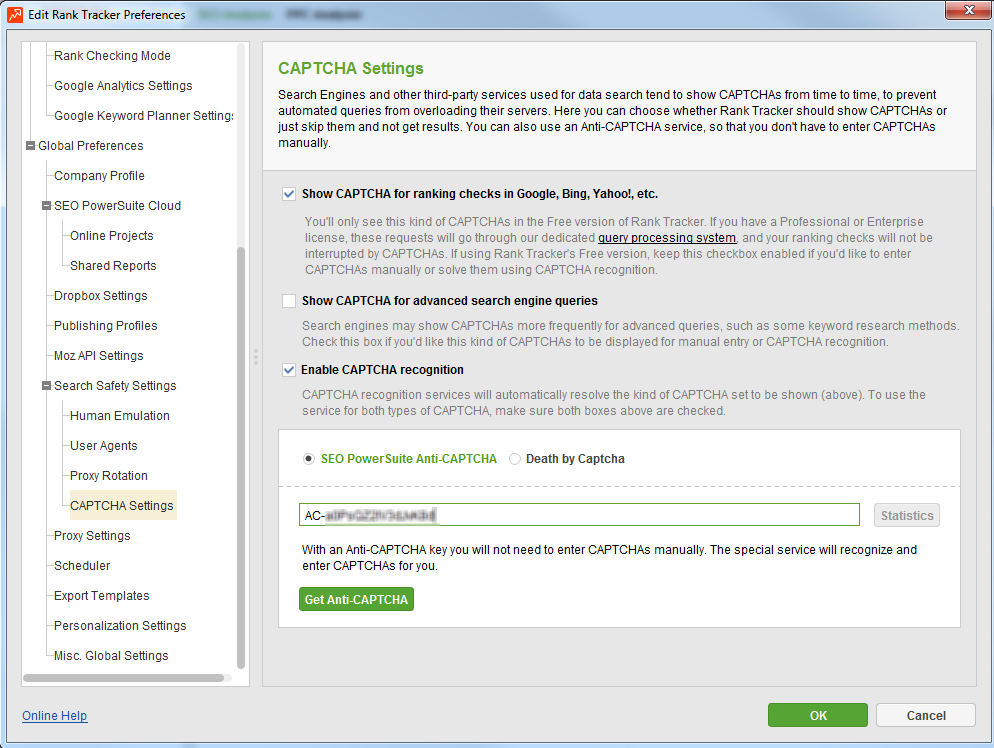 Please note that increasing the number of keywords and search engines makes the total number of requests increase as well, so at certain point you may need to add more proxies to be able to remain undetected.
---
Posted by: Alexander, SEO PowerSuite
Created On: 04 June 2014 04:49 PM