How to set up a publishing profile
SEO PowerSuite tools provide a convenient and fast way to automatically deliver reports to your clients by using different delivery methods: by e-mail, via FTP or simply saving reports to a shared folder on your local hard drive.
All this can be achieved with the help of the Publishing Profiles feature that lets you save your report delivery preferences in a single profile. So, you will no longer need to re-enter the same details every time you wish to send a report to your clients but just select to use one of your profiles.
To set up a publishing profile in any SEO PowerSuite application follow these steps:
First, you need to fill out your company profile. Go to Preferences > Company Profile section and enter your name/company name, e-mail, website, optionally specify the address and upload a logo.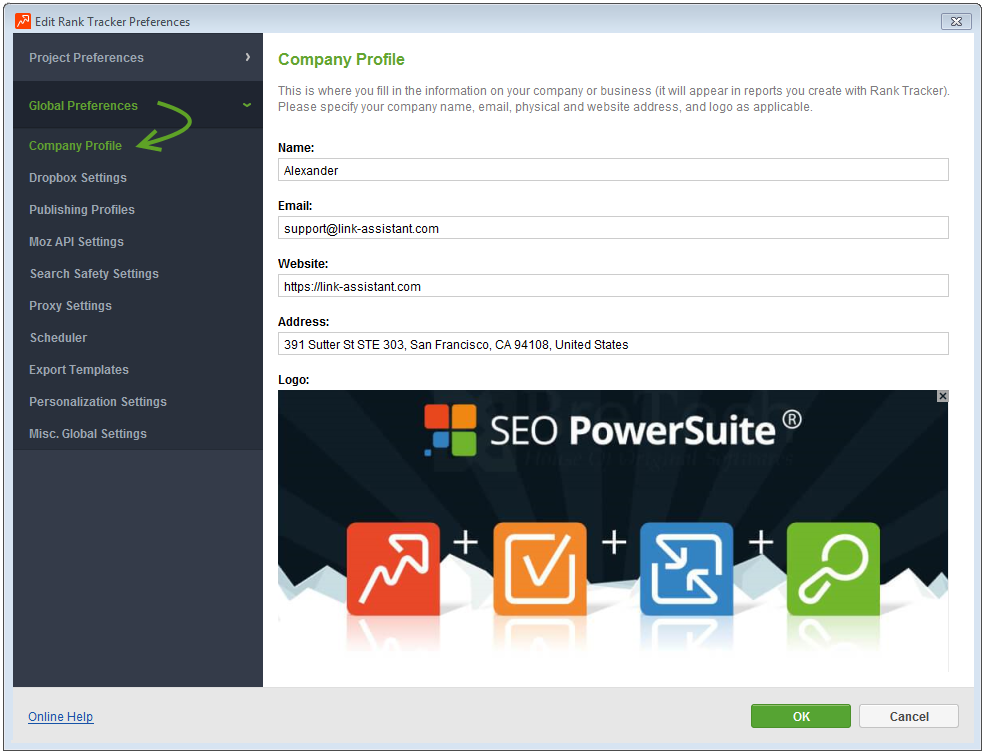 Next, go to the Publishing Profiles section and click Add Profile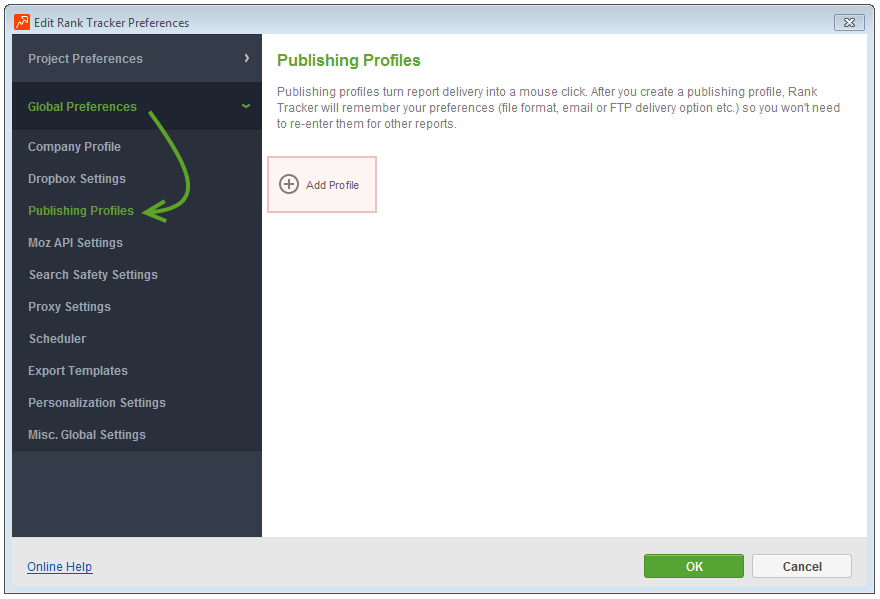 At Step 1 you will have to select one of 4 delivery methods:
Publish online and send the access URL via e-mail - the software will generate and publish your report online on SEO PowerSuite servers and then will send an e-mail to your client that will contain a white-label link to the published report.

E-mail as an attachment - your report will be delivered as an HTML or PDF document via e-mail.
Save to your hard drive - your report will be saved as an HTML or PDF document to your local hard drive.
Upload into a website via FTP - you will be able to connect your FTP account and save the report as HTML or PDF documents directly on your FTP server.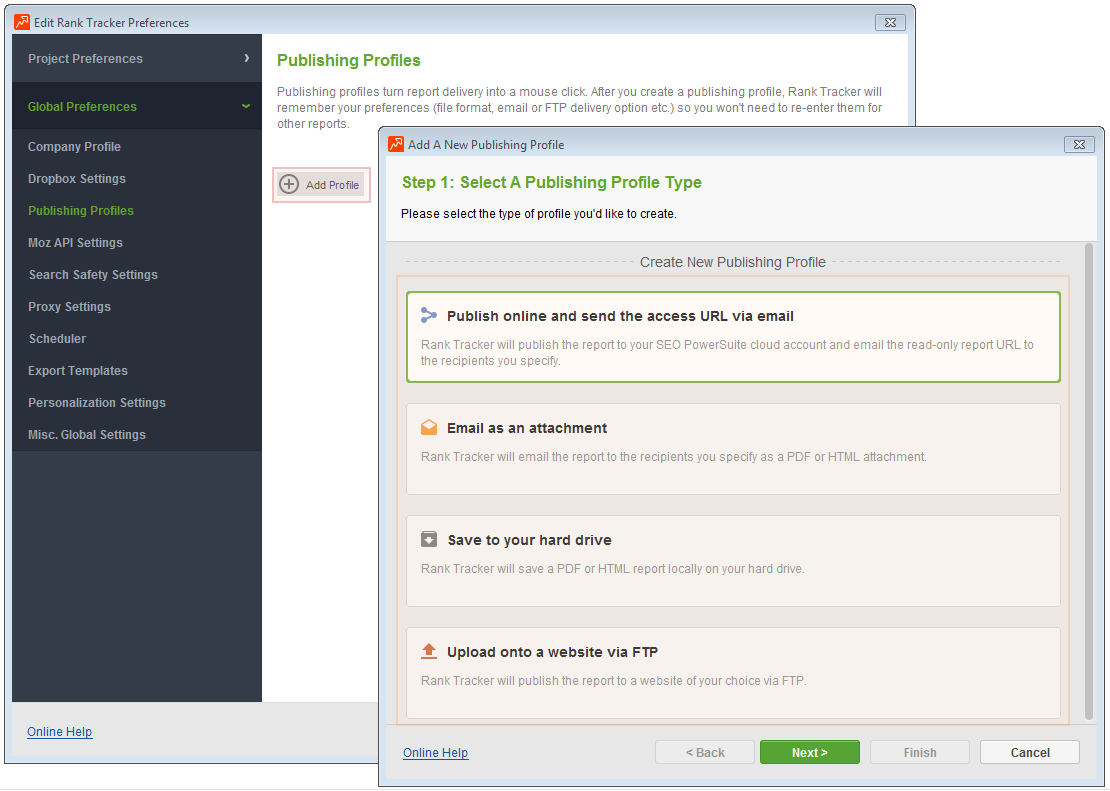 Depending on the type of the profile you have selected at the previous step, at Step 2 you will be offered either to configure your e-mail settings or select the location on your local hard drive or add your FTP server account.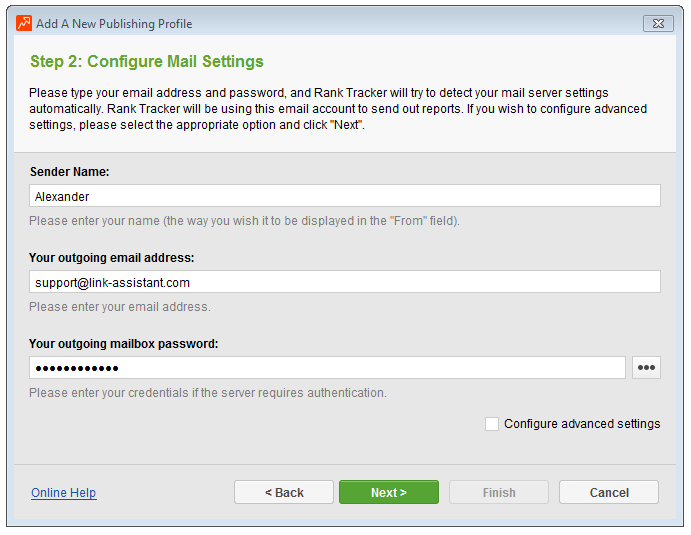 At Step 3 you can create/edit the text of the e-mail message that will be sent to your customer if you choose to deliver your reports via e-mail. For more details how to edit/create texts of the messages refer to this article.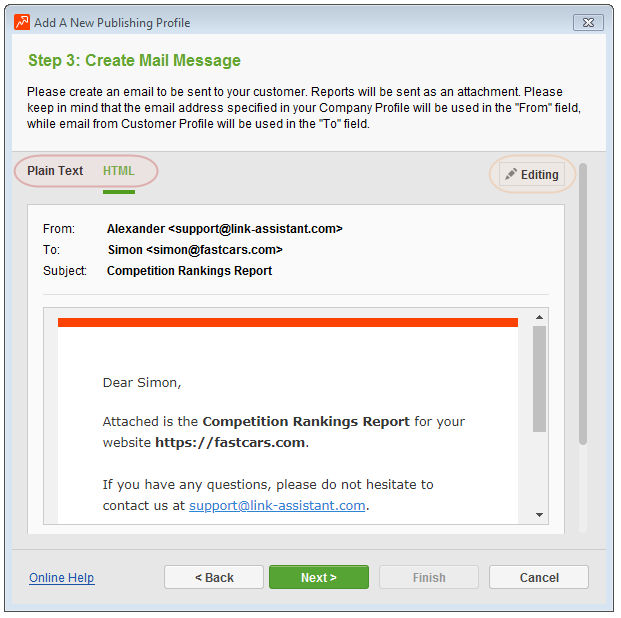 Step 4 - give a name to your publishing profile.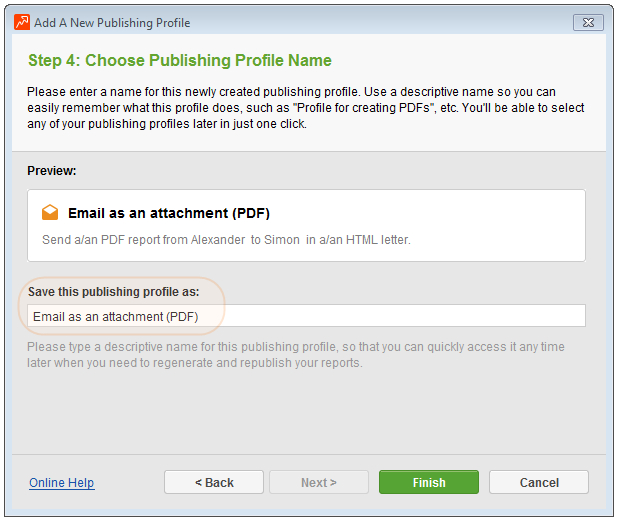 Once you click Finish, your publishing profile will be ready to use, and you will see it added to the list under the Publishing Profiles section.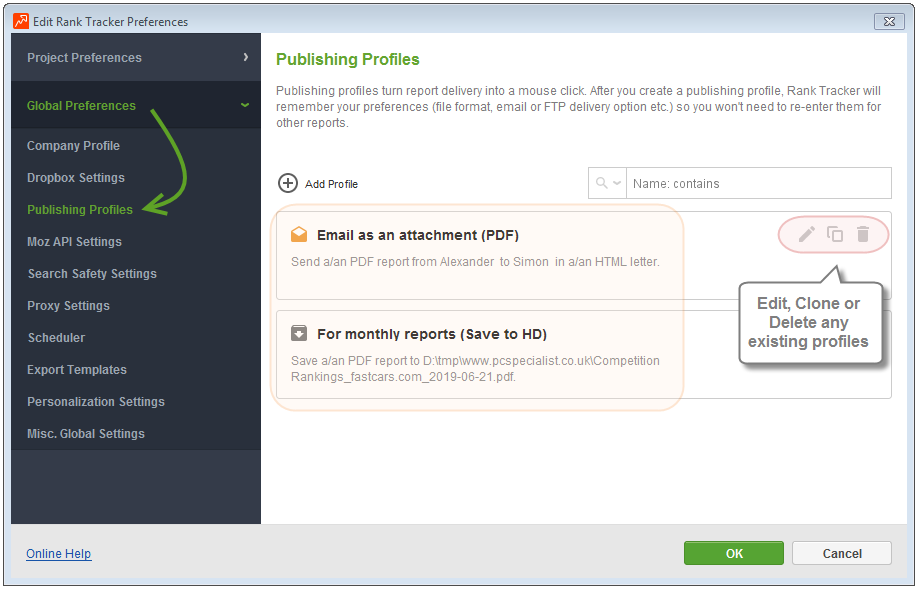 This way you can create multiple publishing profiles and select to use the necessary one when you either wish to quickly deliver a report to your customer or create a scheduled task for report delivery. You can edit, clone or remove any of the profiles anytime on-hover.
---
Posted by: Alexander, SEO PowerSuite
Created On: 07 December 2015 01:20 PM