Auto-update won't complete
When you launch your software and there is a fresh update available on the server, your SEO PowerSuite applications should start an auto-update. In very rare cases, the auto-update might not go through. Here are the possible reasons:
Not enough free disk space
Please make sure that you have enough free space on the hard drive where you have installed SEO PowerSuite.
The software cannot access Internet
You have no active Internet connection.
Please make sure that you are not disconnected from the Internet. Otherwise, SEO PowerSuite applications can not work.

You must have active connection all the time while the application is downloading its auto-update. The connection must not break even for a short time.
Your firewall or antivirus restricts SEO PowerSuite connecting to the Internet.
In some cases SEO PowerSuite tools might be treated with suspicion by your antivirus or firewall. In that case, we ask to find the list of deleted/blocked files in your antivirus/firewall settings and restore the software`s .exe files or add the following files to the Exception List:
javaw.exe
ranktracker.exe
seospyglass.exe
websiteauditor.exe
linkassistant.exe
Your computer has spyware programs.
Some spyware programs can also prevent your software from connecting to the Internet. Test your hard disk to be sure there is no spyware installed. To do this, you can use any free anti-spyware tool found on the web.

Insufficient user permissions (Windows)
To complete update successfully the software should be run by the administrator of the machine. In case you have not set those rights for SEO PowerSuite tools starting the software can turn into a loop of update.

Here is what you need to do to avoid this situation:
On the Start menu, locate the program that you want to always run as an administrator.
Right-click the application's shortcut, and then click Properties.
In the Properties dialog box, click the Compatibility tab.
Select the Run This Program as an Administrator check box, and then click OK.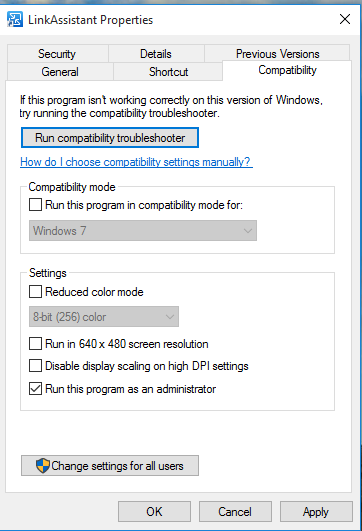 After that you should not encounter any issue with auto-updates, in case you still do, please contact the support team.
---
Posted by: Alexandra, Link-Assistant.Com Support
Created On: 27 August 2009 09:49 AM

This article was helpful

This article was not helpful

(517 votes)