What is captcha?
A captcha is a special image of distorted letters or numbers that only a human being can decipher. Web services use captchas to verify their users' human identity. It helps them restrict abuse and ease traffic load on their servers.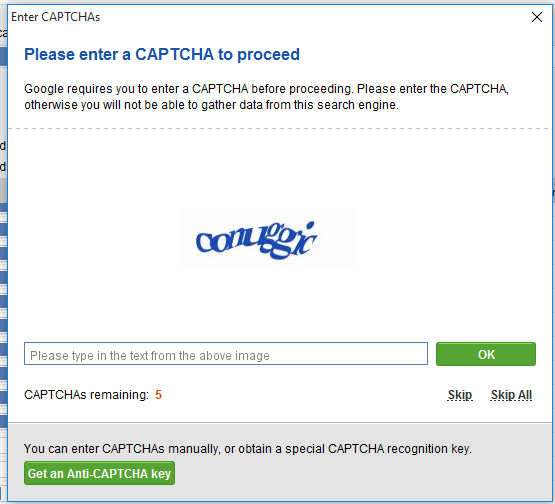 When using the SEO PowerSuite tools, you can see captchas from:
search engines,
keyword research databases.
Whenever Rank Tracker, WebSite Auditor, SEO SpyGlass or LinkAssistant comes across a captcha, it shows the image to you. Simply type in the characters you see on the screen to carry on searching. You can also have them typed in for you by a team of experienced typists (the anti-captcha feature).
There are also some settings to help you reduce the number of captchas. They vary depending on the type of web resource a captcha originates from.
Minimize captchas from search engines
Captcha pop-ups can appear while you are using search engines. For example:
checking rankings (Rank Tracker),
searching for backlinks (SEO SpyGlass and LinkAssistant),
getting cache dates and popularity indexes (WebSite Auditor, SEO SpyGlass, and LinkAssistant) etc.
Please enable search safety settings to reduce captchas of this type. Alternatively, you can enable API keys for Google, Yahoo!, Bing, and Yandex (good for a limited number of queries).
As an option for our paid users, you can switch ON our anti-block solution that frees you from entering captchas if you perform simple tasks.
In that case please take the following steps to make sure you have the right settings that enable the anti-block feature.
As always, feel free to contact our support team if any issues.
---
Posted by:
Created On: 07 May 2012 04:07 PM