Build quality, Penguin-friendly backlinks
It's no secret Google uses hundreds of factors to rank your website in its search results. And while the list of these factors is quite wide, all SEO experts agree that links remain the strongest quality signal to search engines, outweighing most other ranking factors.
However, with Google's Penguin update and manual link spam actions in play, building links for your website has become a complicated and time-consuming task, unless you have a reliable link management tool – and this tool is LinkAssistant.
Build high-quality links, safe for Penguin and Panda updates
Manage your link outreach all in one place
Keep track of all your current backlinks
Monitor and report on the link profile growth over time
LinkAssistant gives you a complete and customizable working environment by putting all the tools you need at your fingertips. These actually help you get results faster and make growing your link popularity a breeze.
LinkAssistant is one of the four tools in the SEO PowerSuite toolkit. You can save big-time if you order the complete SEO toolkit at once.
Need a reliable tool to automate your link building tasks?
LinkAssistant is a powerful link management and link verification tool, offering everything you need to manage an effective link building campaign.
1. Conveniently store your link profile information
Store and organize all your backlinks in one convenient LinkAssistant's dashboard. The software lets you categorize and prioritize the links for easy searching and stores all the important backlink data you may ever need:
Linking URL
Link destination URL
Date added
Anchor text
Link verification details – link presence, dofollow/nofollow status, etc.
Numerous important SEO factors
Webmaster contacts details
And more
2. Verify your backlinks for any issues undermining their SEO quality
LinkAssistant gives you the most accurate and relevant information about your link profile to ensure you always make informed decisions throughout your link building campaign.
Check if your links are in place
Make sure all links have desired anchor texts
Control SEO quality of the linking pages
Verify your links against JavaScript, frames, redirects, "nofollow" attributes and so on
3. Contact webmasters to fix issues and get spammy links removed
Whenever you spot any backlinks that need to be fixed or taken down - contact webmasters of the linking sites right from the software! LinkAssistant can automatically collect webmasters' contact info from any website and has the in-built email client to manage your correspondence with them.
4. Find new high-quality sources of backlinks
The most valuable links come from thematically relevant websites which are already trusted by search engines. LinkAssistant will look at websites from all angles, quickly pick hundreds of relevant high-quality websites and find their contact info, saving you countless weeks of work.
5. Build a link directory and instantly upload it to the website
If you choose to create a link directory with useful links and resources, LinkAssistant will help you build an easily navigable and search-engine-friendly directory with categories and subcategories, and upload it onto your website via FTP.
6. Monitor and report on your link profile growth over time
Monitor how your link profile grows over time. LinkAssistant's clear-cut link building reports let you analyze how effective your link building campaign is and report link building progress to your clients.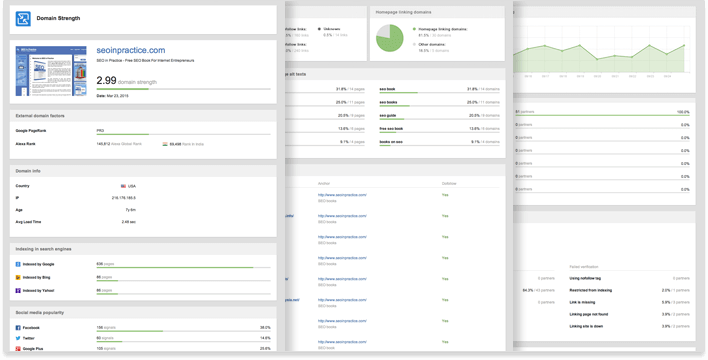 LinkAssistant is the indispensable help in all link management tasks you will ever face. And you can start accumulating your link profile with this effective link management tool in a matter of minutes. Just hit Download and get started:
Ease of use is the #1 priority
You're about to get your hands on the most feature-rich link building software that is still incredibly easy to use. The powers of LinkAssistant make even highly respected link building wizards raise eyebrows. Yet to make this work, you needn't be an SEO wiz.
You will conveniently manage link partners, run personalized link outreach, create Google-friendly link directories, as well as use the many powerful features LinkAssistant has to offer — and you're absolutely fine with as little as basic computer skills.
And in the unlikely case you have any questions regarding LinkAssistant, a team of professional programmers and SEOs will quickly help you out. Our support team responds fast and gets all questions answered!
It's all about quality
LinkAssistant encourages quality link building that actually benefits your site's visitors and your search engine rankings.
It's not like using a machine-powered link trading service that has no value for your visitors, or joining an "asking-Google-for-trouble" link farm. LinkAssistant will help you find valuable link partners, establish reliable connections and make sure all links bring the desired results.
LinkAssistant is absolutely search engine friendly
LinkAssistant is designed to be the most search engine-friendly software out there.
Unlike other link building programs, LinkAssistant leaves no traces of its activities, be it in your link directory, your emails, or elsewhere.
It lets you use Google, Yahoo! and Bing APIs to ensure you never get in trouble with these search engines.
LinkAssistant includes enhanced human emulation features that prevent you from violating search engines' policies.
We track all search engines every 12 minutes and keep your software in line with algorithms of 597 search engines.
See LinkAssistant in action
Check out this video to see how LinkAssistant works.
What's more? There's a professional team of SEO experts and software developers behind LinkAssistant who closely follow the changes in the SEO world and are working to offer the user each profit-generating feature possible. Besides we listen to our users and implement every suggestion that makes LinkAssistant better meet your needs.
What you have as a result is the most effective and simple link building tool to boost your website's link popularity, achieve the desirable #1 Google position.
See how we practice what we preach. Download LinkAssistant right now!