Run your site's SEO audit - find and fix all technical issues that lower your rankings
Site errors can be a flag to search engines — if your site has signs of poor quality, why would Google give you high rankings?
Most SEOs do know this, but only very few are skilled to identify and fix all site errors. That's why we've built WebSite Auditor — the tool that helps you avoid any on-page problems and ensure stable, efficient and rewarding SEO.
Find all technical issues that lower your rankings
Learn how to fix the problems
See how your competitors are handling on-page SEO
Get keyword usage advice for each of your pages
And it takes only several minutes to find and fix all the issues — and make your site rank higher in search engines!
WebSite Auditor is one of the four tools in the SEO PowerSuite toolkit. You can save big time if you order the complete SEO toolkit at once.
Get a healthier website and higher search engine ranks!
WebSite Auditor is the only SEO software that lets you optimize your website on two levels: on-site (domain) and on-page (content). It helps you both power up the ranking potential of your whole site and make specific webpages rank high for your chosen keywords.
1. Find and fix all technical issues that lower your page's rankings
In a matter of seconds, WebSite Auditor will run a complete audit of your website and quickly highlight any problems that might block or slow down your rankings growth:
Indexing and crawlability errors — pages restricted from indexing, pages with 4xx/5xx status codes, robots.txt and sitemap.xml setup.
Redirects — pages with 302/301 redirect, pages with rel="canonical", pages with refresh.
Encoding and technical factors — pages with Flash and frames, "heavy" pages, etc.
Issues with URLs — dynamic URLs and URLs that are too long.
Links — pages with too many outgoing links, broken links, dofollow external links.
Content issues — empty/duplicate/too long titles, empty/too long meta descriptions, thin-content pages.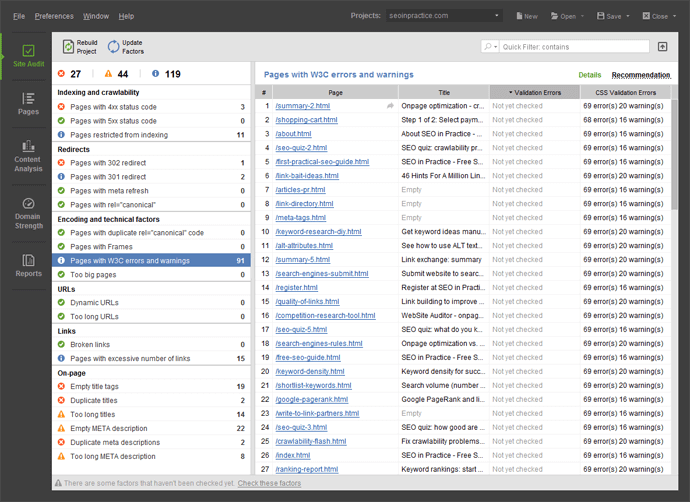 And more to that, WebSite Auditor tells you how to fix each of the problems — what to do and how to do it. Just click the Recommendation button to get professional SEO advice with simple instructions.
2. Build a quality XML Sitemap and robots.txt file for your site
Just select the pages you wish to include, and WebSite Auditor will generate a Google-friendly XML Sitemap and robots.txt file for your site — and will upload the to your website via FTP.
3. Optimize content of every page for your important keywords
WebSite Auditor will use smart technology to analyze keyword use on 10 top ranking webpages in your niche. Then it will show advice on recommended keyword density, prominence and other word usage in every element of your webpage: title and meta description, h1, h2-h6 tags, blod and italic text, image alt texts and link anchors. It's giving your main landing pages a real kick-start!
4. Get social media and traffic stats for each of your pages
You will see Social stats for every webpage to quickly identify your site's most shareable and popular content. Besides, you'll be able to compare social signals and traffic from different social networks to understand where your SMM efforts pay off best. In WebSite Auditor you'll get stats on:
Facebook likes and shares
Twitter tweets and retweets
StumbleUpon views
Google+ shares and +1's
Diigo bookmarks
Delicious bookmarks
And then compare these numbers to the actual visits you get from each social site to understand which ones work best for your niche.
And that's only the beginning...
Once your website is set to rock the search engines, you can schedule WebSite Auditor to run health-checks automatically. So if you run into trouble any time later, this smart on-page tool will get you alarmed!
Download the free version of WebSite Auditor to get your site checked and power-up your SEO with brilliant on-page optimization.
Save Big Time
SEO companies charge upwards of $3,000 for just one SEO website audit report with raw data and no practical advice. And if you want them to give you specific recommendations on optimizing your website, you'll have to cash out even more.
But you don't have to pay an arm and a leg to get expert SEO advice. WebSite Auditor will help you run a professional SEO audit of your entire website even if you don't have any SEO knowledge and technical background.
If you provide SEO services, you will turn client reporting into a mouse-click job, saving a ton of time to actually work on the project.
See WebSite Auditor in action
Watch this short video to see WebSite Auditor in action.
WebSite Auditor makes the complicated process of optimizing your whole website and any specific webpage fast, easy and efficient.
So just download the Free Edition of WebSite Auditor, try it for your own site and the results won't keep you waiting.