Skyscraper Link Building Technique: 3 Steps to Build Quality Links to Your Content

Create linkable content and boost search traffic with SEO PowerSuite
Updated September 18, 2020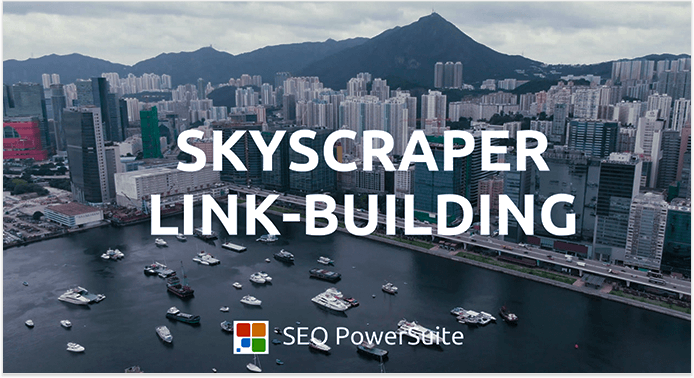 I bet you've heard about the skyscraper link building technique a thousand times, but have you actually tried it? If you've been neglecting this method all this time but want to give it a try, you'll find today's post really useful. You're about to discover if the skyscraper technique is worth your time, how to find the tallest skyscraper, and how to optimize the workflow using SEO PowerSuite tools. Let's begin.
What is the skyscraper link building technique?
The skyscraper technique is about finding popular content, creating even a better copy, and getting backlinks both naturally and after reaching out to the right people. The more backlinks your site has, the more authority it gets, which means better chances for the page to be visible in SERPs.
The inventor of the skyscraper technique is Brian Dean of Backlinko: he showcased his study of how a fresh update to a popular post earned tons of backlinks and almost doubled his organic search traffic in two weeks' time.
This link building tactic resembles the method of building a skyscraper: you take the highest existing building, add a few more floors to become the tallest skyscraper and voilà — your skyscraper piece is the freshest and the brightest!
Fortunately, you won't need to hire a huge team of engineers and builders to learn the skyscraper technique. Just grab a cup of tea and read our tips!
How to build high-quality backlinks with the skyscraper technique
Find linkable content.

Write an even better copy.

Outreach to the right sites asking for a backlink.
The link building strategy involving skyscraper outreach is simple at first glance, yet requires SEO expertise, good taste, and negotiating skills. Let's look deeper into some tactics and tools that simplify the process.
Step 1: Find linkable content
The first step in any Skyscraper SEO campaign is to find some relevant pages with lots of backlinks. I'm sure you know your top key phrases (and if not, it's high time to do some thorough keyword research). A simple Google search for your main key phrase will bring you the first content ideas to toy with. Scroll a few lines down past ads, if any. There you go: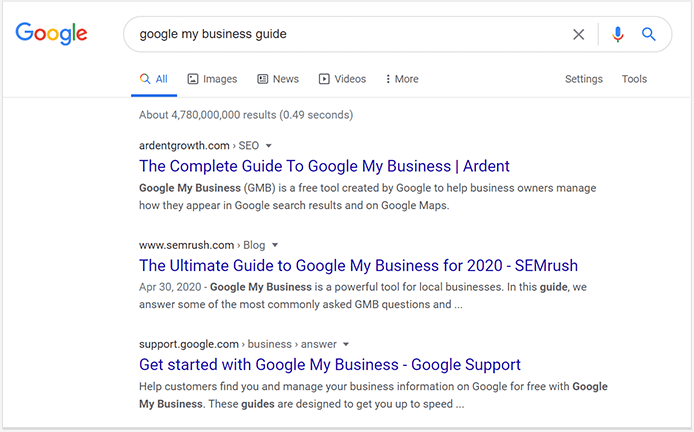 But how do you know which of these top results have the biggest number of backlinks? Is it potential skyscraper content? Obviously, you need to check the pages using some backlink research tools. There are many ways to do it. As promised, I'll show how to manage that using SEO software tools.
Analyze high-ranking content in Rank Tracker
The first tool to help with the skyscraper technique is Rank Tracker where we manage our keywords. All you need to do to find content with lots of backlinks is open your project, switch to the Keyword Map dashboard, and update the Keyword Difficulty tab. Here, you'll see the top-ranking pages together with the main SEO factors analyzed. Check the Sites Linking to the Page tab.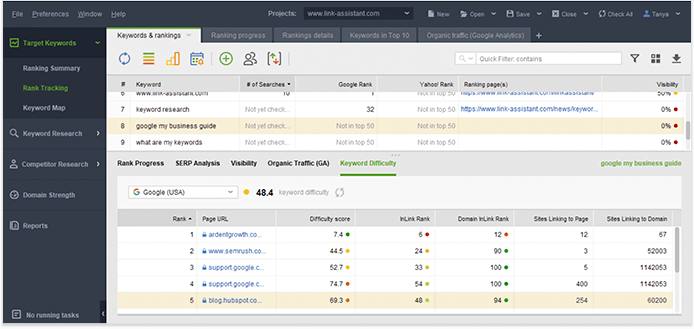 In our sample, we've found quite an old publication on Hubspot dated April 2018, ranking fifth on the SERP. And I see that it has tons of backlinks. So, I'm going to conduct a small skyscraper experiment on Google my business guide, using Hubspot's backlinks. But in between — a few more sources for skyscraper prospects.
Find pages with the most backlinks in SEO SpyGlass
You can do similar backlink research with the SEO SpyGlass. Fire up the tool, go to File > New Project: Expert Options > Create numerous projects, and paste the URLs you need to analyze for backlinks.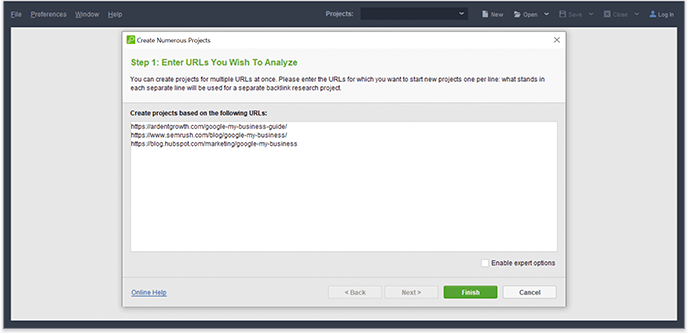 Leave the Enable expert options unticked. Click Finish, and SEO SpyGlass will automatically create multiple projects for the specified web pages. So when the check is finished, you'll be able to switch between the results using the drop-down project menu: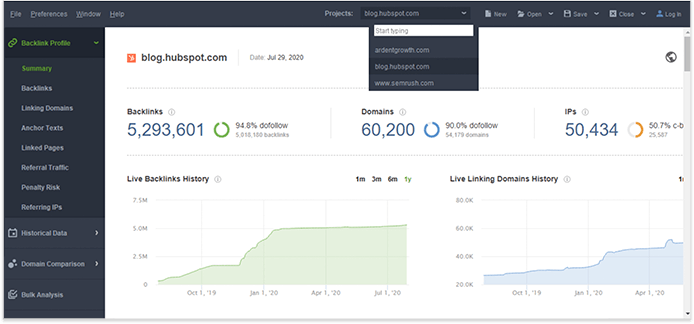 Look through the backlink data, and you'll quickly spot your skyscraper prospects. Our goal is to find the page with the largest number of backlinks pointing to it.
In the Backlink Profile, you can filter out only those backlinks that point to the linked page under consideration.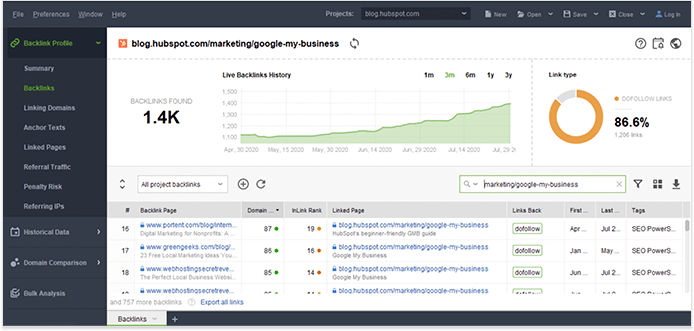 Besides, you can do some domain comparison to check the sites' authority. Pay attention to Domain Strength and Total Backlinks. You can see who is not your competitor in terms of authority, as well as those guys who rely heavily on link building.
Find content with the most shares using WebSite Auditor
Do you want to find content that also became popular on social media? Can the skyscraper technique work on the likes of Facebook? You can do it with WebSite Auditor's Pages dashboard.
First, you need to launch the WebSite Auditor and create a project for the site you'd like to find popular posts on, e.g., a competitor's site. Note that it'll probably be more useful to create the project for a specific directory or subdomain on the site, such as www.website.com/blog or blog.website.com.
After the tool collects the site's URLs, switch to the Pages module and add a new workspace with Social Media popularity factors (you can add these by hitting the + button next to already available tabs).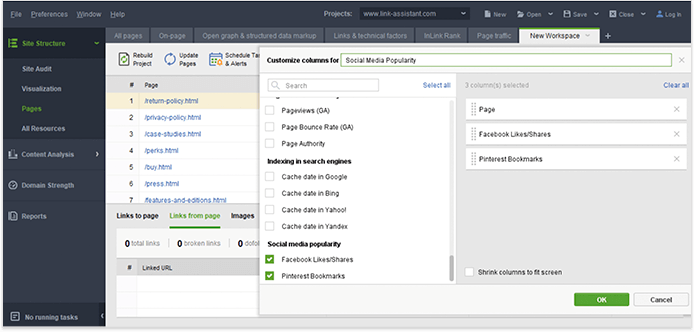 Press the Update factors button, and the WebSite Auditor will soon show the most shared posts of your competitor. Perfect to improve your link building strategy, right?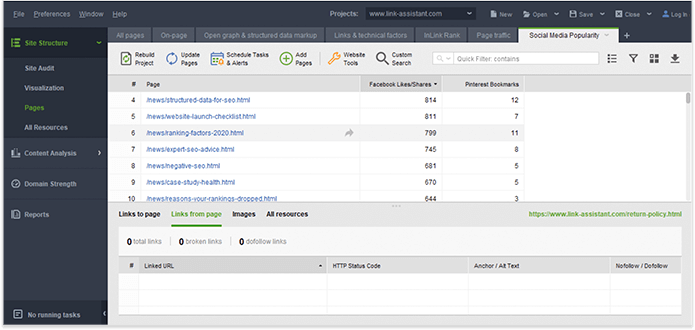 With the three tactics above, you should be able to put up a list of pages that managed to get a lot of organic traffic, backlinks, quality referring domains, and social media shares. Such pages are commonly referred to as "linkable assets": high-quality content that deserves a backlink because visitors will love it.
Just keep in mind that linkable assets are not always in-depth articles: they can be a viral video, a popular infographic, a free online app, etc. So if you're not really into copywriting, choose the option that better fits your skill level and experience.
Okay, there's something you can start working on, which brings us to the second step of the skyscraper technique.
Step 2: Revamp skyscraper content
I know it does sound obvious, but yes, you have to create awesome content to get those valuable links needed for the skyscraper technique. The good thing is that you don't have to start from scratch — you already have a list of good ideas, you just need to rework them into something unique, something bigger, something people would love to link to!
Here are a few tips on how to make the content thousands times better.
Check information accuracy in skyscraper prospects
Look through the information in the popular articles you've listed:
Are there any discrepancies in the text?
Is it possible to find more up-to-date research studies to link to?
Do you have the expertise to correct any misinformation you've found?
Is the article exhaustive, or you could add some value?
Questionable referring domain?
Now, you don't have to be overly creative to earn a link this way. Just be more precise than the previous authors, correct the mistakes, and collect the trending statistics.
When GeekWire.com published a post on how to watch March Madness games for free, Eric Branther, the Senior contributing writer from CutCableToday.com, spotted a few discrepancies and published a post with the revised information. After that, he shared his post with the writer at GeekWire, and as a result, he received a link from a highly-visited resource just by being more precise: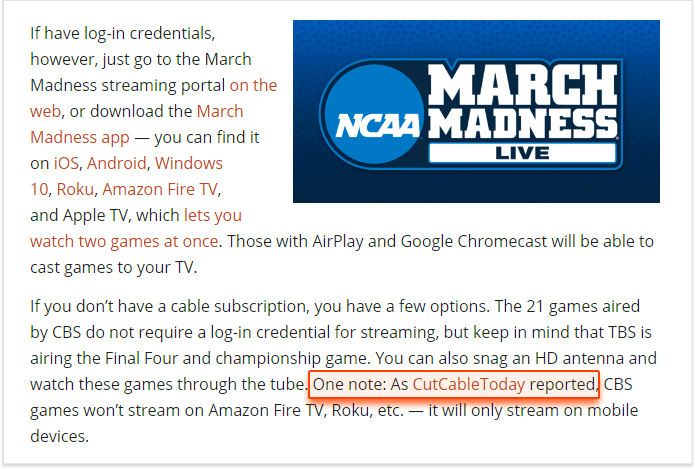 Create a longer, more detailed post
Okay, you've found no discrepancies in the posts. But isn't there anything to add the ideas expressed previously? You can give more authority to this post by throwing in fresh examples, case studies, videos, images, infographics, links, slides, quotes, outreach to famous celebrities, whatever!
You surely know that web texts should count at least 300 words to rank in search engines. You may also think that a long-read will scare your visitors away. Far from that! The length of an online blog post varies for different topics and blogs, but generally, most SEO writers agree that longer texts rank better on Google.
In fact, the ideal length of blogs corresponds to their type and purpose. For example, 'how-to' blog posts with the best reading time comprise from 1,700 to 2,100 words; listicles should be around 2,300 - 2,600 words, and pillar pages may contain even 4000 words. The point of the skyscraper technique is not to make your blogs so lo-o-ong to read: the point is to cover the topic exhaustively, and to answer the readers' questions without tiring them.
Just how detailed a resume guide can be? Take a look at this post's outline: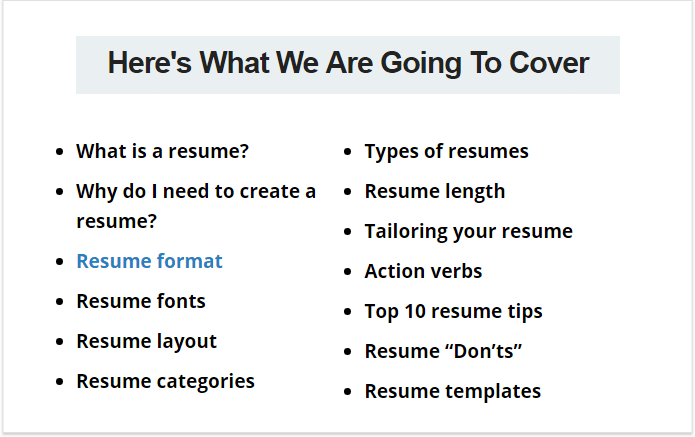 See how this page provides all possible types of content:
Definitions
Setting the goal, explanations
Lists and steps
Samples and use cases
How-to's, tips
Useful sites and tools
Templates
Whatever niche you're working with, there's always some extra stuff that doesn't get fully covered by your competitors. And when you animate your content with immersive media, the visitors will get stuck reading your pages for hours.
Work on outstanding page design
Sometimes all it takes to win more links is to stand out from the crowd — by making your posts visually appealing and different. Your options could range from simply adding great illustrations to reworking a piece into a video or infographic — whichever one you choose, make sure that the result is witty, memorable, and original.
One great example is Search Engine Land's periodic table of SEO success factors. It's definitely not new content – but it's a new (witty, memorable, and original) way of looking at an otherwise unoriginal topic.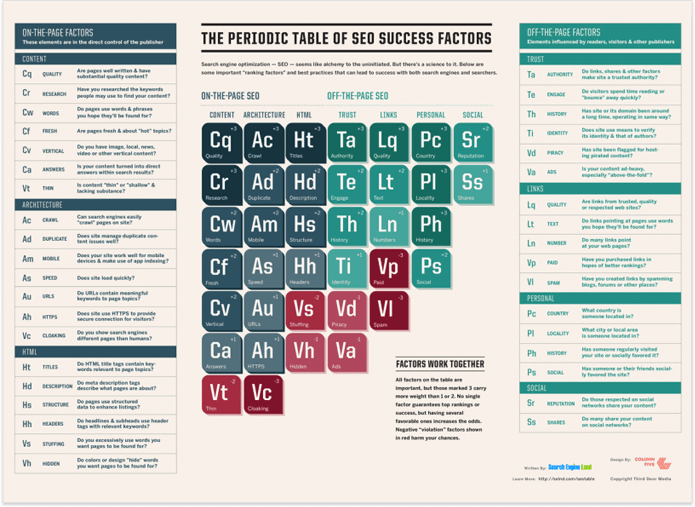 What makes your content go viral
What makes people care, at least as much as to share your content around and want to link to it? It all depends on the industry you're in, but there's one component in the "caring" formula that never fails — emotion. Studies show that emotional undertones strongly correlate with content popularity. Emotions like anxiety, awe, and anger are most frequently associated with viral content. Not always an emotion has to be positive to bring great effect. Instead, it has to appeal to your feelings and reason altogether to switch on your interest.
There are "three S" gems turning stories into best-sellers: surprise, smile, scare. These are three general emotions that most shared and linked content typically provokes.
For example, there can be a general story about a landslide in Indonesia devastating some location. The story is likely to get more attention because of the emotion it arouses — anxiety and the feeling of insecurity. But it is also true to earn more attention from people associated with this particular region.
Let's have a look at this video: a biker's narrow escape from a landslide in Indonesia. By the way, compare three titles to this same video:
Landslide in Indonesia.

Crazy footage of landslide in Indonesia.

OMG! Luckiest biker escapes landslide in Indonesia.
What would you rather want to view?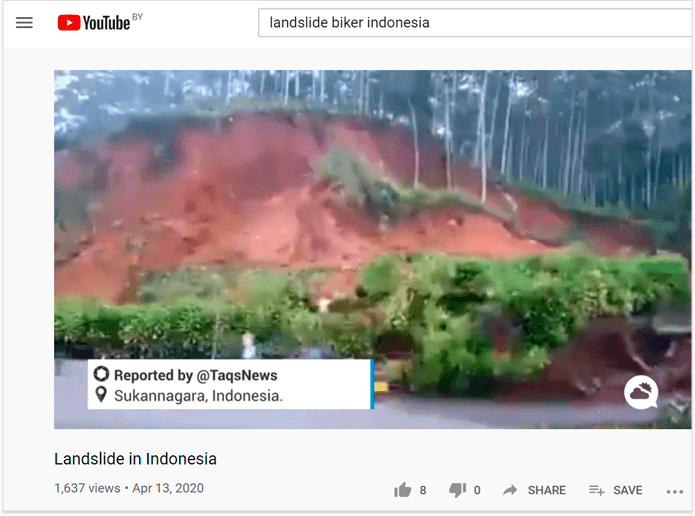 What does this have to do with the skyscraper technique? Just look for ways to change the style and sprinkle in emotional appeal into your content.
Step 3: Contact the right people to ask for links
Ready with your brilliant post? Simply publishing your unique content and waiting for your backlinks and ranks to increase organically may take months. Your link building approach has to be systematic and proactive. It's time to put the final part of the skyscraper technique into action, not to mention your soft-skills and SEO technique combining in perfect harmony for this process.
Go back to SEO SpyGlass, and for every project you have created for the best-performing content, go to the Linking Domains dashboard and copy (or export) the linking domains.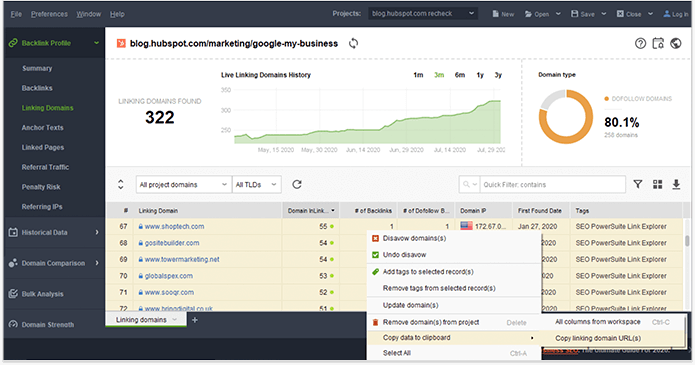 First, you've got to compile an email list for your backlink prospects. Finding the right contacts, even when they are honestly mentioned on a website, can be a tough task. And surely you're not going to check every single domain by hand.
When you are on a low budget or run a short-time campaign, you can get by with Hunter.io or with the Chrome extension Email Extractor. Install the plugin, go to the website (or submit your lists of domains — the scraper allows you to build a queue with up to 1000 URLs to scan), and the tool will discover the addresses. Then, write emails with a backlink request using your regular webmail provider.
Alternatively, you can implement the skyscraper technique outreach with the help of LinkAssistant. Launch the tool, enter the URL of your site, and create the project. Then click Add link prospect (the green + button). Next, paste the domains you just copied from SEO SpyGlass: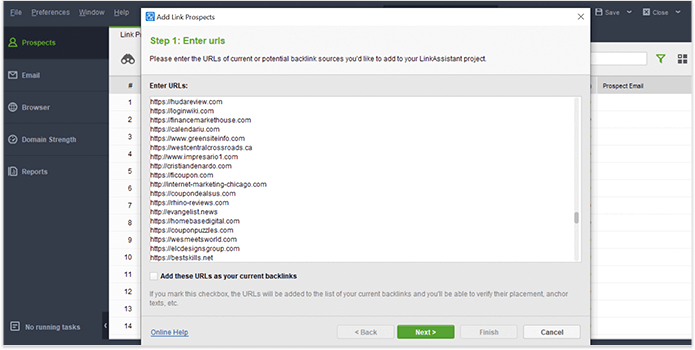 At the next step, select what information you would like to fetch: primarily, you are interested in contact info, but you can request for site information as well — domain authority, InLink Rank. Hit Finish, and the app will automatically find the contact email addresses on these sites with other relevant information. That's how simple it is to create a link prospecting list! When you manage to get a few backlinks from your prospects, you can use this bad backlink checker to see whether any of your newly acquired backlinks are toxic.
Finally, you can contact webmasters and bloggers to ask if they could link to your new post. You can follow your communication directly from LinkAssistant. First, you'll need to configure your email account in Preferences > Email management > Email client settings (or just by hitting the Settings button in the top panel). Once your account is synced with LinkAssistant, all you need to do is hit the Email button.
Things to bear in mind before you rush to send out hundreds of emails:
Reach out to people whose websites are relevant to your niche.

Try to be personal — if you've communicated before, make sure to mention that.

Always be polite. And don't get over-flattering, politeness is pretty enough.
Need ideas for your outreach email copy? Here is a sample email that works perfectly in skyscraper link building outreach:
Hello [Name],
My name is [Your Name], I have worked in (Your field of expertise) for X years, and cater services to (Your audience, awards, etc). Be impressive
I've been doing research on [Your topic] recently and found this article [URL].
Say something positive about the page
I like your article and the way you presented the material.
I noticed that you linked to a great resource [Skyscraper Title].
I've created a similar story in my blog recently. My article covers the topic more in-depth and with up-to-date figures [URL].
Call-to-action
Please, link to my article from your page, I think it is by far better now than the old one and will be more useful to your visitors. The reason why they should link to your article
Thanks for your time!
Cheers,
[Your name]
You can compose your own text variation and save it as an email template in LinkAssistant.
Hit Email, select the template, and your personalized letters will be delivered to the addressees.
Since there can be hundreds of emails, it is recommended to name your outreach campaigns and prospect lists, or sort them, e.g., by domains' authority.
After you get the replies, don't forget to send a "thank you" note and update your backlinks, referring domains and traffic to check the results in a month or two.
Why the skyscraper technique fails
I should admit that the skyscraper technique is only one small piece within your larger link building strategy to be used once in a while.
You may feel uncomfortable when seeing your competition rankings on Google SERPs: how on earth am I going to beat those Amazon and Booking.com? Whatever search query you send to Google, you will see top online giants in the first few lines.
First, Neil Patel gives a nice precaution in using the skyscraper technique that many other skyscraper guides fail to mention. Yes, Brian Dean revamped a top page which doubled his organic traffic in several weeks. However, this success is attributed not only to the great content, but rather to the fact that Backlinko had already grown into a recognizable brand by that time. The point is that you cannot jump out of nowhere, catch a #1 page, write a better copy, and crash onto the pedestal. That would be too simple.
Second, even when your single page somehow ranked well in Google top, this will not necessarily pay off to your business straight away. According to Neil Patel, it may take up to two years for a business to build up brand recognition and authority.
The main SEO goal for a business is to increase organic traffic and conversion rate on their platform. The conversion rate will be high when visitors find exactly what they want on your page. This means that the ranking keyword on the page matched not only the query but also the search intent of your visitors.
So, earning a backlink can be pretty hard for an unknown site. Besides, one single skyscraper does not guarantee you tons of leads and conversion.
Let's have a look at this example.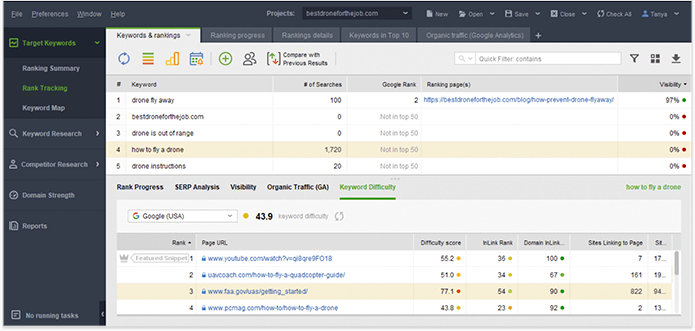 What goes #3 in Google top with 822 backlinks is the site of the federal aviation authority. No wonder. The page text is pretty small, pointing to other pages with rules and regulations. Whereas page #2 with 161 backlinks is an extensive guide with everything: lists, videos, schemes, instructions. You just dare to do any better!
So, to figure out there is a skyscraper in the top-ranking content keep in mind that:
This is an advanced level SEO technique for highly competitive niche keywords.

Make sure the content is evergreen (one-day news will not fit, even though they can stay on top for years).

Recheck that the important ranking keywords you are investigating for your landing page really correspond to the intent it serves.

Most likely you will not find skyscraper content on the sites of stocks, stores, and major mass media: they keep high rankings in SERPs for other reasons (mainly, thanks to domain authority, brand recognition, or high CTR due to the commercial nature of their business).

Your content should be not simply linkable — it should be quotable. In these terms, your unique experience, a case study, or research data will be the most valued.
Among other tips for skyscraper technique, pay attention to publication dates: if an old article is ranking top, most likely it means it contains some outdated content, or the topic has seen developments that you can bring forward.
The tricky thing in your skyscraper approach is not to target those solid marketing giants. You shouldn't compete with them and, most likely, you needn't. Make sure you optimize your skyscraper page with the relevant keywords. In the long run, you've got to build your target audience and increase your brand awareness.
How is my little skyscraper outreach experiment?
First, I should admit that Google My Business Guide had been updated just because it needed a refresh. The author did not have any intention to pretend it's breaking news. So, it has nothing like a catchy title or emotional appeal, etc. Second, I had a solid argument that the old article mentions outdated content, namely the Google+ project which is no longer supported.
SEO SpyGlass discovered around 600 domains linking to Hubspot's Google My Business. Filtering out backlinks by domain authority, I found around 200 potential backlink domains. So, I scraped the websites with LinkAssistant just to find around 160 contacts. I emailed them with a pretty reserved list with a "Link Request" subject. Well, it's boring but up to the point.
As a result, two people replied they were not interested, two persons said they were satisfied with what they had (these were paid links, in fact, and could not be changed), and seven people invited us to post a paid link. I got the impression that actually nobody read my letter to the end. So, free backlinks? There are two wiki-how sources, I can build these links by myself (although, yeap, they are nofollow links)...
Conclusive notes
Now it's your turn to speak up! Have you tried the skyscraper technique yourself? Are you inspired to implement it on your site? We will be happy to learn how this SEO technique works for you. Please share your thoughts and ideas in the comments below!
Article stats:
| | |
| --- | --- |
| Linking websites | N/A |
| Backlinks | N/A |
| InLink Rank | N/A |