The SEO spider that sees your
site like search engines do.
Just like search engine bots, WebSite Auditor digs diligently through your entire site to find and audit every resource, both internal and external: HTML, CSS, JavaScript, Flash, images, videos, and more. The tool also lets you crawl your site as Google, Bing, or Yahoo, following robots.txt instructions for any bot, so you can see and analyze the same pages of your site that search engines see.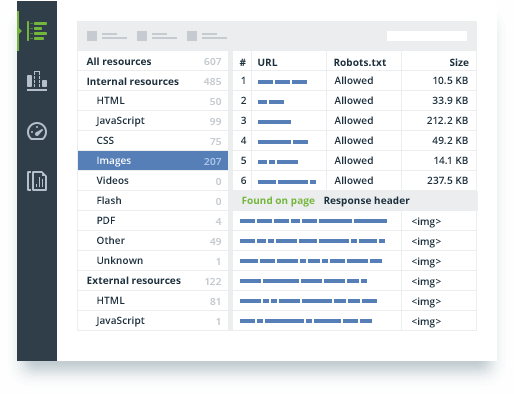 Thorough technical
site auditing.
WebSite Auditor will quickly reveal every issue on your site that can affect search engine indexation, rankings, and user experience: broken links and images, duplicate content, poor mobile usability, redirect chains, internal linking problems, heavy pages and scripts, W3C validation errors, thin content, and more. The best part? For every error you find, you'll get a list of pages it affects along with specific, step-by-step how-to-fix instructions.
Robots.txt and Sitemap generator.
Easily generate an XML sitemap or robots.txt file at a click of a button, without bothering about the files' tricky syntax. Already have a sitemap and robots instructions in place? Review and edit the files right in the app, whenever you need to, and upload the changes to your site instantly via FTP.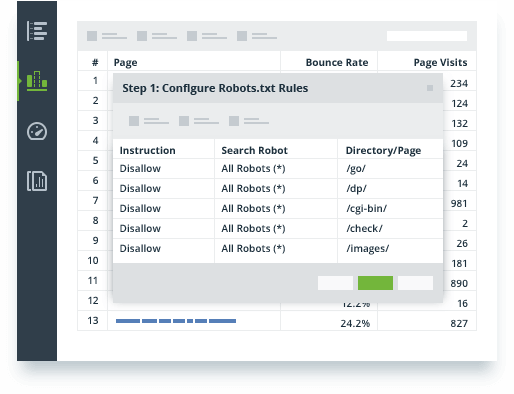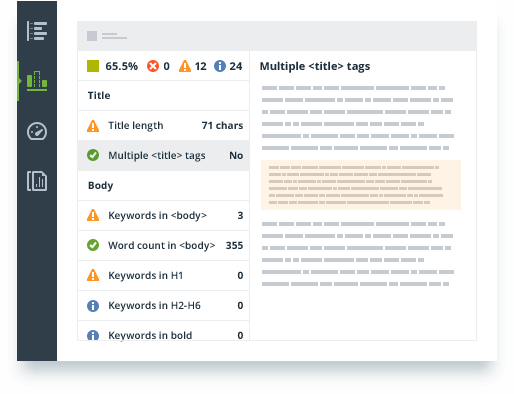 Intelligent on-page SEO audit.
Measure optimization rates for any page and any keyword, based on the pages of your top ranking competitors and your own on-pages stats. Get keyword- and page-specific optimization advice, and reverse-engineer your competitors' strategies to see exactly what makes them rank high.
In-app content optimization.
WebSite Auditor does more than analyze your content. It lets you optimize pages in-app — in a user-friendly WYSIWYG interface or HTML — with step-by-step SEO advice as you type. In a separate tab, you can create and edit your pages' title and meta description tags, and preview your Google snippet right below. Done optimizing? A single click will save the SEO-perfect HTML to your hard drive, ready for upload.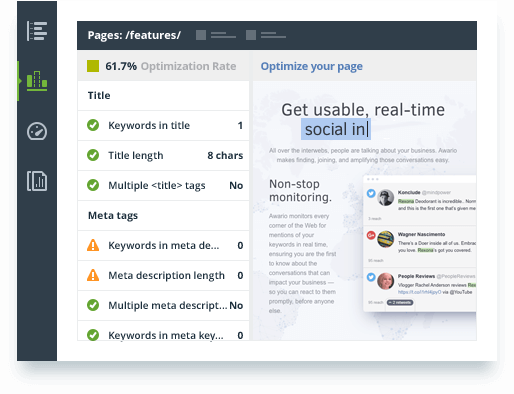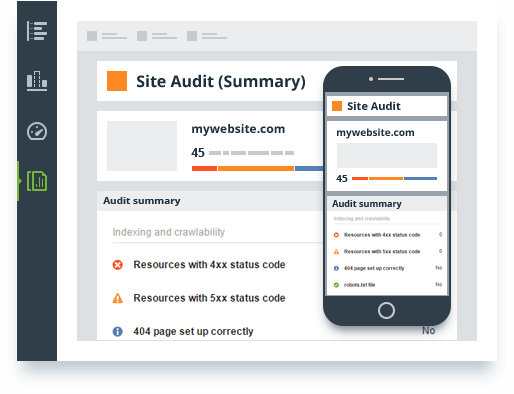 Custom, automatable reports.
WebSite Auditor's reports are customizable, white-label, and designed to look fab across devices. Easily share reports with clients by uploading them to the cloud and instantly getting a shareable link, or automate reporting completely by setting up a scheduled task. WebSite Auditor will build reports on autopilot and deliver them to clients on your schedule, as a direct link or attachment, in a plain text or custom HTML email.
Why WebSite Auditor?
Here's what our users say.

I have been really impressed with the features that Website Auditor has to offer! This tool has really helped me to understand SEO better. If you are looking for software to help drive your keywords to search engines, and get a top 10 placement in search engines, then Website Auditor is a must have.

Anthony Rousek
Internet Marketer, Founder
allpcstuff.com

Website Auditor is the advanced onpage tool that saves you tons of time and arms you with detailed recommendations on how to boost your traffic quickly and easily. Having access to this information will put you in a very powerful position and make you one of the strongest SEOs in the business.

Siscruc Kola
Founder
Sisruc.org

WebSite Auditor is very well structured and provides some essential information, summarization and visualization options. I have found the tool really useful both to SEO newbies and practising SEO consultants.

Ann Smarty
Blogger, Community Manager
Internet Marketing Ninjas
Try WebSite Auditor for free.
No strings attached, no credit card required. Grab a free copy of WebSite Auditor and take it for an unlimited test drive.