All you need to know to rank on Google Maps
Article stats:
| | |
| --- | --- |
| Linking websites | 23 |
| Backlinks | 34 |
| InLink Rank | 27.0 |
First things first: Google Maps is the mapping service at the moment, outdoing every other online map by hundreds of millions of users.
Of course, there is a way for you to use that overwhelming popularity to your business advantage. While Google Maps' most obvious benefit is making you easier to find, it's not its only benefit.
Being noted on Google Maps is expected and not really groundbreaking for a huge corporation or a local institution, but for a small business, it could serve as one of the prime drivers of new customers and conversions.
Google knows where their users are, and, unless we specifically ask them not to adjust our SERPs, most commercial searches we do will be local, complete with a local 3-pack and a Google Map window occupying most of our screen.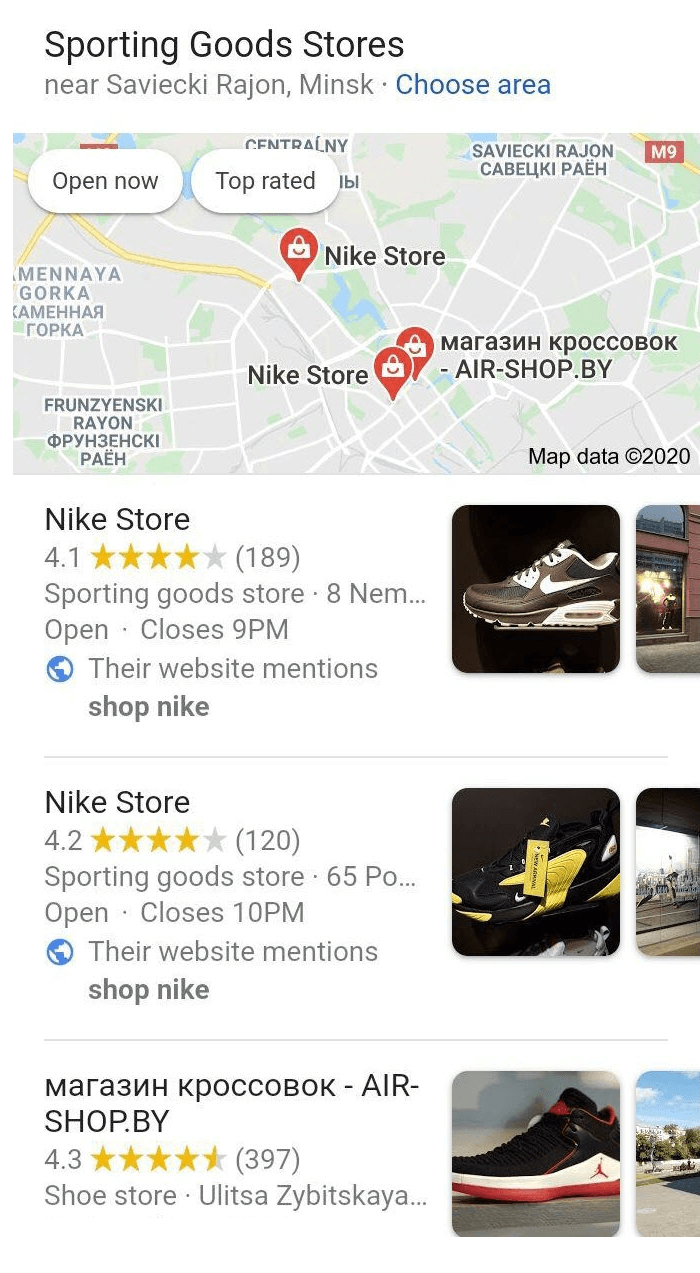 Getting into that kind of prime SERP real-estate is a natural priority for any local business, and the only way to get there is to be on Google Maps.
Remember that ranking in Google Maps is not only about visibility but also about the positioning of your business. If used correctly (and strategically), Google Maps can play an important part in your digital marketing strategy.
How to add your business to Google Maps
First off, go to Google Maps and enter your business name into the search bar.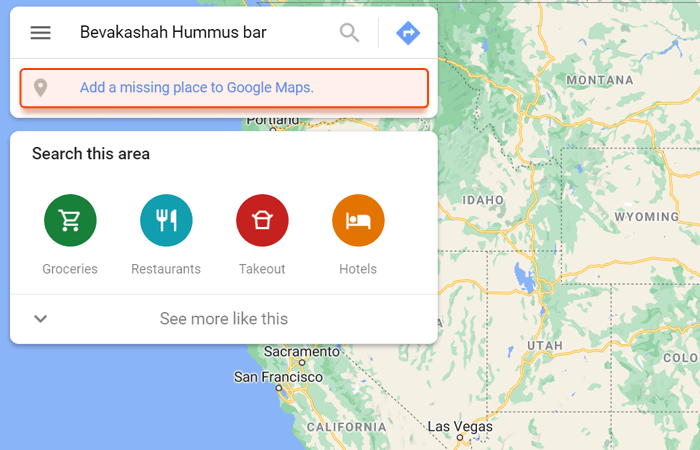 A window will pop up, offering you to fill out the basic business information, like open hours, category, and location.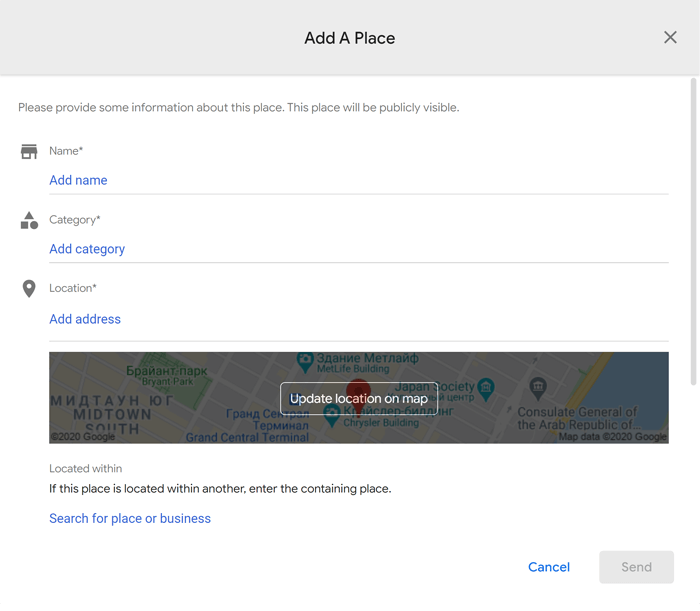 Once you're done and clicked Send, your application to have your business registered on Google Maps is officially sent, and you'll get an email once it's been reviewed and approved.
After your business has been added to the Google Maps database, it will be eligible to appear in the Maps SERP along with other businesses located around it.
Now let's unpack how Google Maps ranks their results.
How Google Maps rankings work
According to Google's documentation, the three main local ranking factors are:
Relevance — how much your business matches the user's query.
Distance — how close you are to the search user.
Prominence — how well-known and well-liked the business is.
The main thing to remember here is that the ultimate objective of Google Maps isn't to help business owners boost their sales and conversions. It's all about helping users find what they need to find.
In this context, let's take a look at how all of these factors interact with each other.
Relevance factor in Google Maps results
First, you need relevance to even show up for the search query. It's probably the easiest factor to explain.
There are hundreds of thousands of businesses registered on Google Maps, and yet when I put in "new york coffee", the algorithm knows exactly what I need.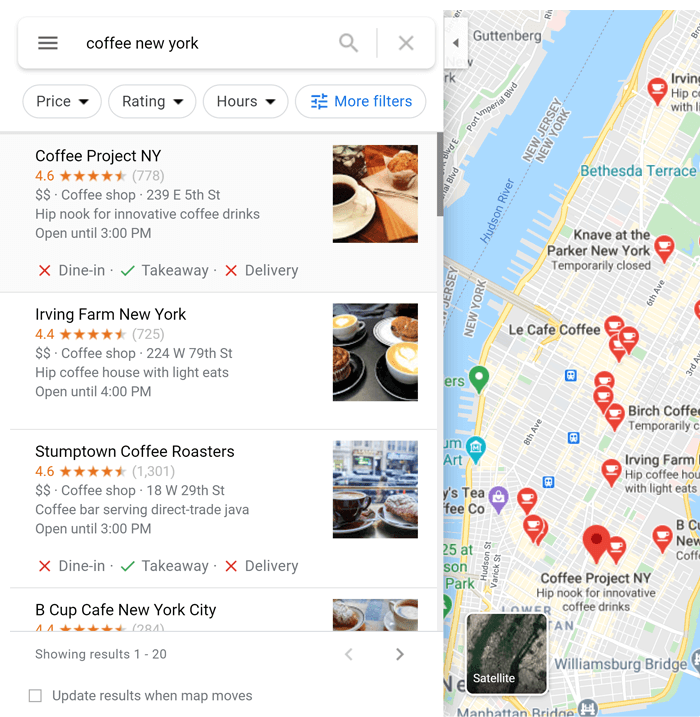 At this point, your company name, and, more importantly, its category and address, will determine that you get into Google Maps SERPs for the relevant query.
As you're filling out your company information, you might wonder about the optimization value of adding a keyword or two that go beyond your legal business name. Say, what if your business is called "Coffix", and you just add "Restaurant Coffix"?
Keywords in your company name are hugely important. Our colleagues over at Moz have conducted a pretty thorough study confirming that for local Google rankings, your business name is a top ranking factor.
Optimized business names are also a very fast way to improve visibility. Another study found that it takes only a week to improve rankings with optimized business names.
With all of this in mind, why wouldn't you want to optimize your user name for relevance? Because, once again, Google Maps doesn't exist for webmasters and business owners. Instead, it exists for users, and optimizing your business name is as far from user-centered as it gets.
Let's turn to Google's Guidelines and see what they say on the issue: "Including unnecessary information in your business name is not permitted, and could result in your listing being suspended."
You could get reported by Google Maps users, or just kicked out by the algorithm itself. And while, yes, there is a lot of spam on Google Maps, it does eventually get better, with garbage listings getting removed.
To sum up: optimizing your business name might yield fast and plentiful results, but it's also very likely to get penalized by Google which will lead to your business simply being removed from Google Maps.
Distance factor in Google Maps results
Once only the relevant results are in the picture, the distance factor comes into play.
It's probably the most important factor to consider when doing local SEO, as the SERPs and local 3-packs will change wildly depending on where the searcher is, and there isn't much we can do about optimizing for distance.
Ultimately, wherever you end up being and running your business will have a lot to do with your Google Maps SERPs.
E.g. I'm googling bookstores while letting Google track my specific location.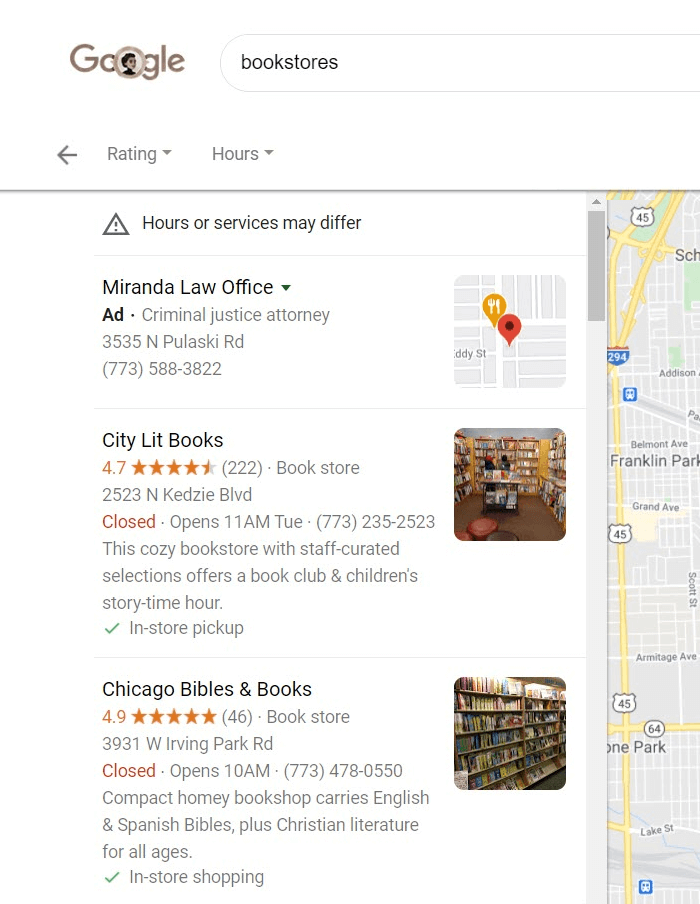 Note especially how the first result on the SERP is: a) not organic; b) not even a bookstore!
This is because of the recent developments in Google Maps Ads, and I'll talk about it a bit further on. For now, let's focus on organic search results.
By default, Google Maps listings are prioritized into positions based on the user's location, with position "A" being supposedly the closest and most prominent. Positions "B" and "C" are also provided, in case you need more options.
You may have even experienced the weight of the distance factor in local results yourself.
Many users are prompted to search for businesses near them through Google Autosuggest, especially when searching from their mobile device.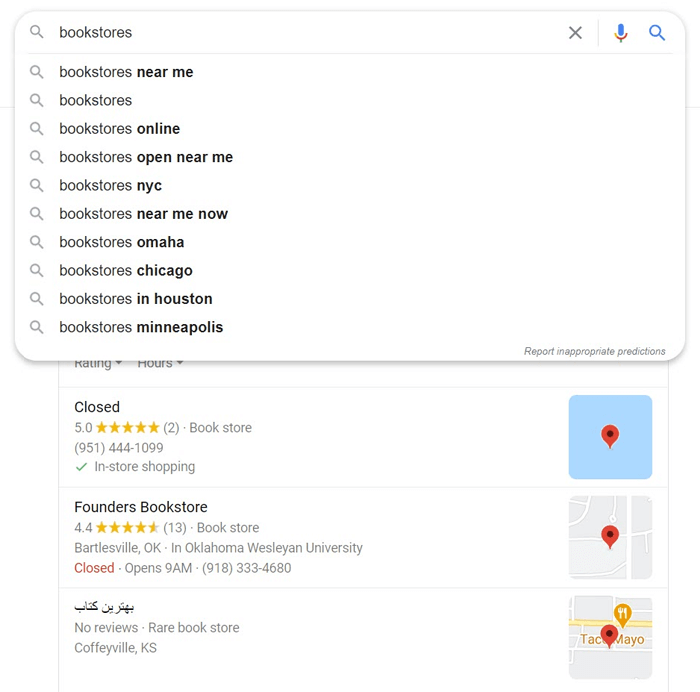 As you can see, there are three separate "near me" search results auto-suggested for bookstores. It's almost as if Google wants us to use Maps to find local businesses!
In the Maps app itself, your SERP will only contain the results that are visible on the current map screen. This means that a user doesn't get the SERP detailing every single bookstore in the city.
The logic here is that the user gets to see just the results around their location of interest, and there is very little chance to get into the SERP outside of that location until the user widens out the map's scale to include your address.
Prominence factor in Google Maps Results
Now comes the prominence, the most difficult ranking factor to pin down. Google's documentation claims prominence is based on how well-known a business is, both offline and online.
Your company website's web results, your GMB reviews, backlinks, and articles to your properties are all supposed to be counted towards your prominence in local search in general, and Google Maps in particular.
Although, as I've said before, your location counts for a whole lot of your success in Google Maps SERPs, location isn't everything.
Not every user has location data enabled on their devices, while the Maps listings are available for virtually any destination on the planet, not only those in the user's general vicinity.
Let's call the results shown when we take the location factor out of the equation the "ranked" results.
These results are already presumed to be relevant, so the prominence is all that's left for Google to rank the SERP. According to the guidelines, Google is looking at how well-known companies are, on- and off-line.
For example, in the figure below, you'll see Maps results for "theater" in New York: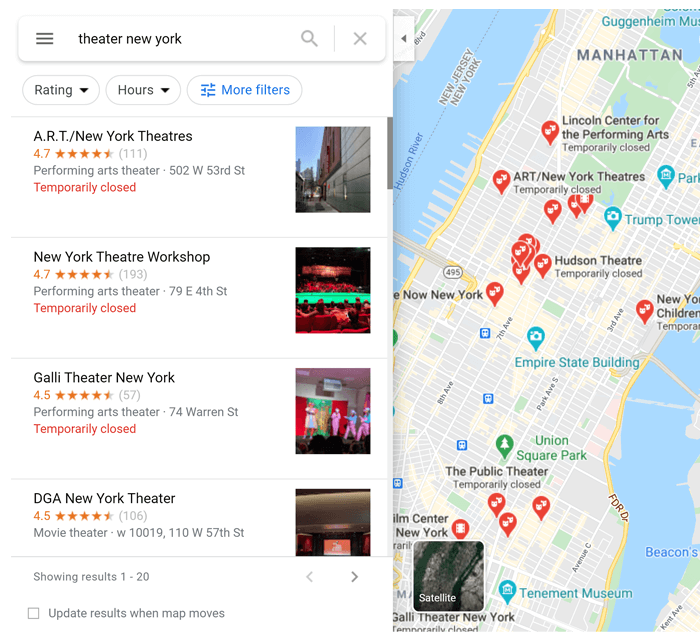 It's a highly competitive market. You can see that the results are arranged by rating, and the highest-ranked organic result is the DGA New York Theater, with a rating of 4.5 stars from 106 Google reviews.
You'd think that this makes prominence a relatively easy concept to hold down. You need at least a 4.5+ star rating to get into this list arranged by rating, and all of the theaters here are very well-known.
But once you're on that list, the actual arrangement of the results can't be explained away by the rating, nor by the overall "popularity".
Here is where the "marketing" part of Google Maps ranking starts to show.
In this search, I looked for businesses on the other side of the world from me (eliminating any possibility of my location factoring into my results). That said, Google Maps is not giving me the results arranged by how close they are to my screen's center, nor left to right, and they are all relevant.
This is where it gets interesting.
If you look at the second-highest result in the example above, you'll notice that it's Broadway. The New York Broadway theater is only second in the search, even though it has a higher Google rating of 4.7 stars based on 3,200+ reviews.
And, well, it's Broadway. It's undoubtedly more well-known, arguably the most popular theater in the city/country. On top of that, it has many more reviews with a better overall score, and more people talking about it online than the DGA theater which occupies the top spot.
All this to say: we don't know what makes the prominence factor tick. In fact, in this particular case, the Google Maps algorithm isn't taking the rating or the overall prominence into account — so what's up?
The only place left to look for an explanation is how well-optimized every company's Google My Business listing is.
How Google Maps works with Google My Business
Some readers may know that I love Google My Business to pieces. As far as I'm concerned, upkeeping a GMB listing is the best local SEO tactic, costs/benefits-wise.
Since GMB and Google Maps are both Google products, sharing the same overall UI, and linking to each other in many places, I'd like to take a moment to explain the differences between the two.
Google My Business is a database of businesses; Google Maps is an online mapping service.
In Google My Business, you need to create and claim your business listing, fill it out, update it with offers, and so on.
In Google Maps alone, you will have to make do with adding your address, phone number, and working hours. Without a Google My Business account to draw additional company information from, your Google Maps listing will remain just that: a bare-bones note about what business you're running and where you're located.
Is Google My Business listing necessary to register on Google Maps?
The short answer is no.
However, I would very much advise you do it anyway. Of course, you can have your business on Google Maps in no time at all without actually claiming it through GMB.
But consider this: a GMB listing is an opportunity. It's an opportunity to make your business stand out, to give your customers (and Google) more information about what kind of business you're running. It will also help you stand out from the crowd of other search results.
Unless the user is specifically searching for your brand (and most users won't), they will inevitably get a list with a few other businesses — and without a business description, or reviews and rating, without products and services highlighted, without business updates your own listing will never get that click.
Putting your business on Google Maps without creating a listing on GMB is possible, but those two services work best in unison, and engaging with both is the real way to rank successfully.
Pro tip: claim your business as you're adding it to Google Maps
Right when you're adding your business to Google Maps, you'll see a button saying "Claim this business".
By clicking on it, you'll jump to the GMB page, and be able to fill out your listing, providing details and information about your company that Google will then display in Google Maps.
How to optimize your GMB listing for Google Maps
Now that I've explained how important having a listing is, time to talk about the optimization efforts on GMB.
The key rule here is to fill out as much of the information offered on GMB as possible, as it's the most direct way to tell Google about yourself. That said, not every piece of information will be useful for ranking, and those that could help you rank might be best left unoptimized.
Two very obvious examples are:
Your business description doesn't get crawled for ranking purposes, so there's no need to optimize it with keywords.
While you can optimize your opening hours and get into the SERPs for a 24hr business, for example, if you aren't open it will only lead to a negative Google review.
Instead, I believe that the best GMB use for Google Maps ranking is in expanding your relevancy.
Optimizing your NAPA
NAPA commonly stands for name, address, phone number, and area code. To get the most out of your Google Maps listing, you need to keep NAPA consistent between your GMB page, Google Maps page, and the actual website you're linking to from your Google instruments
Once you've claimed your business on GMB, you'll get to modify with your own hand everything that Google knows about you.
The key here is this: if you happen to have a website, then that website should contain your NAPA. And when you put in your NAPA, you need to make it entirely, comma by comma, the same as your GMB/Google Maps listing.
It's fairly easy to get something wrong and use slightly different addresses or phone numbers and get penalized as a result.
I've already explained the perils of optimizing your company name (to avoid the penalty, always only use your legal business name). And I believe that the phone number/area code will be very easy to fill out, there are no tips/tricks there.
There is a bit of a trick when it comes to your addresses, though, so let me explore that a bit more.
If you have a brick-and-mortar store out of which you do your business, then what you need to do is to give the most precise address data for it.
For that, go to your GMB dashboard > Info > and then add the fullest, most accurate business information.
If you're operating out of a suite/specific room, you can add them there, but it's generally recommended to use a separate address line for that. Itself it doesn't have any effect on rankings, it's done mostly for the users to have an easier time finding you.
If, on the other hand, you are running a service-based business, like a plumbing company, then what you need to optimize is not the address, but your service area.
Go to the GMB Service Area option, and add the relevant locations. You can choose between different cities, regions, and metropolitan areas, adding up to twenty items here.
Of course, for a business that both serves customers at their location and provides service for a specific area, simply add both of these.
Optimizing your services
For a service-based business, you can add the actual services you're providing in your GMB dashboard. Don't be shy here and list everything you do.
Each item on the services list lets you be more customer-oriented and more optimized. You can add a description of up to 300 words + a price for the service.
By listing your services, you widen the area of your relevancy for different searchers, and you let the customers that already found you know exactly what kind of service you provide.
Once you've added the appropriate service to the correct category, you'll start appearing in Google Maps results looking for those specific services as well.
A note about products
The same logic applies to the Product section of your GMB listing as to your services listing: it's one of the best ways to increase your relevancy for Google.
The Products menu is not currently available for every business owner out there, and whether you get to use it depends on where your business is located and what kind of business you even do.
That said, adding products can help you get into Google's Products carousel, but won't do much in terms of Google Maps rankings specifically.
Optimizing your attributes
No two businesses are alike, and the attributes that make you special should definitely go into your GMB optimization priority list.
Say a user is searching not just for restaurants, but specifically for the ones with free wi-fi. Google will scrape the reviews and the descriptions, of course, but the sure-fire way to give the algorithm that information is to add the appropriate attributes.
By adding information that your restaurant might have a buffet breakfast or a free wi-fi, you'll have a higher chance to get into a SERP when a person is searching for corresponding items.
Plus, it gives your potential customer more information on the SERP, and it's an additional opportunity to impress them and draw their attention.
How having a website influences your Google Maps ranking
Let's cover the most important question first: do you need a website to rank on Google Maps?
In a word: no.
You don't need a website to appear on Google Maps. Nor do you need a website to manage your listing there (that's done through Google My Business), and it's not a prerequisite for ranking.
However, having a website for your business is generally a great idea in the 21st century. And if you're going to have a website for your business anyway, there are a couple of things you can do to gain a slight edge over your competition.
Make sure your website is responsive
The first is to make sure your website is responsive, which means that it functions consistently across any device or screen size. This is because Google Maps business listings contain a link to your website, and nearly 60% of Google searches occur on mobile devices.
So if your listing takes searchers to a website that requires pinching and zooming, has broken links, or is slow to load, your Google Maps ranking will suffer.
Add local keywords to your website
The second way to use your website to boost your Google Maps ranking is to adjust it for local search. Of course, this will help your website to rank higher in Google Search, but may also influence how high your Google Maps business listing ranks.
Incorporate location-based keywords to the main pages of your site, such as the Home, About, and Contact pages. Since your website is where you're allowed to optimize away, you can (and should) remind the search engines where you are located.
Additionally, add local keywords to products and services page, and even blog posts—and not just to the title of the pages, but also to the headings, body text, image tags, captions, and URLs.
Emphasizing to Google through your website that you are prominent in your local area can help Google to feel more confident in ranking your business listing on Google Maps for that area as well.
Embed a Google map on your website
A long time ago, which is to say, in the years before 2018, Google Maps embed was one of the best ways to boost your rankings.
The API itself was free, and the boost it provided for local SEO was significant. If you were trying to rank your local business, you could embed Google Maps into most of your landing pages, and it was recognized as a great practice, and those pages would jump up in rankings.
However, it seems we've abused this tactic a bit much when doing our local SEO, as the Google Maps API is no longer free as you need to have a billing account to use it.
This means, on the one hand, that it's tougher to implement Google Maps on every landing page like we used to do. On the other hand, every billing account in Google Cloud gets a 200 USD credit, so adding a Google Maps embed on your About and Contact pages is still completely viable.
Of course, it's much more likely that your About and Contact pages will rank for your brand searches only, but you can still rank for certain local keywords, and in that case, a Google Maps embed will give you a nice little bump.
The fact that Google changed the conditions for API usage only further confirms that Google Maps was intended to be a user-centric mapping service and not a tool for business owners to promote themselves.
But things aren't quite so one-sided, since Google Maps also hosts a variety of actual, straight-forward ads, which dominate the first positions of Google Maps search.
Let's see what Google Maps Ads have that we can use to promote our brands.
Using Google Maps Ads for ranking
As with any PPC campaign, Ads results appear on a Google Maps SERP above the organic ones, usually one or two at a time. If you want to run an ad for your business on Google Maps, you need to claim your business through Google My Business and create a Google Ads account and start spending money on campaigns there.
Ultimately, like any CPC campaign, advertising on Google Maps comes with an obvious benefit of being above other results, only here, the ad leads not to your website, but to your GMB listing instead.
There are a few ways your PPC results can be shown in Google Maps.
Search Results Ads
When performing a search on a mobile device for a business or service within your area on Google Maps, it will return the nearest businesses based on your physical location and their ratings.
If you want to be at the top of these maps results in a specific area, then Google Maps offers paid local search listings in which businesses can pay to appear at the top.
Obviously, this kind of result instantly improves any company's CTR among their peers, and brings a bunch of fresh clicks.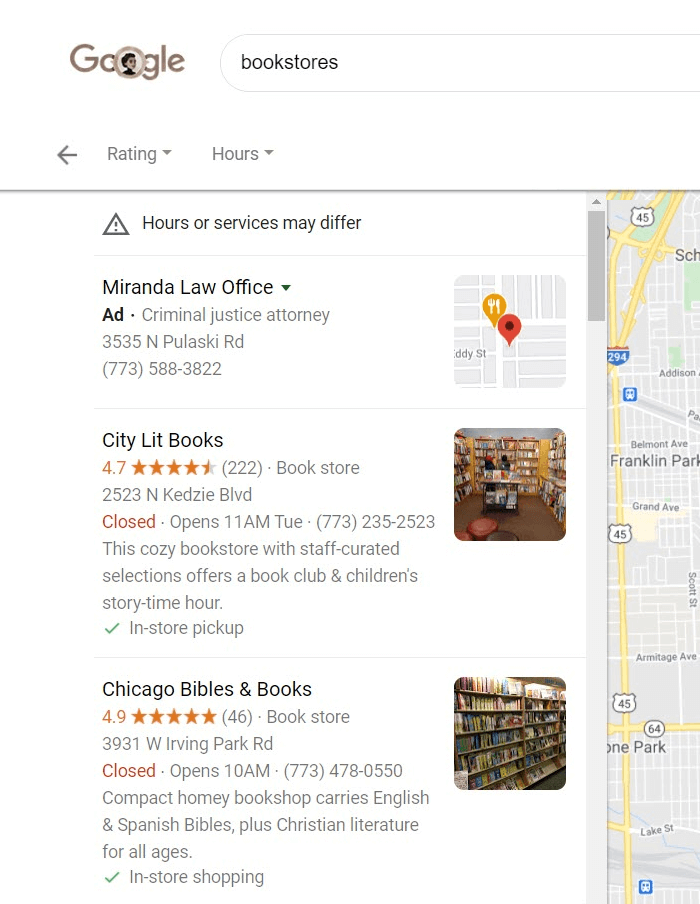 In the example I've already used before to demonstrate the proximity-based Google Maps results, Miranda Law Office is the paid one. It, therefore, appears over the entire SERP, both on mobile and desktop, and it's not even remotely relevant for the bookstore search.
While Google's algorithm strives for a fair and balanced representation of paying advertisers only for "relevant" results, here we see that what might end up happening is your visibility spills over into non-target keywords.
Promoted Pins
Promoted pins are another type of paid ad listing and a great way to get noticed when users are browsing areas on the Maps app. Unlike the search results ads, these bolded pins pop out on the map without the user having to search for anything.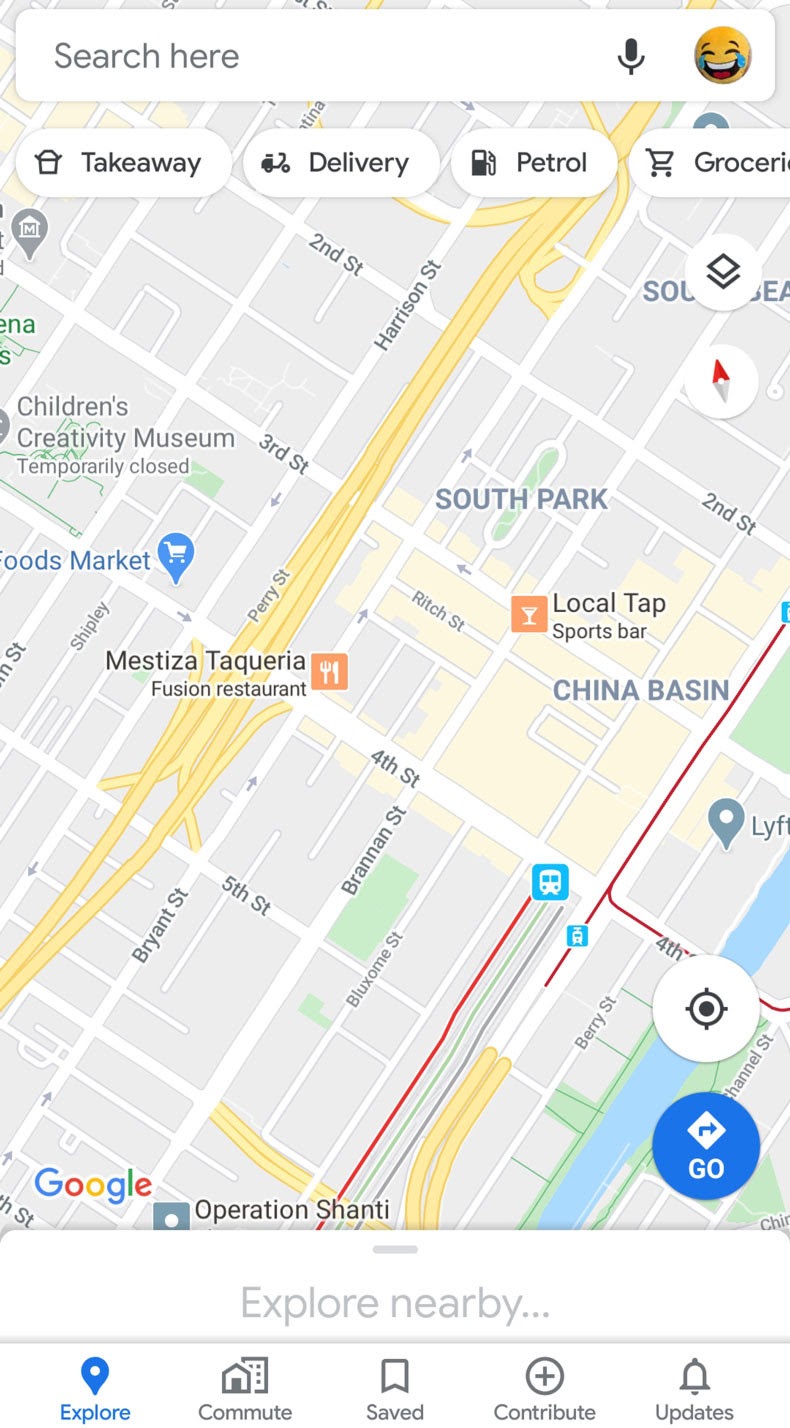 Depending on the type of business being promoted will determine what color and style the icons are. For restaurants and bars, the pins icons look like these:
In-Store Promotions
In-store promotions are where businesses place ads on their business page that tell the user of special promotions they are running. These promotions can be anything from buy-one-get-one-free offers, to discounts on specific products.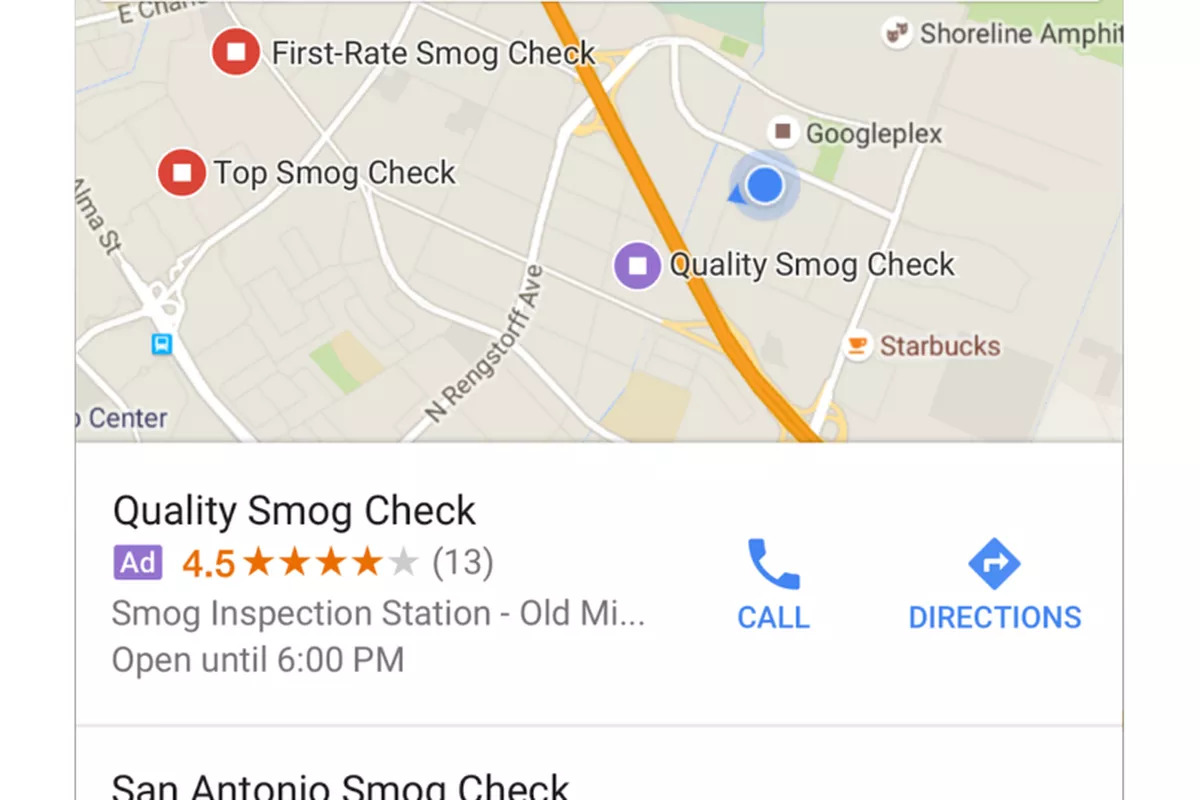 In this example, the pin itself is listed as a standard Google My Business store, but when a user clicks on the profile, they'll see the special in-store promotion.
To make Google Map ads as effective as possible, advertisers can choose to enable all three of the different ad types to increase their maps visibility. Of course, they can also pick and choose which ones are suitable for them as more features usually end up costing more per click.
Tracking your Google Maps rankings
Even though ranking higher on Google Maps is a bit unorthodox as an SEO goal, you can monitor your rankings there all the same.
Google Maps functions much like any other search engine, and, like most other search engines, it can be tracked with Rank Tracker.
If you want to keep your hand on the pulse of your Maps rankings, all you need to do is go to Preferences > Preferred search engines and add Google Maps to the mix.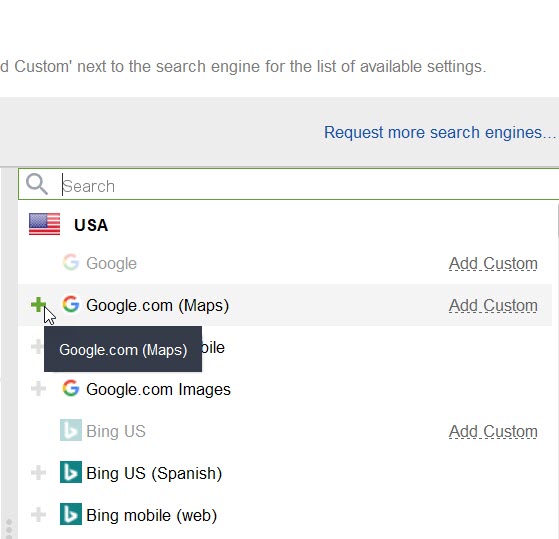 From now on, all of your target keywords will also be tracked in Google Maps as a separate search engine.
And of course, what we need when trying to rank in Google Maps is to track our rankings in specific geographical areas. For that, click Add Custom next to the Google Maps button on the list of the search engines.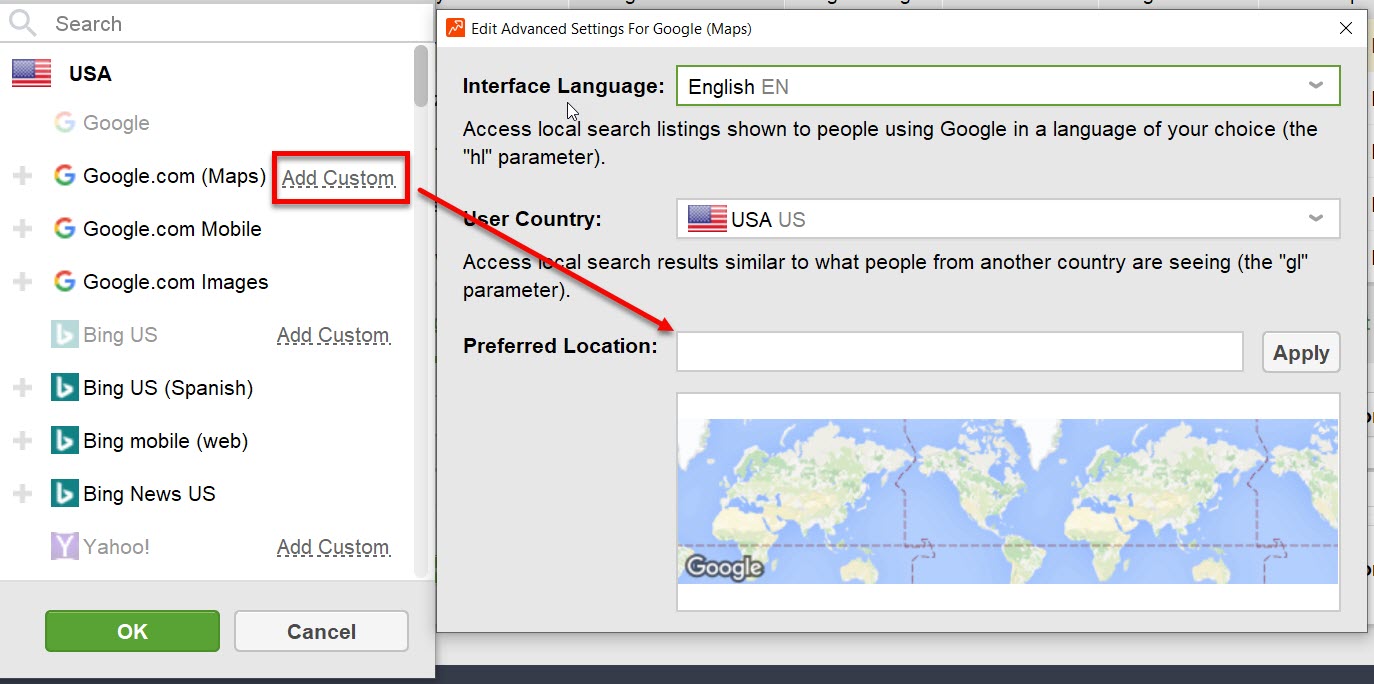 Once in the customization menu, add the address you're interested in tracking. Now you'll be able to track your local rankings around the exact location of your company. For multiple business locations, simply create more projects (you can use as many projects as you need in Rank Tracker, no limits there).
As soon as your keywords are added to your tracking, start tracking their SERP and visibility progressions in Google Maps.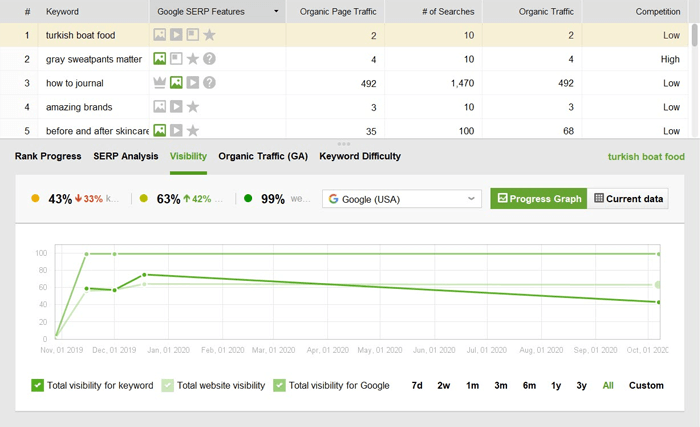 Now you can see how your positions for target keywords in Google Maps changed over time, and spot if you need any corrections.
If you see a steady, but slow decline — look into your GMB listing. Check if you're receiving worse reviews, or if you need to publish more business updates to stay relevant for your customers.
Conclusion
Optimizing for Google Maps is not one of the usual suspects of SEO tasks. That said, with just a bit of marketing know-how, you'll start appearing for more searches and will end up much higher on the Google Maps SERPs overall.
If you have your own pro tips on ranking on Google Maps, go ahead and share them in the comments below.