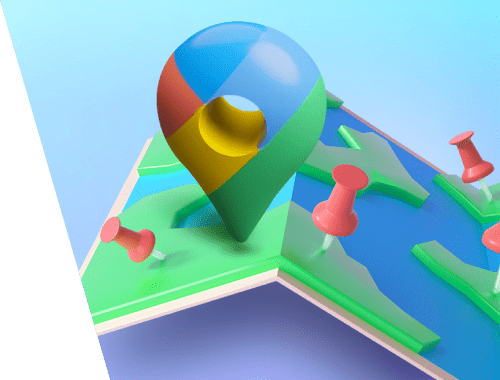 How to Rank on Google Maps: A Beginner's Guide

I bet you have seen a Google Map like this when searching for places to go. It shows a number of nearby locations on the map itself and the top three choices for the search listed below:
If the three results are not enough, you can click the map itself and get a greater variety of locations:
Look at these images once again. The first three locations on the map are the same as in the local pack on the SERP. The idea is the following: the local pack occupies a lot of space on the SERP and eventually gets more clicks, so if you're a business owner, you have to get there. So you need to rank in the top 3 on Google Maps.
How to do this? Let's get down to business.
Google Maps ranking factors
Google Maps ranking factors are also called local ranking factors, as they are all related to location, both yours and the searcher's. According to Google's documentation, the three main local ranking factors are:
Local ranking factors and the Vicinity update
In December 2021, Google confirmed they rolled out a massive local engine update. That Vicinity update became the biggest local search algorithm update in the last five years and heavily shifted the balance of the three core ranking factors. In particular, the distance factor started playing a far more important role than it used to. For example, before the update, the listings that were better optimized could easily outperform those that were actually closer to the searcher. As for now, this is hardly possible.
Together with the Vicinity update, Google has started testing the new local pack layout in SERPs. So you may come across a wider block with its map on the right and the three local pack results on the left.
Let's take a closer look at how the Vicinity update affected each local SEO ranking factor.
Relevance factor
Relevance is probably the easiest factor to explain. It is how relevant a business is to the query. And while for quite some time in many niches relevance used to get down to simply having an exact match keyword in your business name, the power of this factor was diminished by the recent update. As for now, it's the category and subcategories of your business listing that seem to matter.
Say, I google pub Melbourne.
The local pack features only one result with the word pub in the name now.
Distance factor
Distance is probably the only factor you can not influence. You are where you are, and you can neither move your business nor make users search for it from a certain spot.
The Vicinity update heavily increased the importance of distance. As you can see on the screenshot below, even a poorly filled-out listing can get into the local pack if it is located close to the searcher.
No ratings, reviews, prices. No nothing. Still, the snippet got into the SERP because of the location.
Why is this possible? Because Google is trying to show users the closest places without making them walk too far to the desired destination. All for the sake of people's comfort.
Prominence factor
Now comes prominence, the most difficult and extremely important ranking factor to pin down. The Vicinity update has had some impact here, too.
Google's documentation claims prominence is based on how well-known a business is, both offline and online. So your company's website organic positions, GMB reviews, ratings, and backlinks are all supposed to be counted towards your prominence in Google Maps.
The power of prominence is clearly seen if you search for a place in a location different from your current one (say, you want to find something in another city you're planning to visit).
For example, I'm not in Rimini now. And here's what I get in the local pack for gelato Rimini:
All the results have the same rating of 4.6, but the first place has 2,000 reviews, the second location goes with 761, and the third one has been reviewed 411 times. The correlation is quite obvious.
Now, keeping the 3 local ranking factors in mind, let's move on to the practical part. What do you do to increase your Google map rankings?
1. Add your business to Google Maps
To rank on Google Maps, you have to be present on Google Maps. So you need to go to Google Maps and type your business name into the search bar.
If there's no information about your business yet, use the Add a missing place option.
A window will pop up, offering you to fill out the basic business information like the open hours, category, and location.
Once you're done, click Send. Your application will get reviewed and approved, and you'll get an email notification.
2. Add your business to Google My Business and optimize the listing
Technically, you don't need a GMB listing to rank on Google Maps. But in fact, you do, as GMB does matter a lot when it comes to local ranking factors:
You can create a GMB listing right when you add your business to Google Maps. To do this, click Claim this business in the Maps pop-up.
This action will immediately take you to the Google Business Profile page, where you can fill out your listing, providing details and information about your company.
As for the optimization of the GMB listing, the rule is simple: carefully fill out every line and section you see. Or check our comprehensive guide on Google My Business listing optimization.
3. Get more reviews
As I've mentioned above, reviews do impact your positions on Google Maps and in the local pack. Of course, I mean positive reviews. How do you get them? First and foremost, you can encourage your clients to leave reviews. You can launch a campaign on social media, offer a discount, or just email them to ask their opinion on your business and ask them to rate you.
By the way, reviews have their own ranking factors (bet you have seen how Google pushes some of them to the Most Relevant section):
With this in mind, you have to make sure the reviews on your business are numerous and do contain keywords. And to encourage your customers to use the needed keywords, consider asking for reviews of specific products or services of yours.
4. Optimize your website
Although technically you don't need a website to appear on Google Maps (just like a GMB listing), neglecting organic SEO can harm your Google Maps performance, as there's a strong correlation between organic traffic and growing positions in the local pack.
Add local keywords
To boost your local positions, enrich your website with local keywords. These are the keywords that let Google see your relevance to a certain location.
In most cases, you can simply add the name of the location you operate in to your landing pages. For example, use New York best coffee instead of just best coffee. Also, you might want to try optimizing the near me keywords.
If you need new local keyword ideas, try Rank Tracker's Keyword Research module. For example, you can use one of your local keywords as a seed one to get new keyword suggestions with the help of the Autocomplete Tools feature.
Download Rank Tracker
If you operate in several different locations, consider creating different local landing pages and optimize each for relevant local keywords — these may be names of nearby sites and attractions, cities, etc.
Embed a Google map
Adding Google Maps right on your website is another way to let Google connect your business with the location. In particular, you can point out the directions to your location from the most popular nearby places — it may be an airport, railway station, local attractions, etc.
Keep in mind that the Google Maps API is not free for heavy usage. Still, adding Google Maps on your About and Contact pages (or whatever couple of pages you need) is absolutely viable. Just create a billing account with Google Cloud Platform to get a $200 credit on Google Maps API every month (you won't be charged unless the usage exceeds these $200).
Make your website responsive
Website responsiveness means that a website functions consistently across any device or screen size. As Google Maps business listings contain a link to your website and nearly 60% of Google searches occur on mobile devices, having a responsive website goes without saying.
5. Build relevant backlinks
High-quality backlinks have always been important for SEO, and local search is not an exception.
However, when trying to improve your visibility in local search, make sure to focus on not only thematically, but also locally relevant backlinks.
When looking for link-building opportunities, I recommend simply going outside and looking around. Start with your physical neighbors. Then, turn to your business contacts — these may be your partners, providers, customers, etc.
Even if a business has nothing in common with you except for the location, a backlink from their website will still signal a "connection" to this particular location and benefit your local rankings.
And surely don't ignore the opportunity to identify your competitors' backlinks. To do that, in SEO SpyGlass, go to Domain Comparison > Link Intersection and add a couple of your competitors from Google Maps (just google your business category and location to find them). Then choose Prospective domains from the drop-down menu.
Download SEO SpyGlass
6. Audit and update NAP citations
Name, Address, and Phone number (NAP) refer to your key business information. The more consistent these details are across your business mentions on the internet, the more confident Google is about your business.
So it makes sense to audit your NAP citations to spot and correct any inconsistent data.
Even though some experts say that the role of citations as a ranking signal declines every year. I'd still recommend taking care of how your business is listed at least on the major platforms (like Yelp, Yellow Pages, or Tripadvisor) and the local directories serving your specific area (like a city-wide review platform or an aggregate marketplace).
7. Add Schema Markup to your website
Structured data lets Google better understand information about your business. Schemas for local businesses can be applied to the address, opening hours, social media profiles, etc. As Google crawlers reach your website, they will easily get the vital information thus trusting you more and pulling your listing higher in Google Maps.
Remember to check and validate your schema with Google's Structured Data Testing Tool to make sure all works correctly.
8. Try Google Maps Ads for ranking
Google Maps Ads is not an organic way of promotion, however, you can still use it as a means of traffic acquisition.
As with any PPC campaign, Ads appear on a Google Maps SERP above the organic results, usually one or two at a time. If you want to run an ad for your business on Google Maps, you need to claim your business through your Google Business Profile account and create a Google Ads account.
Ultimately, like any CPC campaign, advertising on Google Maps comes with an obvious benefit of being above other results, only here, the ad leads not to your website, but your GMB listing instead.
There are a few ways your PPC results can be shown in Google Maps.
Search Results Ads
When performing a search on a mobile device for a business or service within your area on Google Maps, it will return the nearest businesses based on your physical location and their ratings.
If you want to be at the top of these maps results in a specific area, then Google Maps offers paid local search listings.
This kind of result instantly improves any company's CTR among their peers and brings a bunch of fresh clicks.
Promoted Pins
Promoted pins are another type of paid ad listing and a great way to get noticed when users are browsing areas on the Maps app. Unlike the search results ads, these bolded pins pop out on the map without a user having to search for anything.
The type of business being promoted will determine what color and style the icons are. What's more, you can even add a logo to be displayed instead of a standard icon.
In-Store Promotions
In-store promotions are placed right on businesses' listings and tell a user of special promotions they are running. These promotions can be anything from buy-one-get-one-free offers, to discounts on specific products.
In this example, the pin itself is listed as a standard Google My Business store, but when users click on the profile, they'll see the special in-store promotion.
9. Track your Google Maps rankings
You can monitor your Google Maps positions just the same way you monitor your ordinary SEO positions.
Let's take Rank Tracker for example. What you need is to go to Preferences > Preferred Search Engines and select Google Maps.
Download Rank Tracker
What's more, you can specify the location to track your positions as if from a specific street address. For that, click Add Custom next to the Google Maps button on the list of the search engines and specify the location in the new window.
Download Rank Tracker
Once in the customization menu, add the address you're interested in for tracking. Now you'll be able to track your local rankings around the exact location of your company. For multiple business locations, simply create more projects (you can use as many projects as you need in Rank Tracker, no limits there).
As soon you add your keywords to your project, you can start tracking their SERP and visibility progressions in Google Maps.
Download Rank Tracker
To sum it up
Optimizing for Google Maps is not the most obvious way where your SEO strategy can go. Still, with the growth of local business features in SERP (say hi to the local pack) your business does need it to get views, clicks, and eventually paying clients. As you see, the process is not as tough as it may have seemed before you have read this guide.
Have some extra tips to share about how to rank on Google Maps? Share in the comments.
Article stats:
| | |
| --- | --- |
| Linking websites | N/A |
| Backlinks | N/A |
| InLink Rank | N/A |