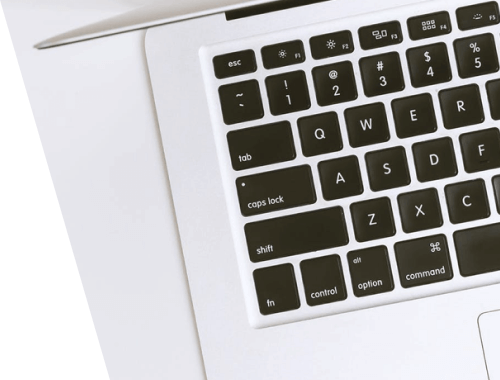 Learn How to Find Expired Domains with Quality Backlinks

How to find a powerful expired domain for your next project — tools & tips
When you start a new blog, one of the first things you do is pick a domain. This happens even before you conduct your first technical audit, or get to creating stellar content for your blog. Many people regret their choice later and it is not easy to find the perfect domain.
In this post, I am going to show you the tricks and tools I used for picking expired domains for my blogs.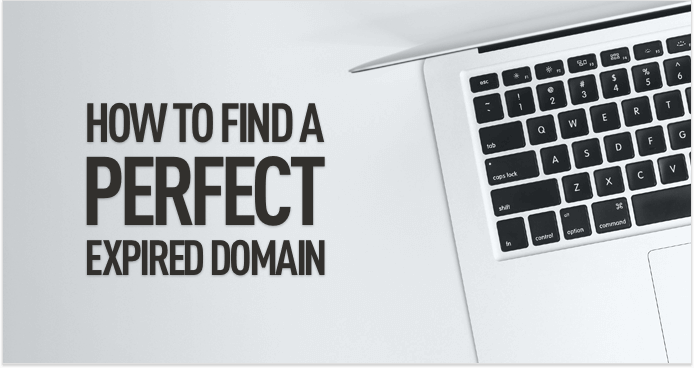 There are three ways you can go to start your work on building a new website.
1. Start your blog on a brand new domain.
This is what most people do. You are starting with a clean slate.
2. Purchase an existing domain.
This is another choice — it can be lucrative, especially if there is a website attached to it, but at the same time such a domain could be very expensive.
3. Register an expired/deleted domain.
This is the method I usually follow and I had good success with it. The advantage is that it is very inexpensive, but at the same time it also gives you an SEO advantage: once your domain becomes a few months old and gets picked up by Google, the backlinks built by the previous owner will give you a headstart and better rankings.
What is an expired domain?
When the website owner does not extend payment for their domain registration, the domain gets expired; the domain host renders it inactive, which makes such domains dropped, or deleted. As a rule, website owners get a notice that their domain names are going to get expired soon. There is a redemption grace period when the domain owner has the right to make renewal for the expired domain. Over this period, the domain name becomes available for stakes at auctions that sell domain names. If nobody shows an interest in the domain name, it gets into the deleted list.
Using SEO SpyGlass to pick your domain
In November 2017, I came up with the idea to start a blog about sales funnels. The search term has about 8,000 monthly searches, but obviously everyone who wants to sell products will need to have a sales funnel.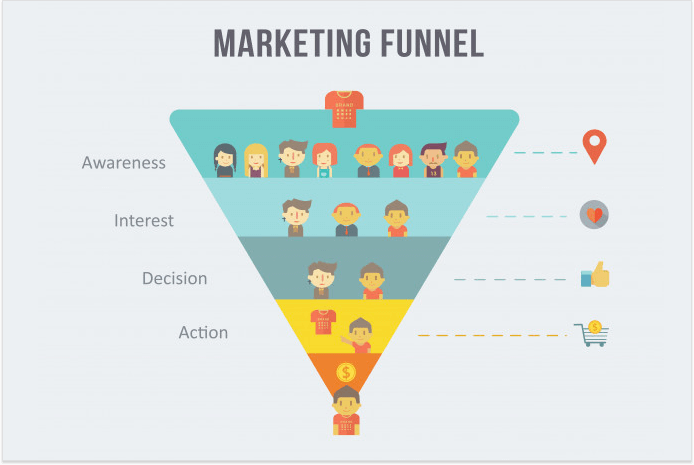 I went to ExpiredDomains.net (I recommend that you register a free account, because this way you have more features available; the website does not charge you anything, it earns when users register new domains via affiliate links.) I entered the keyword "funnel", set the filter to "Deleted domains", then sorted the results based on "DP", which means domain pop, which is the number of domains linking to the listed domain. (You can also sort the results based on "BL", which is the number of backlinks per Majestic.)
These numbers are usually incorrect, but they give you a good starting point.
You get a screen like this.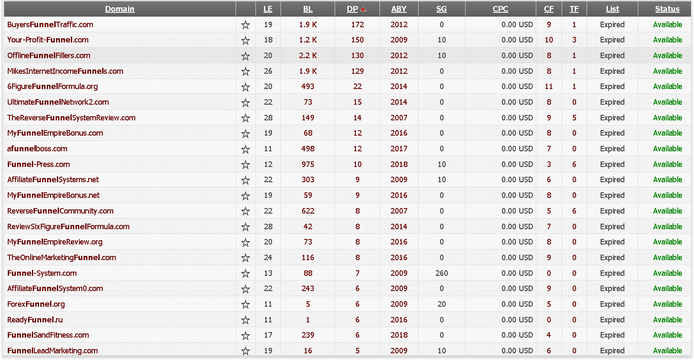 Tip: there are the Column Manager settings to add or remove the metrics you are interested in. Hover your mouse over the stats, and you will get tooltips with explanations and references to major marketplaces that sell domain names. You can find out the domain age, the status if a certain domain is available for a specific domain name extension etc.
Here are the important metrics to check the domain with.
LE: Length of domain name in characters.
BL: Number of backlinks.
DP: Domain pop.
ABY: The date of the first mention of domain in Archives.org.
CF/TF: Majestic metrics Citation Flow and Trust Flow (similar to Domain Authority and Page Authority from Moz).
Note
Typically, SEOs hunt for old expired domains that had earned high domain authority with a bunch of referring websites. Still, a solid domain age does not always mean it's going to rank high on Google immediately. You've got to look out for spammy backlinks; make sure the domain hasn't been used to build a PBN (in this case, watch out for 301 redirects giving link juice to some other website). Check the web archive to see what kind of content was published on this domain. And for monetizing prospects, see if the domain hadn't been banned from Google Adsense. Any penalty imposed by Google in the past may prevent your new website from ranking on this domain.
When choosing a domain name for your website, stick to the following best practices:
Make it easy to type.

Keep the domain name short.

Avoid numbers and hyphens.

Try to choose memorable names associated with your brand.

Pick the right domain name extension (especially important when you target a certain region).
The availability of an expired domain will depend on the keyword. For certain keywords you will find expired domains with great backlinks across Google, while for others, you will only find domains with spam links. Either way, it's almost certain that you can find a domain that has a great name with a few strong backlinks.
Now you take the domain and go to check it with SEO SpyGlass.
You will get a message that SEO SpyGlass cannot find such a web page, which is correct, because we are talking about an expired domain, and site search on Google would bring zero results. Click on "Yes" to continue anyway.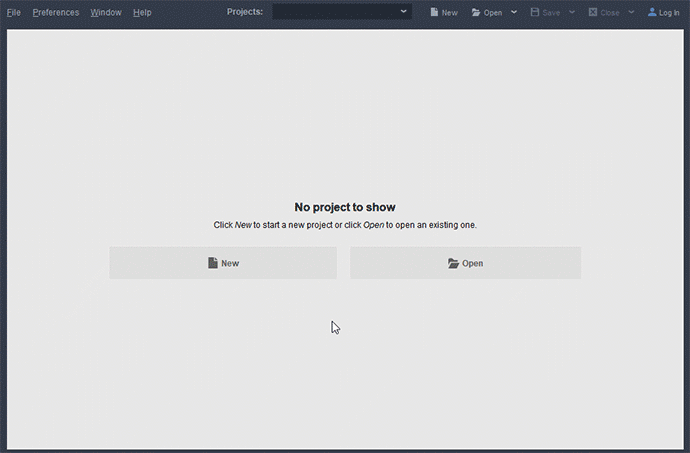 Download SEO SpyGlass
When I originally did this research, I got the following result:

FunnelXpert.com — brandable name, 304 backlinks from 74 referring domains. Looks like a good choice.
Next, I have a bit of manual work checking the web archive with the Wayback Machine. The website search history goes back to 2012 and used to look like this — an internet marketing company operating in Australia and India: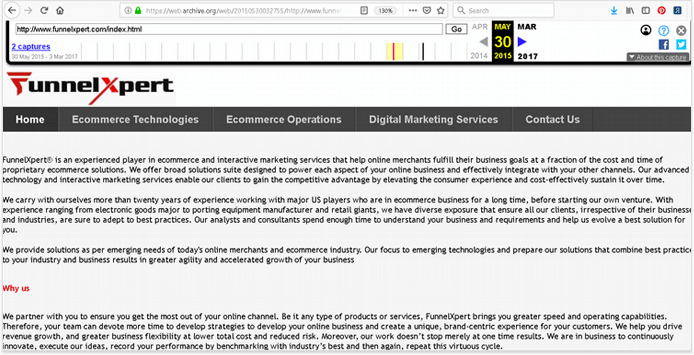 I registered the domain for $8.99 and built a nice blog on it. I wrote in-depth posts for it, like this one on the subject of building an online course on your own blog in WordPress.
It was completely worth my investment, since this is what I got out of it thus far: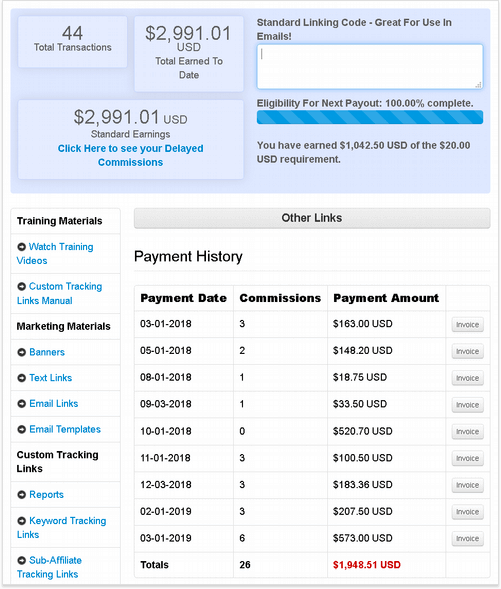 I have recently launched my own online course on it.
Another example of picking an expired domain
Let's look at a different example real time. The keyword is "Paleo diet".
I picked the first domain, "PaleoDiet411.com" — 150 external backlinks, from 26 referring domains.
Next, I proceed to check the domain with SEO SpyGlass and examine the Linking Domains tab: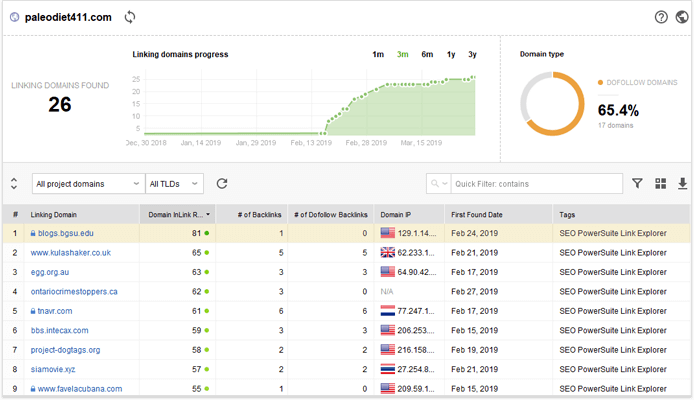 Download SEO SpyGlass
The link profile looks okay, it even has an .edu backlink.
Links from Chinese or Arabic domains would be a sign of spam.
Now I look at the Linked Pages tab: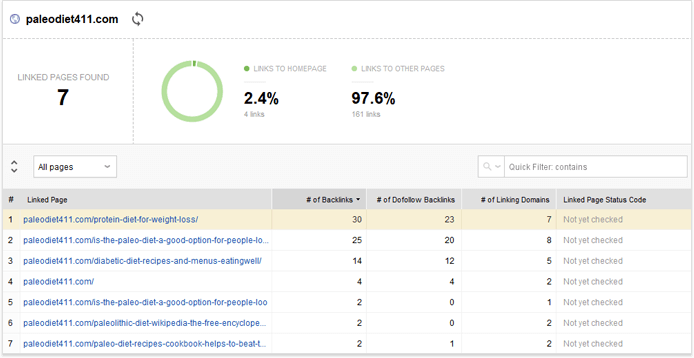 Download SEO SpyGlass
You can see that the links point to several different pages, which is good, it's a balanced link structure. I would need to re-create these pages on the new blog if I decided to use this domain, this way the link juice is preserved.
Off-topic pages, such as iPhone and other branded stuff would disqualify the domain.
One more thing to check is Archive.org:
Make sure the domain isn't redirected or spammed.
It also makes sense to look at the prospective domain's InLink Rank (SEO PowerSuite's alternative to Google's PageRank algorithm):

A few more tips before you purchase an expired domain
You can also follow the above procedure when you purchase an auction domain. You will find many times that purchasing such a domain would be a complete waste of your money, because it has thousands of backlinks, however most of them are from spam websites with Chinese anchor texts.
Also stay away from expired domains that have hundreds of links all pointing to the home page and nothing to other pages — such domains are over-optimized and will be penalized unless you plan to do massive link building to the individual pages, too.
I have also used this method for uncovering foreign language expired domains with beautiful backlink structure. I found two Hungarian domains, the first one would translate to seduction.net, the other one would be giftisland.com.
I must add that such foreign language domains require considerably fewer backlinks to rank high, and you can even get away with lower quality, such as link directory links and they will still rank well and get traffic. The reason is the lower level of competition in foreign languages.
Stealing great backlinks from expired domains
There's one more handy use of SEO SpyGlass, which is quite similar to the broken link building method:
Enter a recently expired domain in your niche or one that is still being auctioned.

Look at the backlinks pointing to this domain.

Analyze backlinks that you could "steal"…

Contact the owner of the referring domains that is linking to this expired domain, tell them they are linking to an expired domain and ask them to link to your resource instead.
Here's a free outreach template shared by Jason Acidre you can modify and use for your link building:
Subject: Found a broken link on [Site Name]
Hey [First Name],
This link directing to [Site Name with 404 page] doesn't work anymore:
[insert URL of the broken link]
Found this through your useful links section for [topic of their resource page]:
[insert URL of their resources page]
Also, just thought that this content from [Your Site] will perfectly fit your list of resources [additional comment on why your content deserves to make it on their list]. Your visitors should find that useful:
[insert URL to your page]
Let me know if there's anything else I can help you with.
You will need to sort through some trash to find worthwhile backlinks, but this is a proven way to get started with link building.
Ever bought expired domains to your advantage?
So there you have it — now you know how to find expired domains and how to choose the best ones for your next SEO project using tools. I hope my recommendations will help you with your hunt for backlinks.
Have you ever purchased expired domains hoping to make use of their high traffic and backlinks? Share your experience and thoughts in the comments below!
Article stats:
| | |
| --- | --- |
| Linking websites | N/A |
| Backlinks | N/A |
| InLink Rank | N/A |