2.7 Trillion
Newest

Backlinks

Tap into our huge backlink database to see all of your backlinks and referring domains! With the crazy 7.1 billion web pages crawled daily, SEO SpyGlass now finds new backlinks faster than any other backlink checker.
Backlink Software

that uncovers your Website Authority instantly

The backlinks analyzer will give you an overview of the whole link profile in a single dashboard. Spot instantly
Your website's linking history
Quality of referring domains
Backlinks quality
Top linking countries
Distribution of backlinks by top-level domains
IP and C-block analysis
Summary of your linked pages
Anchor texts cloud
Run a more
granular backlink analysis
Along with the list of the backlinks themselves, you'll see their properties for comprehensive backlink research. Discover the backlink quality by analyzing its
InLink Rank (a proprietary metric close to PageRank)
HTTP status codes of the linked page and the backlink page
Text links, image links, or links from the homepage
Anchor texts cloud
First found and last found date
Penalty risk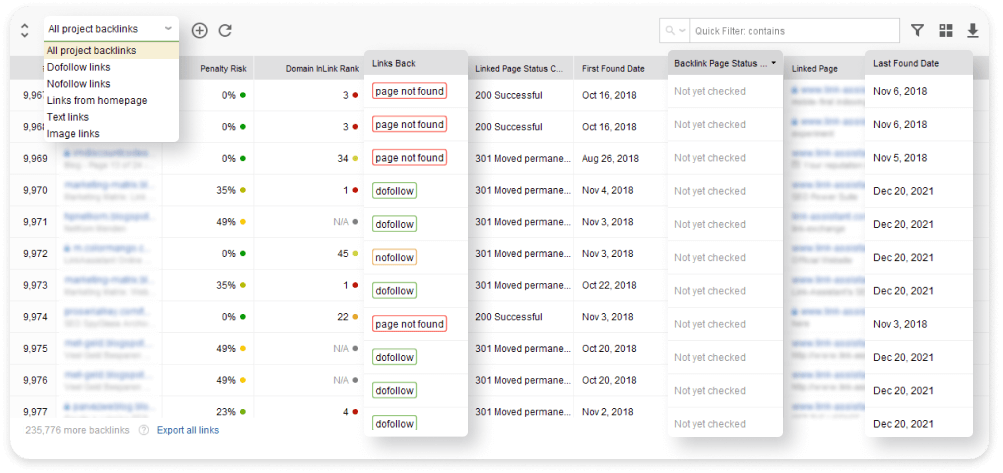 SEO SpyGlass users say...

"I admit I didn't like using the old SpyGlass backlink checker because it just couldn't match up to the Ahrefs database of backlinks and referring domains. But this
new backlink database seems like it could give Ahrefs a run for its money!
"
"The new database is finding links that Google Analytics and Search Console aren't even showing yet!"
"I'm currently beta-testing my pages with the new backlink index by SEO PowerSuite and loving it! It's showing me way
more referring domains than my current SEO tool
and I love its filtering process!"
The right
Backlink SEO Software

for diverse activities

Backlink analysis from SEO SpyGlass lets you do myriads of helpful tasks for SEO.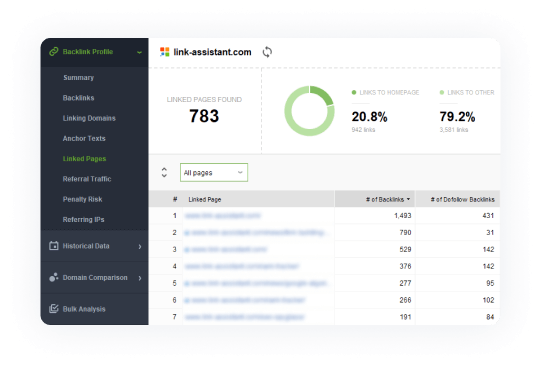 Organize your backlinks by Linked Pages and see exactly which of your pages bring in the highest number of backlinks.
Connect the backlink software to your Google Account and quickly find out which backlinks bring the most of your Referral Traffic.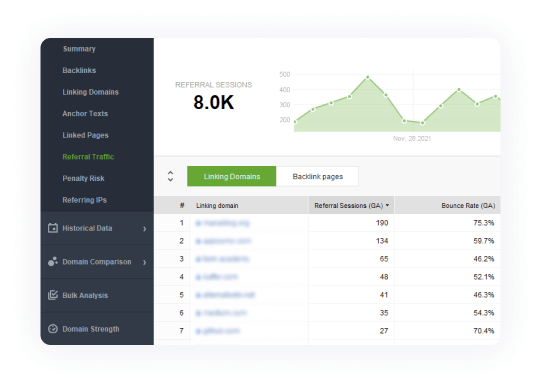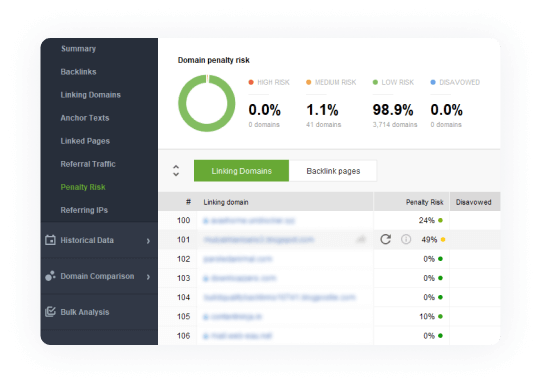 Or go on and see all of the backlinks with the highest Penalty Risk. Be careful not to get linked to by a spammy network, and disallow link spam whenever you find it. The Disavow File Generator tool goes together with the free backlink checker.
Analyze anchor texts to find the next keywords to optimize your content with. Diversify them to give extra importance to certain keywords on your pages. The backlink anchor potentially gets you sitelinks on the SERP and brings more organic traffic.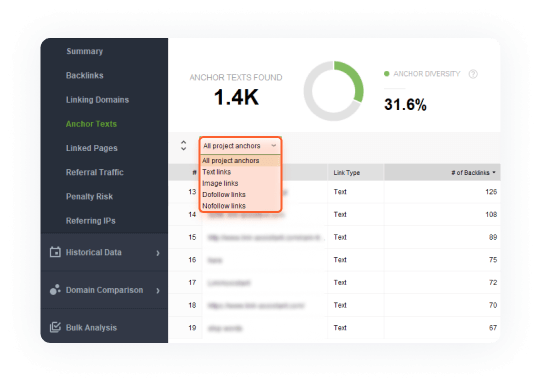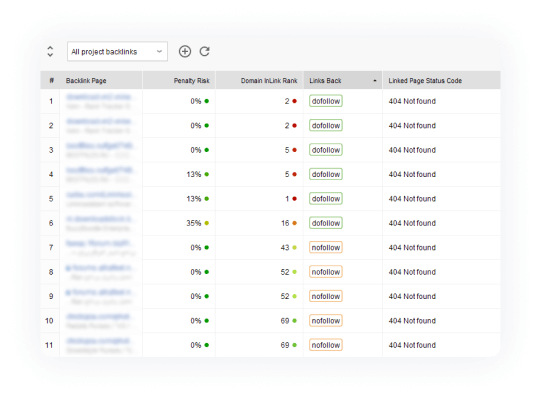 Use the free backlink checker to build high-quality links with minimum efforts. Analyze websites from your industry to find the most linked-to pages with 404 response. Then, reach out to the linking websites offering them an alternative for the broken link.
Monitor competitors
with
Domain Comparison
Spy on your competition with the Domain Comparison module. First, you'll see an entire summary of your competition's backlink profiles. From the overall number of backlinks/referring domains, to the metrics like the amount of dofollow links and anchor text diversity.
Most importantly, make use of our Link Intersection module for an in-depth look into your competition's backlink profiles. Specify the competitors, and the software will run a backlink analysis.
By the end of it, you'll see a list of the backlinks your competitors have in common. Use this list as your potential link prospects in further link building campaigns.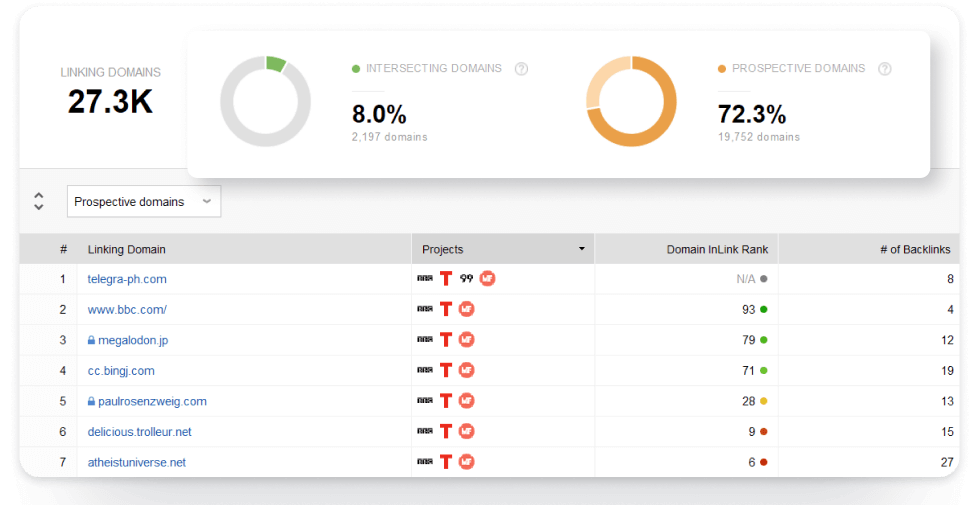 Run a
Bulk Backlink Analysis

with a single click

The free backlink checker lets you analyze up to 200 domains in bulk. Paste the URLs of the domains you'd want to check, and let the SEO software analyze them. In a few moments, the tool will provide all the important stats to compare the domains' authority. Whatever backlink activity you've devised, be it a link-building pitch or a marketing campaign, the backlink software will show you all the prospects in full view.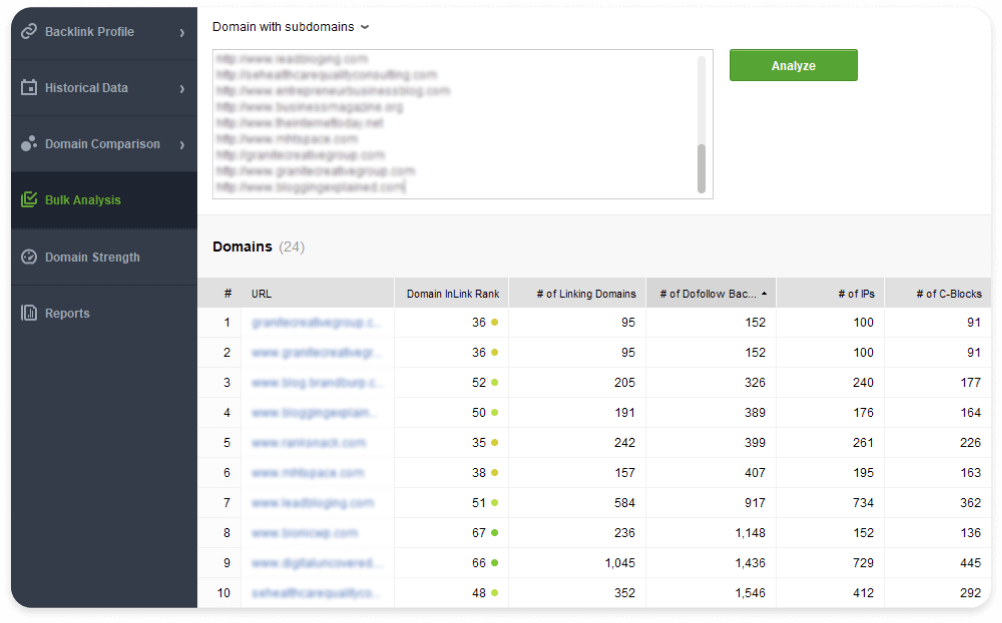 Backlink history

analysis for strategic insights

With Historical Data module of our backlink analyzer, access the info on how your backlink profile changed over time. Augment not just your backlink analysis, but your link building efforts as well.

Measure the success of your digital marketing campaigns by monitoring what brought you the most new backlinks within any time frame going back a full year.

Keep an eye on the backlinks brought to your website by each piece of content you publish, and even research how the backlink profiles of your competitors changed. Put in the URL of any page, and the backlinks software will show you the entire backlink history going back a year.
Backlink software collecting all your data sources
in one place
Having a powerful backlink checker at hand is cool. But having one place to merge every backlink profile you have in a single backlink database? That is priceless.
We knew you often needed to pull backlinks from different sources and bring them together in countless spreadsheets. That is why we made sure SEO SpyGlass spares you this headache: in addition to our own SEO PowerSuite Backlink Index, the backlink software can pull links directly from Google Analytics and Google Search Console. Moreover, it lets you import and analyze the backlinks you have from any other sources via CSV.
Help
Google index

the backlinks that it has not discovered yet.

Can you make more of your backlink profile? The backlinks software offers cutting-edge functionality, allowing you to download and analyze links from various sources. This way you can check your backlinks in real-time, find those missing out from the Google index, and expose those links to Google for indexing.

Our Own Backlink Index

Google Analytics

Google Search Console

Import from any sources

As of today, SEO SpyGlass is the best combination of price and functionality on the market!
SEO SpyGlass users say...

"So far this is light years beyond the current product. I can't believe how fast you can discover backlinks with it! I'm going to run some tests on client sites and see what I can track, but I just can't get over the speed."
"I'm currently having some fun beta-testing the new backlink index by SEO PowerSuite — so far I am liking what I see! @LinkAssistant great job on making this a better tool for link building!"
"Decisively improved, it has become a very important link checker tool for SEO."
Quality Backlink Analysis


Doesn't Have to Cost a Fortune

What you get with SEO SpyGlass is

unlimited data

(unlimited websites & campaigns, unlimited backlinks, and unlimited exports)

at moderate pricing

. With the right technology under the hood, our backlinks software delivers results equal to or even surpassing major competitors in the industry. Which means we're able to bring you this load of new data without charging anything above the SEO SpyGlass's regular price. Sounds boastful? Have a look at our recent

comparison of backlink data providers

.
SEO SpyGlass Free
For unlimited evaluation
Unlimited projects (no saving)
Analytics for up to 1,100 backlinks
Backlinks from SEO PowerSuite Link Explorer, Google Search Console, Google Analytics
2 sites for domain comparison
One-click Penalty Risk update
Export of all links in .csv
Disavow file generator
Scheduled backlink checks
Copying data to clipboard
Printing reports
Saving & emailing reports
SEO SpyGlass Professional
For site owners, small businesses, bloggers, and non-client work
Unlimited projects
Analytics for unlimited backlinks
Backlinks from SEO PowerSuite Link Explorer, Google Search Console, Google Analytics
6 sites for domain comparison
One-click Penalty Risk update
Export of all links in .csv
Disavow file generator
Scheduled backlink checks
Copying data to clipboard
Printing reports (with watermarks)
Saving & emailing reports
SEO SpyGlass Enterprise
For big brands, SEO consultants, agencies, and client work
Unlimited projects
Analytics for unlimited backlinks
Backlinks from SEO PowerSuite Link Explorer, Google Search Console, Google Analytics
11 sites for domain comparison
One-click Penalty Risk update
Export of all links in .csv
Disavow file generator
Scheduled backlink checks
Copying data to clipboard
Printing reports (without watermarks)
Saving & emailing reports
SEO SpyGlass users say...

"I just tried the beta version, and it works like a gem. The best part I enjoyed is that it is showing a backlink profile for a single domain up to 1 million. This is the craziest thing I have seen in these days. All my other experiences were limited max to 10K-15K."
Customizable
backlink reports
Boost your backlink audit with the backlinks Report feature. Use it to communicate with your team, marketing department, and make presentations for your clients!
Get a summary of your backlink profile all laid out in a single report: see the overall number of backlinks, the list of all your referring domains, complete with the ratio of dofollow and nofollow links, and how your backlink profile changed recently.
Customize your report to get the exact info you need. Create outstanding White label reports with the intuitive and easy-to-use report template builder. Put in any widgets and any metrics you deem necessary, and set up this new report to be delivered.
After getting all the information you need, you can schedule to publish your report online, email it or save it locally.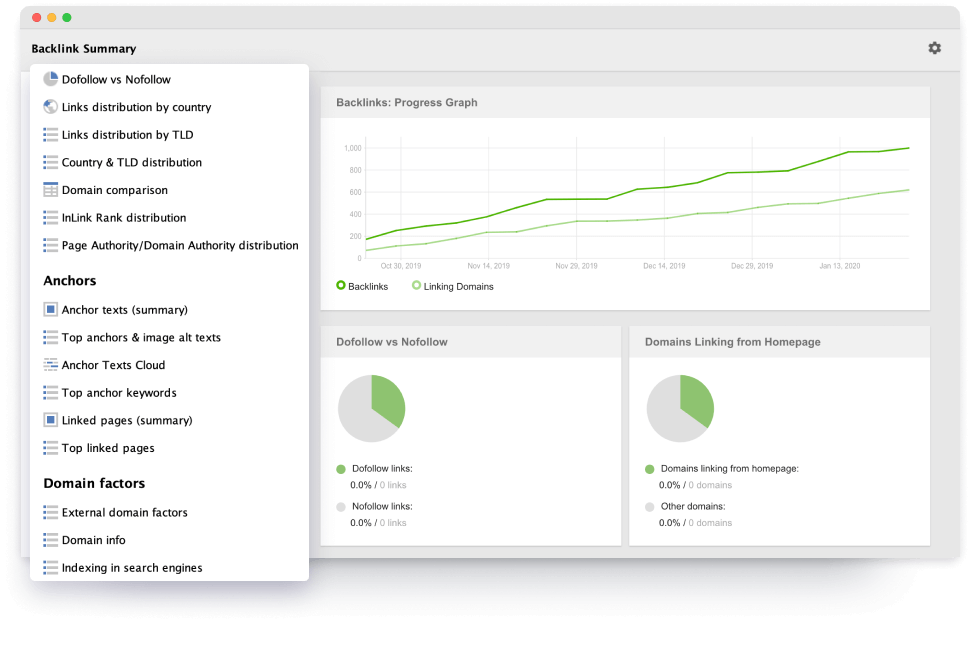 Automated

backlink checks and alerts

The SEO software takes care of your routine tasks and reporting to clients.

You can set automatic tasks to run on autopilot while you are up to some more urgent issues. Or run regular backlink checks or update backlink traffic data to prevent drastic losses of traffic. Or receive automated alerts in case your site gets hit by a sudden influx of backlinks from the same domain. Finally, the backlinks software will create and publish backlink reports in a custom automatic workflow. Deliver them via email or shareable links, and use White-Label to give the reports a branded look.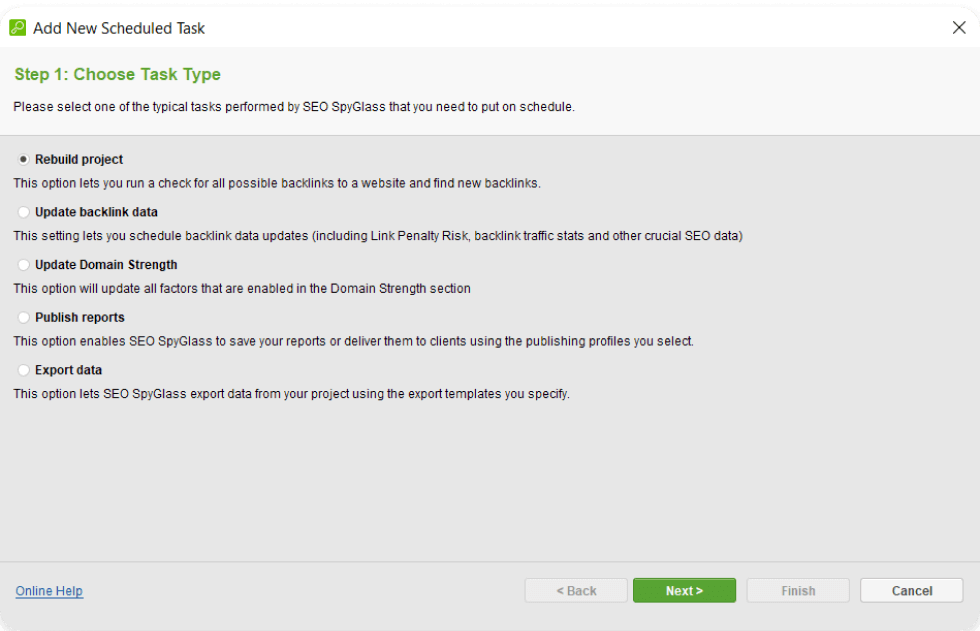 Get
API

access

Additionally, those of our Enterprise users who want to monitor backlinks via our index outside of the backlink checker itself can request access to our API. Integrate our backlink index into your own dashboard or workspace at your convenience, and get all of the data you need.

A user with

API access

will be able to fetch up to

200,000 backlinks from the API

and use that data in their own dashboards every month.

Enjoy the SEO SpyGlass data downloaded right from our backend, in a convenient CSV format.
Try the backlink checker with the
most functionality for the lowest price!
FAQ
What is a Backlink Checker tool?
This is a backlink analyzer inside SEO SpyGlass, a tool that crawls all inbound and outbound links of a website, providing all important SEO metrics to estimate the site's link profile.
Why do I need a backlink checker?
The backlink checker tool analyzes a website's backlink profile to discover risks and opportunities relates to links (which are a known Google ranking factor). The backlink analyzer helps detect spammy links, link farms, doorway pages, or, on the positive side, to find new linking opportunities, fresh domains in the niche with whom you can partner.
Do you have a free backlink checker?
There is a free plan in SEO SpyGlass allowing you to analyze up to 1100 backlinks per website and compare 2 competitors. Also, you can try the online free backlink checker to do the same without the need to install any software.
How does a backlink checker work?
SEO PowerSuite crawler works just like other web bots do, crawling URLs and all links coming in and out of them. As it starts from a seed set of web pages, it's a continuous process, with … new URLs being added to the index every minute.