7 Ways User-Generated Content Can Boost Your SEO

User-generated content: How to make it work for your SEO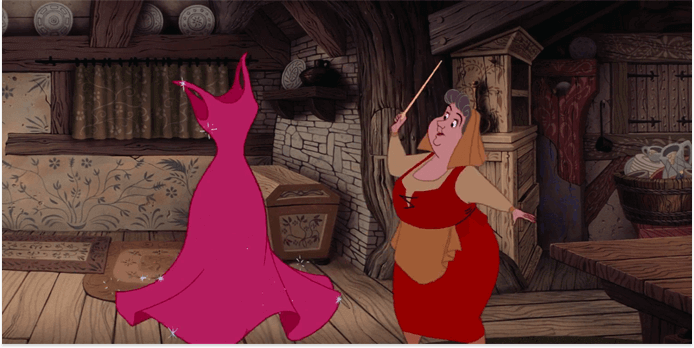 Like love and marriage, like a horse and carriage, SEO and content have always belonged together. But there's this all-time trouble with content — it just can't be generated 24/7. But does it mean that it can negatively affect your SEO? Well, if you know how to "delegate" content creation to your users, the answer is no. Basically, any kind of content (photos, videos, text posts, product reviews, etc.) that users create and publish on various online platforms can be referred to as user-generated content (UGC).
Now that 88% of shoppers do trust reviews written by other consumers, incorporating UGC in your SEO strategy is a must. What is more, over 25% of the search results for the 20 largest brands in the world are linked to user-generated content. It all brings us to a conclusion that creating opportunities for user-generated content and knowing how to manage it are uber important activities about which I'm going to talk in this article. So, read on!
Why is UGC beneficial for SEO?
Surprisingly enough, many marketers out there don't realize that user-generated content can also immensely boost SEO. Among other pleasant "side effects" are:
Optimization for semantic search
As you may know, Google is now going nuts about making the web more mobile-friendly, which means adjusting it to mobile users who tend to ask questions while searching for something. So, thanks to your customers' questions or reviews written in natural language, your website has more chances to win the ranking battle.
Search visibility and trust
Adding some microdata (in form of star ratings, for instance) to reviews will surely add credibility and visibility in search results. What is more, about 9% of Google's entire search algorithm is driven by review signals, and reviews from Google+ pages are also automatically shown in rich snippets.
Conversions
It's only fair to say that user-generated content is highly appreciated by consumers, as it's created by unbiased people and therefore seems more trustworthy. In fact, 88% of shoppers do trust reviews left by other consumers. On top of that, people who see some positive UGC are converting 161% more than people who don't. Do I even need to say more?
Understanding your customers
By looking through user-generated content, you may really get an idea of the way your audience speaks about your product, their motivation, or maybe even some areas of improvement.
New keyword opportunities
When users generate some new forms of content, it can naturally utilize some long-tail keywords your site may or may not already be targeting.
User engagement
People like being heard, you just can't take it from them. Knowing that, why not provide your users with this opportunity? By doing so, you can kill two birds with one stone increasing their time spent on your site as well as click-through rate.
How to implement various types of UGC?
1. Testimonials
Understandably, when your potential customers form their opinion about your brand, they mostly rely on your website's content. Naturally, some of them might be skeptical or hesitant due to the fact that the way you talk about your own company has no chances to be unbiased. That is why the best way to establish trust and encourage potential buyers to take action is letting your happy customers do the talking.
But what is even more important, by optimizing your testimonial page for relevant search queries (connected with reviews, testimonials, etc.), you can get yourself a good amount of traffic. Besides, your testimonial page is another indexed website page with some content covering product features, descriptions, and other keywords that you're trying to rank for in the search results. Also, the chance is high that your customers will be using long-tail keywords within the testimonial, which may also help you to rank higher for them.
Pro Tip: I would massively suggest using Rank Tracker for finding new keyword opportunities to optimize your testimonial page for. Naturally, these queries should contain words like "review" or "testimonial".
What you need to do is open Rank Tracker and go to the Keyword Suggestions tab, which is under the Keyword Research module.
There you'll need to pick Google AdWords Keyword Planner and enter your keywords.

After the tool has kindly supplied you with a whole bunch of new keywords ideas, you need to filter out the ones that you don't want to optimize your testimonial page for.

So, hit the funnel icon

, which is in the upper right corner, and click Add filter.
Now, set your filter like this: Keyword -> contains -> review. Specify other keywords that you feel like may be in search queries for your testimonial page and hit OK.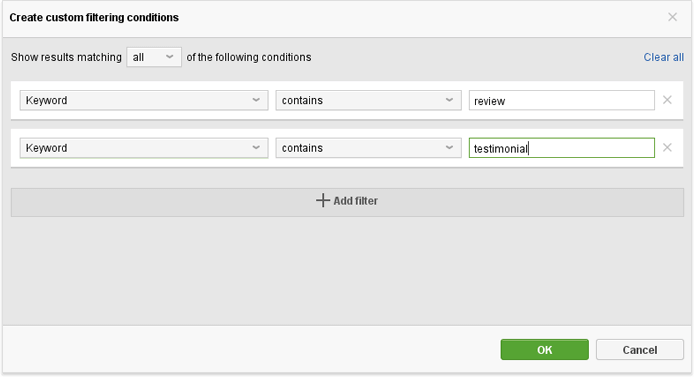 For now you can move them to a separate group for your convenience. First, you need to send the selected keywords to the Rank Tracking submodule (right-click them and hit Move Selected Keyword(s) To Rank Tracking). After that, right-click them again and hit Move To Keyword Group. The freshly made group can be found in the Keyword Map submodule.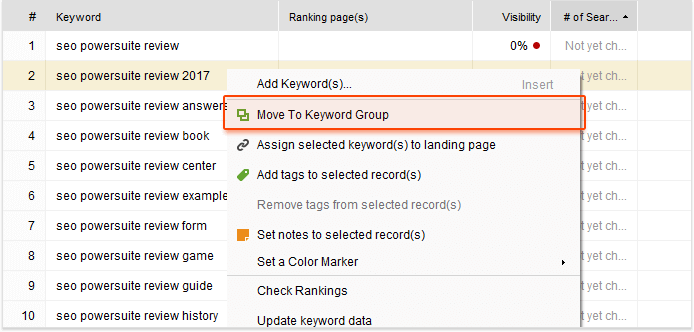 Well, now you only need to create the testimonial page itself. Make sure to include your targeted keywords in the page title and h1 tag. It's also nice to have a bit of your own content (with keywords included) before the testimonial to make it more natural.
2. Discussion boards/forums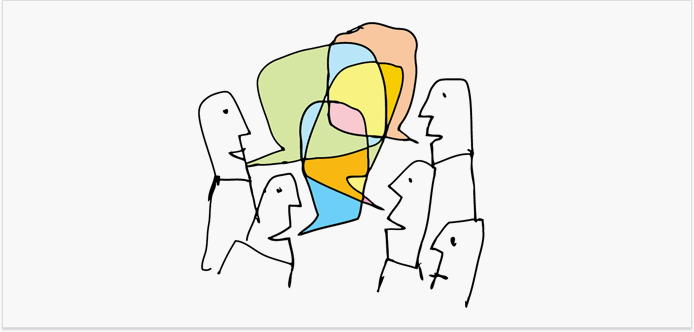 People like talking, that's in our nature. So, why not set the stage for them to discuss your product, their experience, or some current news in your industry? Some of them are going to ask questions, others will be answering them. This is basically how new and relevant content will be constantly generated without you having to raise a finger. I know, forums may seem like an Internet trend from half a dozen years ago, but the reality is they're still alive and well today.
The only downside is that you need to keep an eye on your forum for it not to turn in an uncontrollable chaos.
Pro Tip: Obviously enough, great content is exactly what drives engagement on a forum in the first place. What is more, it also has greater chances to be linked by other websites. And links, by the way, are still the most powerful way to influence rankings. That is why I will definitely agitate you for fostering great content. You can initiate some topics that haven't been yet discussed and are likely to spark community interest. It's also nice to identify the best writers and ask them to do a post on a certain topic or to weigh in on a thread.
Of course, your brilliant content will be always balanced with a good portion of forum spam. So, in order to defend your forum's reputation, all the spammers and conversation damagers must be penalized straight away. You can also set some forum rules that will prevent users from posting anything unless they match certain criteria or enforce social network logins as part of the sign-up process, for instance.
I guess it's crystal clear for every SEO-er out there that the Internet of today is all about speed. In this light, I would massively suggest restricting usage to YouTube and Vimeo in order to overcome a problem of slow-loading pages. On top of that, don't allow users to post massive image files and other stuff that may slow down your page.
Another thing I want to make sure you don't do with your forum is keyword stuffing. These days, it adds no value to rankings, and search engines penalize and remove websites that use a keyword stuffing technique from their indexes. So, make sure to use smart homepage and forum section keywords as well as meta tags for Google to properly index your pages.
Basically, all the technical factors that negatively influence your website performance (crawlability and indexing issues, redirects, 404 errors, etc.) are 100% applicable to your forum. All these criteria may be comfortably checked with the help of WebSite Auditor.
Simply start the tool, create a new project, and enter a URL to analyze.

After that, move to the Site Audit submodule, which is under Site Structure. Go through all the technical parameters, make sure their statuses are marked as Correct or fix the ones with Error statuses.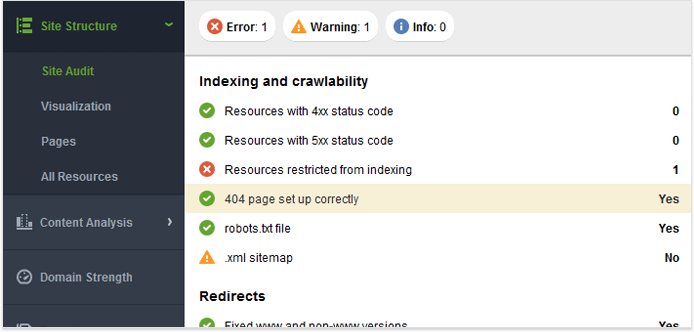 Being a strong advocate of internal link building, I can highly recommend adding a link to some relevant post on your site while answering a user's question, for instance. A "Related Pages" widget is another cool way to drive this sort of linking.
Living in the age of semantic search, the only right thing you can do to your forum is dividing it into separate categories. Make sure that the topics discussed within a certain category are semantically relevant to it. That will ensure that your forum pages rank for relevant search queries.
3. Product reviews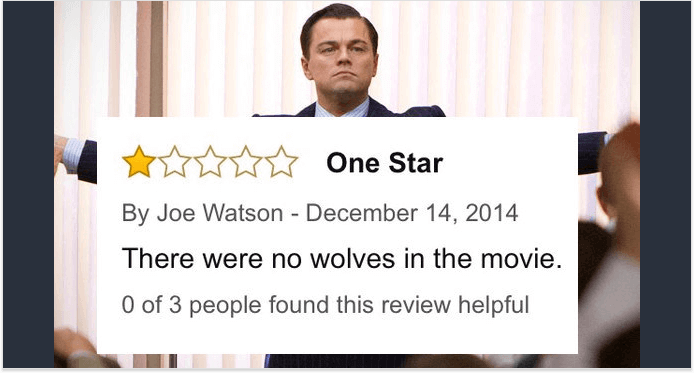 I guess it goes without saying that product reviews are the best way to get relevant content by means of users. So, if you are an e-commerce site, and you're willing to create some content around your product pages that are stuffed with technical characteristics, product reviews are your lucky find. Another cool thing about users' reviews is that you can include their ratings in your microdata to get a star rating rich snippet.
Pro Tip: As a matter of fact, the majority of reviews appear uncontrollably. For that reason, some of your product pages may receive lots of reviews while others stay empty. And knowing that Google is not a big fan of empty pages, the best thing you can do is identifying these "vulnerable spots" and stimulating your customers to write their reviews on these particular product pages. The only thing we need for that is WebSite Auditor.
So, let's go through your product pages to spot the ones that lack content.
Move to the Pages section in WebSite Auditor and have a look at the Word count column there.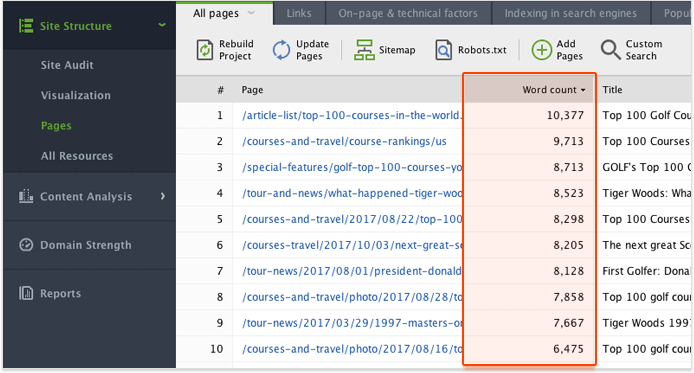 Spot the pages with the smallest amount of words and ask users to write reviews for these very pages.
4. Q&A section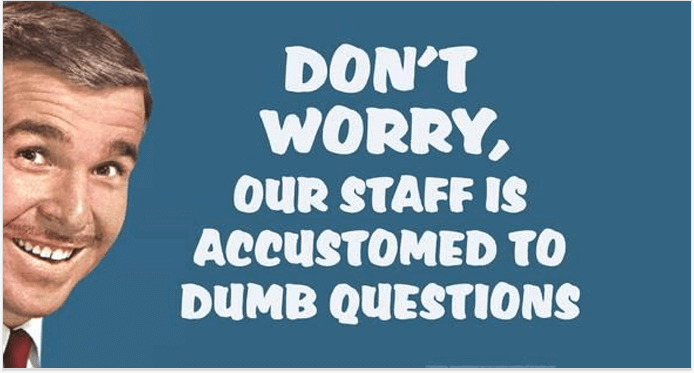 Adding a Q&A section to your website is another lazy solution to receive user-generated content on a regular basis. You only need to provide your customers with a place on your site to ask questions concerning your product or service. Knowing that 70 percent of queries do include natural language, it's also a brilliant opportunity to optimize for semantic and voice search.
Pro Tip: To provoke some activity in your Q&A section, you can start off with finding and posting some questions yourself. And, of course, Rank Tracker can offer you a helping hand with that.
Open your project in Rank Tracker and move to Related Questions, which can be easily found under the Keyword Research module.

Now, in the field above, type in keywords that will serve as a foundation for your questions.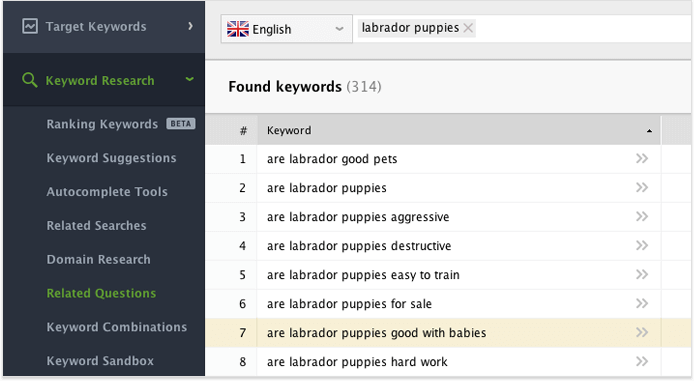 Now that the tool has offered you a whole list of questions associated with your industry, you only need to go through them to decide which ones do deserve being posted in your freshly made Q&A section. If you feel like this method is not enough, make sure to check this guide on how to do SEO keyword research.
5. Comment sections on blog posts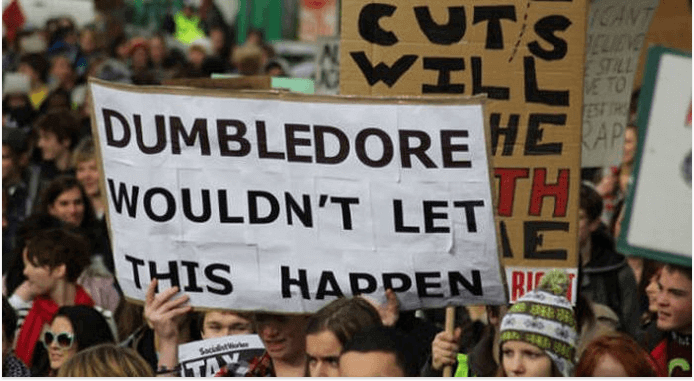 They say from the clash of opinions emerges the truth. From an SEO angle, I would say that from the clash of opinions emerges relevant content. That is why enabling blog comments is another cool option to go for to get yourself some UGC.
Knowing that Google views comments as part of page's main content, I would strongly advice you against disabling them. Of course, I'm not talking about "Great post, John!" sort of comments (although they are still pleasant to read). Here we're on a hunt for comments containing high thoughtful and high quality content with additional insight and related links.
Another weighty argument in favor of blog comments is that sometimes they may be considered of high enough quality for Google to skip the main content on the page and pull it from the comments section for a featured snippet.
Pro Tip: So, if you decided to open your blog's doors to audience contributions in the form of blog comments, you need to decide on what plugin to use. If you own a WordPress website, you are blessed with a huge variety of plugins to pick from. However, using a plain vanilla WordPress commenting system (WordPress Native Comments) is probably the best option to go for. It won't conflict with other plugins on your site, as it was designed specifically for WordPress. It also allows posting comments without having to sign in with social media accounts and supports links and formatting.
You may have noticed that integrating Facebook comments into blogs became quite popular. WpDevArt Facebook comments plugin shows a feed of comments under your blog posts. Due to the fact that it runs through Facebook, your users won't have to sign up for new accounts on your site, and the comments will be shared on their Facebook pages, which may also bring some extra readers to your blog.
With all that said, I want to advice you against installing both of the above mentioned plugins in pursuit of all the benefits. This may simply confuse your users and create two dialogues on your page. So, it's better to either choose Facebook comments plugin or not to use it at all.
6. Social media sites
If you still underestimate the power of UGC on social media channels, miss out no more. The social media of today is probably the perfect breeding ground for user-generated content. Here are some numbers on the explosion of UGC in various social networks to prove my point.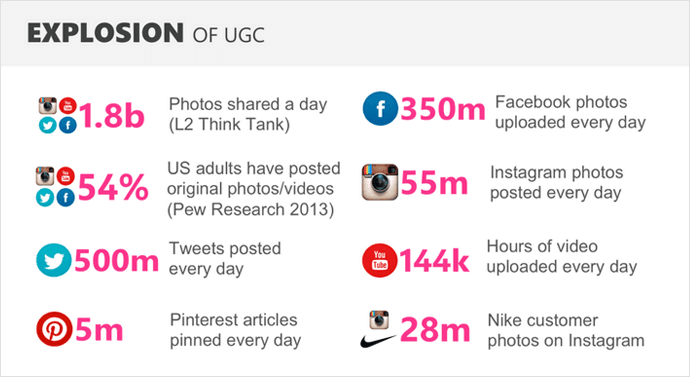 So, now the BIG question is: "How to encourage your customers to speak about your product on social media?" Well, first of all you need to have the very place for it: a Facebook community, an Instagram account, etc. The second condition is that you need to be active there, try to respond as fast as you can. It's also nice to provide some sort of support, answer some technical questions, for instance. This feeling of human interaction is exactly what will help you to establish long-term relationships with your customers. If you run a blog, consider asking a controversial question in the end of a post with a call to action to share opinions on this topic in your social media.
On top of that, if you've spotted a brilliant piece of user- generated content on Facebook let's say, you can always embed it in the corresponding section of your site.
7. Content generating contests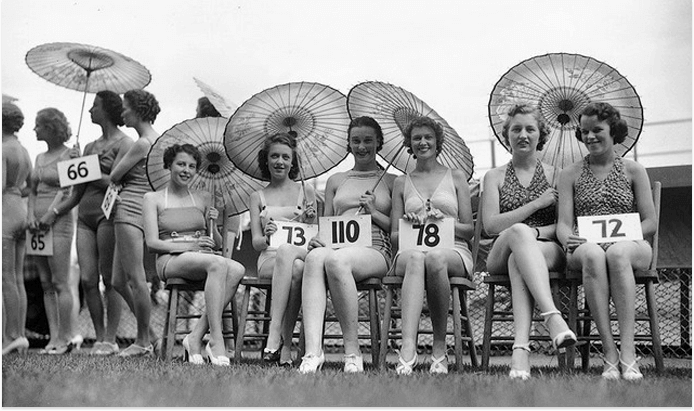 In times when you run out of content or it has stopped being generated by your users in a natural way, you may think of running some content generating contests. This is a win-win scenario where you get your desired content accompanied with brand endorsement and better rankings and users get fun and engaging experience with your brand. There are now numerous ways to run a contest. Taking into consideration the distinguishing features of your niche, preferred social media channels, and criteria for winning, you can figure out your perfect contest concept. A good idea is making such contests a regular thing to establish long-term relationships with your audience.
I think the most important activity before running a contest is to decide what type of content you are willing to collect because the last thing you want is being overwhelmed with irrelevant stuff. Here are some ideas of what you can collect:
Think of asking users to share a picture of their favorite product of your brand accompanied with a short description about what is the best thing about it.
A great example is "My Oreo Creation" campaign which encouraged customers to come up with an idea of their perfect Oreo flavor for the chance see it come to life and win $500,000.
A great idea for a contest is the one that encourages your users to engage with your product in an original and creative fashion. A good example is Starbucks' Red Cup Contest, which asked buyers to decorate their cups and post them online. Nearly 4,000 customers submitted entries in a three-week span. The authors of the most creative and nice-looking pictures received cash prizes.
Sometimes the best way to promote a product is simply to show it in action. And this is exactly what Apple did within the framework of their "Shot on iPhone" campaign, the purpose of which was to show off the quality of their iPhone cameras.
Spam? Never heard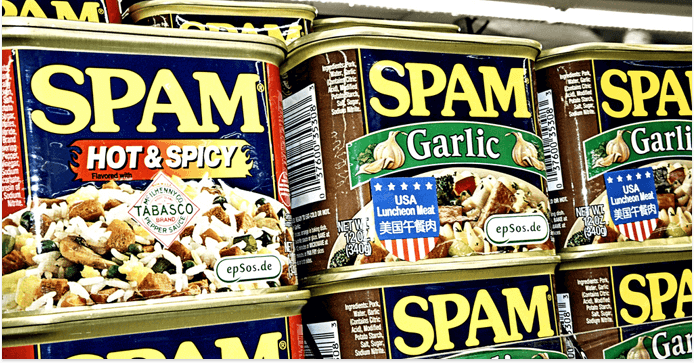 Like it or not, but people have always been spamming, spam, and will be spamming every time they have the slightest opportunity. For that reason, Google now penalizes sites where it detects any user-generated spam. Luckily, user-generated spam issues are quite easy to deal with. So, here are some security measures for you to take:
Form a blacklist of spammy words and grow it as you come across some new ones.

Go on a hunt for accounts that have been posting a lot in a short period of time.

If you have noticed a significant amount of spammy links, think of disallowing them entirely or set your comments to go through editorial review before they go live.

If you've decided to allow linking, you can nofollow them in order to remove some of the incentives to link externally.

Don't forget to make sure that the software you use for your blog or forum is up-to-date in terms of some security patches.

Consider closing discussions on threads after a long period of time (when real users stop participating there), as it often happens that they attract tons of spam.

If you have some embedded content or links to other resources on your website, make it your routine to check them once in a while. The thing is, these sites may cease to exist or content you're linking to may be deleted, and this is how you find yourself with tons of broken links.
P.S. By the way, you can easily spot broken links with the help of our old trusty WebSite Auditor.
How to maximize benefit from UGC?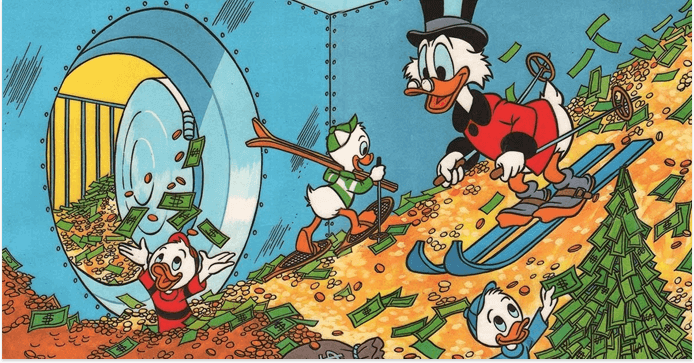 I guess it's well-understood that to get maximum profit from user-generated content, you need to place it on your site's best optimized pages. If you're not sure how well your page is optimized at the moment, you can jump to WebSite Auditor and check it in a couple of clicks as well as get some optimization advice.
Just start the tool and move to the Content Analysis module.

Select your landing page from the list of the site's URLs and type in keywords that you're willing to optimize the page for.

Now you can see your page's overall optimization score as well as a bunch of stats that show how well it is optimized in comparison with your top competitors.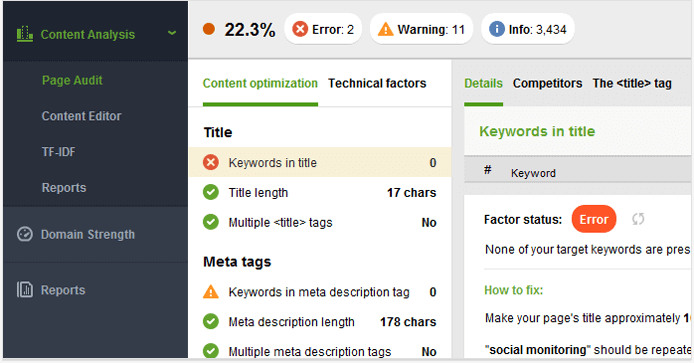 Pay your special attention to the factors with Error, Warning, or Info statuses to spot the exact places that need to be worked on in the first place.
Another clever way to make the most of your UGC is setting your review form in a way that content people submit to you is more SEO friendly. Think of adding some required fields that will most probably make customers use your targeted keywords. Don't leave it with just "Your comment" section because, as a matter of fact, you'll end up with some "Cool stuff!" sort of reviews. Make your users enter a review title, rate a certain feature, describe the pros and cons of your product, ask them what can be improved, etc.
What is more, don't forget to regularly track how pages with your UGC rank in the search results. And if you notice that some of them need a lift, consider pulling them up with the help of internal linking. WebSite Auditor can actually help you a lot with that:
Jump to the Visualization section, which is under the Site Structure module.

Now that you can see your site's structure in a much clearer way, think of pages from where you can send some link juice to the page with user-generated content.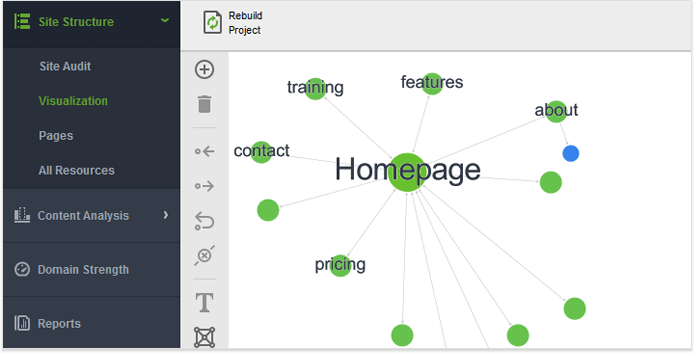 Well, that's it for user-generated content. Hope I didn't wreck your brain too much and you heroically managed to read this post till the end. I'm really interested to know about the experience you had with UGC as well as answer your questions. So, see you in the comments! And may the force of SEO be with you.
---

By: Aleksandra Pautaran
Article stats:
| | |
| --- | --- |
| Linking websites | N/A |
| Backlinks | N/A |
| InLink Rank | N/A |