How to Optimize for Misspelled Keywords
Ranking for competitive keywords is getting harder by the hour. The competition for every popular search term out there is growing tougher and it takes ever more resources to push your website to the front page. At the same time people misspell about 10% of their search queries every day. Even the spelling bee champion who knows exactly how the word "Krocsyldiphithic" is spelled will make an occasional typo.
The competition for the misspelled keywords is way smaller so it's much easier to rank for them. The search volumes are lower too, but still there's quite a lot of traffic behind commonly misspelled keywords.

As you can see, there are around 200 thousand people searching for 'morgage' every month. Of course this is not much compared with the almost 25 million searches for the correctly spelled term but, hey, isn't 200,000 searches/mo a lot of traffic?
So let's see how you can tap into the traffic opportunities behind the common misspellings in your niche.
Research
Just like with any SEO campaign the first step is keyword research. Before you can actually get down to optimizing your site you need to identify the commonly misspelled terms related to your site. There are a number of ways to do it.
1. Check your website logs
This is a great way to find out how people misspell your brand or product names. Searchers can get really creative with their spelling, so you'll find the variants you'd never thought could exist. Alongside with your brand-related keywords you'll also find general search terms that you can add to your list.
You can also check what keywords people searched for to arrive at your site in Google Analytics or Google Webmaster tools.
2. Look through the common misspellings lists
There are a lot of hard-to-spell words in the English language that get mutilated all the time. Check out the lists of common misspellings to locate the keywords relevant to your business. There are even industry specific lists that contain the 'alternative' spellings in a particular niche.
3. Try misspelling the word yourself
Even when you know how to spell a word you can always think of a few ways to do it wrong. Try typing the word as fast as you can, ask someone who's not very brilliant at spelling to spell it out for you, get a little creative and you're sure to come up with a couple of misspelled variants for your keywords.
4. Use typo generator
Finally, you can feed your keywords into a typo generator to get a list of potential misspellings. There's an in-built typo generator in Rank Tracker you can use to come up with misspelled search terms.
To use the typo generator click 'Suggest' and select 'Misspelled words' as the keyword research method. The typo generator creates misspellings in 4 different ways: keyword proximity typos, swapped characters typos, duplicate character typos and missing character typos. Select them all to get the biggest list of possible misspelling variations.
Analyze
Once you have your keyword list you need to analyze each search term to see if it's worth optimizing for. The most important factors you should consider are
1. Search volume
Obviously there's no need to go after a keyword unless there's some traffic behind it. Go to Google AdWords Keyword tool and check the search volume for each misspelling (or just click to update KEI if you use Rank Tracker), locate the popular terms and weed out the words no one searchers on.
2. SERP landscape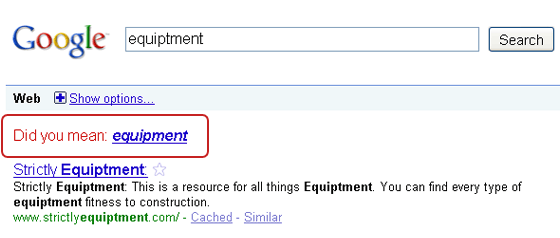 When you misspell your search query Google will often use the 'Did you mean…' filter to set you on the right track.
The search results may look differently on different misspellings. It's important to check what the SERP looks like for each keyword on your list. There are 4 possible layouts of the search results on misspelled queries:
'did you mean…' link but all results are for the misspelled keyword
Although some people will refine their query to the correct one by clicking the 'did you mean' link, many won't. If all results are shown for the misspelling you can promote your site to the top and get a fair amount of clicks.
'did you mean…' link with 2 top results for the correct spelling.
In many cases Google will display the top 2 results for the correct spelling. This scenario makes optimizing for the typo less compelling, still if you get your website to show 3d and there's a fair amount of searches for the keyword, you may give it a go.
'did you mean…' link with all results for the correct variant
In rare cases Google will go further and show all results for the correct spelling. When that happens optimizing for the typo is useless.
No 'did you mean link' with all results for the misspelling
When the misspelling is so severe Google can't figure out what the right word might be, all search results appear without the 'did you mean' refinement and they are all for the incorrect spelling. Obviously that's the best case scenario for typo optimization.
3. Competition
Although the competition for the misspelled keywords is much lower, some of the most popular misspellings can be pretty competitive. Anyway it's always good to know who you're dealing with, so take the time to analyze your competition and evaluate your chances to rank well.
Optimize
Once you've refined and selected your target keywords it's finally time to start optimizing for them. The tactics of SEOing for misspellings differ from what you normally do when optimizing for the correctly spelled terms.
If you simply go and use the misspellings on your webpages – in titles, URLs, h1-6 tags and content you may lose your credibility and spoil conversions. After all who wants to do business with someone that can't spell? So let's see how you can target the typo traffic without compromising your reputation.
1. Use 'often/commonly misspelled as …' expression
You can safely add the misspellings to your copy together with the correctly spelled variant by means of the 'often misspelled as...' expression. You can create a special page or section on your site dedicated to common misspellings in your niche.
2. Employ typo keywords in non-prominent places
You can use the misspelled keywords in non-prominent places such as image alt tags where users will hardly see them. Don't abuse this strategy though and stay away from cloaking the misspelled keywords.
3. Add misspellings to user-generated sections of your site
If you have a blog or forum on your site you can drop your misspelled keywords in comments and forum posts (of course they should appear as coming from the users, not you). This won't compromise your credibility and will come in naturally because people make typos in comments and forum replies all the time.
4. Build links with misspelled keywords in anchor texts
Once you have placed the misspelled keywords somewhere on your webpage you can build links to it using the misspellings in the anchor texts. Since the misspellings will be placed on other sites your credibility is once again safe. On the other hand getting links with misspelled anchor texts is harder because other people don't want to have typos on their sites just as much as you.
5. Target the misspellings with micro-sites
Have you found some gems in your list of misspelled keywords? Then you may even go as far as building special sites around them. If you manage to register exact match domain names for the misspelled keywords you'll get a huge advantage in the rankings. Plus you may also get some type-in traffic when people misspell the URL in their address bar.
6. Use PPC
Besides optimizing your site you can also add misspelled keywords to your paid search campaigns. In most cases the competition for these terms is weak, bids low and clicks incredibly cheap. It will probably take you about ten minutes to launch a campaign and you can quickly test things out to see if the traffic and conversions are good enough to invest extra effort in targeting these terms with SEO.
Have you tried going after misspellings with your site? What was your experience? Feel free to share your own tips and thoughts.