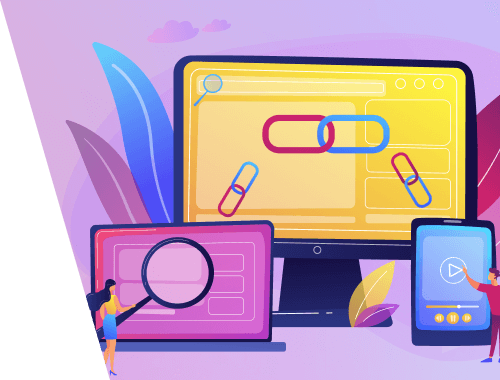 Link Equity Guide: 12 Signals of Backlink Quality

Backlinks are not created equal. Some are more valuable, some are less, some are plain useless, and others may even be harmful. How do you tell them apart?
Well, we've counted at least 12 factors that determine the value of a backlink and the amount of equity (aka link juice) it can transfer to other websites. Here is everything you have to take into account when building a healthy backlink profile:
1. Follow PageRank principles
PageRank is one of the earliest methods to determine page value and it is based on two principles known to all link builders out there. One — the more links are pointed to a page the more valuable it is. Two — the more valuable a page is the more equity it passes to other pages: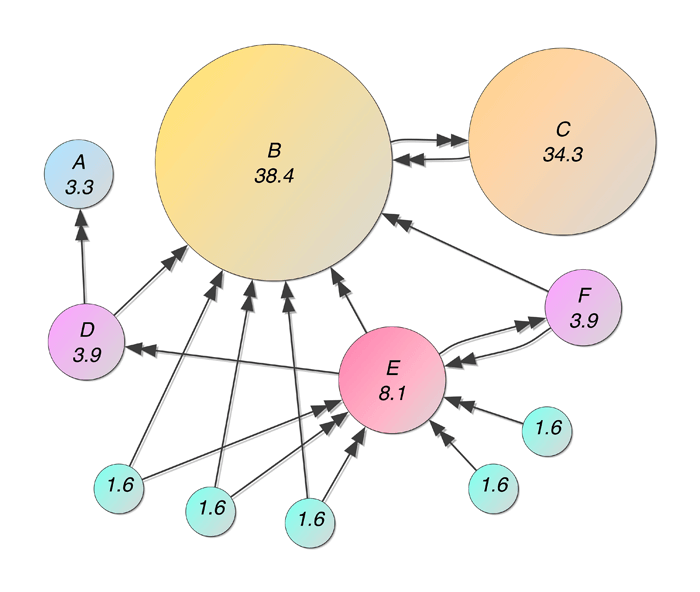 Although there are now many other factors contributing to link equity, PageRank is still very much in the mix: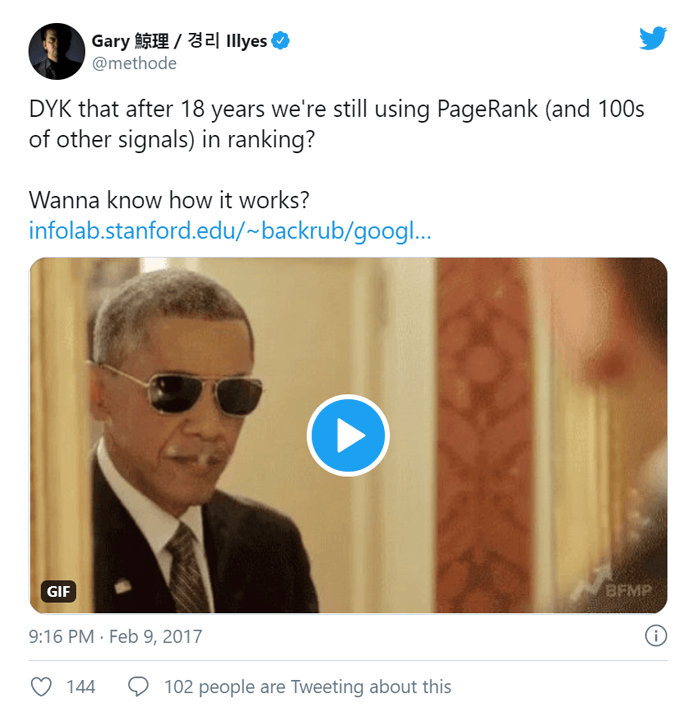 What it means for link builders, is we have to prioritize links from pages and websites that themselves have a lot of links from other websites. So, for example, if you are using SEO SpyGlass to find websites for link placement, pay attention to the metric called Domain InLink Rank. The higher the score, the more backlinks the domain has, the more link equity it is likely to pass to your own website: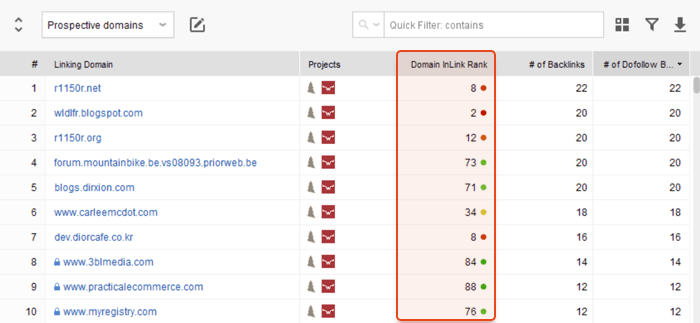 2. Use high-quality websites
One of the things that made PageRank less important was the Penguin update, which rolled out back in 2012. Google wasn't happy about SEOs buying thousands of spammy backlinks to manipulate rankings, so it started looking at link quality as well as quantity. Since then, links that you build have to come from high-quality websites only. That means no PBNs, no thin or spun content, no overly optimized anchors, and no sucky user experiences.
Depending on how spammy your backlinks are, Google may do nothing, demote your pages in search, or even penalize your website. And the unfortunate thing is that you may not even know if you have any links from low-quality sources — they may appear naturally over time or even result from a negative SEO attack. Which is why we recommend auditing your backlinks on a regular basis and removing those links that seem suspicious.
Luckily, if you are using SEO SpyGlass, you can discover toxic backlinks in just a few clicks. Inspired by the Penguin update, we have introduced a designated Penalty Risk tab, where we keep all of your linking domains and their spam scores: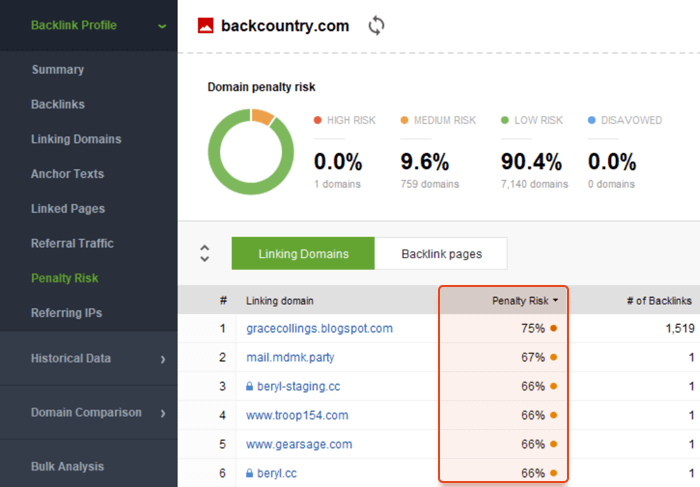 The scores are calculated using a combination of metrics. Specifically, we look at domain age, uniqueness of the IP and C-block, Google indexation, number of links, anchor text optimization, and link placements.
In case you do find some suspicious backlinks, you can add them to your disavow file, download the file when you are done, and then submit it to Google's disavow tool. Once submitted, Google will stop counting those links towards your backlink profile.
3. Look for relevant websites
Links from thematically similar websites pass more equity than links from irrelevant websites. Which makes perfect sense, because Google views links as recommendations. And a recommendation is more valuable when it's from someone who knows what they are talking about.
So, for example, if you are a bike shop, it makes sense for you to have links from bike reviewers, local bike clubs, and suppliers of bike gear. Those links would count the most. But a link from a flower shop website? Not so much.
An easy way to find thematically similar websites is to look for those link sources that your competitors have in common. Those websites that link to two or more of your competitors make for perfect backlink prospects. For one thing, they are likely to operate in the same niche as you and your competitors. For another thing, those websites are probably open to hosting your backlinks as well, since it seems they don't have an exclusive relationship with either of your competitors.
To find such websites using SEO SpyGlass, go to Domain Comparison > Link Intersection and add a few of your competitors. Once the tool is done analyzing their backlink profiles, it will deliver a full list of overlapping backlink sources: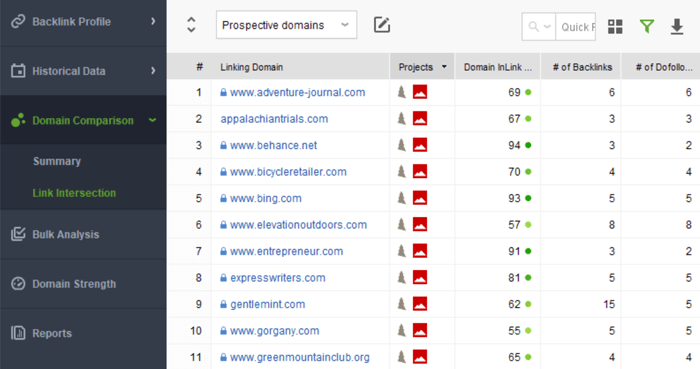 4. Diversify your link sources
While the number of links in your profile is important, so is the number of unique referring domains. And there's been some evidence that websites with a better diversity of link sources tend to rank higher in search results. This too is perfectly logical. Would you rather have something recommended by many different people or have it recommended repeatedly by the same person? Probably the first one.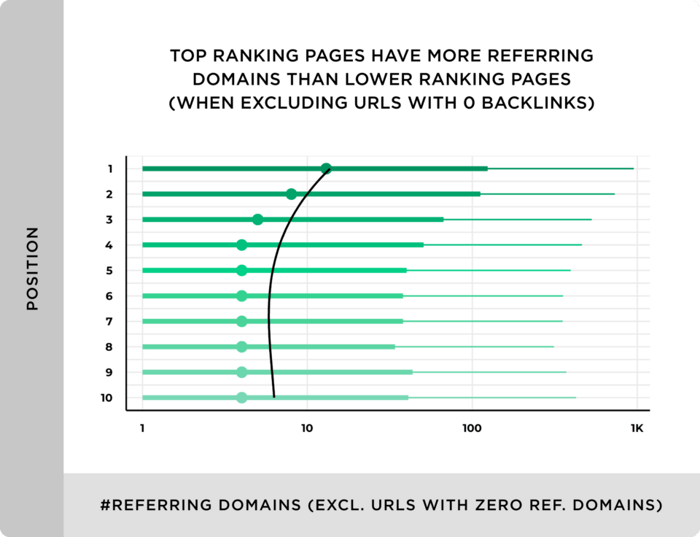 What it means for link building is don't get stuck with just a few link partners. It may be very appealing to continue contributing content to an established link source, but keep the opportunity cost in mind. That same content would drive much more value when added to a new website.
5. Place links in the main content
Something called the reasonable surfer model suggests that links are evaluated based on their placement within the page. Links featured prominently, i.e. placed in the main content, highlighted, with a proper anchor and a relevant surrounding text, are likely to be more valuable. Why else would they be featured like that?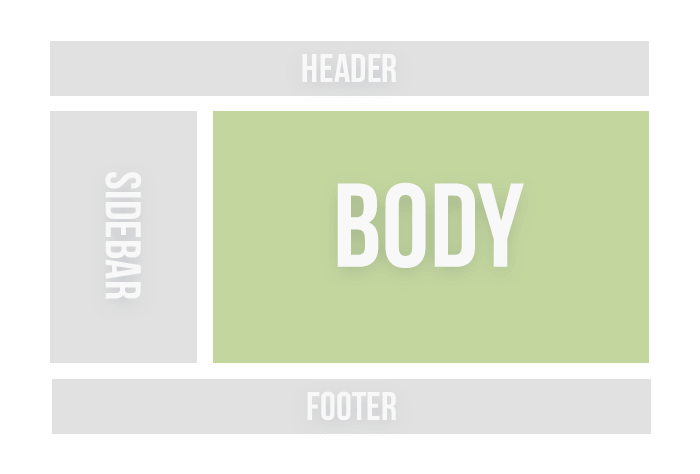 At the same time, links that are placed in the sidebars or in the footer are much less likely to be valuable. These types of links are often present sitewide, which means they are not relevant to any particular page. Moreover, a sidebar or a footer is not a place most reasonable surfers would explore.
6. Vary your anchor texts
In the olden days of SEO, it was considered that your anchor text should be an exact match of your main keyword. So, if you wanted to rank for blueberry muffins, then all of your backlink anchor texts should have been blueberry muffins. And it worked too.
But, once the Penguin update was launched, Google started looking for potential signs of unnatural link building. And one of those signs was overly optimized anchor text. After all, if hundreds or even thousands of your anchor texts are exactly the same, then what are the chances that your backlinks have appeared naturally?
Today, the best strategy to avoid suspicion is to have a healthy variety of anchor texts. Some of them will obviously be branded, some will include your main keywords, and a good share of your anchors should be unique and natural sounding.
To help you keep tabs on the anchor diversity, we've added a designated Anchor Texts panel in SEO SpyGlass. Use it to see your most popular anchors as well as calculate your overall anchor diversity: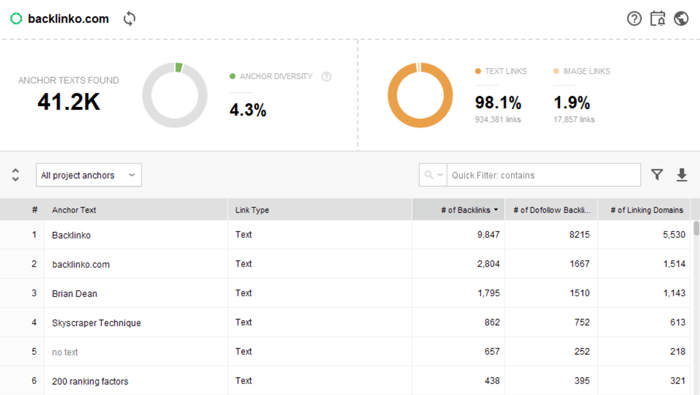 7. Surround anchors with context
There has been some evidence, both from the field and from the patents, that Google may evaluate links and rank pages based on the text around the anchors. According to the patent, Google would take a bit of text to the left and to the right of the link, analyze it for potential keywords, and then rank the page for these keywords: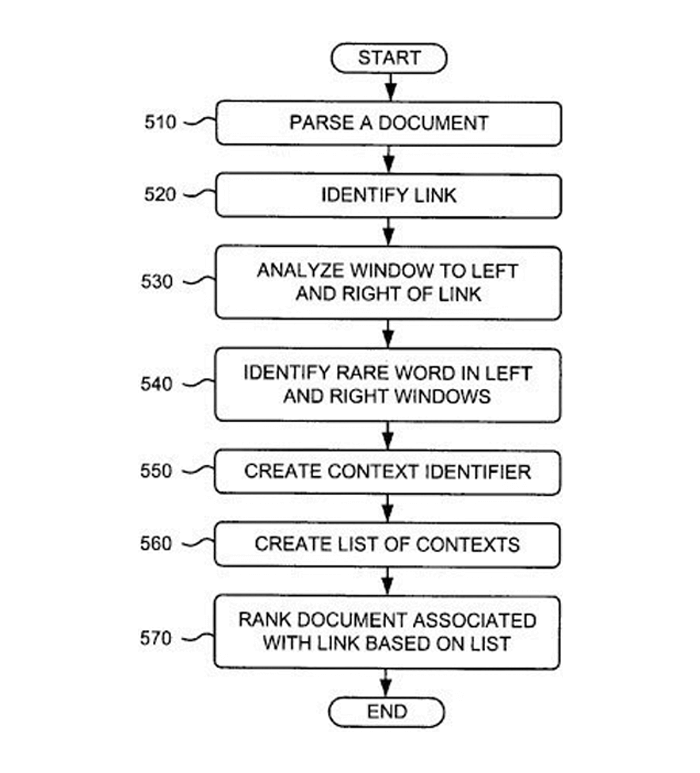 Another application of this technology would be to check whether the link is natural. Google could compare discovered keywords to the topic of the linked page and see if they fit. Presumably, spammy pages would not care to create meaningful copy around their links, so there would be less of a match.
In terms of optimizing your backlinks, just make sure that they are surrounded by at least a few coherent sentences, mentioning other keywords related to the linked page.
8. Choose dofollow over nofollow
Back in 2005, the nofollow attribute was introduced to combat link spam. When added to a link, the nofollow attribute stops the flow of link equity, and the destination page receives no ranking benefits. It essentially removes the incentive for SEO spammers to spread their links around the web.
Today, the nofollow attribute is added automatically by most web 2.0 platforms — everywhere users are allowed to post content. This includes all social networks, blogging websites like Medium, Q&A websites like Quora, forum websites like Reddit, and comment services like Disqus. Basically, if you are allowed to place a link without asking anyone, this link is guaranteed to be nofollow.
On top of that, when you are negotiating blog posts, you are often offered nofollow links only. Sometimes it's just a blanket policy for all SEO guest posts and other times it's because you are not yet viewed as a reliable company and their website is not willing to share link equity with your website. Always discuss beforehand whether the links in your guest post will be followed or not.
If you are using SEO SpyGlass to look for backlink prospects, then you can check which websites tend to grant dofollow links and which don't: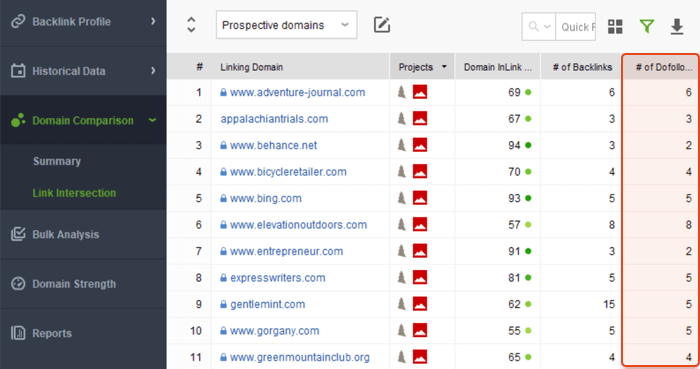 9. Make sure links are clicked
One of Google's search patents describes a relationship between backlinks and traffic. The way it could work is Google would analyze a set of reliable websites and create a traffic benchmark. It would say that your type of website should be getting on average that many visitors per backlink. And if there is a big mismatch between the number of backlinks and the number of visitors, your links will either be ignored or you will be demoted in search.
Now, this is just a patent, so Google doesn't necessarily use this technology. But, in case it does, there are some easy ways to protect yourself. First, if you are writing a guest post, resist the temptation to stuff it with as many backlinks as possible. Only include those links that are most likely to be clicked. Second, do not place backlinks on fake or unpopular websites — you'll grow the number of links while getting no traffic.
10. Continue linking to important pages
Another curious Google search patent suggests that backlinks may deteriorate over time. The idea is that if the page is still useful, then it should keep getting new backlinks. And to check that Google would do some basic math. It would take the number of backlinks, divide it by the age of the page, and get a link rate. The higher the rate the higher the ranking.
This patent seems kinda shady, but the implications are quite reasonable. If you want your important pages to stay afloat, then you have to supply them with fresh backlinks. One way to achieve this is to keep linking to these pages from your new content. Another way is to update and republish older pages so they get some new readers and possibly some organic backlinks.
11. Avoid link stuffing
For many of the reasons listed above, too many links per page is a bad practice. It dilutes the volume of equity passed through each individual link. It makes each individual link less noticeable, featured less prominently. It inflates the number of links while traffic remains the same. Lastly, it contributes to poor user experience — pages with hundreds of links throughout are rarely meant for actual human readers and may cause suspicions of spam.
12. Prioritize editorial backlinks
There is a lot Google can say about its preference for backlinks, but the guiding principle is that backlinks should be editorially placed. It means that the owner of the website should purposefully place a link on a particular webpage, preferably of their own accord.
Google goes to great lengths to describe what kind of backlinks are not considered to be editorially placed. This includes advertising, user-generated content, directories and bookmark websites, autogenerated links, sitewide links, and links embedded in cross-site widgets.
Final thoughts
There have been many advancements in search, but few of them as important as the Penguin update and consecutive changes to the way Google treats backlinks. In fact, Google has gotten so good at recognizing unnatural links that there is barely any way to "build" them anymore. And yet, if you follow the tips listed above, it just might work.
Article stats:
| | |
| --- | --- |
| Linking websites | N/A |
| Backlinks | N/A |
| InLink Rank | N/A |