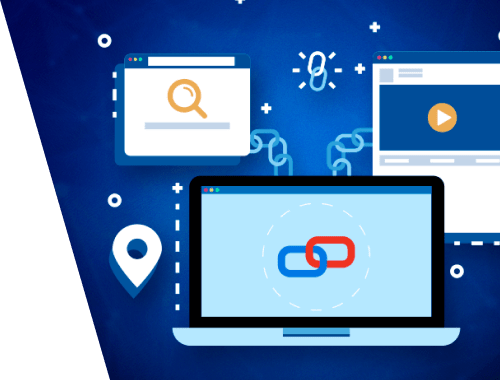 Guest Posting: Use Content to Build Backlinks

Guest Blogging for SEO: Use Content to Build Quality Backlinks

Author bio

It's been six years since Matt Cutts, the former Head of Web Spam at Google, announced the death of guest blogging as a link-building technique. But fast forward to today, and guest blogging is well and alive and three out of four editors report publishing at least one guest post per week.
About the only shift that has happened since then is we moved away from trying to manipulate search engines with a ton of low-quality posts. Today, a better strategy, the only strategy, is to invest in those guest posts that actually drive value for the publishers and their readers. Try doing it this way, and you will find that guest posting is a powerful strategy with a reasonable link-building price.
Step 1. Find guest posting leads
Let's start by generating a huge list of publishers that accept guest posts on those topics that are relevant to your industry. Here are the top three approaches you should use:
Search for publishers by topic
Run a series of search queries featuring your keyword + phrases indicative of guest posting. For instance, if you are looking for sites that accept entrepreneurship-related content, you would search for entrepreneurship + write for us. Here are some other queries that could be used to look for platforms that accept guest posts:
[keyword] + "submit guest blog"
[keyword] + "contribute to our site"
[keyword] + "guest post"
[keyword] + "article wanted"
[keyword] + "writer wanted"
[keyword] + "guest author"
[keyword] + "submit article"
[keyword] + "guest post written by"
[keyword] + "contributing writer"
The technique is obviously time-consuming when done manually, especially when you factor in going through each search result page, verifying each result, and saving each potential lead. Which is why I'd suggest looking into an automation tool, like LinkAssistant — it can do the whole thing at the touch of a button.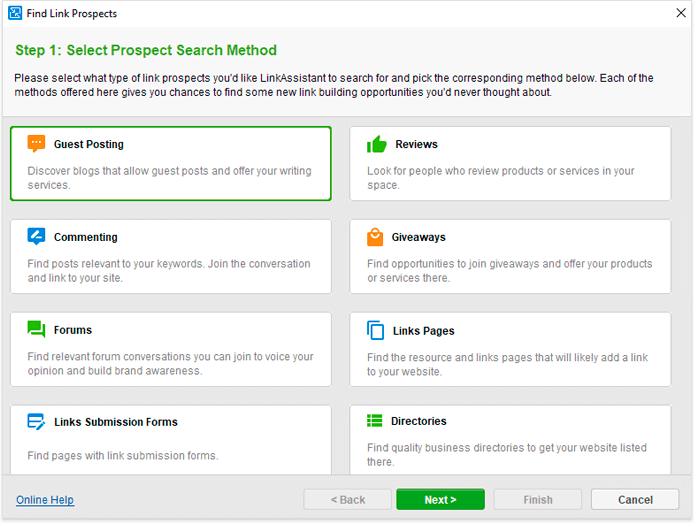 When you open LinkAssitant, go to Prospects -> Look for Prospects -> Guest Posting, enter your keywords, click search and get a list of guest posting prospects, complete with domain authority and contact information.
Search for publishers used by other bloggers
Regardless of how new you are to the industry, I bet you can name a few prominent bloggers off the top of your head. If we are talking about SEO, for example, then I immediately think of Neil Patel, Brian Dean, and Marcus Sheridan, among others.
They have done a fair share of guest posting over the years, which means they have also done the work of finding and vetting a ton of potential content partners. All that's left for me to do is find those partners and take them for myself.
Using Neil Patel as an example, I would form a query along the lines of:
"guest post by neil patel"
Except I would have to remove the results from his own websites:
"guest post by neil patel" -neilpatel.com
And voila, I get an endless list of top-notch publishers that evidently accept guest posts from bloggers within my industry: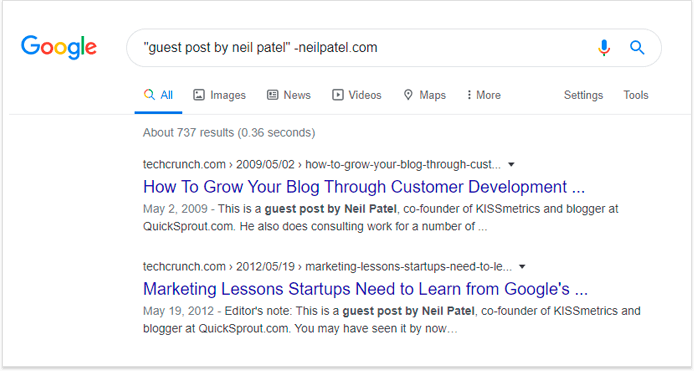 Spy on your competitors
A more advanced strategy is to look for those websites that have a lot of pages linking to your competitors. You can try searching for those websites the same way you searched for guest posts from popular bloggers: [guest post by] + [competitor name], but it's unlikely to yield meaningful results as guest posts are usually made by company employees and the company itself.
A better way is to use competitor analysis tools, like Link Explorer, Majestic, and many others, to look at the backlink profiles of your competitors and find blogs that link to them a lot. And in case you are tight on the budget, you can always use the free version of SEO SpyGlass, which allows you to analyze over a thousand backlinks per competitor: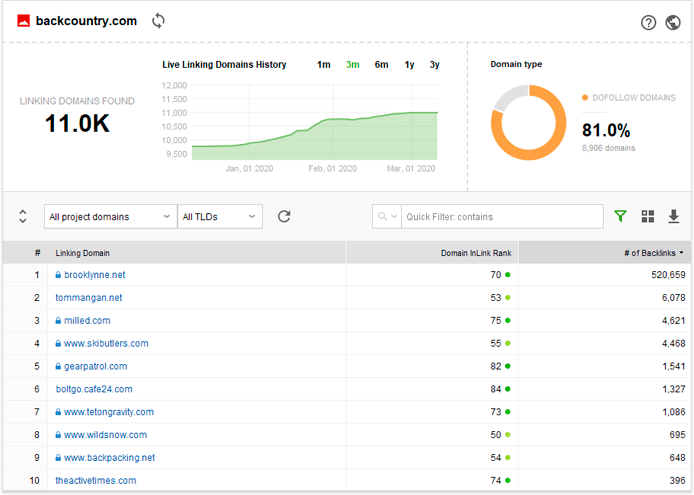 Above is an example of me using SEO SpyGlass to search for websites linking to a popular outdoor retailer and, while most results are not content-related, there is a couple of very exciting leads.
Step 2. Identify best opportunities
To make sure that your guest posts drive actual value, you have to screen prospective publishers for both quality and relevancy. Here are some of the things to look for in a promising lead:
Content is relevant to your industry;
Readers show engagement via comments and shares;
Publisher maintains active social media profiles;
Domain Authority (DA) score is in the upper half;
Other guest posts are of high quality.
Apply those criteria to the list of leads you've generated in the previous step and you should end up with at least a dozen publishers to pitch to.
Step 3. Brainstorm content ideas
Your main aim is to write irresistible content. Content that will benefit both the publisher and the reader, as well as drive some of the traffic back to your website. In other words, for your pitch to be accepted, it has to be a win-win-win situation.
So, a good place to start when researching content ideas is to look at which guest posts have been successful with the publisher in the past. One way to do this is to use tools such as
Ahrefs, BuzzSumo, and Rank Tracker to analyze the publisher's website and find those blog posts that perform best: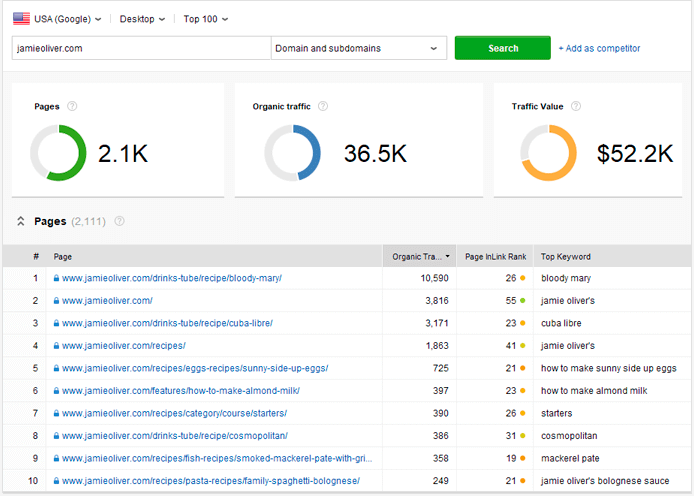 Once you've got the list of best-performing blog posts, you will be able to spot the pattern of which posts are the most likely to succeed. Things to pay attention to are:
Article types (listicle, guide, research, etc.);
Themes that are featured repeatedly;
Style and wording of the article headlines;
Audience level (beginner, intermediate, advanced).
Once you know the pattern, it should be pretty easy to come up with more promising content ideas. You may look into continuing a certain theme and writing a more detailed article that's further down the sales funnel. You may also identify outdated articles and try pitching a fresh take on the same subjects. In general, even a slight variation on a popular subject should work fine.
Step 4. Reach out to the publishers
Keep in mind that there is a finite number of relevant content partners on the market. It means that you can't afford to go around spamming them with generic messages — you'd run out of leads before you even start. The important thing here is not to score a single content placement, but to build relationships that last for years.
Establish some rapport with potential publishers
It helps to establish a little bit of a relationship before you make your content pitch. My advice is to engage with the publisher's content: like and reply to their social media posts, comment on their blog, and subscribe to their newsletters. Once there is some rapport between the two of you, you can inquire about potential collaborations.
Pitch your ideas via email
Once you've gotten familiar with the publisher's blog and you've put your own ideas together, it's time to try your pitch. The goal here is to be as authentic as possible and to reassure the publisher that you are capable of delivering quality content. Here is an email template that I personally find very useful, but feel free to make adjustments and give it your own voice:
Hi [Name]
I'm a long time reader of your blog and I have been increasingly enjoying your articles, especially the one about [recent article topic] — nice work!
I'm writing to you because I myself would like to contribute a post to your blog.
I've been brainstorming some topics that I think your readers would get a ton of value from:
[idea #1]
[idea #2]
[idea #3]
I'll make sure to deliver a unique take and spice things up with some exciting data — I've read your work, so I know the standard is high.
But just to give you some peace of mind, here is a guest article I've recently published on [another website].
Let me know what you think.
Best,
[Your Name]
Make sure to follow-up if you don't get a reply after a week of waiting.
Maximize your chances for being considered
As the one who makes a pitch, you are in a weak position, so it's your job to make it easy for the publisher to say yes.
Follow submission guidelines
Blogs with an established practice of accepting guest posts would normally have submission guidelines somewhere on their website. Make sure your pitch is aligned with those guidelines.
Address your pitch to a person
Avoid addressing your emails to dear editors or dear sirs or whom-it-may-concerns. Find the person in charge, find their work email, and address them by name.
Get straight to the point
Popular publishers get dozens of pitches each day, they know what the deal is. Don't waste their time with excessive formalities and state your pitch as concisely as possible.
Step 5. Deliver kick-ass copy
Once your pitch is accepted, it is time to do the actual work — write an amazing guest post that'll blow everyone's mind. And while I can't really teach you how to write well, there are some things you can do to improve the quality of your copy regardless of how well it is written.
Focus on readability
Readers of today no longer go through the entire article. Instead, they scroll through the article until they find a subheader that they like, read that part of the article, and then bounce. That is the process that you, as a writer, have to accommodate — make sure your articles are scannable:
Break your article up with H2, H3, H4, and so forth;
Use shorter words, sentences, and paragraphs;
Maintain consistent formatting throughout the post;
Use plenty of bullet points.
Add high-quality images
Images increase readability too, but what they really do is distinguish you from other guest post submissions. It's rare for a guest blogger to bother with quality images, which is a missed opportunity and, frankly, doesn't require that much effort.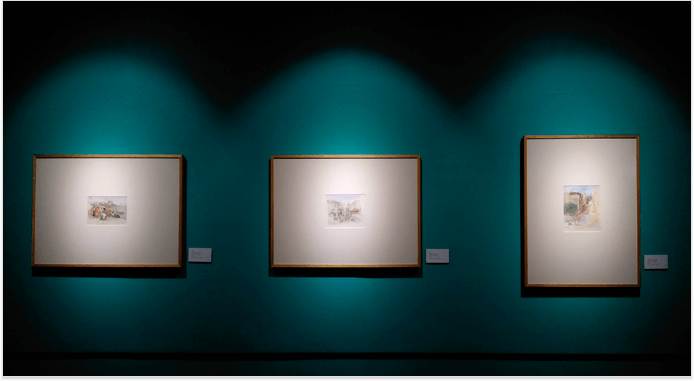 The images don't even have to be all that informative — you can throw a few of them in to illustrate your point in a humorous way.
Throw in some data
Another rarity in the world of guest posting is analytics. Most guest posters aim to create a lot of content with as little effort as possible, which means it is rare for guest posts to provide valuable insights.
Be different — go out and find some data, put together a pretty graph or a chart, and trust your publisher to be pleasantly surprised.
Add contextual backlinks
Don't forget the primary reason you are submitting a guest post — squeeze in a few backlinks to steal a little bit of the audience for yourself. The rule here is not to be greedy and to place links only where they would add value. Also, make sure to set up proper expectations of what kind of content will readers see when they follow the link.
Write a great bio
While publishers may have different policies with regards to backlinks, one place where you are guaranteed a backlink is the author's bio:

So make sure that your bio is well-crafted, fun, and designed with a click in mind.
Step 6. Submit and follow up
If you do not have a pre-established relationship with the publisher, it may take up to a month, and sometimes up to several months to have your submission reviewed and published.
If luck is on your side, your submission will be accepted quickly. But if it's been a while and you haven't heard back — do not despair. Sometimes, editors are busy and may not have the time to open or read your email, as simple as that. Send them a follow-up email and keep it short and straightforward.
Hi [Name],
This is just a follow-up email to see whether you are interested in the guest post I emailed you last week. The one about [topic].
Please let me know the current status of my submission — I would be happy to make whatever edits necessary if that would help my case.
Regards,
[Your Name]
Step 7. Help to promote your post
If your guest post is accepted and published, you'd want to maximize its value by making sure it performs well. If your guest post drives traffic and generates social engagement, the publisher will likely accept your future submissions as well. The guest post can also act as a reference in case you are pitching to other blogs.
So, even though the post is not on your website and is not meant for your existing audience, it would still be of benefit to promote it using your own channels.
Share your guest post on social media
I share most of my blog posts on all of my social media accounts: Facebook, Twitter, LinkedIn, and Instagram.
Ask your friends and co-workers to give it a boost
I also let my friends know about my guest posts and ask them to share it via their social media accounts. This helps my posts to get the most social shares.
Keep an eye on the comment section
Make sure to reply to all the comments and keep the momentum of your post going. Remember that you are a guest on this platform, so stay positive and don't get sucked into debates.
Step 8. Track and measure
Once all is done and your guest post is live, don't forget to track and measure the success of your link building strategy. Google Analytics is a powerful tool to help you understand how healthy your link profile is, and the traffic your backlinks are driving. All this information will help you execute a more targeted SEO strategy.
A word of caution: Guest blogging solely for backlinks isn't viable. You need to do it as part of an extensive marketing campaign for you to generate tons of quality backlinks and realize plenty of other benefits. And as experts say, it is better to generate fewer quality backlinks from authoritative sites than to get tons of low-quality backlinks.
Good Luck!
---

By: Susan Saurel
Article stats:
| | |
| --- | --- |
| Linking websites | N/A |
| Backlinks | N/A |
| InLink Rank | N/A |