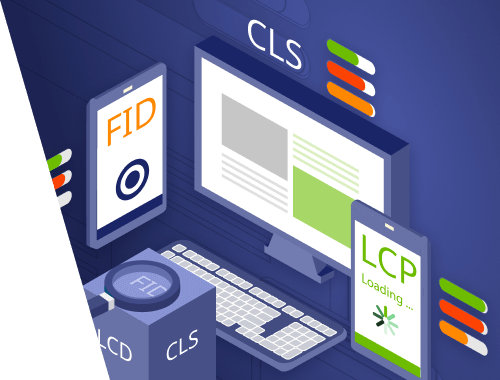 Core Web Vitals Template for Google Data Studio

We've put together a Data Studio template for assessing your Core Web Vitals performance at a glance. The template consists of three segments: performance overview, performance by page, and opportunities for improvement.
The overview segment shows the total number of pages crawled, how many of them pass or fail, and what is the distribution for each of the three metrics:
The performance by page segment is a table with all the crawled URLs and their individual scores for each of the Core Web Vitals metrics:
Finally, the opportunity segment shows total time savings (seconds) for fixing any given performance issue on your website. For example, from the screenshot below we can see that removing unused CSS and deferring offscreen images will help us save almost 10 minutes of loading time across the entire website:
Follow these steps to set the dashboard for your website
Step 1. Launch WebSite Auditor, open or create a new project, and let the software crawl your website.
After the tool finishes crawling, switch to the Page Speed tab, click the Update Pages button and choose the Page Speed data factor.
Step 2. After the tool collects the data, you need to export the information from the Page Speed tab.
Step 3. Now let's create a new Data Source in Google Data Studio.
Step 4. Upload the CSV file that you've previously exported from WebSite Auditor.
Step 5. If the file's been successfully uploaded, you will see the Uploaded status in your dashboard. If the upload has failed, this could be due to the problems with the export file - for instance, URL and TITLE may contain special characters that are misinterpreted by Data Studio. When an error occurs, the Data Studio parser usually indicates the line numbers in the export file where this error's been found.
Step 6. After the file's been uploaded, make sure that Data Studio correctly recognizes the content type of the columns in your file. All numeric values must be specified as Number and the default aggregation must be set as None.
Step 7. Make a copy of the template.
Step 8. Specify your data source.
Step 9. Copy the report. If everything's been done correctly, the data from your source will be pulled into the template.
That's it, enjoy the template and find those low-hanging fruit for improving your Core Web Vitals scores
Article stats:
| | |
| --- | --- |
| Linking websites | N/A |
| Backlinks | N/A |
| InLink Rank | N/A |