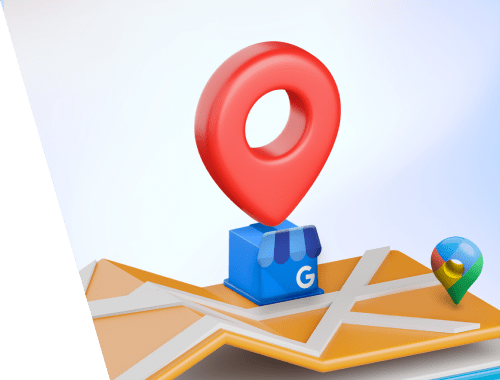 Google Business Profile: Ultimate SEO Guide

Google Business Profile (formerly Google My Business) is the ultimate business directory and a must-have for any local business.
A few years ago, if you googled a place to eat you'd probably end up on Tripadvisor or a similar aggregator. Today, your search stops with Google — it's got every single business recommendation right there in the SERP, no need to click through to any other websites.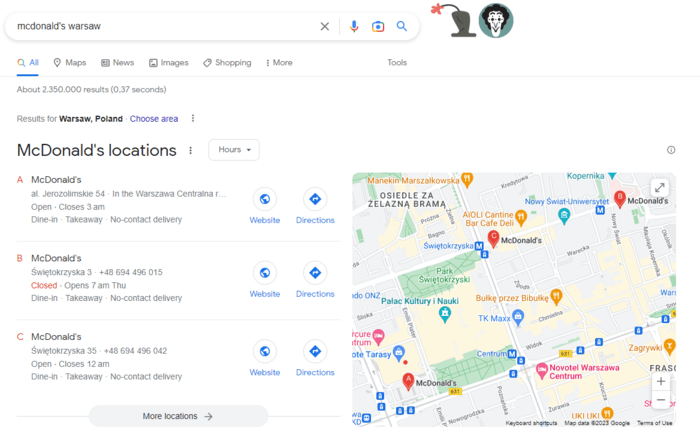 What are the benefits of Google Business Profile?
Google Business Profile (GBP) is a free tool for business owners that lets you easily create a business listing and fetch your business details directly into Google. Its importance in local SEO grows every year, as it helps business owners succeed in search and win better positions. How exactly?
First, Google Business Profile is a way to get into the local 3-pack, which appears at the top of SERPs. This is a direct way to better visibility and more clicks.
Second, the information provided via GBP is better digested by Google, which helps Google assign it to your entity. The entity-based approach has proved its efficiency in local SEO many times. Besides, you may get a knowledge panel from Google if the information is sufficient.
Then, Google has recently developed many business-specific services that occupy the so-called zero search position and grab most of the users' attention (i.e. clicks). For example, Google Travel: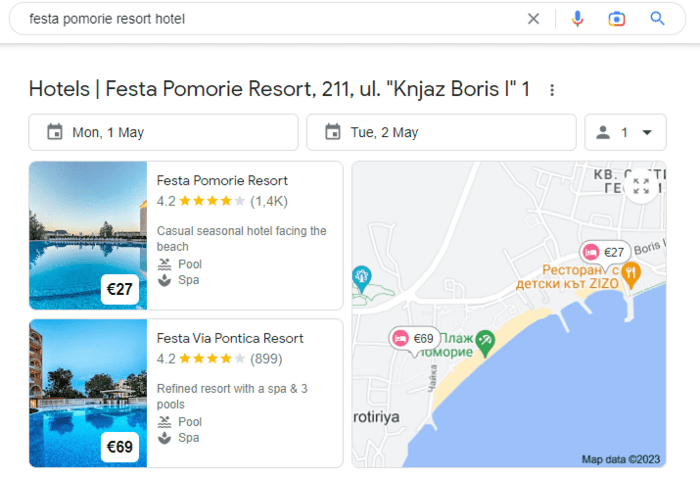 And Google Events: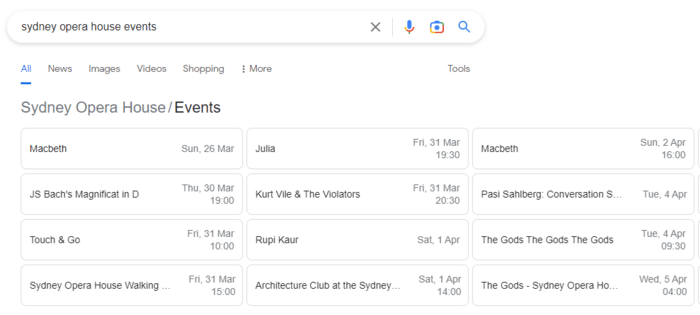 One of the ways to get there is to have a fully filled GBP profile with all the business-specific features.
As more and more businesses start creating and actively maintaining their listings, Google Business Profile keeps evolving to simplicity. Still, there are some points that deserve attention.
What are Google Business Profile ranking factors?
There's a myriad of features in GBP that can boost your SEO strategy greatly, but most businesses use it only to communicate to their clients the contact details, work hours, for adding photos/videos showing the business and, of course, for receiving and responding to reviews.
So what about ranking factors? When you search for a nearby business, Google will rank GMB listings based on relevance, distance, and prominence:
Relevance is whether the business matches the query. This is usually signaled by the use of matching keywords (say hi to good old keyword SEO) and the choice of business category for the listing.
Distance is how close the business is located to the searcher. Proximity is relative to the density of the businesses. If you are looking for a cafe, then everything within a block is close. But if you need an antique shop, then the entire city is a game, as antique shops are not located as densely as cafes.
Prominence is about how well-known your business is. This is determined by the number of user reviews, fresh photos, filled-out Google Business Profile listing info, GBP posts, and many other things.
---
Now let's move to the actual implementation process of your SEO success with Google Business Profile.
How to create a Google Business listing?
To create a listing in Google Business Profile, go to the GBP create page. With quite straightforward instructions, the only thing you need to do is follow them. Still, there's an SEO point to consider: сarefully add keywords to your business name.
For your business name, consider including your main keyword, as it may influence your rankings drastically. Just as it works with titles and H1s for content SEO.
Consult Google's business naming guidelines to avoid issues later.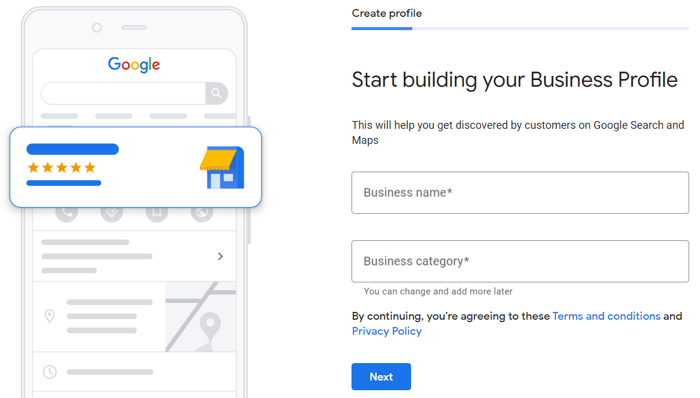 Say your business is a cafe. If your legal business name doesn't include words like cafe or coffee, you should add them to your name in GBP to get something like Snow White and the Three Pigs Coffee House.
Note: Don't overdo it here, as Google may give you a penalty for guidelines violation. Besides, keyword stuffing may result in verification problems later, and you'll have to remove those extra keywords anyway. Here is an example of what not to do if you don't want to bury your SEO strategy with GBP: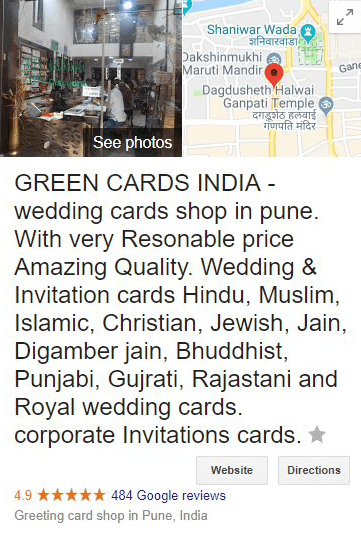 How to verify your Google Business listing?
To make your business visible on Google Maps and local packs, you'll have to first verify your business listing, i.e. prove that the business belongs to you.
These days, verifying your Google Business Profile is simple as never before — you will only need to provide a phone number at the very first step of creating your listing. Google will then send you a confirmation code. Enter the code — and voila! You're verified.
Once you're verified, a Google Maps location is automatically assigned to your business — you don't have to do anything extra to make your address visible to users.
If you already have a non-verified listing, you can request verification right from the SERP: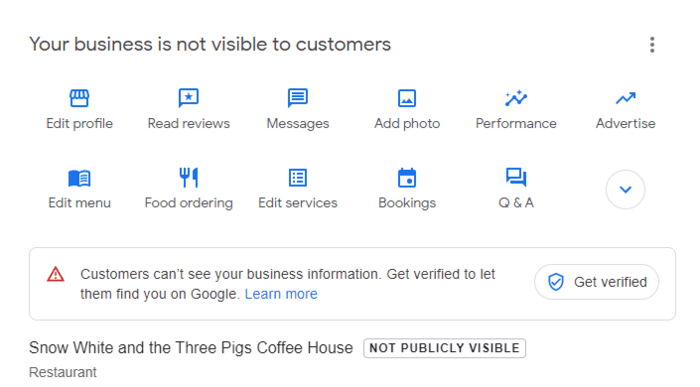 If you fail to verify by phone for any reason (which is not likely to happen actually), try other verification methods suggested by Google.
Google Business Profile verification issues
When creating your Google Business listing, Google may show several businesses that already exist at the address you've specified. If none of them is yours, it's all fine.
But you may find that your business has been claimed by someone else. It may be an agency you hired, an ex-employee of yours, you yourself but you lost the email, or whoever else. In this case, Google Business Profile will show you a notification stating that the business has already been claimed, and a part of the email address used to claim the account.
If you recognize the email, you can just recover your Google account.
If the email doesn't seem familiar, click Request access > fill out the form > click Submit. The current GBP profile owner will get an email with an access request. Google will grant 3 days to the current owner to reply.
At the same time, you will get an email regarding this request. Save that email — it's important, as it will let you check the status of your request and restore access if the ownership request remains ignored.
If the current profile owner doesn't answer in 3 days, you will then be able to claim the GBP listing on your own. If the previous listing owner denies the request, you will have an option to verify your affiliation with the business you claim.
Mind that Google can request re-verification sometimes. This can happen due to the changes you make to your business listing, or because the provided information violates Business Profile guidelines — incorrectly specified categories, address mistakes, keyword stuffing in business names, etc. To avoid that, make sure you follow the GBP guidelines when filling out your profile.
How to optimize your Google Business listing?
Google Business Profile has hundreds of features that can make your listing attractive to users and Google algorithms, thus making your SEO strategy even more successful. Some GBP features are universal, while others are niche-specific.
For example, cafes and restaurants can add menu items, gyms and hospitals provide types of service, hotels state amenities, supermarkets offer product catalogs, etc. All these features let you enrich your GBP profile, polish your SEO, and surpass your competitors.
For every type of business, there's a rule of thumb – specify as many details in your GBP profile as possible. This way, Google will better understand your business and will be more likely to rank you higher.
The nice thing is that you can now edit and manage your profile directly from the Google SERP:
If you look at the GBP interface, you'll see a set of icons and sections responsible for various settings. Some are quite obvious, while some do require more attention. Below, I'm going to describe each section and show their peculiarities.
1. Edit profile
The Edit profile section lets you add or change the general information about your business: description, contact info, location or service area, opening hours, and details like amenities, payment methods, etc.

Description
While you cannot "optimize" your working hours or menu positions (you cannot say you offer something you don't actually have), a proper business description can help outrank your competitors.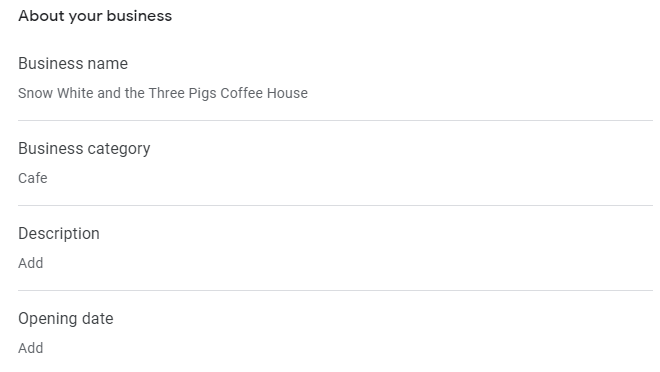 Google once stated that you should think about the words customers would type to find your business, and make sure that your listing actually includes those keywords. Still, it's best not to get carried away — your GBP listing description can get flagged for keyword stuffing, too.
Are there any SEO practices for writing descriptions for listings? Well, if you look at the descriptions of GBP listings that already exist, you'll probably see a common pattern repeated again and again:
Laid-back canteen offering traditional pizzas, whole & by the slice, with classic toppings.

Easy, family-friendly pizzeria offering coal-oven pies in a casual two-level space.

Basic pizza shop on a busy corner that offers cheap slices & pies late into the night.

This tiny coffee shop serves specialty drinks along with baked goods, sandwiches & housemade soup.

Long-running shop offering many bike styles, plus accessories, footwear & repair service.

Neighborhood store with a variety of bikes, equipment & apparel, plus fittings & repairs.
This pattern is quite universal and can be applied to creating a description for any business, including yours:
[Unique selling proposition (USP)] + [main keyword] offering [product/service] + [product/service] + [product/service]
[Cozy] + [pizza place] offering [cheap slices] + [pies] + [sandwiches]
[Neighborhood] + [bike shop] offering [variety of bikes] + [equipment] + [apparel]
This pattern clearly states who you are and what you offer, thus your users and Google get all the necessary information at a glance. This pattern is also keyword-rich without being too obvious — perfect for successful SEO.
Are you limited to this pattern only? Of course, not. You can write any description you like, but keep in mind that you are limited to 750 characters. Use them wisely, and don't get too poetic — neither users nor Google algorithms will appreciate this. Be simple, and describe your services so that users would easily figure out what they will get.
If you are stuck with what keywords to use in your GBP description, you can turn to keyword suggestion software such as Rank Tracker. The tool can help you analyze your competitors to borrow some keyword ideas from them or generate thousands of new keywords based on your own ones to refine your SEO strategy.
Website
Google Business Profile lets you add a website of your business to help your customers (and Google, sure thing) get more information. Social media profiles like an Instagram page will do as well.

If you don't have a website or any social profile, you can get a free one right on Google. Just click Create now, and Google will assemble a simple website based on the information you've provided. You can edit the site later to add more details.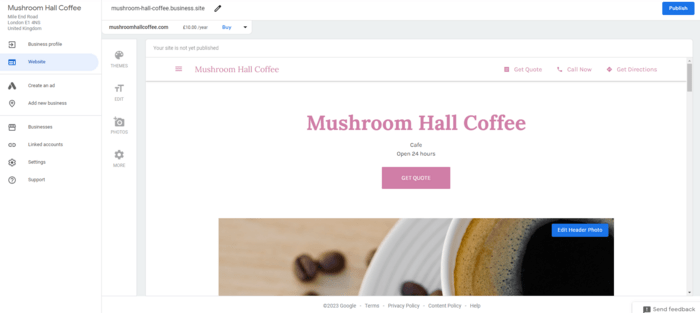 The website will be housed at business.site, but Google will suggest you buy a custom domain if you want.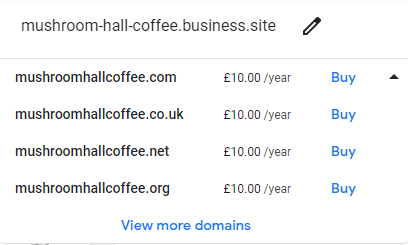 GBP website builder is not as customizable and robust as building a website from scratch, but it's pretty sufficient for small businesses.
More section
The More section of Google Business Profile is really huge, and its features depend on the type of your business. Anyway, you should specify as many features as possible — remember that the completeness of a listing weighs a lot in GBP SEO.
Note. I will not describe each and every section you need to fill in your GBP listing. Some of these features just have to be stated the way they are asked to, and that's it — working hours, types of service, etc.

Moreover, many of these sections are business-specific like dining options for cafes, types of rooms for hotels, delivery options, etc. Carefully fill them all in — the more information you give Google and customers, the better.
2. Add photo
Visual content is a must for any business. Enrich your Google Business listing with high-quality photos of your goods and amenities, add video tours of your facilities, show some behind-the-scenes processes — all of that shows Google that your listing is alive.
What's more, uploading your own visual content will give you more control over what your listing looks like.
If you don't add any photos, your GBP listing will feature the photos uploaded by your users and those are rarely any good. If you add high-quality photos yourself, Google will prioritize them and your listing is guaranteed to look more appealing.
As for the guidelines that Google Business Profile has for photos and videos, they are as follows.
Photos:
Format: JPG or PNG

Size: Between 10 KB and 5 MB

Recommended resolution: 720 px tall, 720 px wide

Minimum resolution: 250 px tall, 250 px wide

Quality: The photo should be in focus and well-lit, and have no significant alterations or excessive use of filters. In other words, the image should represent reality.
Videos:
Duration: Up to 30 seconds long

File size: Up to 75 MB

Resolution: 720p or higher
3. Read reviews
Google reviews and their management do matter for SEO. Reviews work like comments and likes on social media — the more positive reviews you get, the higher your listing ranks.
It's important to give feedback on all reviews — thank your users for good reviews, and express sincere concern if the review is negative. For more guidance on how to respond to positive and negative reviews, check out this article with plenty of examples and best practices.
In March 2021, Google introduced a review management tool for business owners to flag and report negative and inappropriate reviews that may harm their reputation. So the review management process is now easier than ever.
Note.
Businesses that provide a list of services they offer may have recently faced an outbreak of negative reviews related to
Google's incorrect pricing labels
.
Not sure if it's a bug or Google's testing some GBP upgrade, but customers may get upset if they are charged more than it was "stated". So be careful and double-check your service prices if you have them specified in GBP.
You can also encourage your clients to post reviews and give feedback on your business (Ask for reviews icon) by generating a link and sharing it via social media or email.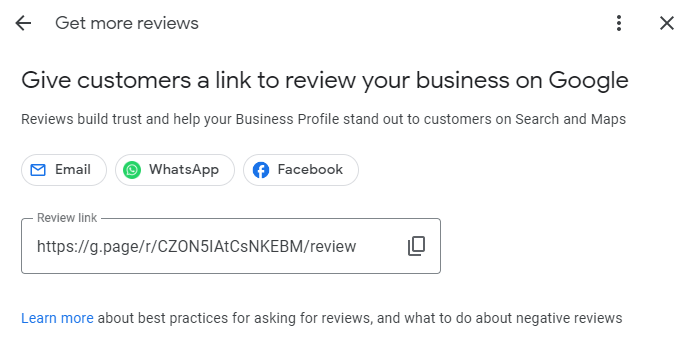 4. Messages
Verified businesses can turn on their GBP chat, so users can contact a business by simply clicking a Message button in the listing right on the SERP: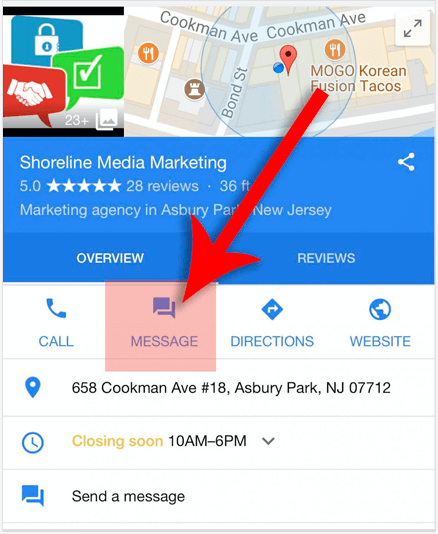 Why is this useful? First, people don't like making phone calls and prefer messengers. Second, it puts your contact details directly in the SERP, which is a major convenience for your users who now don't have to visit your website and look for a contact page.
Be sure to follow messaging guidelines.
5. Add update (events, offers, announcements)
Updates, or Google Posts, help inform your clients about special offers and news. The posts expire seven days after they are first published so they are meant to highlight the most current developments in your business.
As for technical features, Google posts can include a title, dates and times of the event (up to 300 words), CTA buttons, and an image (4:3 aspect ratio, up to 5 MB). Also, make sure to check if your post fits Google guidelines and Google Posts content policy. Spoiler: relevant links are allowed.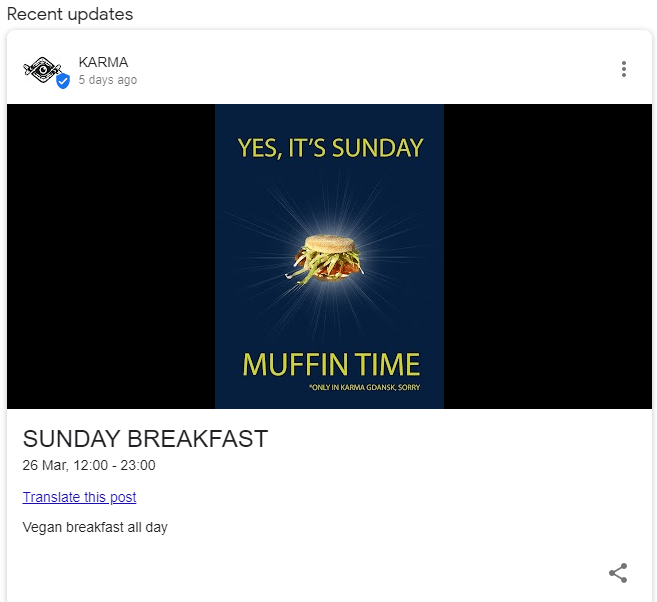 Create new posts in Google Business Profile whenever you have anything to announce, add eye-candy photos, and write attractive, selling headlines and descriptions.
If you can't come up with any new post ideas, check out this guide on what your customers may like to see in your business profile. Think of upcoming events, offers, or holidays — the more active you are, the better.
6. Questions and Answers
The Q&A section of Google Business Profile is a space where your users can ask any question about your business, and you or other users can answer them.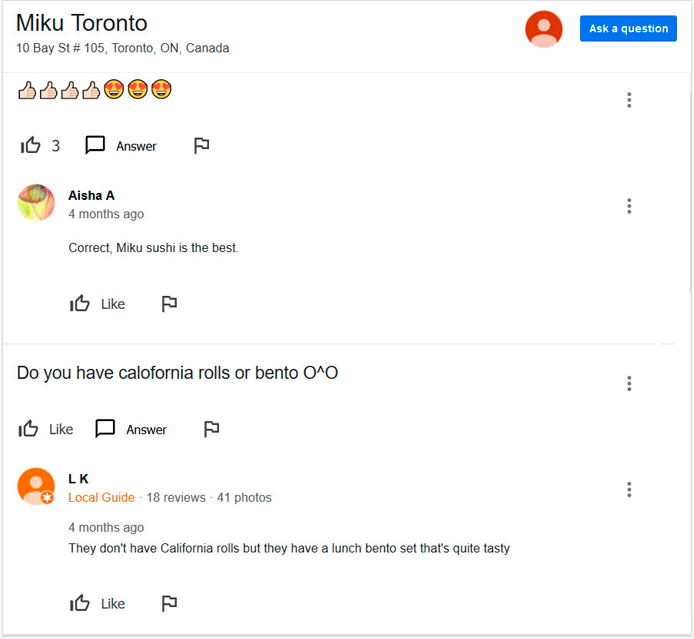 The best way is to handle all the questions on your own. Make sure your answers are to the point and use the opportunity to add more keywords to your Google Business listing. Once again, don't overdo it with keywords not to sound spammy or bot-like.
You can take charge of this section by adding your own questions and answering them yourself. This way you are adding content to your listing while also providing information to your users.
7. Business-specific features
Google Business Profile has a set of specific services available for different types of businesses:

With their help, hotels let users check rooms from the SERP (Check availability button):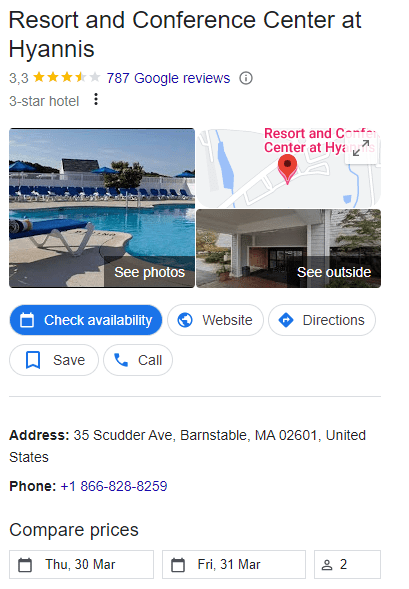 Restaurants may offer Reserve a table without clicking any further: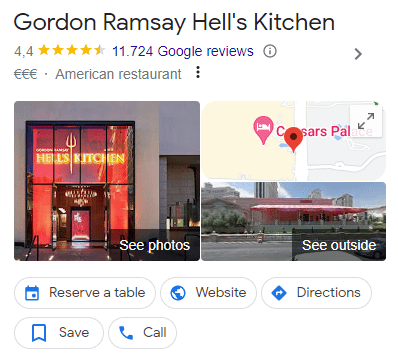 As I've said before, the more features you include in your Google Business listing, the better it is for your positions, so make sure you make use of all the specific features available for your business and location.
By the way, studies prove that adding services to your listing does impact local positions greatly. And "greatly" is not an exaggeration. In the screenshot below, you can see how the positions of a listing in a certain location changed after adding services.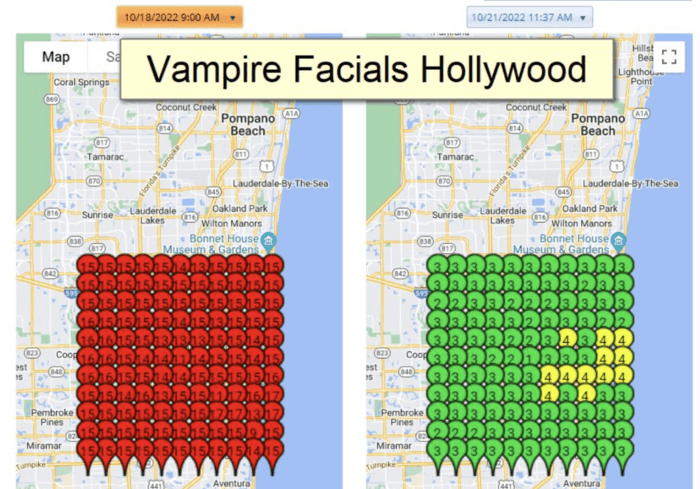 8. Pointy from Google
Pointy from Google is a service that supermarket owners can use to connect their point of sale system and automatically add their in-store inventory to GBP and to a store's Pointy Page. This feature is available in the USA, Canada, the UK, Ireland, and Australia.
Google Pointy is actually a scanning system. Once you've connected the Pointy box to your barcode scanner, you just scan any product as you would normally do during a purchase. The product's description and price are instantly and automatically uploaded to the product carousel of your Google Business Profile listing.
You can edit and touch up the info on any product at any time, of course, so it's a huge help for stores trying to go digital.
9. Advertise
Google Business Profile (formerly Google My Business) gives you a chance to get clicks with paid promotions. Click Advertise in your GBP profile settings to get instantly redirected to your Google Ads account and set up ad campaigns.
In addition to the promotion itself, Google Ads is a nice source of keyword ideas to add to your GBP profile description and website content. That said, you can try optimizing your site to win positions in organic search as well.
How to track your performance?
Google Business Profile now lets you monitor your optimization effort right from the SERP. The very first thing you need to look at is Profile strength, which shows the general score of your listing:

Then, consult the Performance section. It's pretty much like Google Analytics but its functions are kind of more business-specific. Here you can check the general number of interactions during the chosen time period, see how many calls and messages you got, find out top products, etc.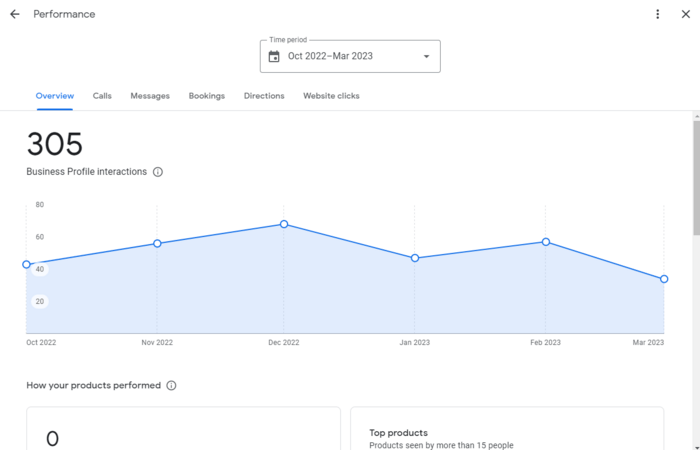 These insights will help you identify the areas for improvement, as well as see your strong sides and tune your local SEO strategy accordingly.
Final thoughts
The cool thing about Google Business Profile is that it can often bring you more use than your actual website. GBP listings are placed higher on SERPs, thus attracting more attention and providing users and Google with all the necessary information at once (this helps Google understand your entity better).
Make GBP an essential part of your local SEO strategy, and keep your listings updated and be active — the reward will be soon to come.
Do you use Google Business Profile for your business? Have you noticed any changes I haven't covered in this post? Share your experience in our Facebook community.
Article stats:
| | |
| --- | --- |
| Linking websites | N/A |
| Backlinks | N/A |
| InLink Rank | N/A |