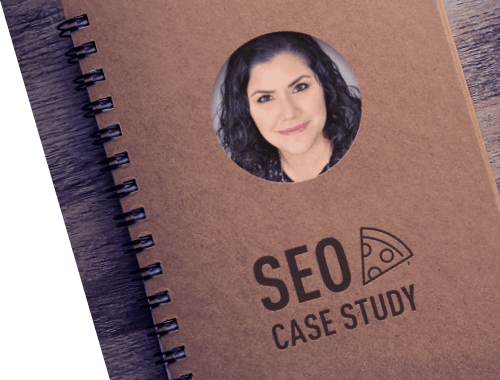 SEO Case Study: Grow Impressions and SERP Clicks by 300%

SEO Case Study: Grow impressions and SERP clicks by 300%
About the author

Liraz Postan is an international SEO executive. She's been leading SEO, performance, and content marketing in various public companies for more than 14 years.
About the website
I am promoting a relatively new (1.5 years) site that brings great value for foodies in the US, who are exploring different food solutions based on their dietary needs, and also suits busy families and people who don't have enough time or the creativity in their kitchen.
The site provides reviews and detailed comparisons of different food services in the US, and it is full of high-quality original images and fresh unique content which is pretty common for this niche.
Let's see the site stats before we started to work on it:
2200 organic users
DS 16
Optimization score: Low
Page load time: 7.1 sec
The site rankings were quite high for most of the long tails and less competitive keywords.
Let's set some goals
Since the actual conversion occurs on the seller website and I have no control over their funnel, my main goal was to:
Increase organic traffic: Making sure the site ranks on the relevant search intent keywords. Making sure the content reaches a specific audience.
Increase engagement: Making sure sessions are longer than 60sec to encourage users conversion, and to be able to bring them back to consume more content (to build trustful relations with bloggers).
Part 1: Audit till you're happy
To save precious time I audited the website with Website Auditor, which instantly gave me some real quick wins to start with:

There were immediate actions from the audit:
Robots.txt file was not found

Sitemap.xml was not defined properly

Missing pages

Broken internal links

Metas not defined for some of the pages or duplicated
I used the website visualization tool to identify internal linking issues and some orphaned pages. I love this tool, as it really makes an instant visual of my site.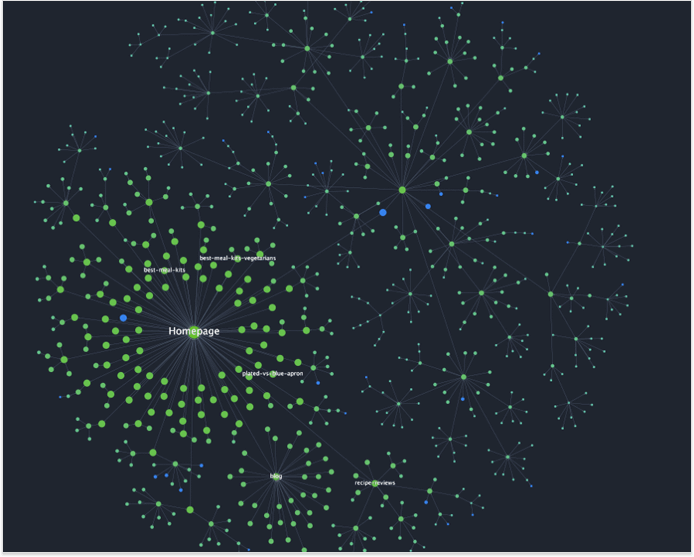 After handling some of the easy-to-fix issues, I validated them on Search Console and made sure no other issues were detected.
You can also configure some settings and set preferences for crawler settings: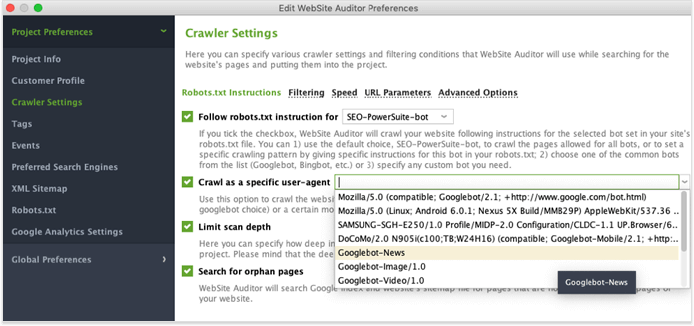 Super important for news sites, for example, looking to see how Google news bot is crawling their site.
I always scan the sites I am working on, to identify potential issues and errors, so my tip to you is to schedule the audit on a weekly basis.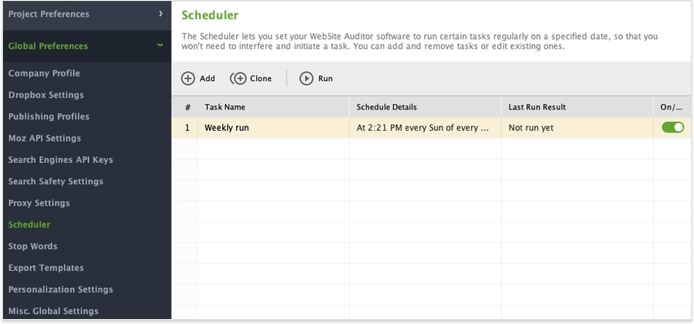 What about the off page optimization?
Since this site was relatively new, I had to understand which sites were linking to it, why, and under what context. I wanted to identify opportunities for citations without links, broken links and non-relevant links to remove. Luckily, SEO SpyGlass is a great tool I've been using for years, and it indeed helps me identify all the above.
First, I ran an audit:

Then, I wanted to go deep further and see if there were any irrelevant links. Though the site was targeting US visitors, I noticed we had 60% of links pointing from Singapore.
A quick look on those links showed me they were toxic and non-relevant, it was necessary to remove them.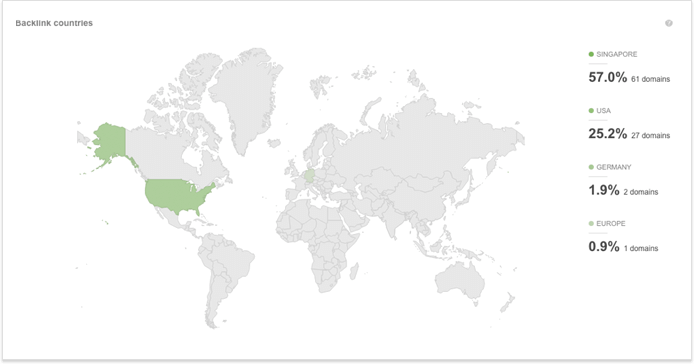 I exported all toxic links and made a wonderful disavow list to Google.
Also, in terms of competitors, I understand we have a long way to go. Well, my main competitor has a very old domain (22 years), and I surely need a lot of effort to beat it on search engine results.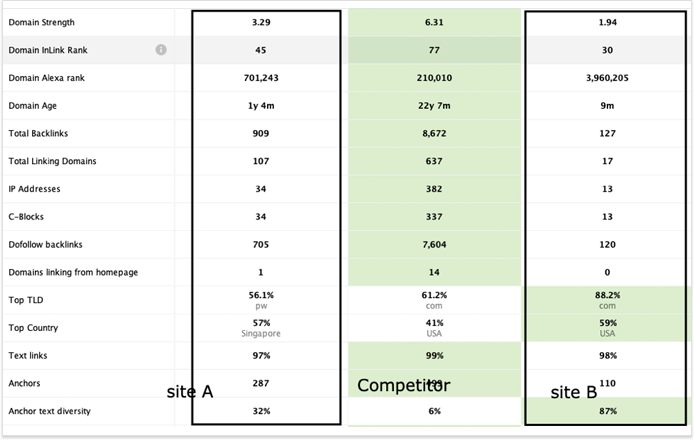 Part 2: Identify SEO Quick Wins
When looking at my site's competitors, I am aiming to get a direction on how to outsmart them.
I did quick keyword research, to see what the potential was out there:

And then using the TF-IDF tool, I checked the competition and identified some quick wins to optimize my leading pages.

After my keyword research was finally done, thanks to SEO PowerSuite keyword research software I could set the right on-site strategy.
Quick tip! To get those golden position zero rankings, you can use this magical tool: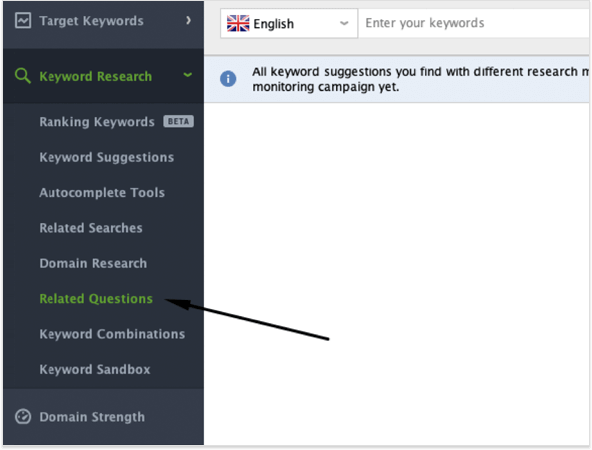 Just insert your keywords and discover a whole world of related questions you can target your content for. I always try to create content that answers my readers' questions. That is the best content you can create.
Using Screaming Frog, I checked we were all good and not missing any holes in the strategy.
Technical SEO:
Using WebSite Auditor, I fixed all the issues I got in the audit. That was easy.
But since the site held an e-commerce platform as well, I had to dig further and optimize so many server calls.
Here's what I did
Removed not-much-needed plugins

Scaled images to the smallest size and weight

Installed a plugin, Asset Cleanup, which helped to eliminate calls to the server and speed up performance
Leveraged browser caching — there are great plugins to help you achieve these results, I use WP-rocket.

Most important — I moved to a better hosting plan.
From 7.1sec loading time, I got this amazing result: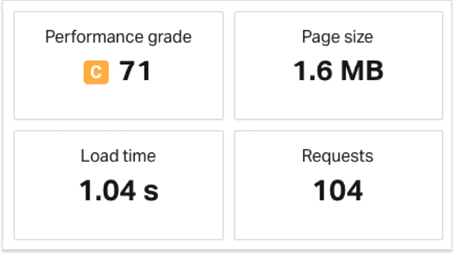 Page speed is the most important factor these days, also for our users, who don't have the patience to wait for sites to load (they are so right!)
Let's look at the results
Wow. I must say, all the hard work really paid off. I just put the results here from the Search Console account:

Search visibility:

I saved a lot of valuable time with the initial research, I managed to identify the real wins my competitors were not really seeing at the moment… and BOOM. The uplift was instant — just 14 days of actual optimizations.
Bounce rate was improved by 10% and the sales gained 200% uplift (organic efforts only, eh?)
Final thoughts:
Always, always, always look for quick wins.
Technical SEO (including speed/performance optimization) alone can bring really great results
Find the right tools to save you a great deal of time
Keep optimizing on the go and keep an eye on the new players in SERP.
Would you like to ask Liraz any questions related to her SEO campaign? Feel free to post them in the comments below!
---

By: Liraz Postan
Article stats:
| | |
| --- | --- |
| Linking websites | N/A |
| Backlinks | N/A |
| InLink Rank | N/A |