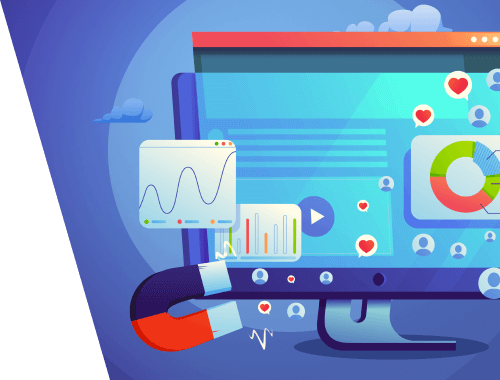 SEO Case Study: 320% Traffic Growth in 24 Months

For anyone still doubting the power of SEO, I thought I'd share this client case study. Using a straightforward SEO approach, we've managed to increase organic search traffic many times over in a relatively short time.
I've been a technical SEO consultant for over 10 years and have used SEO PowerSuite tools for much of that time. I've always liked the way that the on-screen layout was suited to SEO professionals doing serious analysis of the data rather than marketing professionals looking for high-level executive reports. It's not running reports that will improve SEO – it is analysing and understanding the data, then making improvements based on that analysis.
That's exactly what I have done with one long-term client. I used a repeatable, tried and true process backed up by thorough data analysis to grow their organic search traffic by 320% in 24 months. The company was established in 2009 and is a B2B provider of project management training courses to corporations across the UK and internationally.
Project data
At the start of the campaign, traffic was under 10,000 visitors/month on average. Two years later it had reached over 30,000 visitors/month and, more importantly, these visitors have a high buying intent, because they are well-targeted with the right keywords, right content, and a good customer experience. So sales and leads have also grown by a similar percentage in that time.
At the beginning of this project the client had six keywords in Google's Top 10 in the UK but none at position #1: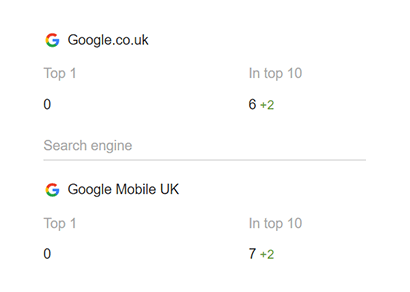 Two years later there were 10 keywords at #1 and 64 keywords in the Top 10.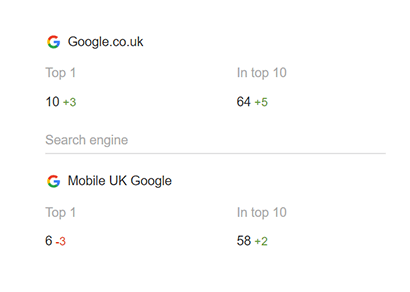 At the start of the project the client had fewer than 6,000 backlinks from 269 linking domains:

After two years, backlinks had increased from 5,801 to 16,797, and linking domains were up from 269 to 765. On average, we gained links from around 20 new domains each month.

Project goals & challenges
The aim of the project was to initially increase rankings for two main keyword groups to increase visitor numbers to the home page and one other important page. So KPIs were Ranking Visibility, Organic Visitor Numbers, and the number of backlinks and linking domains above a certain authority threshold since these were critical to increasing rankings.
The project budget each month was good for the company size but because their competitors were much larger companies, many with well-known brands, the main challenge was generating an equivalent amount of backlink value to keep pace with the competitors. This challenge was overcome to a certain extent by producing much more content and a series of in-depth reports related to the project management industry. The rest was achieved with a major link-building campaign.
Campaign strategy
All websites are different and what works in one industry may not work in another. SEO is fundamentally about how your website and backlink profile stack up against the competition. If your Top 10 competitors have stronger backlink profiles, better web content, or a faster website, then you may need to focus on different SEO techniques. However, fundamentally all SEO processes are the same – the difference is simply how much effort needs to be applied to individual parts of that process.
But here is the SEO process that worked for this particular project management training company.
Step 1: Technical SEO site audit
Keyword Research had already been completed and target keyword groups and landing pages identified. So the first step was to use Website Auditor to check how well-optimised the website was at site-level and then at page level for the target pages.
The site audit revealed a few pages with 404 errors, some empty and duplicate meta descriptions, and some excessively long URLs. Nothing to worry about but all worth fixing to ensure we were optimising the site as thoroughly as possible.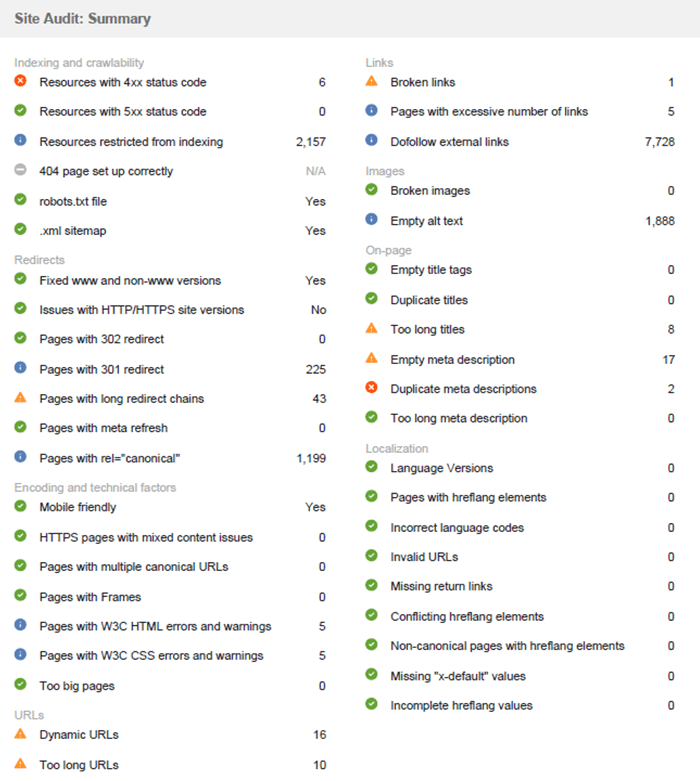 Step 2: SEO page audit
Next came the audit of the target pages for the keyword groups already identified. I always aim to get an optimisation percentage of at least 90% but some issues preventing that level of optimisation can be down to how the website is built, and that was true in this case. The content optimisation factors were all fine but the website wasn't mobile-friendly and both the Mobile Page Speed and Desktop Page Speed needed improvement.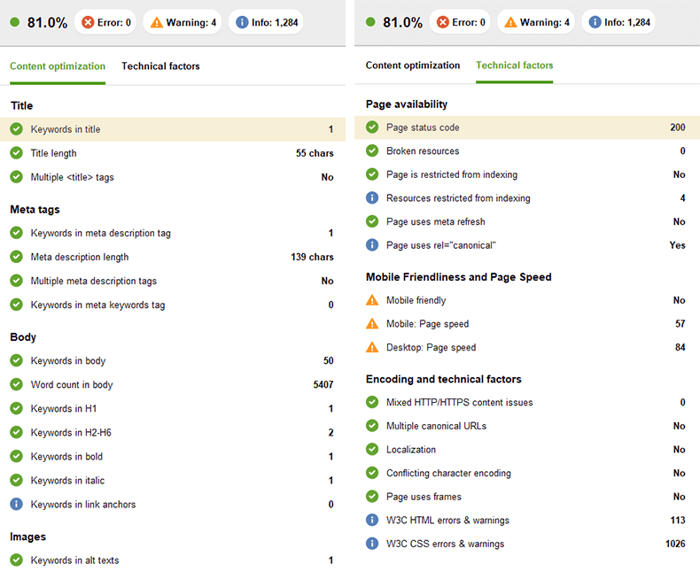 You can, of course, check whether a site is mobile-friendly using the Mobile-Friendly Test in Google Search Console or just check the Mobile Usability section in Search Console. But having this data here at my fingertips in Website Auditor made the task quick and easy and the data can be shown on the client reports along with all the other technical factors. If you need to make your own website, or a client website, mobile-friendly here is a simple five-step plan.
Pro Tip: Always check and set the default search engine in Website Auditor before doing any content optimisation checks if your preferred search engine is not google.com. It's the little "gear" icon at the top right of the screen.
One feature of Website Auditor I particularly like is the ability to check optimisation of body content against the Top 10 ranking competitors all on one screen. This makes it easy to see to what extent they are using certain keywords and also their TF-IDF scores, and easily switch between keywords in your keyword group for a target page.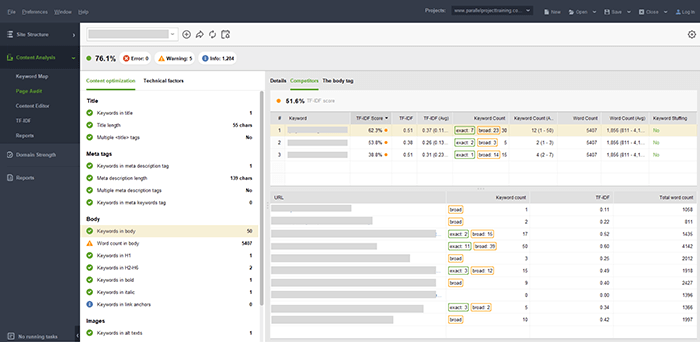 For this client, the page audit revealed that they were under-utilising keywords compared to some competitors and the TF-IDF analysis highlighted a range of semantically related words missing from their content that most of their competitors were using.
It was also very easy to compare the amount of text in the body content to that of competitors, although in this case the client had a really substantial amount of text (over 5,000 words) so I had no concerns there.
Step 3: Setting a ranking baseline
While the mobile usability and page speed issues were being resolved by the web developer and some content reworked to include the missing words highlighted by the TF-IDF analysis, I set to work establishing the baseline project for tracking rankings in Rank Tracker. I had my target keyword groups but also added other keywords to monitor: some pulled in from Search Console Queries and others agreed via a brainstorming session with the client. In total, I usually monitor 100 – 150 keywords but actively work on optimising no more than around 20 at any one time.
My project management training client targets customers all across the UK and internationally so I set up the Rank Tracker project to track both desktop and mobile rankings for google.com and google.co.uk.
Pro Tip: Always track mobile and desktop rankings and check for any significant discrepancy which can be a sign of issues with mobile usability or mobile speed.
In a separate Rank Tracker project, I used the Preferred Search Engine option to set up a custom search engine to check rankings at regional level based around several major UK cities. This was done just for the target keyword groups to keep the dataset at a manageable size. This is a great option to target particular areas of a country that don't necessarily fall under a well-defined geographic region but may be target areas for a client.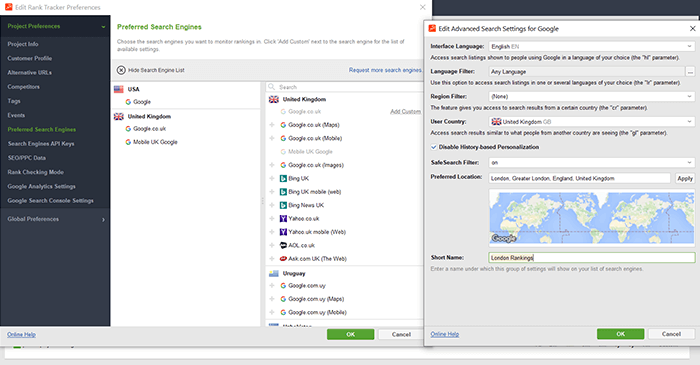 Step 4: The serious stuff – backlink analysis & building
The client had a fairly solid backlink profile but many of their competitors were much larger companies with much larger digital marketing budgets so my client needed plenty more good quality links to compete effectively. I needed to quickly find good sources of new backlinks and confirm that the backlinks they already had were adding value.
The backlink profile
I started by first analysing the existing linking domains, for instance, what percentage of backlinks were from domains with Moz Domain Authority greater than 30, what percentage were "dofollow" and how new were they (based on First Found Date).
Pro Tip: When checking authority of a potential linking domain don't just use one metric. I use Domain Inlink Rank, Moz Domain Authority (DA) and Majestic Trust Flow (TF).
Linking domain metrics
I then analysed all the available linking domain metrics in SEO SpyGlass including Domain Inlink Rank, penalty risk, domain age, domain IP. This gave me a good overall assessment of the value of the existing backlinks and revealed that, whilst there were many reputable, relevant domains with good authority and traffic, there were a whole variety of low-quality domains too. Where they had come from, who knows – probably just natural backlinks, but this is an inherent risk in the world of SEO. I didn't consider disavowing these backlinks since they were simply poor quality and not disreputable sites. Given the client's already reasonable organic rankings I doubted they were causing harm.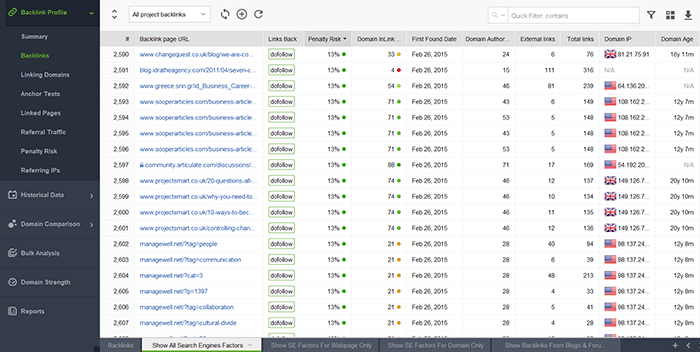 Individual backlinks
Next, I reviewed the range of anchor texts used across all backlinks specifically looking for any over-use of keyword-rich anchors but also any under-use of keyword-rich anchors.
I also did a brief check of the "Link Missing" and "Page Not Found" backlinks but, chasing broken or lost links, in my experience, takes a lot of time and effort for minimal return. So. unless I already had a contact at the linking domain, these were parked to perhaps revisit at a later date.
By this point I had, indeed, confirmed that the client had a solid backlink profile with little to concern me and, as I had already suspected, what was required was to build many more backlinks.
Discovering linking domain prospects
Thanks to the Link Intersection option in SEO SpyGlass I was able to check competitors' backlinks and quickly put together a list of link prospects to target with an outreach campaign. This feature literally saved days of checking each competitor separately and manipulating the data in spreadsheets.
I could see at a glance from the favicon images shown against each linking domain which would be likely to link to my client. Any competitor linking domain with decent traffic, age, and authority that linked to two or more competitors with a dofollow link was added to the outreach list.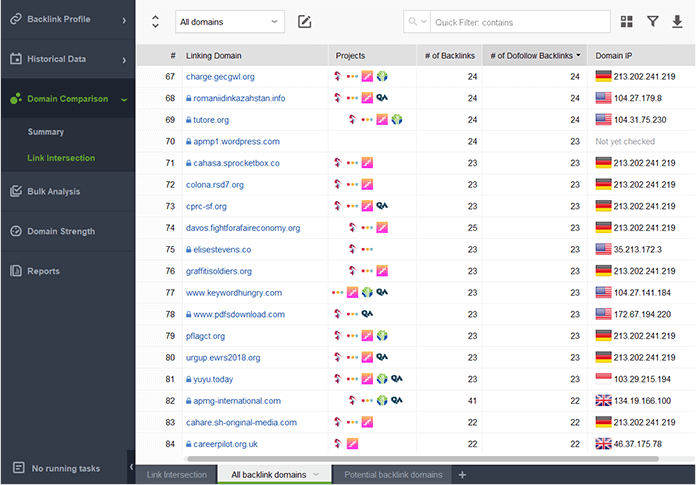 Gaining backlinks
And so the long process of gaining new backlinks began. Anyone who has worked in a competitive industry for companies targeting national or global customers knows that the impact of SEO takes time.
For this particular client, we didn't start seeing significant results for six months but within a year visitor numbers had almost doubled and after two years were up by 320%. This shows the importance of managing client expectations and emphasising that SEO is not a "quick win" but is a sustainable process that will, and does, yield results with a better ROI than, say, PPC advertising.
The process we use to gain good quality backlinks varies depending on the client and their industry. The common approach for all clients is to review competitor backlinks based on the Link Intersection as described above. However, we also tailor our process to each client. This particular client is a corporate training provider in the project management field. This meant that many of their clients were large companies that undertook the training of whole departments. In terms of backlink-building these factors had a number of benefits:
Benefit #1. We were able to obtain from my client the contact details of clients of theirs who were willing to participate in a case study or be interviewed about their training experience. This generated unique mutually beneficial content that promoted my client's training courses but also promoted the fact that the corporations were investing in training for their employees. Where possible the content was published on my client's clients' websites, with a backlink. Otherwise, it was published on my client's website and their client would then link to it on their website either via a press release or on their own blog. Either way, it meant we gained a valuable backlink.
Benefit #2. The project management field is a recognised profession with a number of organisations that have developed professional qualifications. Training courses for these qualifications are delivered by accredited training providers such as this client. As such, we obtained contacts at the professional project management organisations and were able to collaborate with them by producing guest posts to gain backlinks.
Benefit #3. The project management field also has a very active online community which meant we could discover other contacts, reach out to them and collaborate with guest posts and do guest blogging for links. This approach was most successful with smaller companies that did not have the resources to produce the quantity and quality of content we could provide.
Establishing real relationships and the quality of the content produced, which was mostly case studies and guest posts, was key to the success of this approach. We did not use automation for any of the outreach – all emails were personalised and we frequently spoke with contacts on the phone.
Over a two-year period, the number of backlinks increased by 190% and the number of linking domains by 180%.
Final thoughts
Great software tools can make an SEO professional's life much easier and save hours, even days or weeks, of time. But not everything in SEO can, or should be, automated. I also spent many hours refreshing stale content on the website, continuing to update the site with unique, actionable content (thank goodness for my copywriter!), and refining the internal linking. Last but not least, I used highly personalised emails for outreach (not generic templates) and spent time building real relationships with real people to support collaborative link-building.
All of this combined effort has helped my client compete nationally and internationally with much larger companies so the effort has certainly been worth it.
Article stats:
| | |
| --- | --- |
| Linking websites | N/A |
| Backlinks | N/A |
| InLink Rank | N/A |