WebSite Auditor vs. Screaming Frog software review & comparison
Once in a while, people ask our technical support team: why is WebSite Auditor better than Screaming Frog, or any other its alternative? Surely, a reply to the ticket cannot fit all those lovely things we would like to say about our software, let alone no less lovely features of another tool.
Thus, the support team started to stalk people from the marketing department by saying: "Ain't you in the marketing? How about some comparison review?"
It was not possible to say no. Why, we love helping people.
As you have guessed, this review will see to the important features of two popular SEO tools: WebSite Auditor and Screaming Frog. Both the tools have their fans and skeptics. However, it is better to try them both (or as an addition to each other) before making any conclusion.
Let's compare!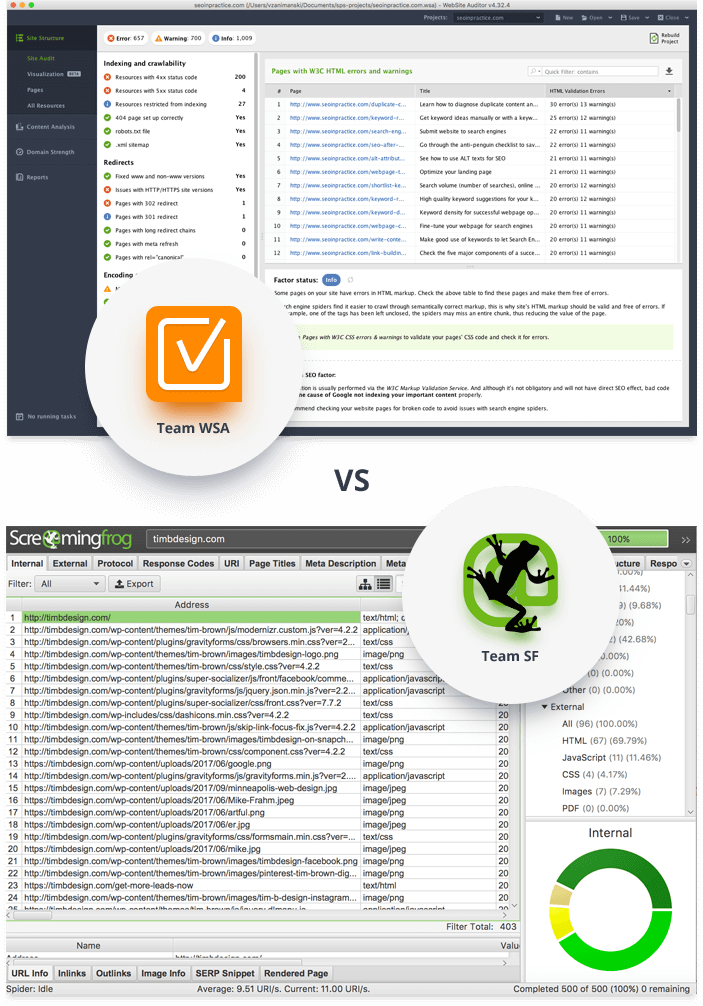 As Team WSA plays at home, they are entitled to reveal
Key killer features of WebSite Auditor:
Crawl your site with an exquisite SEO spider. Find and audit every resource your site has, both internal and external. It allows you to crawl your site as any search engine.
Run a deep technical site audit and reveal every single issue on your site that can affect search engine indexation, rankings, and UX. Solve problems graciously with thorough how-to-fix instructions.
Generate robots.txt & XML sitemaps with no sweat; review and edit the existing files right in the app.
Run an intelligent on-page site audit and see optimization rates for any page (both desktop and mobile) and any keyword based on the same metrics of your competitors. Follow optimization advice to become the master of a perfect site.
Optimize your pages right in the app either following the principle of WYSIWYG or in HTML. Edit your titles and meta descriptions, preview your Google snippet, and save HTML to your hard drive for further upload to your site.
Create beautiful white-label customizable reports that can be easily shared with your customers.

NEW

TF-IDF (term frequency — inverse document frequency) — it allows you to do efficient on-page optimization in the age of semantic search by measuring the relevance of a given keyword. It shows you whether any terms are relevant to the topic, whether they are used properly, whether they should be used less or more. More here.

NEW

Site structure visualizations — it allows you to create beautiful interactive graphical maps of your site where you will immediately see any problems with the site architecture and crawl budget. More here.
OK, I'm stunned, I want to download this tool!
---
Here comes a comparison table where we included all the important features of both tools. Check it out and decide what's more important to you.
WebSite Auditor
Screaming Frog
Main benefit
Comprehensive SEO audit and in-app content optimization
Flexible and quick crawling
General features
Free version
Pricing model
One-time license fee + a small maintenance fee (starting after 6 months)
Yearly renewal of a license
Education



Video tutorials + FAQ + guides + educational materials




FAQ + guides

Technical support



Only in the paid version

Google Analytics Integration



Only in the paid version

Integration with Ahrefs and Majestic
Google Search Console integration
Data export



HTML, TXT, CSV, or SQL




CSV/Excel

Use software in several languages



English, German, Spanish, French, Dutch, Polish, Slovenian, Russian



Find pages

Unlimited
Up to 500 URLs in the free version

Unlimited
Up to 500 URLs in the free version
Specify crawler settings





Only in the paid version

Use custom search/custom extraction





Only in the paid version

Use proxy




Find tips on how to fix errors and issues




Start a few tasks simultaneously




Optimize an unlimited number of websites




Run scheduled tasks automatically





Only by means of the command line

Save & upload crawl projects




Save & upload crawl projects




Store projects in the cloud




Technical site audit
Find broken links, redirects & indexing errors




Create and manage robots.txt files





Only in the paid version

Create and manage XML sitemaps




Audit hreflang in XML sitemaps



Coming soon!



Find broken images and empty alt texts




Check for mobile-friendliness




Analyze titles and meta descriptions for errors




Visualize a site structure





It is only possible to export a crawl path report.

Export a crawl path



It is only possible to check click depth and visualize a site structure



Analyze links to/from pages




Analyze internal & external resources




Check page's search engine authority



The app has InLink Rank, a Google PageRank alternative



Analyze social media engagement




Analyze traffic coming to pages




Check the number of visitors every page gets




On-page optimization
Optimize titles & meta tags




Make changes to a SERP snippet in-app



Changes are saved in HTML




Changes are saved in CSV/ Excel

Optimize page speed



All the page speed factors are displayed as one block




It is necessary to analyze each page speed factor separately

See response times for each page




Optimize landing pages' content in-app




Optimize mobile pages





It is possible to analyze mobile pages by means of mobile bot crawling

Check TF-IDF




Reports
Create SEO auditing reports




Create on-page SEO reports




Customize and brand your reports




Export reports



Available in the Enterprise version, export in PDF and HTML




Export in CSV/Excel

Make reports available online



Available in the Enterprise version



Email reports to clients from the app



Available in the Enterprise version



Price
Free: $0 Unlimited time
Unlimited sites
Up to 500 URLs
Technical support

Free version: $0

Up to 500 URLs
Professional: $124/year Unlimited sites
Unlimited URLs
Technical support

Paid version: £149.00/year

Unlimited URLs
Technical support
Enterprise: $299/year Unlimited sites
Unlimited URLs
Custom PDF/HTML reports
Data export in .txt, .csv, .html, .sql
Technical support
The bottom line
It is obvious that WebSite Auditor is not just a web crawler with a sophisticated design, it is so much more than that. It is able to both do technical audits and cater to site's optimization. It is more client-friendly when it comes to reports.
At the same time, Screaming Frog, being a specifically auditing tool, is very fast and efficient in what it does. It has an old-school design which is a thing of its creators — they know that people love the tool as it is and they do not hurry to kill its authenticity.
Thus, this review shows that these two tools are great in what they allow users to do. However, both have some unique functions that can be more appealing when choosing a tool. Anyway, everybody makes their own choice, the comparison table is just the facts. We hope it is as helping as we intended to present it. Happy SEO!