Keyword Sandbox: Your Keyword Ideas Archive & A Handy Keyword Analysis Hub.

Keyword Sandbox in Rank Tracker:
Your keyword ideas archive + a handy keyword analysis hub.
Keyword research takes time, and in most cases you aren't done with it at one go. So you obviously need a place to conveniently store all your keyword ideas for future and be able to analyze and re-analyze them over and over again.
Well, this is exactly what the new Keyword Sandbox module in Rank Tracker is for!
1. What's new?
From now on, in Rank Tracker's Keyword Research module, you've got a whole new dashboard – Keyword Sandbox. It's the place where you will store all the keyword ideas you've found through different keyword research methods.
Keyword Sandbox makes your keyword research as smooth as it gets, letting you:
Analyze in bulk all the keywords you've found using different keyword research methods.
Now you don't have to pick keywords from each individual keyword research task. You have them all combined for a more in-depth analysis.
Keep your keyword ideas archived for future use.
So that whenever you want to expand your keyword list, you can revisit the already found keywords.
Keep a keyword "blacklist".
So that the keywords you've already analyzed and found a bad fit don't clog up your keyword research afterwards.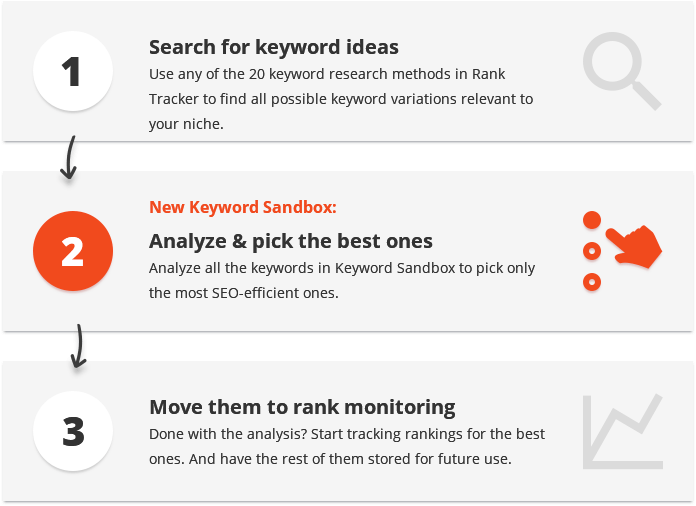 2. Where to find it?
To have the new feature enabled, download the freshest version of Rank Tracker from the website or let the software auto-update.
After that, switch to the Keyword Research module and click on Keyword Sandbox: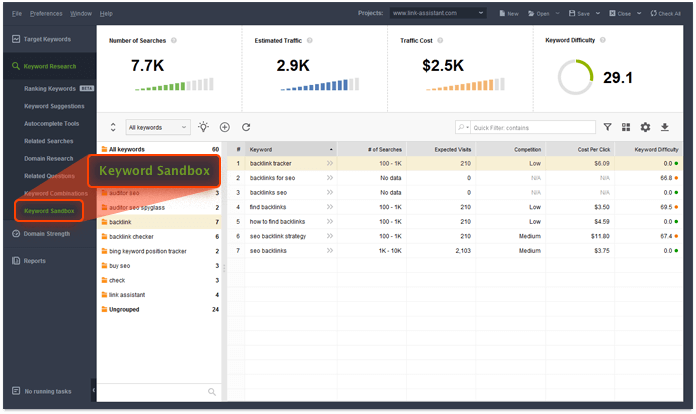 3. How to use it?
Now let's go through the basics of using the new module and see how to arrange your keyword research workflow in the most convenient way.
1.

Choose to move keywords straight to

Rank Tracking

or have them added to

Keyword Sandbox

.

By default, all the newly found keywords are automatically added to your Keyword Sandbox.

However, if you feel there's no need for a deeper analysis, you can immediately move them to Rank Tracking, skipping the "sandbox" step.

When moving the keyword, you can create a new thematic keyword group for it. Or you can choose to move the keyword without any group (as "Ungrouped").

All the keywords you're already monitoring in Rank Tracking will be marked with the

label.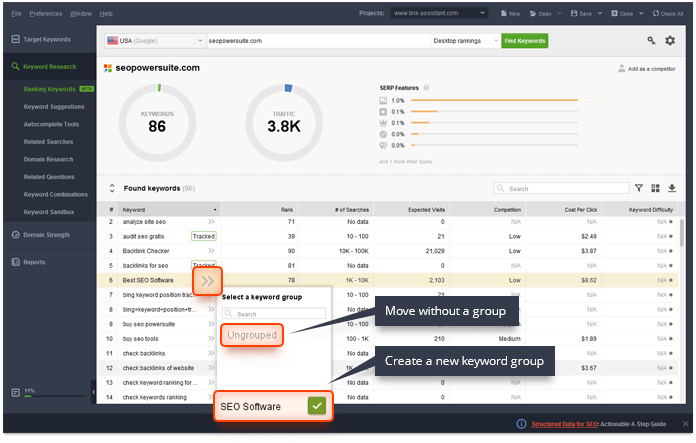 2.

Have all your keywords grouped by topics.

In Keyword Sandbox, your keywords get automatically grouped by themes, so you can focus on entire topics instead of individual keywords and easily manage and navigate through an uncluttered, organized workspace.

Depending on your grouping settings, these topics can be broader or narrower.

And you can surely rearrange the keyword groups (move keywords from one group to another, merge the groups, or create new ones from scratch).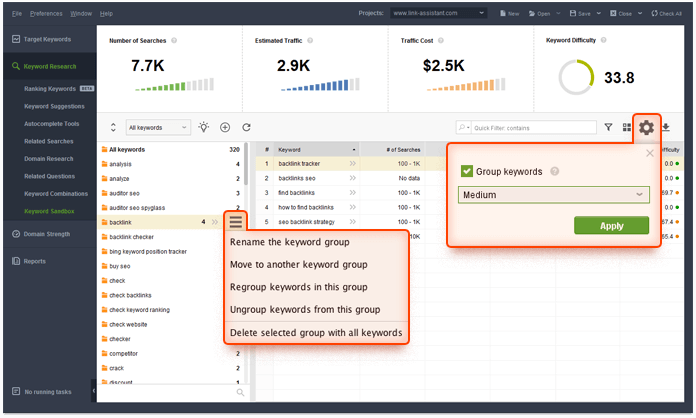 3.

Analyze key performance stats for any group of keywords.

At the top of your screen, you can see the key SEO efficiency indicators calculated for all the keywords in the table on the right.

Just select a certain thematic group on the left, or apply any filters you'd like, and have the stats (like the average keyword difficulty or the total number of searches) recalculated.

This is especially useful when you're deciding on whether the keyword group as a whole is worth your effort. Or to check if the selected keywords are enough to bring substantial traffic to the page you're going to optimize for them.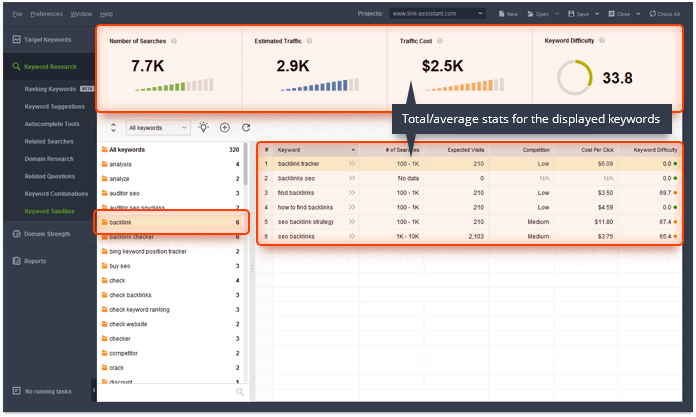 4.

Easily switch to view only the newly-added keywords.

If you've already analyzed all the previously-found keywords in Keyword Sandbox and are done with them for now, simply switch to the Last Added view to focus on all the keywords added via your latest keyword search.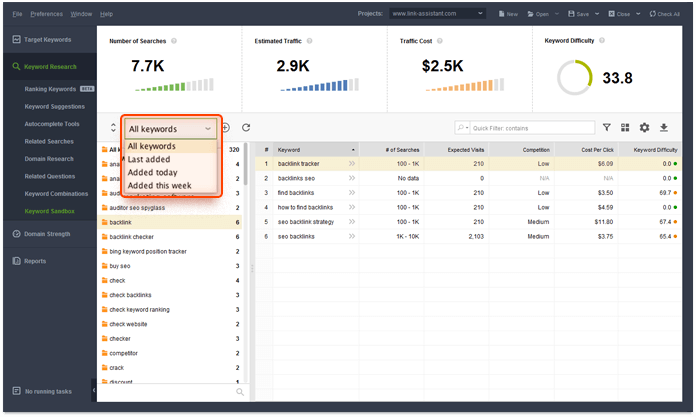 5.

Done with analysis? Move your neatly organized keyword groups to Rank Tracking.

Once you've selected the keywords you'd like to include into your campaign, simply move them to Rank Tracking – one by one or by whole keyword groups.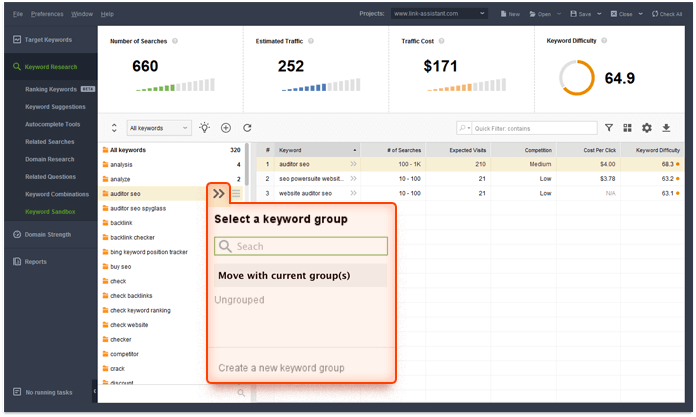 All set? Let's get down to keyword research!
This is it for now – jump to download the new Rank Tracker and see for yourself how easy and convenient keyword research can be. And please feel free to share your feedback and ask any questions in the comments below.
---
All keywords you could possibly wish for.
In one place.
Unlimited keyword rankings
20 keyword research methods
Keyword analysis and keyword map
Handy tags & filters
Google Analytics/AdWords/Search
Console integrations

By:
Aleh Barysevich
Co-founder and CMO, SEO PowerSuite
Article stats:
| | |
| --- | --- |
| Linking websites | N/A |
| Backlinks | N/A |
| InLink Rank | N/A |