Your Ultimate Mobile-Friendly Checklist
It's official: Google's mobile-friendly algo update is rolling out on April 21st, and it will be even bigger than Panda and Penguin. And as the SEO PowerSuite team couldn't leave these changes unnoticed, today, we've prepared for you:
1 The actionable mobile-friendly checklist
This checklist will tell you what exactly you need to do to save and grow your mobile rankings after the update.
2 New features for mobile search in your SEO PowerSuite
The mobile-friendly test in WebSite Auditor, letting you quickly check if your site (or individual landing pages) passes Google's mobile-friendliness test, and give you specific tips on going mobile if it doesn't.
Monitoring ranks in Google Mobile for all countries in Rank Tracker, so you can easily monitor how your ranks respond to the algo update, and quickly react to any changes you notice.
Go mobile with SEO PowerSuite
new
The mobile-friendly test
new
Google Mobile rankings
Why go mobile?
Mobile search presence is not an option anymore.
With over 60% of all traffic now being mobile for Google, you are risking more than half of your visits if you don't take your site mobile. Strikingly, that may mean losing even more sales — recent studies show that mobile searchers have higher purchase intent, with over 50% of them reaching for their smartphones to choose what to buy and where to buy it. With local mobile searches, the numbers are even more staggering — 78% of consumers who search for a local business on their smartphone end up making a purchase.
So, if you're still not sure if you should target mobile audiences at all… you probably don't think doubling or tripling your visits and sales is a good idea. If you do though, here's an easy-to-follow checklist to boost your Google Mobile ranks.
4 easy steps to secure mobile rankings
So, the new algorithm is coming. Google confirmed that it works on a page-by-page basis (in practice, that means that individual pages are evaluated rather than a whole site), and is binary, e.i. the page can either be mobile-friendly or not, with no grades of mobile-friendliness.
Let's see how you can prepare your website for the so-called "mobilegeddon"!
1 Take the mobile-friendly test
First off, you need to check if your pages are mobile-friendly.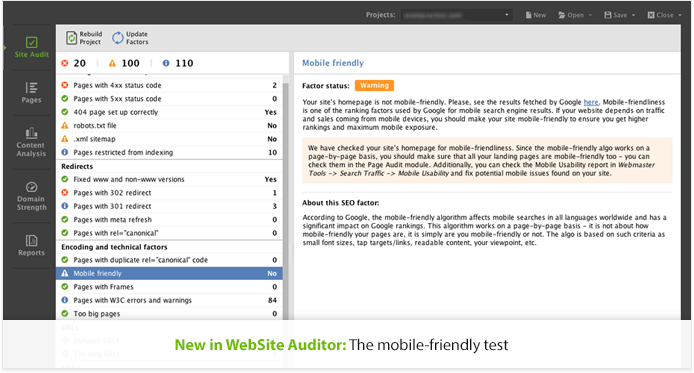 How-to:
1. Go to Site Audit in WebSite Auditor and press the Update Factors button.
2. Select Mobile-Friendly from the list of factors to be updated (you may have to add it to your preferred factors by clicking Add More Ranking Factors), and proceed with the update.
This way, you'll see if your homepage passes Google's test on mobile-friendliness.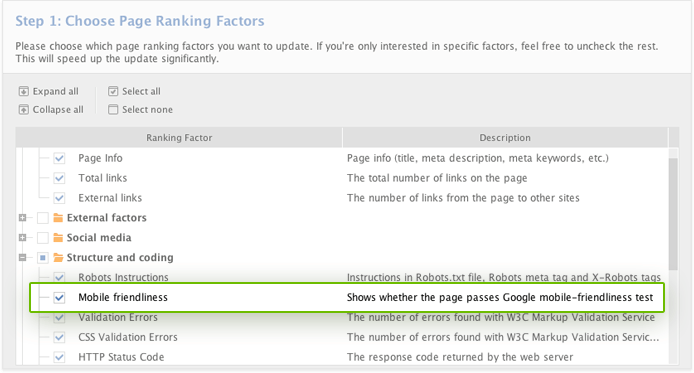 To see if your landing pages are mobile-friendly:
1. Go to the Content Analysis module in the tool and select a page to analyze (for pages that have been analyzed already, simply click Update Analysis).
2. Under Encoding and Technical Factors, click Mobile-Friendly to see if the page passed the test or not, and check out the tips.
You can also see Google's exact recommendations for you by clicking the link!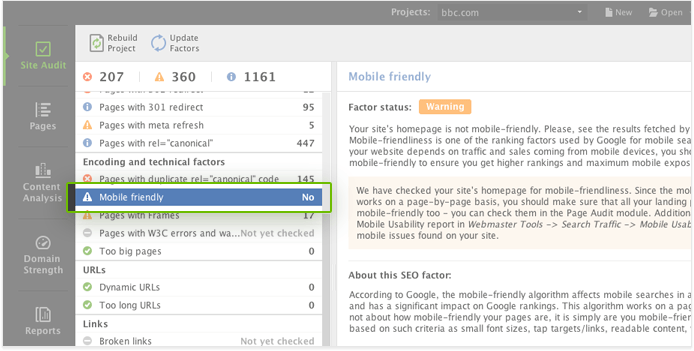 2 Pick your mobile-friendly solution
If your pages failed the mobile-friendly test, you'd probably want to solve that by April 21st to keep you mobile ranks safe. If you're using a content management system, the quick and inexpensive way to go mobile would be to use responsive CMS templates and themes. Google has a pretty detailed guide on customizing your website software to make your website themes and templates mobile-friendly, with step-by-step tutorials depending on the kind of software you're using.
Alternatively, you can build a mobile version of the site yourself (or hire a developer to do that for you). This option is more expensive and time-consuming — but it also offers more freedom in choosing how exactly your mobile site will work.
Responsive design: the page's URL and HTML remain the same, but the page detects the user's device and adapts its layout to it, ensuring an optimal viewing experience.
Dynamic serving: the page's URL remains unchanged, but a different version of the page is displayed depending on the kind of device.
A separate mobile website: the mobile user gets automatically redirected to the mobile version of the site (usually a subdomain).
Whichever approach you go with, remember to make it easy for mobile users to complete the important actions - read posts, add products to the shopping cart, or proceed to checkout.
3 Avoid Common Mistakes
As you work on your site's mobile version, remember to avoid certain common mistakes. Google offers pretty straightforward instructions on how to detect and fix these issues.
Blocked JavaScript, CSS and image files. Make sure that Googlebot can easily access the JavaScript, CSS, and images on your site, just like a human site visitor.
Unplayable content. Some webpages include video or audio files that are unplayable on smartphones, e.g. if they require Flash (which is not commonly supported by mobile devices). Keep your media playable on every device to ensure a positive user experience for all kinds of visitors.
Faulty redirects (applicable if you have a separate URL for the mobile version of your site). Some mobile sites do not have the redirects from the desktop version of the site to the mobile version set up correctly — the redirects may be always taking the visitor to the mobile homepage, for example. Redirects from each desktop URL must be taking your mobile users to the respective mobile URL.
Mobile-only 404s. Some sites may have a valid version of a certain page for desktop users, but throw a 404 for visitors accessing the mobile version of the same URL. Google strongly recommends redirecting mobile users to an equivalent mobile page instead.
App download interstitials. If you have an app available as an alternative to your mobile site, and are promoting the app to your mobile visitors, remember to make sure the ad doesn't interfere with the usage of the site. Otherwise, it can cause indexing issues and have a negative impact on user experience. Google suggests using a simple banner to promote your app rather than interstitials blocking users from navigating the site and completing tasks.
Irrelevant cross-links (applicable if you have a separate URL for the mobile version of your site). The recommended practice here is that all internal links within the mobile version of the site should lead to mobile URLs and not to desktop-optimized pages, especially when mobile versions of these pages are available.
Slow mobile pages. Page load speed is one of the major user experience factors, especially for mobile users. Google's Bryan McQuade has some actionable advice on making your mobile pages load in under a second — feel free to check it out.
4 Track mobile rankings
Check your mobile rankings today, before Google has launched its new algorithm, and remember to keep monitoring them after the update rolls out. Remember to keep an eye on competitors' mobile rankings as well to see how well their ranks respond to Google's algo update.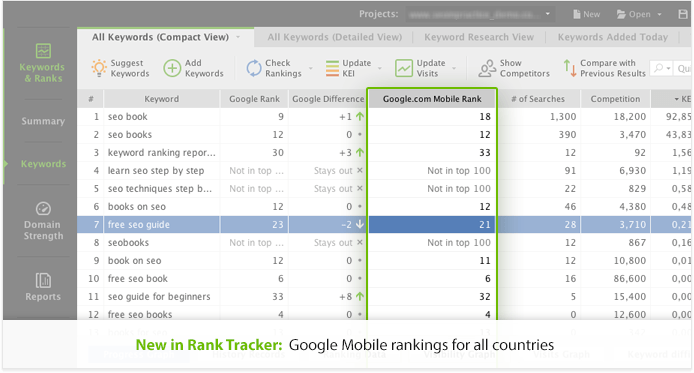 How-to: In Rank Tracker, go to Preferences -> Preferred Search Engines and select Google Mobile under your country's folder. Right-click the header of any column in your workspace to add a respective column to your view, and hit Check Rankings.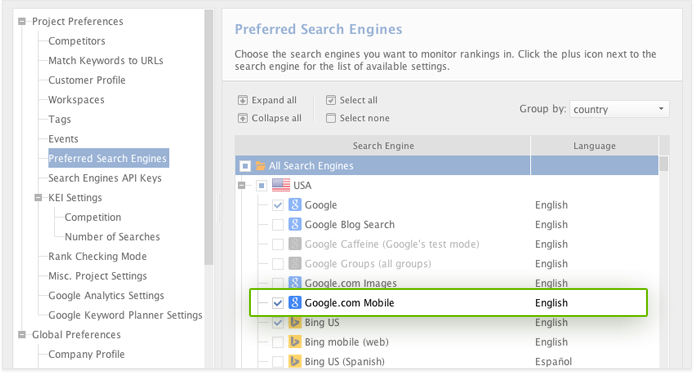 Now that you know the exact steps to follow, it's time you acted on them! There's still enough time before April 21st to take your site mobile and secure its mobile search visibility.
---
Check if your pages are mobile-friendly
Track Google Mobile rankings for any country