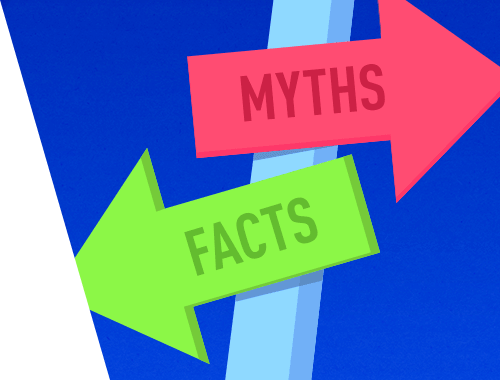 Google Ranking Factors 2023: Facts & Myths

Ranking Factors 2023: Facts and Myths
It seems a little while ago that Google hinted at having 200+ ranking factors. Though in fact, it happened in the year of 2009, and we are now in 2023, more than a decade behind.
Google has drastically evolved over the past ten years. Today, neural matching — an AI-based method — processes about 30% of all searches, and Google can recognize concepts behind keywords. They have introduced RankBrain, mobile-first indexing, and HTTPS. As we need to adapt to changes and find ways to get atop of SERPs, the topic of ranking factors remains as fresh as ever.
So let's have a look at what ranking factors to consider in 2023, and what ranking myths to leave behind.
To sum up
There are many examples of new domains used for high-quality and valuable sites and plenty of old domains used for spamming. Domain age and registration length exclusively are unlikely to seriously impact rankings. Probably, older domains may benefit from other factors, such as backlinks, etc. However, if a domain had a bad history of rank drops or spam penalties, Google might negate the backlinks pointing to it. And in some cases, a domain penalty might be passed on to a new owner.
---
To sum up
So at the end of the day, having a keyword as a domain name has little to do with a ranking boost today. There are plenty of hyper-successful businesses that have branded, non-keyword-based domains. Everyone knows Amazon.com, for example, but not something like buythingsonline.com. Think about Facebook, Twitter, TechCrunch, etc. Quality and user value are much more important.
---
To sum up
URLs containing keywords get highlighted in search results, which might impact a site's CTR, as they hint to users at the page content. Google sees such URLs as slight ranking signals. Taking into account their ability to serve as their own anchors, they are probably worth the effort.
---
To sum up
A country-code top-level domain is a definite search ranking factor for a country-specific search. Thus, if your business targets a certain country's market, something you really need to distinguish to Google is that your content is relevant to users from that specific country.
To sum up
Though there is some evidence that keyword-based title tags might play a less significant role in ranking, Google keeps highlighting their importance as a strong relevance factor. To make the most of title tags, make sure they are unique and specific to pages' topics and use keywords reasonably. And certainly, it's better to avoid meta title duplication across a website.
---
To sum up
The description tag still plays a significant role in SEO, even not being a ranking factor. Google takes it to create search snippets, so descriptions may serve as advertising, allowing users to see what your page is about right from the SERP. Creating the descriptions that are most relevant to your page's content may help you catch users' attention and improve your CTR. Thus, the time you spend working on descriptions is likely to pay off.
---
To sum up
Though there's no clear confirmation that using keywords in H tags may result in a ranking boost, they do help search engines get a better idea of the page's context and structure. Moreover, a text in the H1 heading is considered the most significant piece of your content. Thus placing your target keywords there looks like a good idea (if you do it reasonably).
---
To sum up
Images are an important part of a website's content. They make it more appealing, easier to read and sometimes provide more value than textual content. Optimizing images properly make them appear in image search. And the more relevant they are to the context that surrounds them, the more likely they are to be placed higher in search results. Thus, image attributes all together, such as alt text, titles, etc. are most likely to be significant ranking factors.
---
To sum up
TF-IDF is quite an old technique that's been widely used for information retrieval in different fields, search engines included. By now, however, more modern and sophisticated methods have come to action. Though it doesn't work as a ranking factor, TF-IDF may do good differently. Some case studies are displaying the correlation between content optimization with TF-IDF and rank improvement. So, it may turn quite beneficial to use TF-IDF to enrich your content with more topically relevant keywords. Together with other factors, this may help improve your ranks.
---
To sum up
Long-form content is more likely to allow for covering a topic more in-depth, provide more value, and answer user intent effectively. These factors all together positively affect rankings, while the length of the page's content can't exclusively result in higher ranks.
---
To sum up
High-quality content is comprehensive, accurate, and brings value to users. Avoid creating content for the sake of creation or mere promotion of your business or services. On the contrary, quality content should have a purpose, answer users' search intent, and provide the best solution to their needs.
---
To sum up
In general, the answer to whether fresher content impacts rankings will be — it depends. In the areas where users are likely to look for the most recent information, search results are being processed by the Quality Deserve Freshness part of the ranking algorithm for which recency is a ranking factor. For other results, Caffeine comes to action, rapidly indexing the latest updates with no significant impact on rankings.
---
To sum up
There's no confirmation from Google that old content tends to rank better. Such cases happen, but their success is more likely to be connected with other factors, for example, quality, relevance, and a substantial amount of reference to those pages. Thus, it's not the age that matters, but the quality of content and the value it brings to users.
---
To sum up
Although Google doesn't count your typos and says it doesn't impact rankings, poor grammar looks unprofessional (especially for such niches as banking, law, medical services) and can leave users less satisfied with your site's content.
---
To sum up
Thus, merely the number of ranking keywords is unlikely to be a ranking factor. However, if the patented technology has been implemented into the search algorithm, it's highly probable that ranking for one query may simplify for the page ranking for more relevant queries with much less effort.
---
To sum up
E-A-T today is a word many people like to repeat regarding website quality and thus, ranking impact. Quality Raters Guidelines were created for Google employees whose task was to look through search results and make sure they are relevant and of high quality. It contains recommendations on what to consider quality results, etc. True, that for some types of websites, like 'Your Money Your Life' for example, it's critical to provide expert information and prove their expertise providing the author's bio, etc. However, calling E-A-T a ranking factor seems to be a bit premature.
---
To sum up
LSI keywords are unlikely to have any impact on rankings. Latent semantic indexing is an old information retrieval method that modern search algorithms, probably don't even use, relying on much more sophisticated methods.
To sum up
Google crawls websites following their internal links, thus getting the idea of the overall site structure. Internal links carry the weight from and to pages, so the page that gets many links from other site pages looks more prominent in Google's eyes. Moreover, internal links' anchor text is likely to serve as a strong relevance signal. Thus, it's critical to provide links to the most valuable content, and ensure to have no broken links on your website. It's also wise to use keyword-based anchors.
---
To sum up
User-friendly layout is likely to play in favor of a website. If visitors can easily reach a page's content (without the need to scrape through giant ad blocks) it is considered to be a good user experience. Moreover, it's clear that Google intends to penalize all sorts of distracting advertising.
---
To sum up
Google is likely to use category matching as a ranking signal (but at the same time, it uses other approaches that allow it to provide better results). Besides, a hierarchical architecture that includes categories helps Google to understand pages' content better, as well as the overall site structure.
---
To sum up
A well-elaborated site architecture allows for better crawlability and provides a convenient way for users to access the entire website content. Content that is hard to find is a sign of poor user experience, and it is not likely to rank well.
---
To sum up
Though HTML can't be named a ranking factor, and Google encourages not to fret a lot about it, valid HTML has some virtues you can't ignore. It positively affects the crawl rate and browser compatibility, as well as improves user experience.
---
To sum up
Sounds like structured data is not a ranking factor, but it helps ranking a website after all. Structured data acts indirectly, helping search engines better understand, and thus assess your content. Plus, it may improve your visibility in the search results, creating a feature snippet or another rich result.
To sum up
Security's been one of Google's concerns for quite a long time. So it's not surprising that HTTPS was made a ranking signal. And though it is considered to be not a big ranking game changer, it seems to be better to migrate to HTTPS, than not to migrate. Leaving aside SEO, think about doing it for the sake of users.
---
To sum up
So, just like having country-based top-level domains, a hosting server location is likely to make search engines better understand what audience the site content targets and include it in search results for a certain country. And that's especially important when you target a highly competitive local SERP.
---
To sum up
Today, as the majority of searches are made on mobile devices, and users tend to leave a website that takes more than 3 seconds to load, having a faster website is a huge advantage. Moreover, Google's giving more ranking opportunities to faster websites. Thus, it's critical to take the necessary steps to increase your site speed (which may include using a CDN, applying compression, reducing redirects, optimizing images and videos, etc.).
---
To sum up
Due to the increased number of mobile users, Google's encouraging websites to make their content accessible for mobile users and ensure smooth performance on mobile devices. Think of everything that can improve user experience for mobile searchers — design, layout, functionality, etc.
---
To sum up
AMPs are a great solution for mobile web — they make websites much lighter and thus, deliver content to users faster (and speed matters greatly for mobile users). Though not a direct ranking signal, AMPs still may impact site quality.
To sum up
All things user behavior seem to be a highly controversial topic. On the one hand, we have Google multiple times denying their use as ranking factors. On the other hand, there are cases of correlation between them and rankings. Leaving aside rankings, a good CTR is a good CTR, and making people spend more time on your website may lead to more conversions. So you don't need to give up tracking these metrics.
---
To sum up
Google seems to treat pogo-sticking as a variation of normal user behavior. As soon as it's hard to define the exact reason for it, pogo-sticking is not likely to become a ranking factor, at least in the near future.
---
To sum up
Though Google might use the Chrome data to evaluate website relevance or quality, there hasn't been any clear confirmation from Google that direct traffic may play any significant role in providing higher ranks for a website.
---
To sum up
Google is probably on the way to include positive or negative sentiments into their ranking algorithm. User reviews do play an important role for ranking in local search. However, speaking about organic search rankings, Google seems to haven't made such a step yet.
To sum up
Definitely, backlinks are one of the most important ranking factors and the number of backlinks matters. However, backlinks are not treated equally, and quality mostly trumps quantity. Thus, you need to strive for getting backlinks from quality an authoritative websites, rather than chasing big numbers.
---
To sum up
It's quite obvious that Google considers backlinks from topically relevant websites or pages as strong ranking signals. So again, a couple of backlinks from relevant websites (of the same niche) or pages with topically relevant content may do you much more good than a ten of links from less relevant sources.
---
To sum up
Well, this looks like a delicate topic, because you really need to be cautious with keyword-based anchors. On the one hand, search algorithm takes into account anchor texts. On the other hand, excessive use of keyword-based anchors may look unnatural and, consequently, suspicious and do more harm than good in the final count. So it's highly advisable to use keyword-based anchors reasonably. Think of anchor texts as short descriptions of the content you link to, and avoid stuffing them with target keywords.
---
To sum up
Domains like .edu and .gov are at large quality, authoritative websites, so they usually get higher ranks. However, when it comes to passing on their weight, Google tends to treat them equally to other websites, not putting any additional weight on them just for having such domain extensions. Instead of putting efforts into earning a link from a .gov site, for example, it's much wiser to try and earn links from niche relevant sites.
---
To sum up
Well, there is neither definite 'yes' nor definite 'no'. It seems that outbound links look fine to Google, as they are, put in the relevant context, helping users to examine the subject they are interested in more comprehensively.
---
To sum up
I think, it is likely that Google determines when websites gain and lose backlinks. By analyzing this data it can make assumptions on their growing or falling popularity and treat the websites accordingly — promote or demote them in the SERPs. So if your page continues to get backlinks over time, it may be considered relevant and 'fresh', and may be eligible to higher ranks.
---
To sum up
At the end of the day, there's no difference for Google between a direct link and a link that points to a redirected page. The latter will pass the same weight to the destination page, as if it was a direct link. So it's likely that you don't need to fret too much about 301 redirects. However, too many redirects (and redirect chains) can have a bad impact of website's performance (and performance IS a ranking factor). What's more, the excessive number of redirects is bad for site's crawl budget.
---
To sum up
The nofollow attribute was introduced to fight the spammy links some 15 years ago. It was serving as an instruction for search engine bots not to take this link into account. From now on, it will be up to Google to decide whether to use the link for ranking purposes or not. It's unclear, however, what would influence the decision.
A cheatsheet of Google ranking factors for 2023
Conclusion
To get it right, this is definitely not the exhaustive list of Google's ranking factors. I believe it's kind of impossible to verify all of them. I aimed to examine popular assumptions about ranking-factors-to-be and try and find any proofs or denials from the Google part. I hope you'll find it useful.
Google has greatly evolved over the last ten years. Many things that used to work earlier are not considered as best practices anymore. On the other hand, new factors keep coming to action, and I'm sure we'll see more changes in the upcoming years. We can conclude that today, there is a combination of factors that are more likely to result in good rankings. The old good content (that satisfies user intent) and backlinks from trusted relevant sources powered by a secured and quick-loading website. (Plus, everything else that provides great user experience).
What do you think? Your comments, opinions, and discussions are welcome.
Article stats:
| | |
| --- | --- |
| Linking websites | N/A |
| Backlinks | N/A |
| InLink Rank | N/A |