THE ULTIMATE GUIDE TO
"BROKEN LINK BUILDING"
THE ONLY EFFECTIVE "WHITE HAT" TECHNIQUE
LEFT FOR YOU TO BUILD LINKS AFTER PENGUIN!
Over the years, Google's been making life increasingly difficult for us SEOs. Dozens of link building tactics that we've had in our arsenal for years turn ineffective (or even harmful) in modern SEO. This means you have to reconsider your link building in search of a new, safe and effective technique to build links after Penguin.
This technique is "broken link building" and you can easily run it for any website in any niche with the help of
SEO PowerSuite to:
Build hundreds of quality backlinks
Make the most authoritative sites in your niche willingly link back to you
And do that 100% legitimately and Penguin-safe
What's broken link building?
The concept behind broken link building is very simple and gets down to several simple steps. What you do is: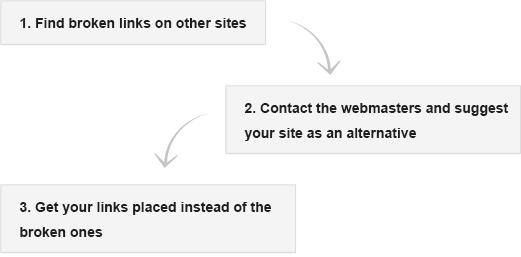 Why this strategy works so well?
Why is broken link building getting more and more popular among SEOs? It's because it works. No webmaster that takes pride in their website wants to lead visitors to a 404 page or a business that is no longer operational.
Unlike the typical link request, you're actually doing the webmaster a favor by not only letting them know they have broken links (a problem), but also giving them a replacement for those broken links (a solution).
Build hundreds of quality links with the least effort!
Seems quite clear? That's right, yet most SEOs still miss the huge value broken link building can actually bring!
The secret here is that broken link building turns effective and profitable only when run at scale.
And today you'll learn a little-known hack (and a few SEO PowerSuite non-standard usage tips) to help you run broken link building to legitimately build hundreds of backlinks for your site.
6 STEPS TO YOUR LARGE-SCALE BROKEN LINK BUILDING!
So let's get down to your broken link building campaign and see how you can get hundreds of quality links with the least effort applied.
Important note: The steps below show how to run broken link building with SEO PowerSuite. But in case you're using the software in its trial mode now, your analysis will be limited to 1,000 pages and 1,000 backlinks only. This means you're likely to miss out on numerous broken link building opportunities. To run the process full scale, you need a Pro or Enterprise software license:

1. Pick the right keywords

When searching for link prospect sites, the biggest mistake you can make is to simply search by your SEO keywords. Usually, great broken link sites are found by less commercial, more general-use keywords that let you dig into different aspects of your niche.
So, sift through your target keywords and pick general terms, even if they're not so popular with the searchers. You can use Google Keyword Planner and other Rank Tracker's keyword research methods to get more keyword ideas.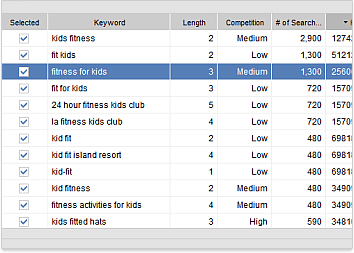 2. Find relevant sites that potentially have broken links
The next step is to look for websites that may have broken links (pointing to no-longer-existing sites similar to yours).
You are more likely to find broken links on websites having lists of recommended resources, useful links, etc.
More to that, it may be wise to give a closer look at .edu and .gov sites — those are really authoritative, yet tend to pay less attention to keeping their links in order.
2.1 Launch your LinkAssistant and run a partner search using Search -> Find sites by keyword option (and the keyword you've chosen in the previous step).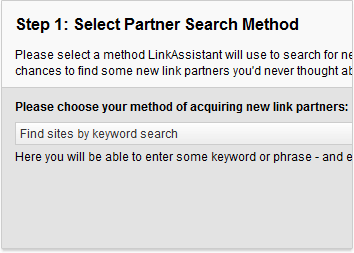 2.2 Using "Interested partners" filter (available under the "Expert options"), you can narrow your search to sites having lists of resources.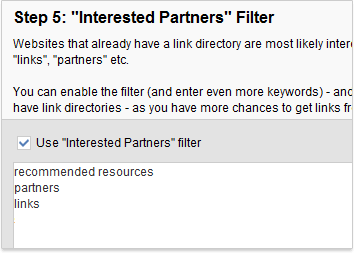 ---
2.3 When LinkAssistant has finished the search, you've got 1) a list of websites, relevant to your keyword and 2) the exact URL of the "link resources" pages on each of them.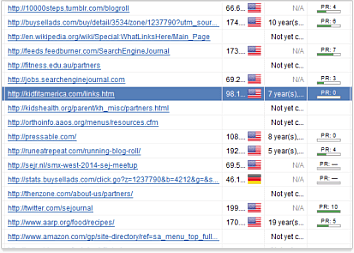 3. Find a broken link pointing to a no longer existing domain

Now that you have a list of pages that potentially have broken links — it's time to run a quick broken links check.
What you do is take all the pages you've found with LinkAssistant and check them one by one in WebSite Auditor until you spot a broken link.
3.1 Create a WebSite Auditor's project for the domain you want to check (Make sure the "Enable expert options" checkbox is active).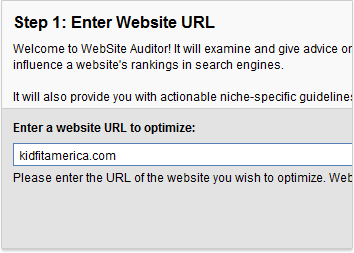 4. Check if your site will be a good replacement
So, you've spotted a no longer existing site that seems relevant to yours. But to play it 100% safe, you'd better check what the site's content was before it got removed.
Quite often, you can do that with WayBack Machine, an Internet archive that records the history of the Web (to the best of its ability).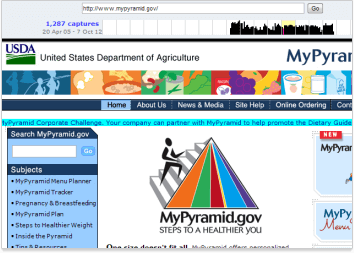 5. Find all sites linking to that domain — those are hundreds of your link building opportunities!

So if kidfitamerica.com considered MyPyramid.gov a great link to share - then lots of other people have probably done the same. And every link from those sites to MyPyramid.gov will also be broken. So if you collect all the domains pointing to MyPyramid.gov, you get hundreds of broken link building opportunities!
Just launch your SEO SpyGlass and you'll see them all at once!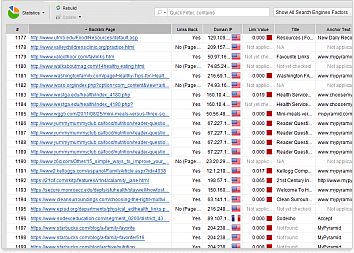 For MyPyramid.Gov SEO SpyGlass has found over 1199 backlinks!
6. Contact the webmasters and get broken links replaced with a link to your site!
Now that you have a thousand of link building opportunities, just pick the most valuable of them and contact the webmasters to offer your website as a replacement of the broken link!
And, by the way, you can easily and conveniently manage loads of correspondence using LinkAssistant. Just import the domains to LinkAssistant from SEO SpyGlass, an use LinkAssistant's in-built email client!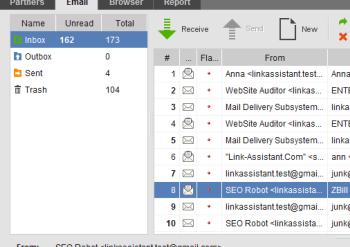 ---
And that's it! This is how you can build hundreds of backlinks in 6 simple steps. And those are the backlinks you get from just one non-existing domain you've found. Run the same steps for other domains — and your link-building opportunities get absolutely unlimited.
Looks like broken link building can be a fantastic source of quality, white-hat links for you site? That's right, and with the help of your SEO software you can run it even more effectively. So just look through the guide and start getting hundreds of quality links to your site!
Important note:
Even in its trial mode, SEO PowerSuite turns a great help for broken link-building, but to run it full scale, you'll need a Pro or Enterprise software license.
Your trial mode analysis will be limited:
| | |
| --- | --- |
| Free License | Pro and Enterprise licenses |
| 1,000 backlinks for a website | 50,000 backlinks for a website |
| 50 websites to manage correspondence with | Unlimited websites to manage correspondence with |
| No historical data saved for comparison | Historical data saved for comparison |
And this means you can potentially miss out on numerous harmful backlinks and flaws in pages content. To run the full backlink audit you need a Pro or Enterprise software license:
---