Best and Worst Link Building Strategies in 2022
Article stats:
| | |
| --- | --- |
| Linking websites | 77 |
| Backlinks | 169 |
| InLink Rank | 27.0 |
Link-building is the holy grail of search optimization. SEO professionals and amateurs are equally obsessed with backlinks and often consider them to be the most influential ranking signal. While this is probably no longer true, backlinks are still massively important and will definitely move the needle in your SEO effort.
The problem is, Google's been cracking down on artificial backlinks for years now. Many types of links that were considered useful in the past are simply ignored by Google today. Some may actually get you penalized. With that in mind, which link-building strategies are still valid in 2022? Let's take a look.
1. Create a unique piece of content
You are probably looking for shortcuts, but the best strategy for getting backlinks will require some actual work. Create a unique piece of content that will become the default source for some aspect of your industry. If you succeed, you will see an explosive growth of backlinks, all of which will be organic and completely beyond reproach with Google.
Just to give you an idea of what I'm talking about, let's take a look at some examples from the SEO industry.
A few years back, Brian Dean put together a list of Google's 200 ranking factors. It probably took a lot of work to put the list together, collect all the evidence, and design various graphs attached to the article. But, as a result, Brian's list is considered to be the most exhaustive one in the SEO community. So much so, that other SEO bloggers, who are Brian's competitors, frequently link to his article from their blogs. Today, the article has been shared over 40 000 times via social networks and, according to the free backlink checker, it has over 11 000 backlinks. So, even though the article was very labor-intensive for Brian, he has probably spent less time per link than he would with any other backlink strategy.
Another example from the SEO industry would be the Learning SEO hub by Aleyda Solis. The hub is a collection of SEO articles written by Google and other prominent experts and it is frequently linked to as THE place to start learning SEO. The beauty of this page is that Aleyda did not have to write any of the articles herself, she simply curates the collection. It's still a lot of work, but it's an accessible solution for anyone looking to attract backlinks.
To sum up. From the examples above, a unique piece of content could be an actually ultimate checklist, or a resource hub. It could also be original research with meaningful findings, an interview, an infographic, or even a tool (investment calculator, backlink checker, meme generator, etc.).
2. Join a resource page
On the flip side of the previous point, you can actually ask to be listed on a resource page. Look for pages that are a collection of useful resources in your industry and ask the owner to add some of your resources to the collection.
To find the resource pages in your industry, google your keyword with characteristic modifiers:
[keyword] + learning resources
[keyword] + useful resources
[keyword] + helpful links
[keyword] + wiki
Once you've collected a list of backlink prospects, find their contacts, select your most suitable resources, and launch an outreach campaign. By the way, here is our article on how to run a successful email outreach campaign, be it for link-building or any other purpose.
3. Write a guest post
Guest posting still remains one of the most popular link-building strategies. And it's not just about backlinks. You also gain new audiences and boost your website's traffic. Just remember that these days you have to put real effort into your guest posts — try to push thin content and Google will consider it spam.
The fastest way to find places to guest-post is by using the respective search method in LinkAssistant.
Launch the tool, go to the Search for prospects tab, and choose Guest Posting: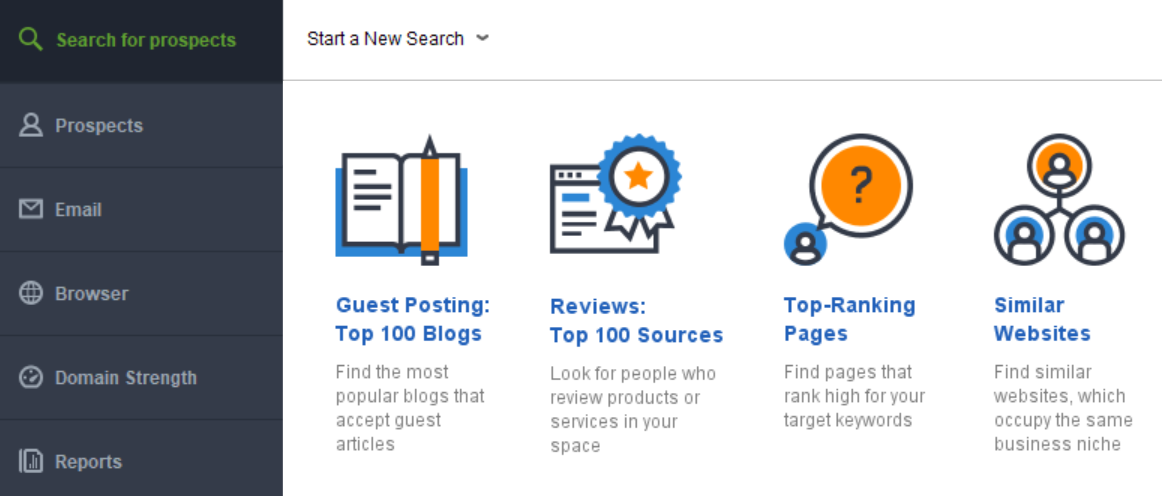 Enter the keywords for which you want to create guest posts: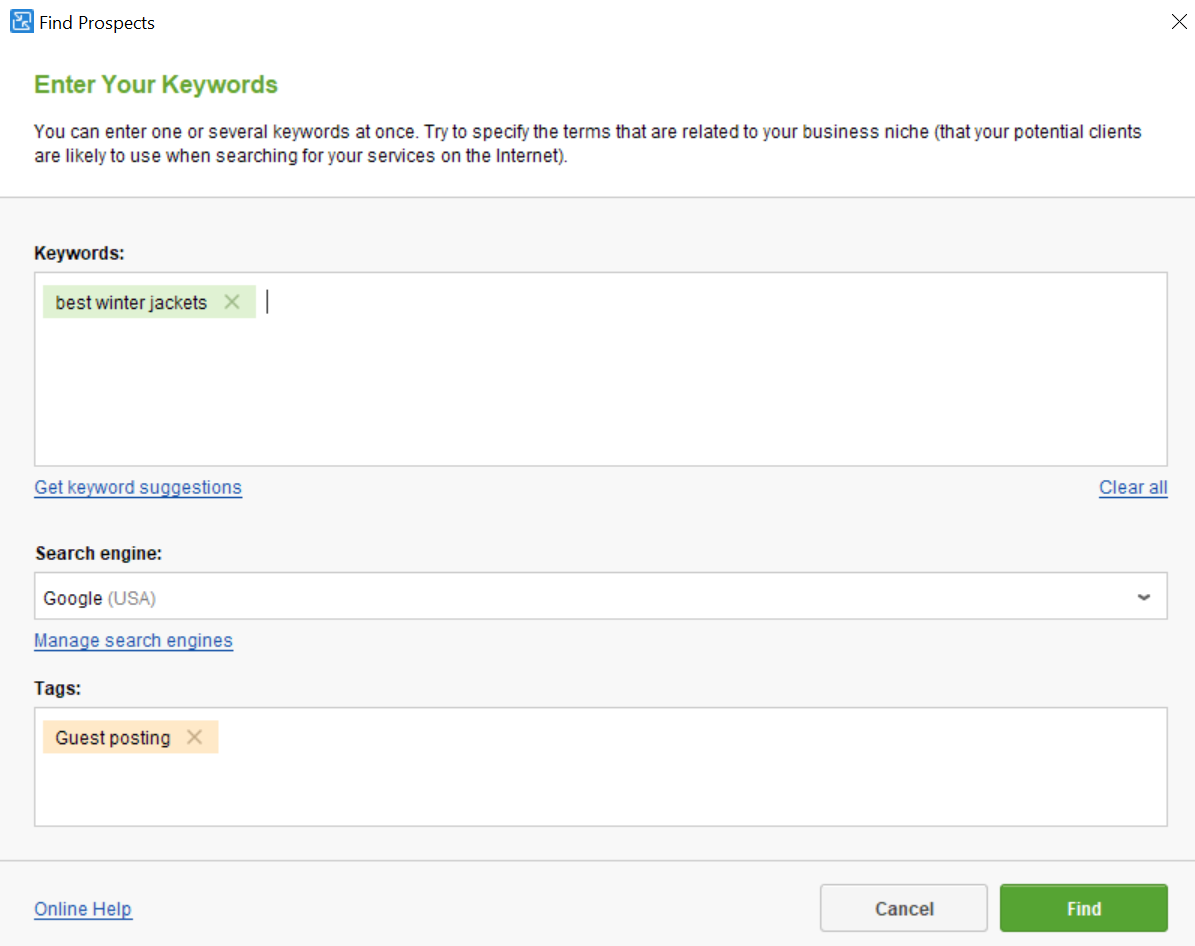 Once all the keywords are specified, go grab yourself a coffee, because by the time you finish it, the whole list of guest blogging opportunities together with contact emails will be there: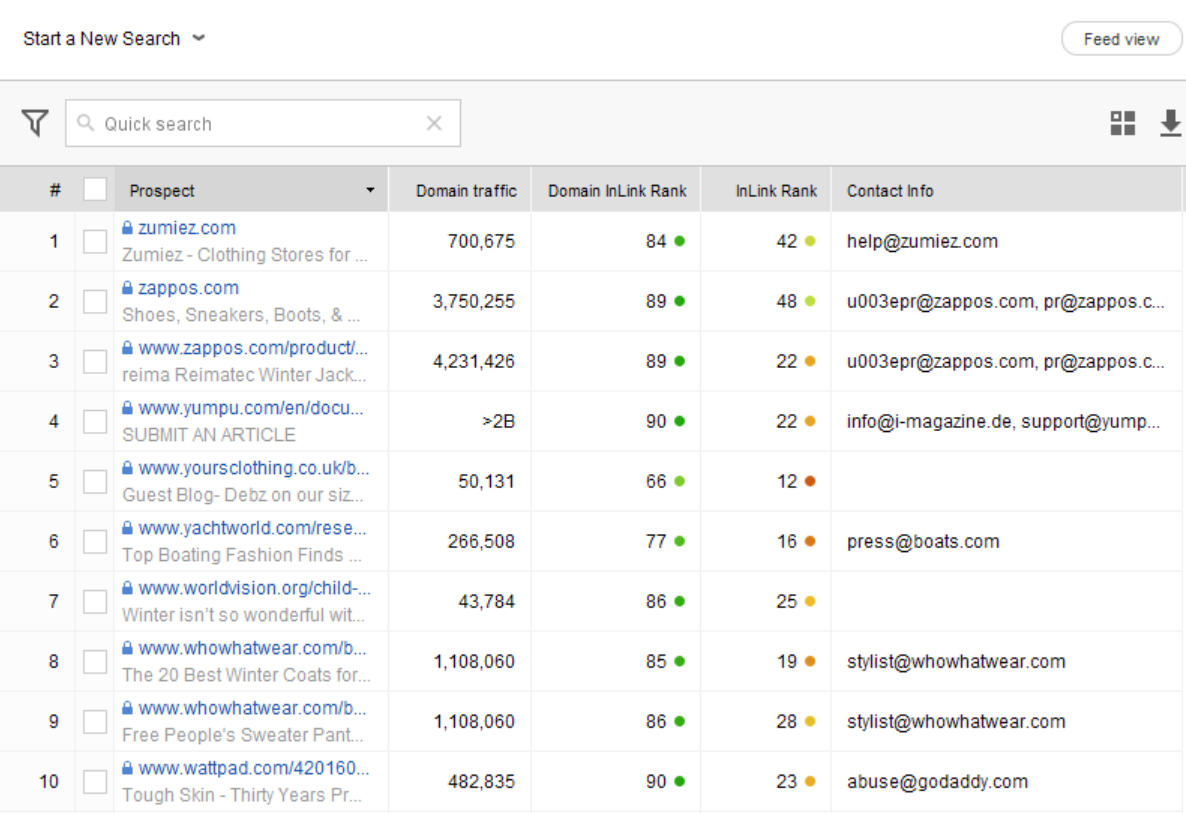 In the end, you'll have hundreds of link-building opportunities with guest blogs. You can filter the results by authority (DomainInLink Rank, Alexa Rank), domain age, indexing on search engines, and social media popularity of a domain (or all of them in bulk).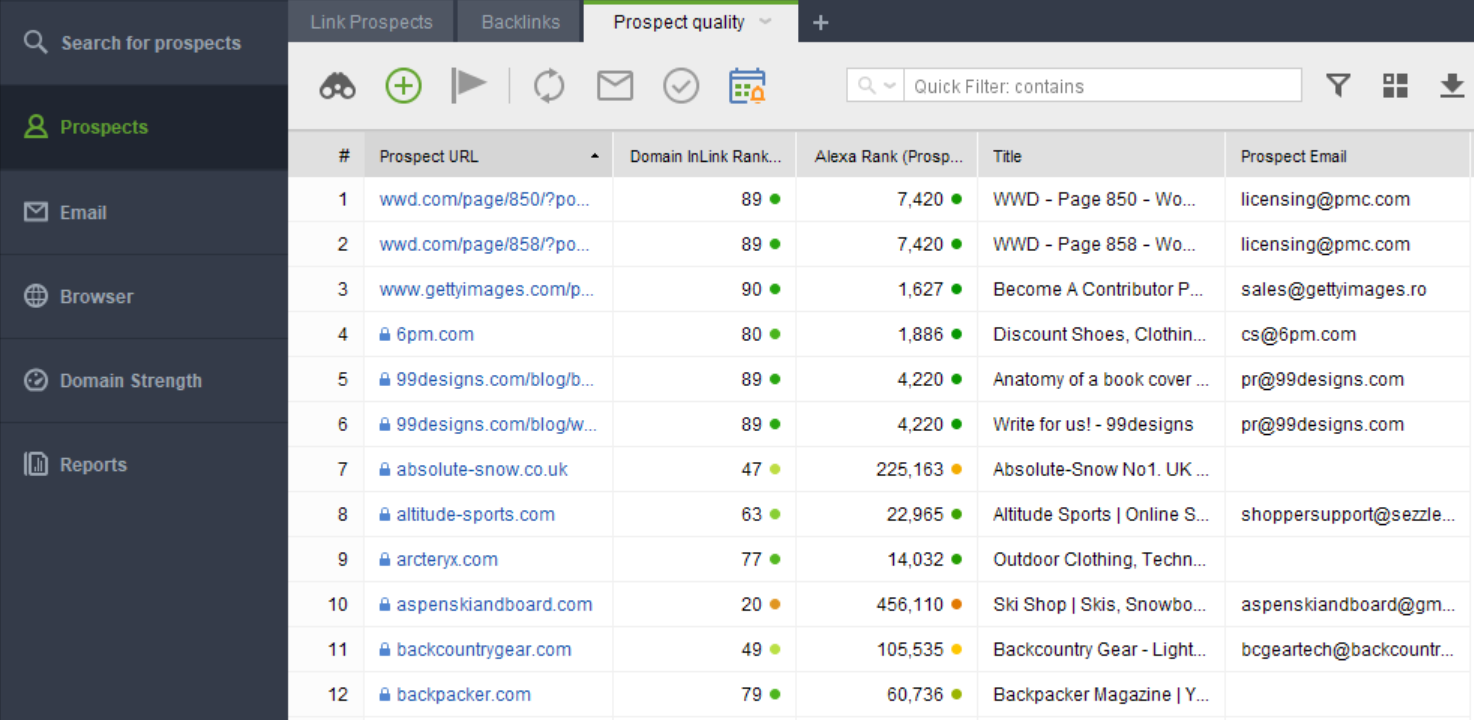 Find New Backlink Opportunities
Watch a quick video tutorial and learn how to find prospects in LinkAssistant.
4. Offer backlink exchange
With a guest post, there is usually some kind of compensation involved and it's most likely monetary. One website has got the audience, the other needs exposure, which costs money. Meanwhile, backlink exchange implies that both websites are comparable in terms of their audiences and overall authority. So, both websites can benefit by exchanging backlinks and no further compensation is necessary.
To find websites willing to echange backlinks, launch LinkAssistant, click Start a New Search, and choose Similar Websites for websites operating in your industry: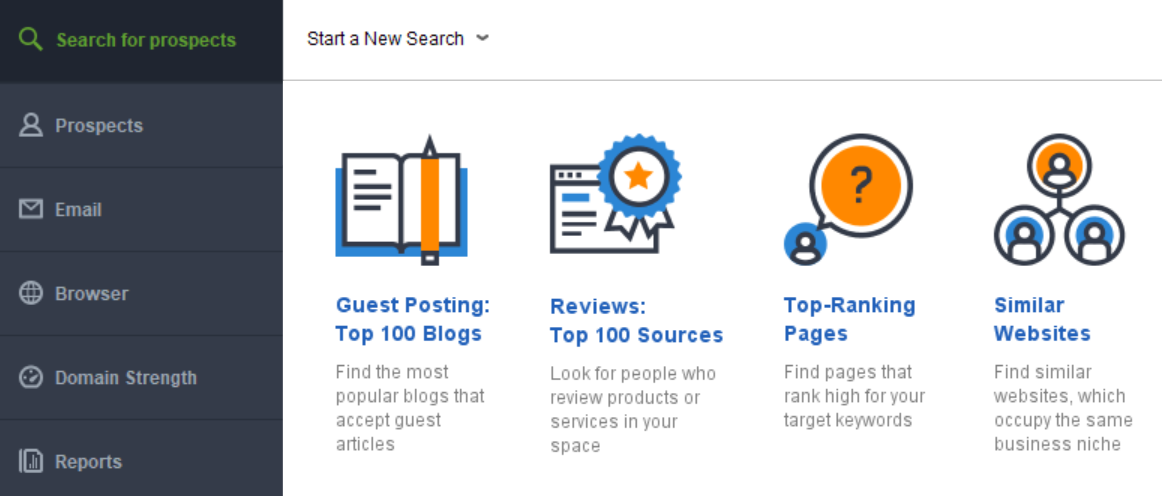 The tool will analyze your website (or any other website you submit for reference), and find other similar websites. You can then analyze the list for websites with similar traffic and authority, check for contact details, and reach out to them with an offer of link exchange: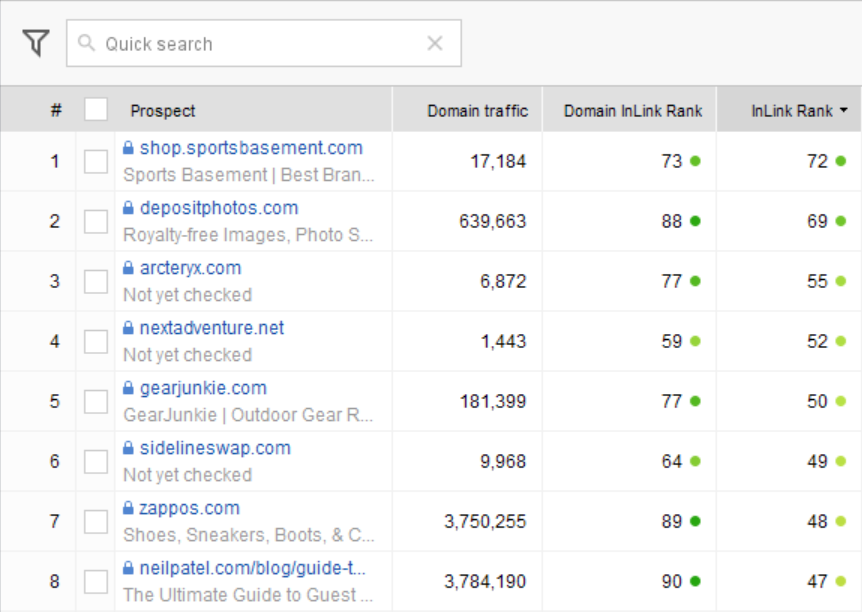 In the interest of full disclosure, it should be mentioned that excessive link exchanges are among the prohibited link building strategies. If you are caught, you might get a manual penalty from Google and those are notoriously difficult to recover from. So make sure not to abuse this strategy and only place links where they can be passed off for organic.
5. Engage your immediate network
Another fairly organic way to gain new backlinks is to place them with your immediate network of clients and business partners. These are the companies that you already have an established relationship with, so the outreach should be a breeze. If the company is a supplier or a business partner, offer to write a testimaonial for their website with a link back to your website. If the company is a client, they can feature you as one of their suppliers on their website or they can mention you in one of their posts.
Just to give you an example, let's say you make and sell leather goods. You probably have a bunch of local suppliers, companies that sell you leather, tools, chemicals, wrapping materials, but also whoever designed your website and your logo, whoever helped you to set up your shop, and so forth. You can contact each of them and offer to write a testimonial about their products and services and bam — your link is on their homepage — the most powerful page of their website: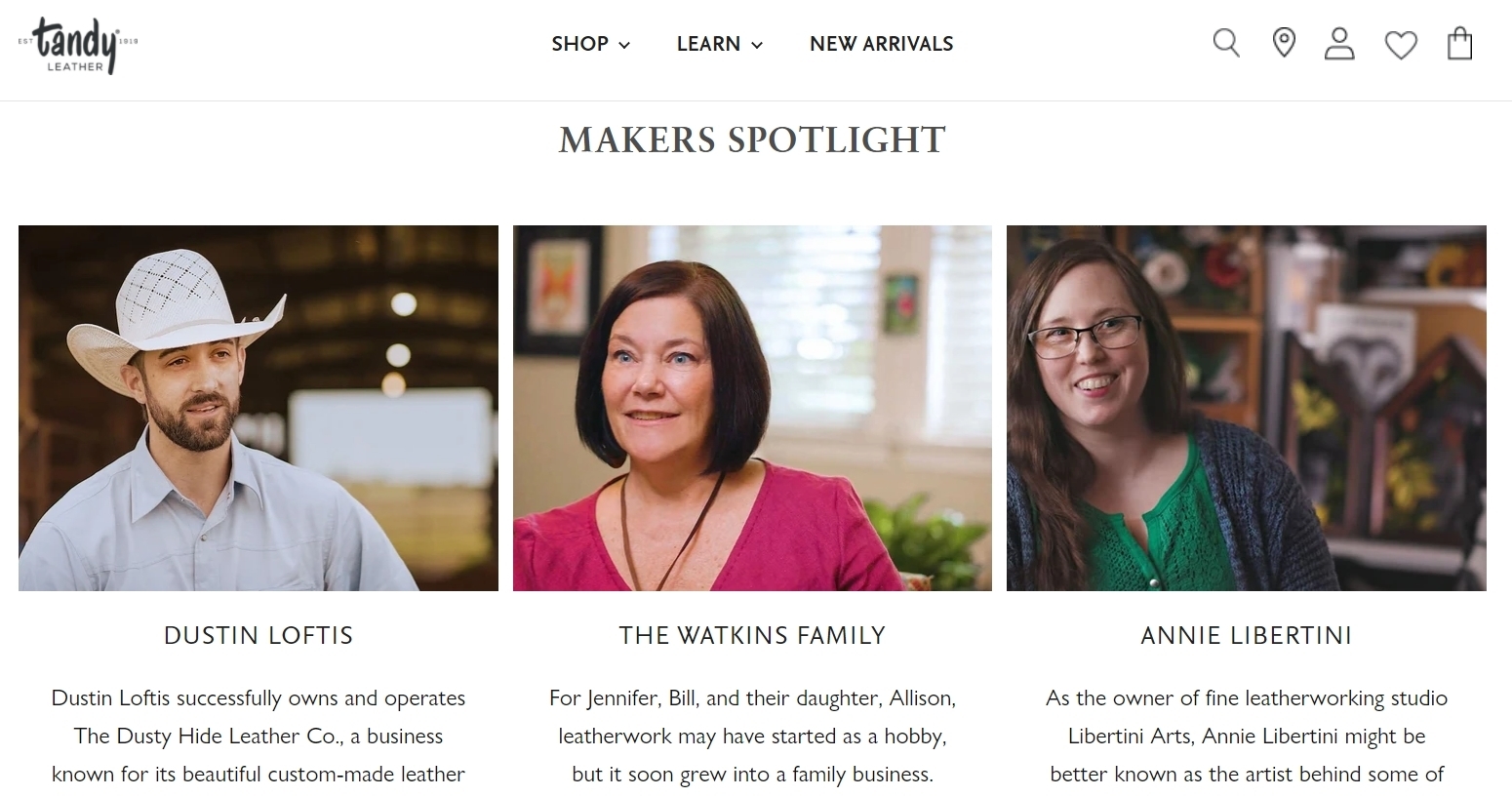 These types of links will also do wonders for establishing you as an entity as they will show Google that you are a part of a very particular network of other entities, relevant both through location and occupation.
6. Add your info to business directories
Using business directories for link-building is a controversial topic in SEO.
On the one hand, SEOs tend to abuse this strategy and add their business information to thousands of fake-ish business directories at once, usually with the help of dedicated software. This approach is spammy and fairly pointless. Plus you get the headache of managing all these citations in the future, like if some of your business information changes.
On the other hand, used responsibly, business directories could be a valuable source of backlinks. The trick is to select those directories that actually make sense for your type of business and for you location. An absolute must-have is Google My Business — the ultimate business directory wired directly into Google search and supplying information for Google maps, the local pack, and various other Google surfaces. Other than that, there is always Yelp and YellowPages if you are in the US, and other regional or industry-specific directories if you are elsewhere. Look for the directories that are actually used by real people to learn about businesses.
7. Turn linkless mentions into links
If your company has existed for some time, there is a good chance you've been mentioned across the web in one way or another. There is also a good chance that some of those mentions are not linked — regular people (non-SEO people) don't normally bother to include links. One simple way to rectify the situation is to google your brand, look for those unlinked mentions, and contact content owners asking to include the link.
Additionally, you can set up Google Alerts to notify you whenever any new mentions appear on the web: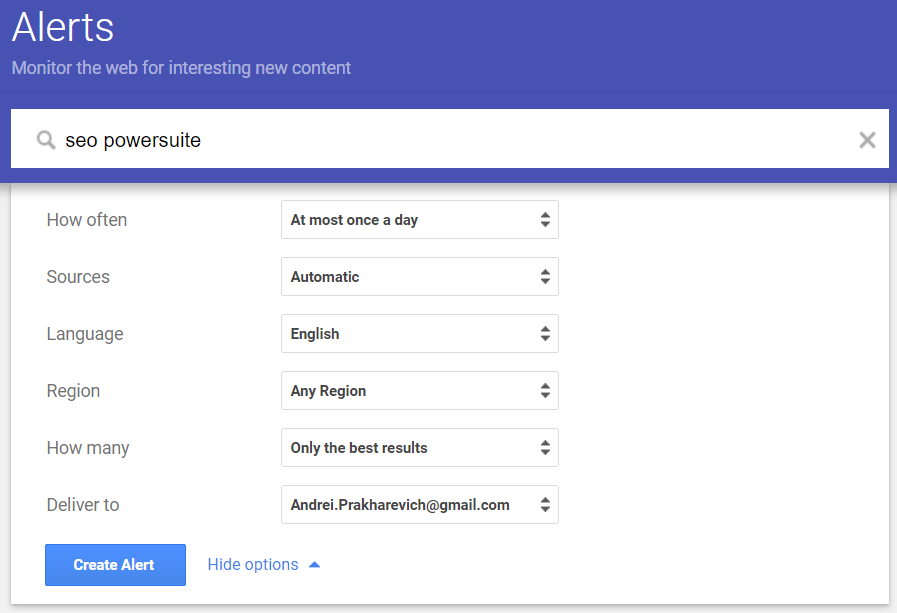 The sooner you react to these new mentions the higher the chances of your links being added.
8. Find and replace broken links
Links frequently break because of the crawling mistakes or the pages being removed altogether. This is a problem for website owners, because users get frustrated when they can't follow outgoing links and their satisfaction with the website drops. The problem is not exactly huge, but it's an opportunity for you to swoop in and offer a replacement link to your website.
There are two approaches to finding broken links.
The first approach is to audit the websites of your backlink prospects and find which of their outgoing links are broken. To do that, launch Website Auditor and go to Site Structure > Site Audit > Links > Broken links. There you will find the broken links from the entire website, along with anchor texts and linked page status. Now see if you have any substitutes on your website and contact the webmaster.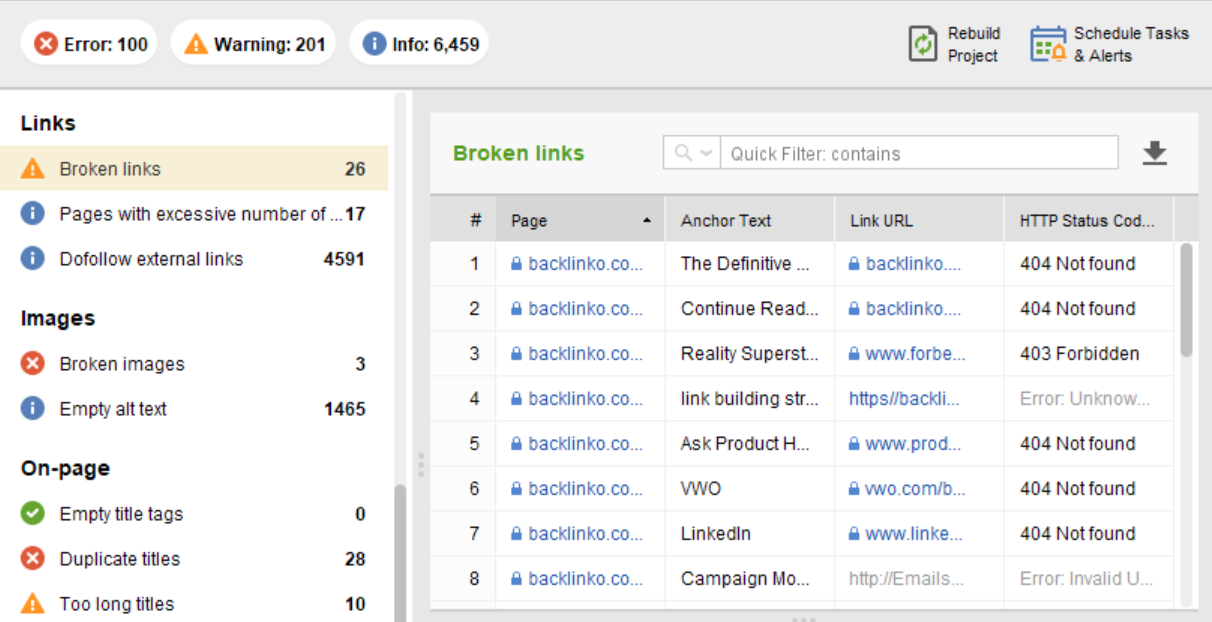 The prpblem with this approach is that you have to check your prospects one by one, so perhaps you should only focus on the highest authority websites from your prospect list.
The second approach is to audit the websites of your competitors and find which of their backlinked pages are dead. To do that, launch SEO SpyGlass and go to Backlink Profile> Backlinks > Linked Pages > Linked Pages Status Code: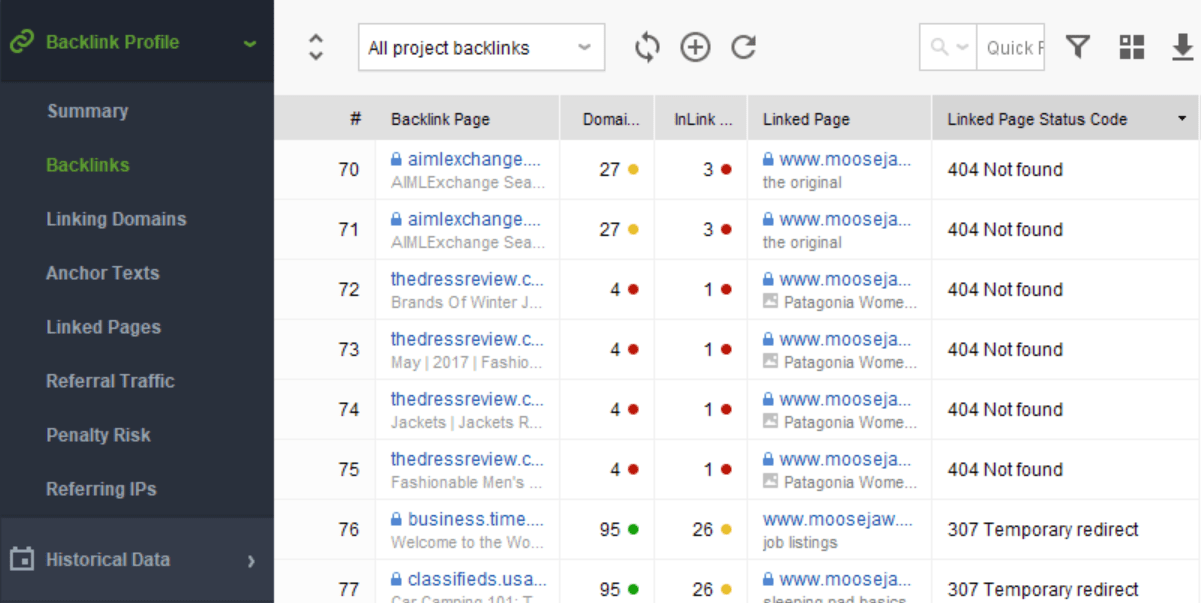 Look for pages with 4xx status codes and see if you have pages on similar topics. Then contact the webmasters of linking websites and offer to fix their broken links.
Both of these approaches are quite labor intensive, as you have to check the websites one by one and then find a substitute for each individual backlink. But, in the grand scheme of things, this is somewhat easier than building links from scratch.
9. Reclaim lost links
The opposite side of the broken link building is finding lost links. You can quickly check what backlinks disappeared and get them back with SEO Spyglass' Historical Data submodule. The module shows a list of lost links, the reasons they were lost, whether the links where dofollow or not (i.e. whether you should bother getting them back), and the quality of linking pages: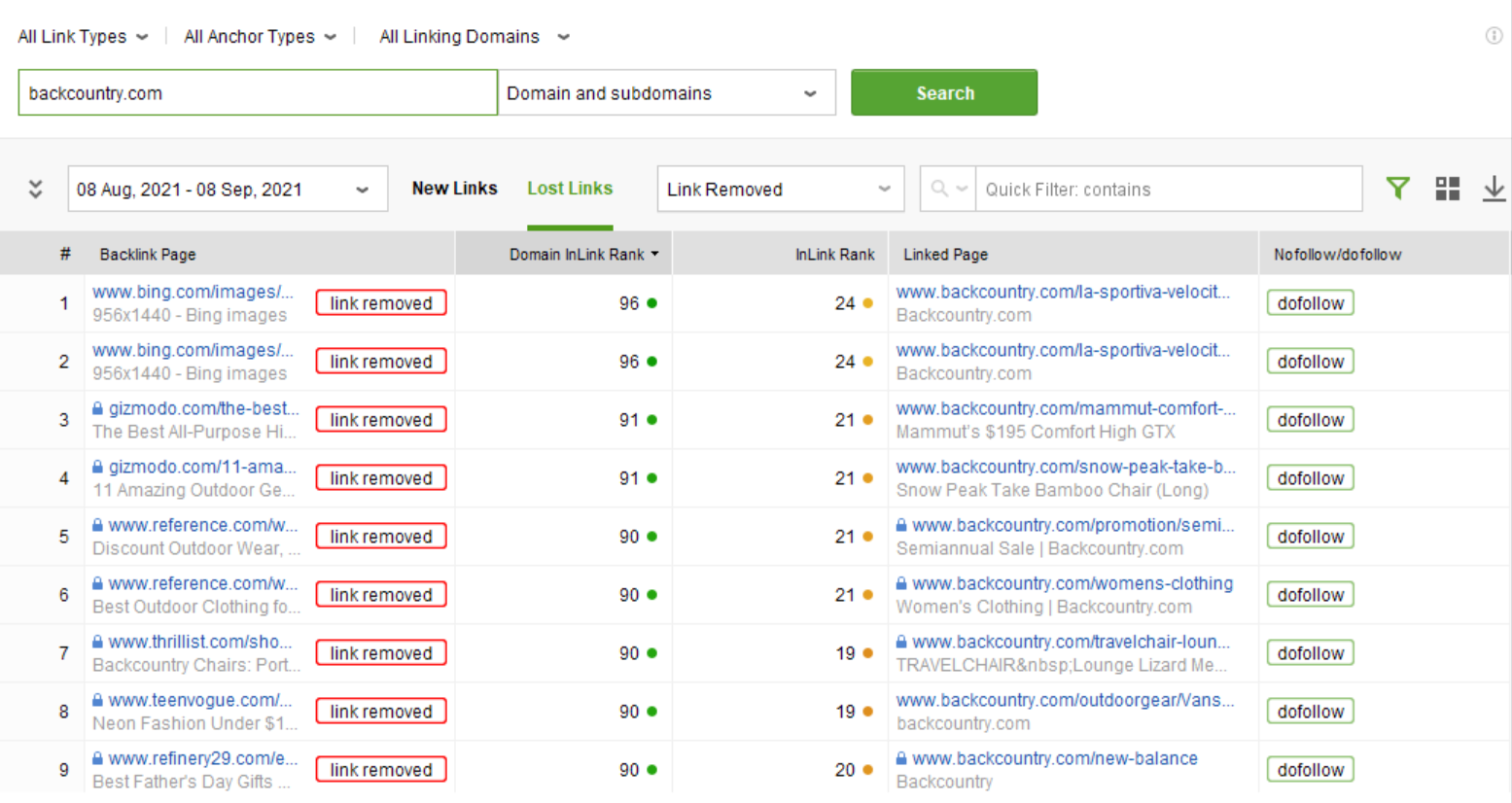 Inspect the lost links and find out who stopped linking to you: the linking page might have been removed or redirected or they just revamped their content, losing your link in the process. The latter is a good reason to reach out to your linking source, asking them to set a link to your new material.
10. Respond to reporter requests
Reporters routinely look for authoritative sources to provide or confirm a piece of information for an article. If you or your company can be considered an authoritative source, then you can answer reporter requests through the HARO service or by following the #journorequest hashtag on Twitter. And if you get quoted for an article, just ask for a link. It could be a good strategy to get links from highly authoritative publications.
SEOs report mixed results from this strategy. The main concern is that the effort is just too much, while the success rate is hardly worth it. With HARO, you get three emails per day, each of them with at least a couple dozen requests, very few of which will be relevant to your field of expertise. And if you follow the hashtag on Twitter, you will encounter an endless stream of mostly irrelevant posts.
So, instead of reviewing these requests manually, it is often recommended to automate the process with an IFTTT applet or any other automation app or script. Push the requests into an excel file, scan them for a selection of keywords, and set up notifications for whenever relevant keywords are found among fresh source requests. This is the only way to navigate the requests and not lose your motivation on day one.
11. Exploit ego baiting
Ego bait focuses on creating content that aims to appeal to someone's ego. This is a win-win strategy for both sides: you boost their public authority and earn a link in return. As a rule, it targets a celebrity or an industry authority. The point is to encourage them to share your post with their own audiences.
By using these link building techniques, you will definitely expand your outreach, raising both traffic and your post's authority. Here are some of the ways you can include influencers in your content:
A mention
An interview
A round-up list
You can simply quote influencers, link to them, or place their photos in your post. The more prominently they are featured, the higher is the chance they will share your content. Most importantly, don't forget to inform them about the prepared material either by messaging them directly or by tagging them on social media.
You can compile round-ups, listicles, and directories with an influencer included. Better yet, ask a bunch of experts to contribute, let's say, one item to your chart. Accompany this item with the name of the respondent and some suitable comments.
12. Spy on your competitors
A kind of catch-all strategy for link-building is to spy on your competitors. Use a dedicacted tool to discover your competitors' backlinks and see if you can score some backlinks from the same websites.
To find your competitors' backlinks you can use one of the free backlink checkers discussed above. Using an online backlink checker from SEO SpyGlass as an example, you would be able to get a list of the top 10,000 backlinks of any of your competitors as well as sort them by domain rank, dofollow status, or date found: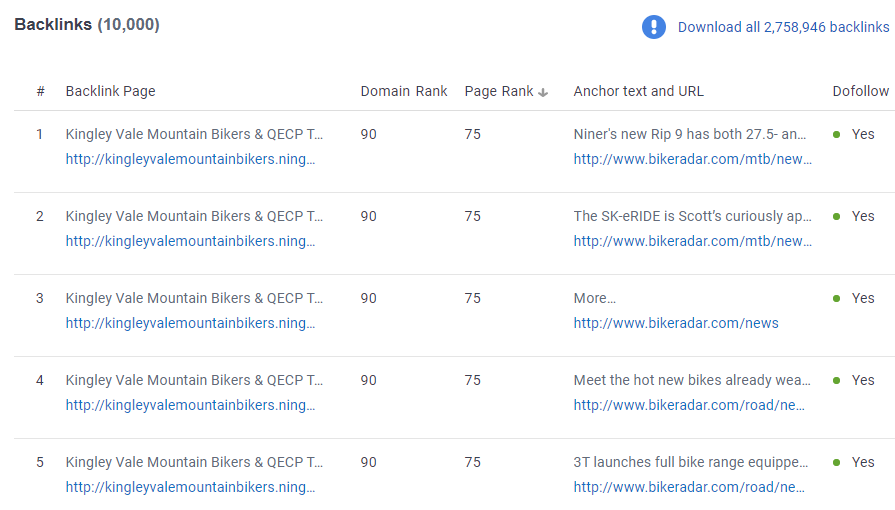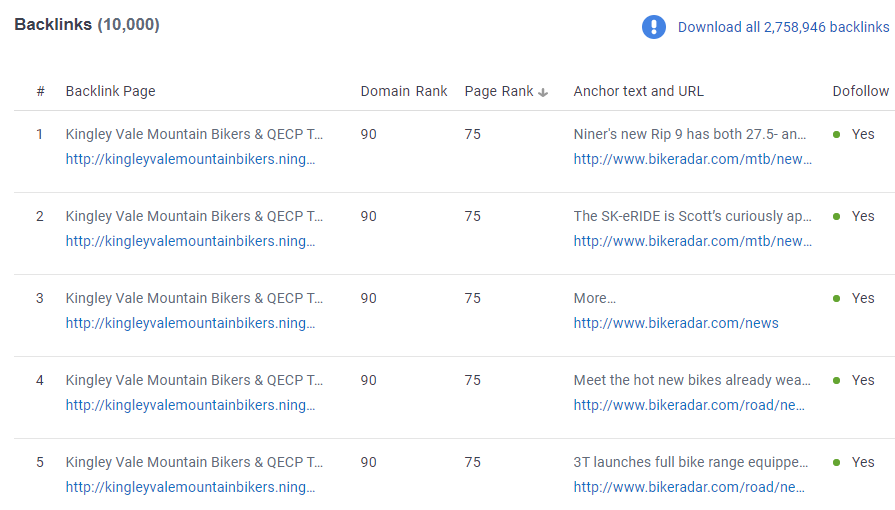 But if you were to switch to the desktop version of SEO SpyGlass and go to Domain Comparison > Link Intersection, you would actually be able to analyze several of your competitors at once. We recommend adding at least two of your competitors and paying attention to the link gap — those websites that link to all of your competitors but don't yet link to you: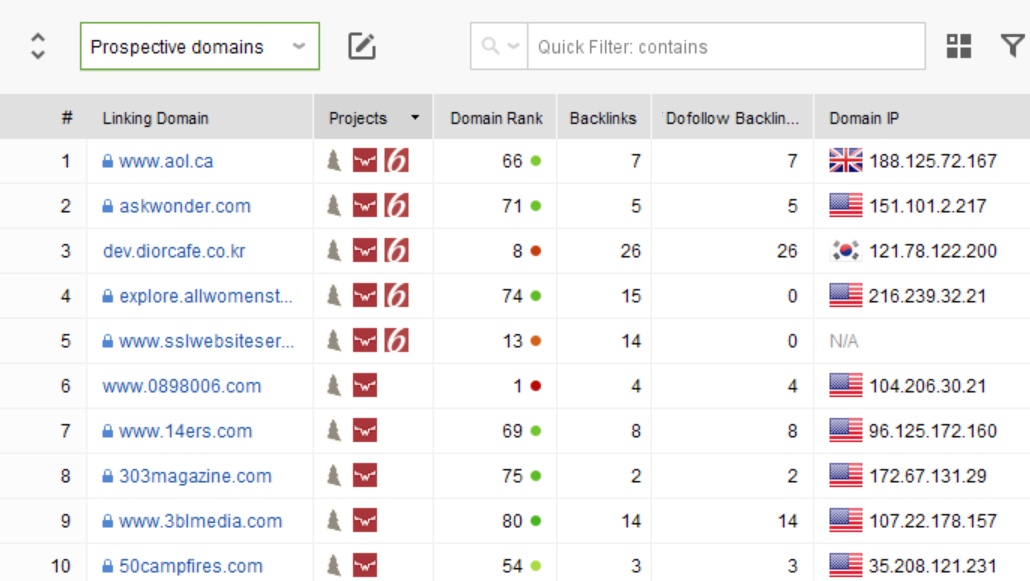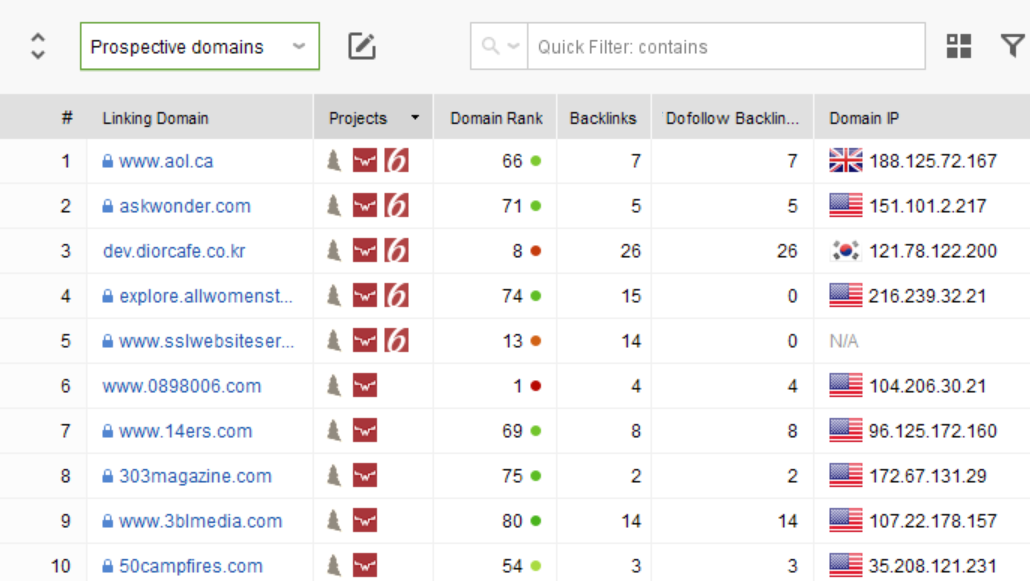 These types of websites are your prime backlink prospects. The fact that they link to several of your competitors means they are probably related to your industry. It also means they do not have an exclusive partnership with any one of your competitors. Which means you can probably negotiate a link as well.
Oh, and you can also use the tool to evaluate discovered prospects by domain rank, location, and the number of dofollow backlinks, so that you don't waste your resources trying to get a backlink from a low-quality website.
Bonus: link-building tactics to avoid
The below strategies and tactics were used in the past to manipulate rankings, but are now considered aither too risky or too pointless.
PBNs
PBNs, i.e. private blog networks aimed to manipulate PageRank, are a great way to get your site penalized. Back in 2012, it worked well to buy cheap links from some guys and make your ranking skyrocket. But even then such SEO techniques raised disapproval once the cheater was caught (and which actually pushed Google to invent the algorithms that ruthlessly devalue or ban such tactics). Today, Google has no problem recognizing PBNs and penalizing the websites that use them. To be fair, there are some PBNs that evolved to imitate high-quality websites, but these PBNs are nearly as expensive as building actual links, so the strategy is no longer cost-effective.
Article marketing
There used to be tons of automatic link building tools like Instant Article Submitter. Such software allows mass automatic article submission to article syndication sites, like EzineArticles. The tools usually include intelligent article spinning, which is an automatic rewriting of texts that ensures uniqueness for search engines. But, since the introduction of various AI elements into Google algorithm its capacity for processing language got much better and spun articles are unlikely to meet the bar for quality content.
Tiered link building
Simply put, tiered link building is creating backlinks to your backlinks. Tier 1 links usually come from high-authority websites with quality content, while tier 2 and tier 3 links come in massive amounts from spammy sources. The idea is to make tier 1 links more powerful, but move the penalty risk away from your money website.
The downsides of tiered link-building is that it can get quite expensive and labor-intensive, while Google will most likely recognize this tactic and simply ignore all of the spammy backlinks. It will probably end up a waste fo your resources.
Bonus: revise your backlink profile
Another important aspect of your link building strategy should be reviewing your backlink profile on a regular basis.
How to evaluate your backlinks effectively? SEO SpyGlass tool is great for finding your site's backlinks. The software automatically updates the backlink page and domain value, delivering stats for over 40 SEO factors — the verified data you can rely on. Check the linking domains' and pages' InLink Rank, Alexa Rank, authority, and penalty risks.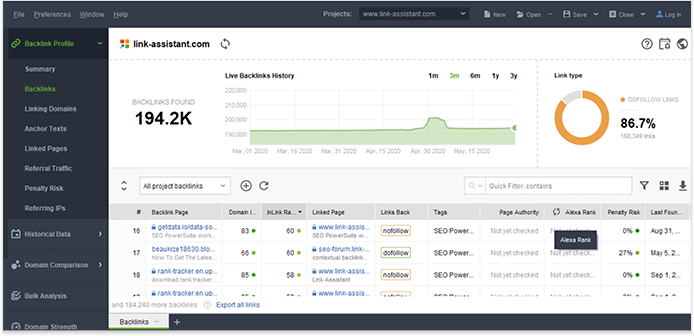 You will get a list of domains and backlinks that might be harmful to your website's authority. Your next step is to remove the links: reach out to the webmaster or the domain owner with an email, asking them to remove the bad backlinks. And if your requests are ignored, you can exclude such bad links from crawlers with the help of Google disavow file.
Final thoughts
When it comes to backlinks, we are finally at the stage where quality matters more than quantity. With this in mind, we recommend focusing on organic link building strategies, where links represent your actual connections to other entities within your market. The above strategies should be enough to get you started, but we are open to hearing more ideas from you. What are the strategies that were successful in your case?