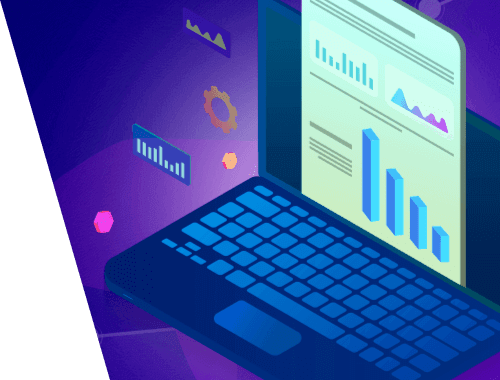 How SEO Helped Us to Grow Leads by 30% [Case Study]

Improving Conversions by 30% for a B2B Matching Service [Case Study]

Matchboard is a Business to Business (B2B) matching service that simplifies the way companies find new suppliers. The project belongs to the Outsourcing & Business/Telecomms niche. It's an established company and I've been working on this project since 2017.
With the help of SEO, we managed to achieve the 30% increase in conversions — read on to learn how I've been running this SEO campaign, what kind of challenges I've faced, and how I've managed to overcome them.
About the author

David Sorauer is a Sydney-based digital marketer who's been running his own agency,
Evolocity
, for over 3 years. He likes traveling, technology, sports, and coffee.
The initial project data
Organic traffic: 1400/mth
Backlinks: 548
Conversions/leads: 11/mth (from Google)

Goals and challenges
The major goal I focused on was to increase the rankings and traffic, in order to increase conversions (aka buyer requests) for the business.
One of the significant challenges in this project was an older Content Management System (CMS) which was initially used by the client. This made implementing SEO changes challenging.
From the start of the engagement, one of the first tasks was to set up goal tracking in Google Analytics. There are essentially two websites, one front-end site in WordPress and a proprietary back-end, containing a "matching engine" where the conversions take place. Setting up cross-domain tracking in Google Analytics was tricky as a result.
The SEO Campaign
Technical site audit and optimization
First off, it was decided to migrate the website to a more modern CMS (WordPress in this case).
Website Auditor was very useful for this task, to ensure the existing meta titles, descriptions and optimisation score could be saved and exported to a CSV file, to make it more efficient to apply these values to the new website.

To make sure that goal tracking works correctly after the migration, we used Google Tag Manager and set up a Universal Analytics tag, to capture Cross Domain Tracking. We then used the Auto Link Domains field, and entered a comma-separated list of the two domains. It can be quite a fiddly process, with filtering required also in Google Analytics, but after a few hours, it was working successfully.
Cross-Domain tracking in Google Analytics is essential to have accurate attribution of goals across domains. So, we used the reverse goal path in Google Analytics, to accurately track which page our buyer requests were generated from, and the path that users followed along the way.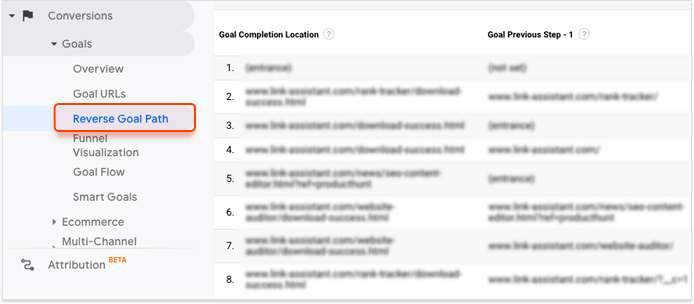 As part of the website migration from a proprietary CMS to Wordpress front-end, many links were broken, as the URLs inevitably changed. It was a long and time-consuming process to identify the broken links and work with the developer to put redirects in place. Fortunately, I used WebSite Auditor after the migration to scan the website for any issues, such as broken links, duplicate content, redirects, index, speed/performance, and other technical stuff.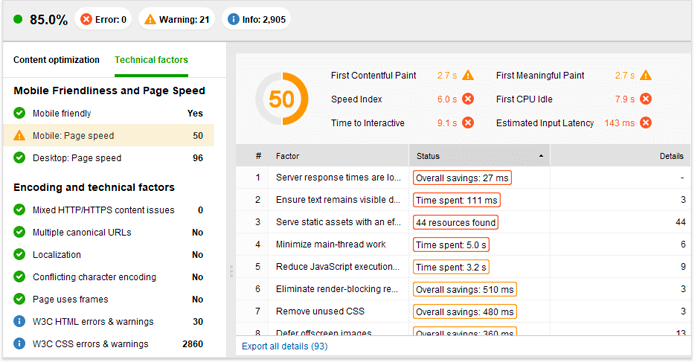 Pro tip: If you're working with a web developer, you can make use of the functionality of WebSite Auditor Enterprise and send the information to developers in the CSV format. This makes it easy for them to implement the required fixes, such as redirects or broken resources etc.
Keyword research
Keyword research was approached from several different angles:
These two research methods brought hundreds of keyword ideas. After I saved them in the project, I turned to some manual keyword research and analysis. At this stage I also used SEMRush, as I like its ability to come up with several related (broad match) keywords that I hadn't thought of.
Pro tip: Finding keywords via the Search Console integration in Rank Tracker is another excellent way to enumerate keywords that searchers are using to find your website. I started initially by optimising for keywords that have a high Click Through Rate (CTR) but don't rank very well (position >10).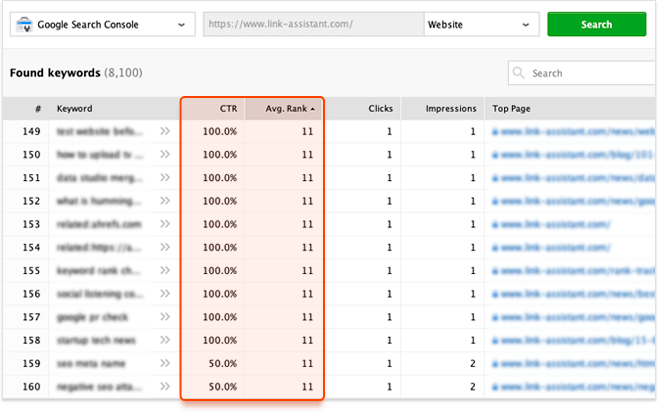 After the manually selected keywords were added to my project, I systematically categorised the keywords for their search intent and labeled these (using the Tag option), so I could easily isolate the transactional keywords in another Rank Tracker window.
While doing keyword research, the type of content was checked (eg. reviews, local listing, listicles, how-to guides, etc.) as well as the top ranking sites for these keywords. We then attempted to out-perform these sites with long-form, informative content that best answers the searcher's question.
I focused on 1-3 keywords to optimise each page for. Since Matchboard operates in the B2B space, much of the content that drives conversions is informative, so I employed a mix of transactional and informational keywords. Informational keywords are predominantly used for the informational guides, and transactional keywords — for the services pages.
Content generation has been occurring in a sustainable manner, with a focus on long-form, informative articles.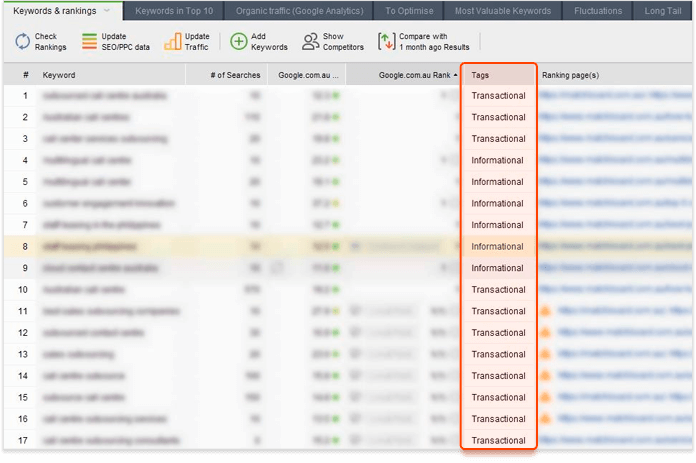 Pro tip: rather than checking the intent of keywords one by one in the search engine, use the Keyword difficulty tab in Rank Tracker to display the URLs ranking for those keywords.

Competition analysis
I used both the Domain Competitor Analysis and Topic Competitor modules, to find a list of suitable competitors. Also, dialogue with the business owner as to who they consider the greatest competitor.
I verified this data against SEMRush, but I prefer to use RankTracker for topic analysis and competitor analysis, as it provides more accurate competitors based on my experience.
Content optimization
As we are operating in the B2B space, long-form informational pages bring in the majority of traffic (and conversions) for this website. These articles are combined with strategically placed calls to action for users to start "buyer requests" which is the main goal of this SEO campaign.
After selecting the desired keywords as part of SEO keyword research in Rank Tracker, it was time to map these keywords (1-3) to the desired landing page and check the optimisation score. I always aim for an optimisation score of 85% or greater, as this has proved to rank well from my past experience.
As the URL/Slug is often created previously, there has been a significant focus on optimising titles, body, ALT text and internal linking.
The content analysis tool made it easy to see which pages needed more work, optimisation wise.
Pro tip: When optimizing pages in Content Editor, make sure to check the Competitors and Topics and questions sections. With the Competitors section, you can find out exactly how they used target keywords in text. By clicking on any of them, you'll get their pages in reading view, with relevant keywords highlighted.
The Topics and questions section will tell you the most popular user questions related to your keywords. Try and answer as many of them as you can.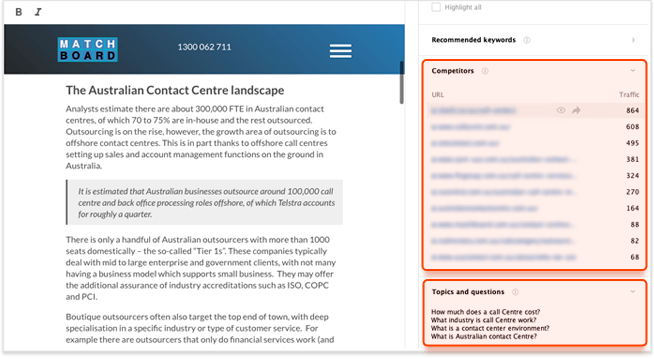 Backlink analysis
For backlink analysis, I use SEO SpyGlass, which I connect to Google Search Console and Google Analytics. I also import additional backlinks found by SEMRush to my SEO SpyGlass project.
To analyse the backlinks, I primarily use Majestic data to analyze the Trust Flow and Topical Trust Flow, to determine the topical relevance of the links. I find this very useful to analyse the niche the tier backlinks are coming from, as we're predominantly looking to build links in the Telecommunication/Business niche.
At a high level, link health/toxicity monitoring is also performed via SEO Spyglass' penalty risk and SEMRush Toxic score.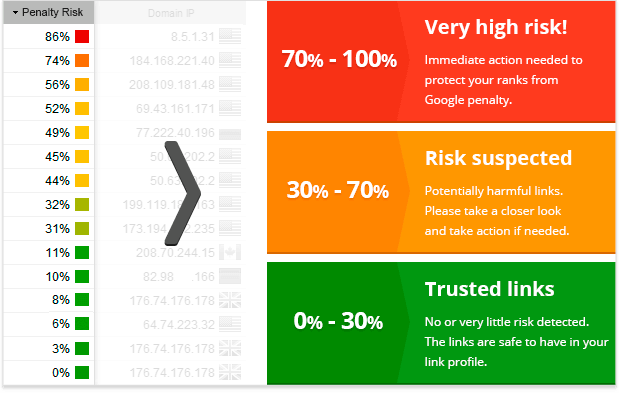 Link building
Link building has been a joint effort, where I've performed the prospecting and the business owner has reached out to the prospect with guest post opportunities and has written the content.
The first step in the link prospecting process has been to perform a gap analysis to find competitor backlinks. I used both SEO SpyGlass backlink gap tool, as well as SEMRush backlink gap tool.
After the gap analysis was completed, I have been using SEMRush link building tool, as it provides a short list of good quality link prospects. I then run the prospects through Majestic and use Trust Flow (10 and above) and Domain Authority (15 and above) as my criteria for quality. These numbers may vary, under certain circumstances, but I use them as a general guideline.
In guest blogging for links, I also heavily rely on Majestic's Topical Trust Flow metrics, as we want to focus our finite time to acquire topically relevant links from domains in the same (or a shoulder) niche that will provide the most value:

We have mainly been focusing on high-quality guest posts on topically relevant sites that have considerable traffic. Also some podcast features have been achieved. More recently, the strategy has changed to create long-form articles on proven topics paired with outreach to acquire inbound links.
We have successfully acquired over 1,000 backlinks (from 25-30 domains) in the past 12 months, with around 50% coming from link attraction and 50% from guest posts on quality sites. I found around 50 prospects and we had an outreach success rate of around 25%. We managed to eventually build 14 backlinks via guest posts in the past 12 months, which improved the website's InLink Rank from 34 to 39.
With outreach, we always try to add value to the pitch, and make it evident to the site owner that we've spent considerable time perusing their site and have ideas on content that would appeal to their readers and demonstrate experience & credibility to create the subject matter.
CTR optimization
I've worked on increasing the Click Through Rate mostly, via modifying titles and meta descriptions to capture as much of the SERP clicks as we can. I've found that users want honesty and integrity, so it's imperative that the meta title closely resembles the page title. In other words, it's easy to create meta titles that rank well, but if these keywords don't match the content on the page closely enough, users will bounce as it's not what they were expecting.
Pro tip: I've found the snippet preview tool in Content Editor really helpful — it shows in real time how your Page Title and Meta Description will look on the SERP. Also, you can immediately see how your topic competitors filled out their titles and Meta descriptions.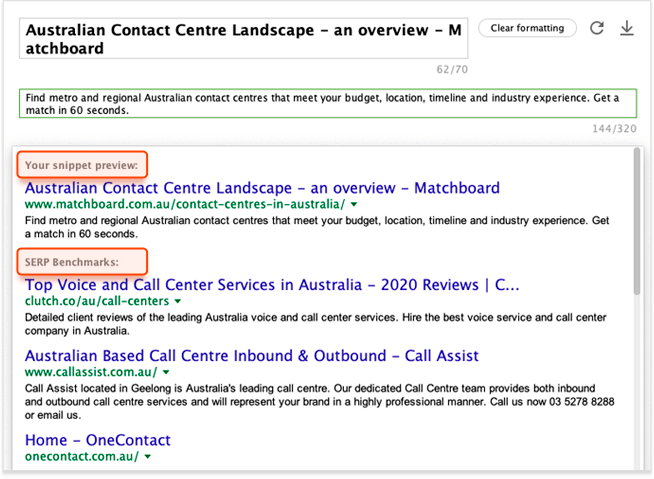 Also, it will be a significant focus for this site in 2020 and beyond.
Local SEO
Even though Matchboard is an online business, I still believe it's crucial to claim and optimise your Google Business Profile listing. This is the beast and most worthwhile tool to do local SEO, as it provides a platform for your business to acquire and manage reviews and can be a significant source of traffic and conversions.
Effort has been spent to optimise the Google My Business listing, to ensure the content is kept accurate, fresh and relevant. Local citations have also been added, as well.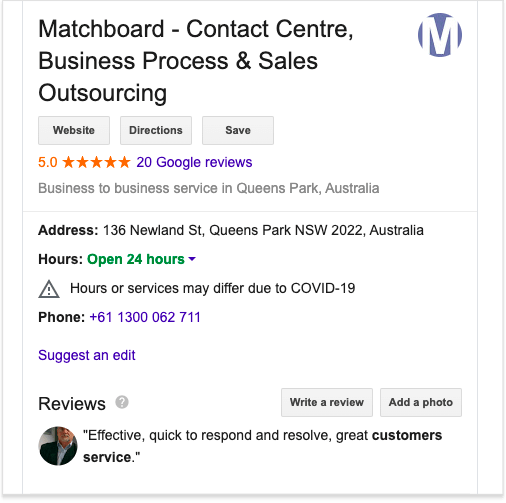 The local listing has enabled Matchboard to be found by around 1k searches/mth and has resulted in a handful of conversions each month.
The Results and Takeaways
As a result of this SEO campaign, my client has seen the increased rankings for keywords with good intent, more traffic and an increase in conversions.
Conversions have increased by 30% since working on the project. Conversions are of a high value, so this has made a considerable impact on the bottom line of the business.
Here's my list of takeaways on the basis of this project:
Plan website migration in detail in advance.
Make sure to save the critical data and stats.
Use keyword gap and backlink gap tools — they are very powerful research methods.
Search intent analysis is crucial for keyword research and content creation.
Always try to add value to your link building pitch — you'll see a much higher response rate.
Did you have experience with similar niche projects? Or maybe you'd like to ask David some questions related to his SEO campaign? Feel free to share your opinion in the comments below!
---

By: David Sorauer
Article stats:
| | |
| --- | --- |
| Linking websites | N/A |
| Backlinks | N/A |
| InLink Rank | N/A |