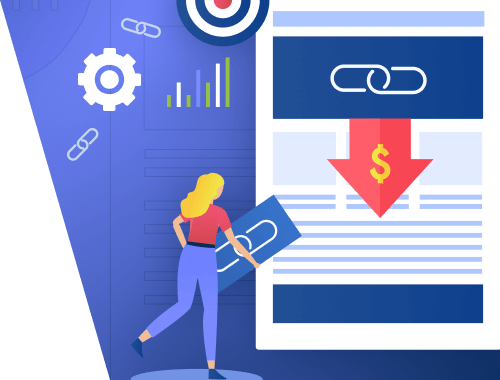 Link Building on a Budget (Tools + Tips)

Link building is expensive. On average, one paid link from a quality website costs between $100 and $500. And if you hire an SEO agency to build the links for you, you are looking to spend anywhere between $2000 and $10000 per month. Sometimes much much more.
But what if you don't have this kind of money? Well, if you are willing to put in the work, you can actually build your links at a much lower or even no cost. Provided you have the time and you know a few tricks discussed in this article.
What makes backlinks so expensive?
On the surface, links cost absolutely nothing to produce. A link is just a tiny bit of code on someone's website. So why do you have to pay so much to have them placed?
Link building is a seller's market
The first thing that determines the price of a backlink is the economics of supply and demand. There are only so many backlinks a website can host and still appear natural to Google's algorithm. And if the website is really popular with link seekers, it can afford to drive the price up and retain enough willing buyers.
Authority domains cost more
Domain authority aka domain rank aka link rank is a metric that determines the value of a website for link building. Interestingly, domain authority is not an official metric — it has been invented by the developers of SEO tools to help with website evaluation. Different tools calculate the score differently, so it's not entirely reliable and does not necessarily reflect the way Google would evaluate websites. Still, domain authority is commonly used to determine backlink prices.
Third-party services are essential
Link building is a labor-intensive process, so it's often either delegated to a third party or automated using SEO software. Neither of these things is exactly free, so the cost is added to your link building expenses.
You have to supply the content
Any worthwhile link has to be attached to some kind of content. Whether it's a guest post, a review, a testimonial, an infographic, or a skyscraper article, it will require at least a couple of man-hours to produce. In best-case scenario, it will be just you, but sometimes you would have to hire a graphic designer and a copywriter as well.
How do you build links on a limited budget?
Like any other job, link building is about trading time for money. And if you are short on money, you can make it up by investing more of your time. Here is what you can do to lower the cost of your link building campaign.
Tip #1. Build fewer links
Yep, the most immediate way to cut your link building budget is to aim for fewer links. Despite what many in the industry think, the number of links is not the deciding factor in your backlink profile. The quality of links beats the quantity by a very large margin. In fact, in one of the recent SEO office hours, John Mueller has mentioned that one good link can easily beat millions of mediocre ones:
"We try to understand what is relevant for a website, how much should we weigh these individual links, and the total number of links doesn't matter at all. Because you could go off and create millions of links across millions of websites if you wanted to, and we could just ignore them all."
What it means is you probably shouldn't waste time and money building hundreds or even thousands of semi-spammy links, when they are very likely to be disregarded by Google. Instead, go for that one link that's going to make an impact, spend your time building a relationship with your lead, and close the deal.
Tip #2. Save on SEO tools
SEO tools, particularly link building and outreach tools, can get quite expensive. They are definitely worth the money, because there is simply no way to find and reach all of your link prospects by hand. But, there is also a significant price difference between the tools available on the market.
If your budget is particularly tight, I would actually recommend using free versions of popular backlink checkers. Such tools as Seobility, Ahrefs, and Semrush offer free backlink research functionality, which is usually enough to run a couple of checks and discover a couple of useful backlinks. Although the functionality is usually very limited compared to the paid versions.
Not to brag, but we have actually just released our own version of a free backlink checker, which offers unlimited checks per day and allows viewing up to 10,000 backlinks per website. That's on top of some high-level backlink stats, like the share of dofollow/nofollow links and link history: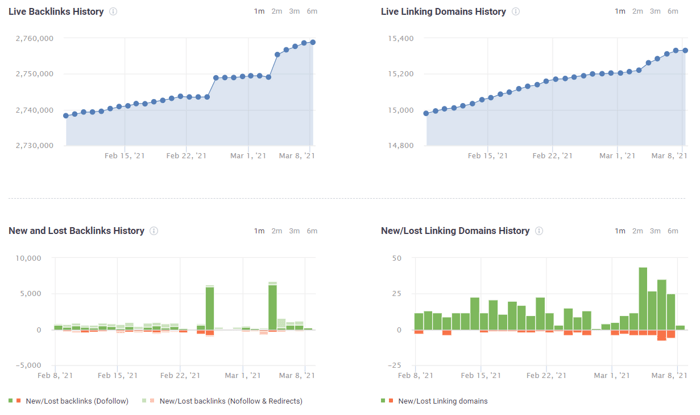 If you feel like free tools are not going to cut it, then the next step is to sign up for the trials of paid tools. The trials usually last up to a week and are either free or very cheap. My advice would be to look for those tools that offer data exports during the trial. Then you can do all of your research, export discovered backlink prospects into an excel sheet, and keep working at it even after the trial is over.
Finally, there are some budget-conscious tools on the market that offer fairly advanced functionality. Our own SEO SpyGlass is a versatile link checker that offers backlink audit and competitor research and is five to ten times cheaper than the next tool. There is even a fairly generous free version as well.
Tip #3. Do the work yourself
There are many ways in which you can outsource link building to third parties. At the very basic level, you can pay a moderate sum to have thousands of low-quality backlinks automatically placed on spammy websites. Alternatively, you can hire a freelancer or an SEO agency and have your links built manually. In which case you are looking to pay per link or per month, neither of which is going to be cheap. And you'd still run the risk of having low-quality links built to your website, because third parties do not always have your best interest at heart.
Although there are definitely times when outsourcing may be necessary, link-building experts recommend to start your link building campaign on your own. There will be many low-hanging fruits at the very beginning of the campaign and you don't want to pay someone else to pick them. We'll discuss further what those fruits might be.
Tip #4. Engage your immediate network
Your immediate network of clients and business partners is the most natural source of backlinks. Think of suppliers, customers, contractors, and affiliates — all of them have a good reason to link to your website. On top of that, you've already got a relationship and it would be super easy to pitch your link, and you are very unlikely to have to pay for these links.
Just to give you an example, let's say you make and sell leather goods. You probably have a bunch of local suppliers, companies that sell you leather, tools, chemicals, wrapping materials, but also whoever designed your website and your logo, whoever helped you to set up your shop, and so forth. You can contact each of them and offer to write a testimonial about their products and services and bam — your link is on their homepage — the most powerful page of their website: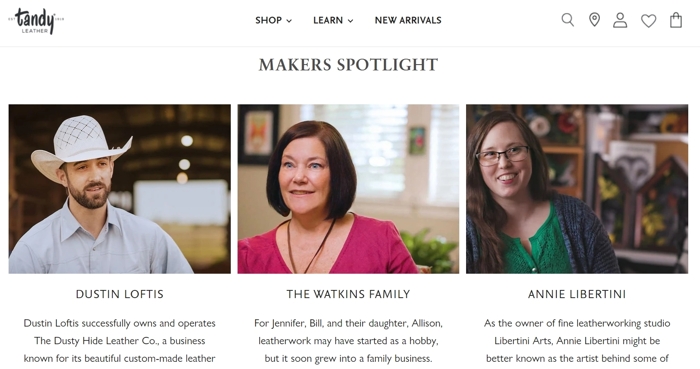 These types of links will also do wonders for establishing you as an entity as they will show Google that you are a part of a very particular network of other entities, relevant both through location and occupation.
Tip #5. Spy on your competitors
When it comes to link building techniques, the most efficient one by far is to spy on your competitors. Use dedicated SEO tools to find those websites that link to your competitors and approach these websites yourself. It saves you time searching for prospects and delivers links of higher quality and relevance.
To find your competitors' backlinks you can use one of the free backlink checkers discussed above. Using an online backlink checker from SEO SpyGlass as an example, you would be able to get a list of the top 10,000 backlinks of any of your competitors as well as sort them by domain rank, dofollow status, or date found:
But if you were to switch to the desktop version of SEO SpyGlass and go to Domain Comparison > Link Intersection, you would actually be able to analyze several of your competitors at once. We recommend adding at least two of your competitors and paying attention to the link gap — those websites that link to all of your competitors but don't yet link to you:
These types of websites are your prime backlink prospects. The fact that they link to several of your competitors means they are probably related to your industry. It also means they do not have an exclusive partnership with any one of your competitors. Which means you can probably negotiate a link as well.
Oh, and you can also use the tool to evaluate discovered prospects by domain rank, location, and the number of dofollow backlinks, so that you don't waste your resources trying to get a backlink from a low-quality website.
Tip #6. Join select business directories
In SEO, the tactic of joining business directories, aka building citations, has been blown way out of proportion. Commonly, the goal is to build as many citations as possible, so people end up joining thousands of business directories or paying an agency to do the job for them. The problem is, most of these directories are either irrelevant, or dead, or spammy, or all of the above. Besides, what happens when your business information changes? How do you manage thousands of citations?
That being said, business directories can be a source of quality backlinks, but only in moderation. You can start by claiming your GoogleMyBusiness listing — the largest and the most relevant business directory in search. Then join a couple of universal business directories, like YellowPages and Yelp. Finally, join the directories operating specifically in your location or your business niche, but only if people actually use them.
Tip #7. Offer backlink exchange
For those websites that are similar to your own website in terms of authority, content quality, and web presence, a link exchange could be a viable strategy to get free backlinks. These types of links are a bit easier to pitch, because the value to both websites is symmetrical, so it's not a huge ask.
To find such websites, launch LinkAssistant, click Start a New Search, and choose Similar Websites for websites operating in your industry: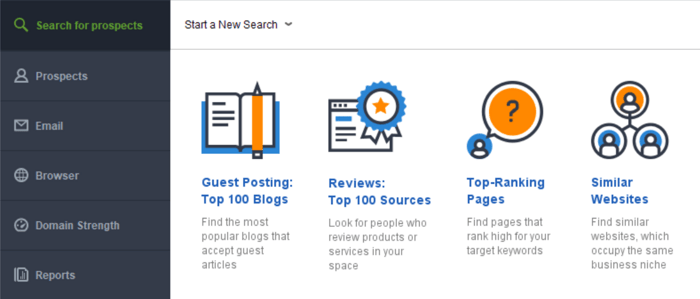 The tool will analyze your website (or any other website you submit for reference), and find other similar websites. You can then analyze the list for websites with similar traffic and authority, check for contact details, and reach out to them with an offer of link exchange: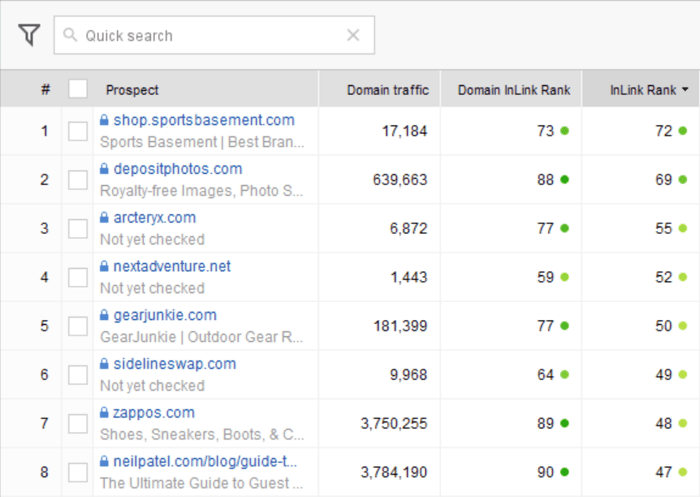 In the interest of full disclosure, it should be mentioned that excessive link exchanges are among the prohibited link building strategies. If you are caught, you might get a manual penalty from Google and those are notoriously difficult to recover from. So make sure not to abuse this strategy and only place links where they can be passed off for organic.
Tip #8. Turn linkless mentions into links
If you are a legitimate business that's been operating for any length of time, there is a good chance that people on the web mention your brand one way or the other. And there is also a good chance that those organic mentions do not link to your website — casual bloggers and amateurs reviewers rarely think of those things. So what you can do is google your brand (provided it's distinct enough), look for those unlinked mentions, and ask the authors to add a link.
Additionally, you can set up Google Alerts to notify you whenever any new mentions appear on the web: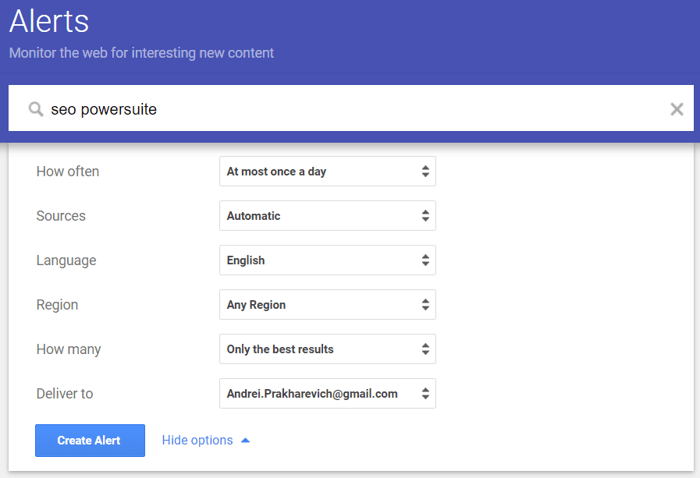 The sooner you react to these new mentions the higher the chances of your links being added.
Tip #9. Find and replace broken links
The strategy here is to find broken links on other websites and ask webmasters to link to your content instead. What makes this method effective is its urgency. You tell someone about a problem they didn't know they had and immediately offer to solve it. Under these circumstances, the webmasters are likely to accept your link just to plug the hole in their websites.
There are two approaches to finding broken links.
The first approach is to audit the websites of your backlink prospects and find which of their outgoing links are broken. To do that, launch Website Auditor and go to Site Structure > Site Audit > Links > Broken links. There you will find the broken links from the entire website, along with anchor texts and linked page status. Now see if you have any substitutes on your website and contact the webmaster.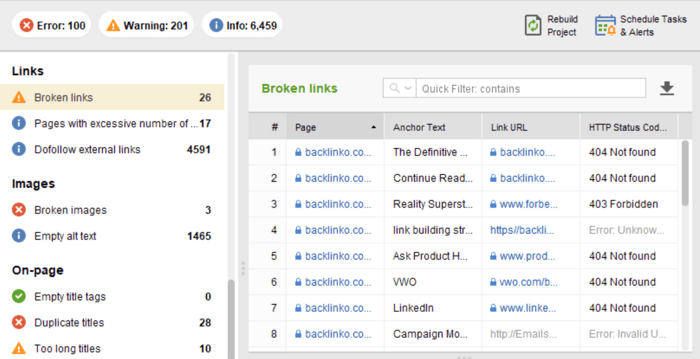 The second approach is to audit the websites of your competitors and find which of their backlinked pages are dead. To do that, launch SEO SpyGlass and go to Backlink Profile> Backlinks > Linked Pages > Linked Pages Status Code: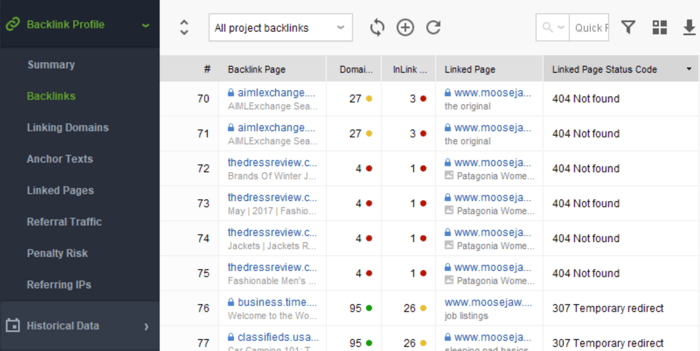 Look for pages with 4xx status codes and see if you have pages on similar topics. Then contact the webmasters of linking websites and offer to fix their broken links.
Both of these approaches are quite labor intensive, as you have to check the websites one by one and then find a substitute for each individual backlink. But, in the grand scheme of things, this is somewhat easier than building links from scratch.
Tip #10. Respond to reporter requests
Reporters are always looking for new sources — experts in their respective fields — to provide a quote for an article. Sometimes these requests are open to the public and can be found using the HARO service or the #journorequest hashtag on Twitter. And if you manage to pitch and land a quote, you are also likely to get a backlink, sometimes from a very authoritative source.
The only problem with this strategy is finding the right requests among hundreds of such requests per day. If you subscribe to HARO, you'd be getting three emails per day, each of them with at least a couple dozen requests, very few of which will be relevant to your field of expertise. And if you try to monitor these requests on Twitter, you will encounter an endless stream of mostly irrelevant posts.
So, instead of reviewing these requests manually, it is often recommended to automate the process with an IFTTT applet or any other automation app or script. Push the requests into an excel file, scan them for a selection of keywords, and set up notifications for whenever relevant keywords are found among fresh source requests. This is the only way to navigate the requests and not lose your motivation on day one.
Final thoughts
As you can see, there are some legitimate ways to build quality links for free or next to nothing. Although generally it takes much more effort to find these backlinks opportunities and then quite a bit more effort to fulfill them. But, if the budget is tight, and you are willing to sacrifice your time, the strategies above are guaranteed to grow your backlink profile.
Article stats:
| | |
| --- | --- |
| Linking websites | N/A |
| Backlinks | N/A |
| InLink Rank | N/A |