Should You Buy Links in 2023?

Should you be buying links for SEO in 2023?
I asked 10 SEOs for their honest, anonymous opinion.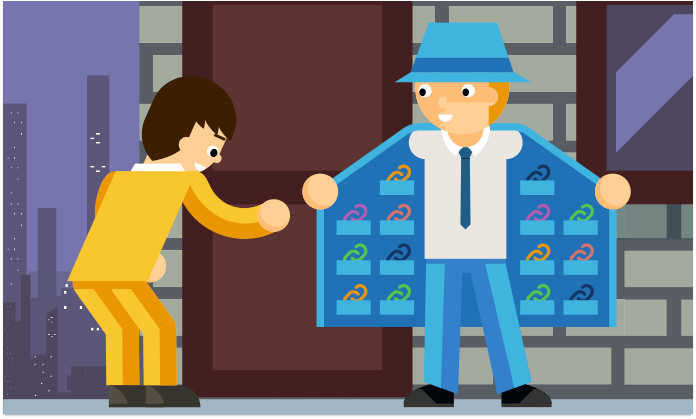 Paid link building isn't something a lot of SEOs are willing to openly talk about — not if they do it, anyway. Perhaps that's what makes it a tactic that's mysteriously attractive and so freakin' dangerous at the same time.
For this post, I spoke to 10 professional SEOs, asking them for their honest (and anonymous) opinion on paid link building. Do they do it? If they do, what are their strategies? Out of the 10 experts I asked, 2 said they don't buy links. 8 replied they do paid link building, and were willing to share their strategies. In this post, you'll find the main takeaways from these conversations.
But before we get started on this, I want to put forward a big fat disclaimer:
DISCLAIMER: This post is not intended as a recommendation to buy links. We do not recommend purchasing links; if Google suspects you are doing it, your site will likely be penalized. If you decide to buy links, it is critical that you understand the risks.
The definition
When I first reached out to SEOs with my questions about paid links, many of them replied with the same question: What do you call a paid link? Is a link in a guest post marked as "sponsored" considered a link that was bought?
For the definition, I went to Google's guidelines. According to Google, Buying or selling links that pass PageRank includes:

[…] exchanging money for links, or posts that contain links; exchanging goods or services for links; or sending someone a "free" product in exchange for them writing about it and including a link.
So for the purpose of this post, by "paid links" I'll be referring to all links that have been obtained for money (or in exchange for products/services), including sponsored SEO guest posting.
Now that we have this settled, let's move on to how exactly battle-tested SEOs who do paid link building go about it. Here are their strategies for analyzing the potential of a paid link, minimizing risks, along with a list of pitfalls to avoid.
How they do it
1. Timing.
According to the experts I asked, if you're just starting out in link building for a new site, going after paid links is definitely not a good strategy. Before you even think of buying links, you need to have (a) a link profile with quality backlinks that you've built yourself or that have built up naturally over time; (b) a clear understanding of your niche and competitors from the SEO perspective.
2. Pace.
Most SEOs I spoke to made it clear that they are very careful about the links they buy, and never purchase the links in a rush or in bulk. That means that you should never aim to buy links fast; first, a sudden influx of backlinks likely won't look very natural in your profile; second, you ought to analyze prospective backlink in-depth before you pay for them (more on that later). Many of the SEOs said they have a schedule for their paid links that they stick to. For a new site, they usually start with a handful (up to 5) links in the first month, and gradually increment the number over the next months.
3. Quantity.
According to the experts, paid link building should never be used as the primary (let alone, the only) method of link building. When asked about the ratio of paid links in a link profile that they considered to be safe, the experts named values ranging from 10% to 25%. This means the majority of your links need to be built through relationships or acquired naturally. This can help you maintain a healthy-looking link profile overall.
4. Quality.
As I mentioned earlier, all of the people I spoke to emphasized the importance of careful quality analysis before going after a backlink. Here are some of the most important things to check, both on the page and domain level (if the page you're looking to get a link from a page that isn't live — say, it's a possibility of a sponsored post on a blog — evaluate things on the domain level then).
Indexation in Google. You can find out if a site you're looking to get a link from by running a search for site:domain.com in Google (replace "domain.com" with the URL of the domain you're analyzing).
Page and domain PageRank. Looking at a site's PageRank is extremely in two ways: first, it lets you assess the link juice the link will pass (and the potential effect it'll have on your rankings); second, a low PageRank will often mean that the link is spammy or low quality, so you should avoid it altogether. Google's discontinued the public version of PageRank a while ago, but there are a few solid replacements available. The easiest way to check for this is by SEO PowerSuite's InLink Rank, using SEO SpyGlass.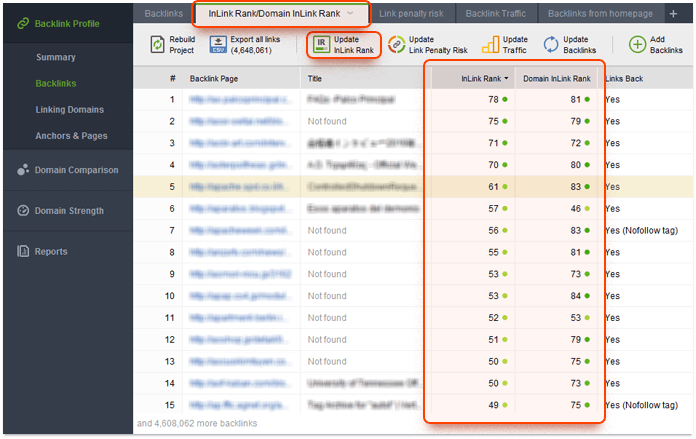 In the tool, after you create a project for your site, jump to the Backlinks dashboard and switch to the InLink Rank/Domain InLink Rank tab. Right click any of the rows in the table, select Add backlinks, and add the URL of the page (or domain, if there is no page) you're looking to get a link from. Not to get your data mixed up, make sure to use tags to mark such pages. All you need to do then is click on that page in your project and hit Update InLink Rank.
Number of outbound links. Too many outgoing links (roughly, over 100) is a strong spam signal to Google. Additionally, the more links there are on the page you're looking to get a link from, the less PageRank will get passed to your page when you get the link. That's why it's critical to always look at the page's outgoing links when you analyze a prospective backlink. You can also do this easily with SEO SpyGlass. In your SEO SpyGlass workspace, right-click the header of any column, add External links to your visible columns, and click OK.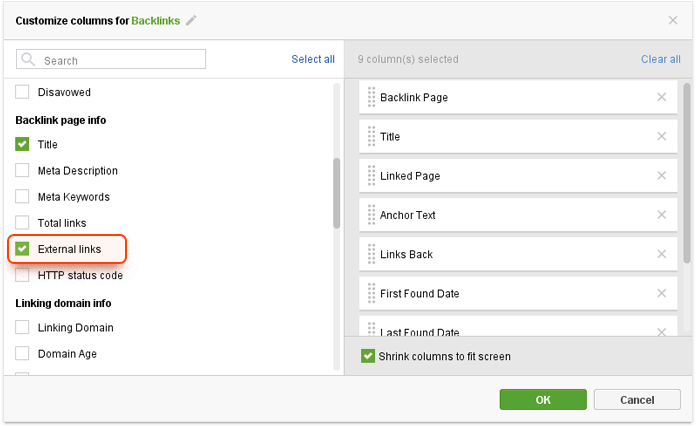 Now, select the prospective link you're about to analyze and hit Update Backlinks. Check Backlink Page Info to be updated and hit Next. In a moment, you'll see the number of outgoing external links the page has.
Domain history. WhoIs Domain Lookup is a powerful tool for evaluating a number of useful stats on the domain you're looking to get a link from (and it's free, too). Particularly, pay attention to Dates (be careful with newer domains), IP Address (if the number of sites hosted on the same server is over 30, you might be dealing with a PBN or link farm; if it's in the hundreds, you almost definitely are), and Registrar History (look out for drops or very recent changes — these may imply someone just acquired a decent domain, which can often lead to an impending drop in quality).
Alexa Rank. Alexa isn't perfect, but it's perhaps the best estimation of a site's traffic we have available. Many of the SEOs I spoke with suggested that a site you're getting a link from must have some real traffic, so do look up their Alexa Rank and make sure it's not below the average range in your industry. You can check a site's Alexa manually here, or do it in (surprise surprise) SEO SpyGlass by adding the Alexa Rank column to your workspace.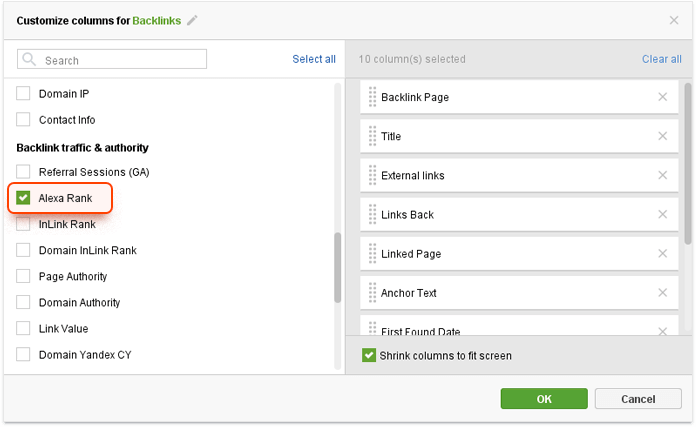 Next, hit Update Backlinks again and check the Backlink Authority group of factors to be updated.
Social signals. While social signals shouldn't be the decisive factor in the evaluation, it's a handy way to see if the page is alive and kicking and has some real engagement going on. These factors, too, can be added to your SEO SpyGlass workspace. Right-click the header of any column in your SEO SpyGlass project, and select the factors under Social media popularity.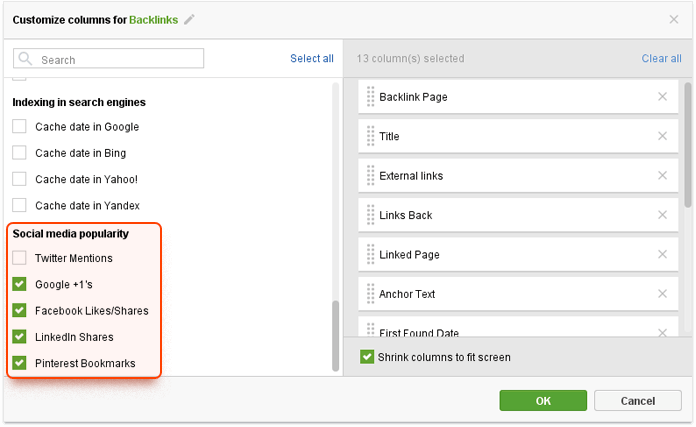 Finally, select the page you're evaluating, hit Update Backlinks, and check Popularity in Social Media.
5. Relevance
Every one of the experts I asked stressed that relevance is key. They always make sure they get links from websites that are related to their niche. This applies to the entire website, not just the backlink page.
6. Anchor text.
4 of the experts I asked replied that if they want to use your target keyword in the anchor text at all, they try to keep it to a minimum (up to 10%). The other 4 said they wouldn't recommend using target keywords in the anchor text at all. Unanimously, the SEOs said that the anchor text across paid links should be as diverse as it's reasonably possible. Branded anchors are perhaps the most common type of anchor text they use.
7. Link placement
A few replies I got also mentioned the text before/after the link. Their suggestion was that this text should be closely related to your niche, and may feature target keyword phrases.
8. Management
Lastly (and this applies to all kinds of links you build), managing your backlinks is perhaps just as important as acquiring them. Scheduling monthly link checks is a good start. Such checks typically involve making sure that:
the backlink page's quality and authority metrics have not dropped;
the page is still live;
the link is found on the backlink page;
the link has not been switched to nofollow;
the link's anchor text has not been changed.
You can check for all these things using just 3 factors in SEO SpyGlass: Penalty Risk for the first one, Links Back for the next three, and Anchor Text for the last one.
To perform this check, add the links you'd like to keep an eye on to your SEO SpyGlass project (by right-clicking any of the records in it and hitting Add backlinks). It's useful to add tags to the links so you can identify them in your project easily.
When that's done, select the links you'd like to check and hit Update Backlinks. From the list of factors to be updated, pick Backlink Page Info and Penalty Risk.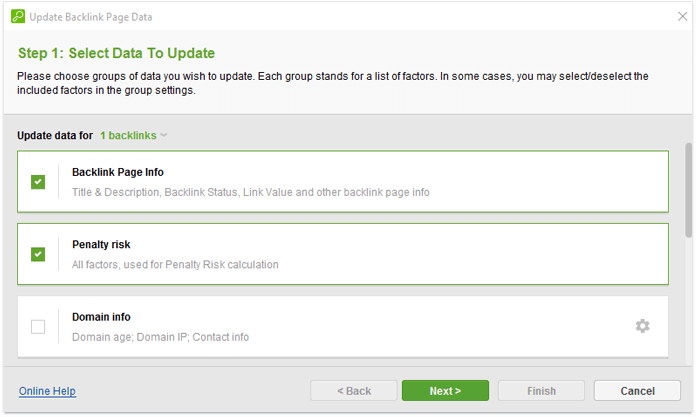 Hang on while the check is running. It may take a little while if you're checking a lot of links — SEO SpyGlass is literally visiting every backlink page to verify the link and its details, and analyzing dozens of quality factors (including indexation, InLink Rank, etc.) to calculate Penalty Risk. Once it's done, you can see the backlink details in the Backlinks tab (check the Links Back and Anchor Text columns) and their Penalty Risk in the Link penalty risk tab.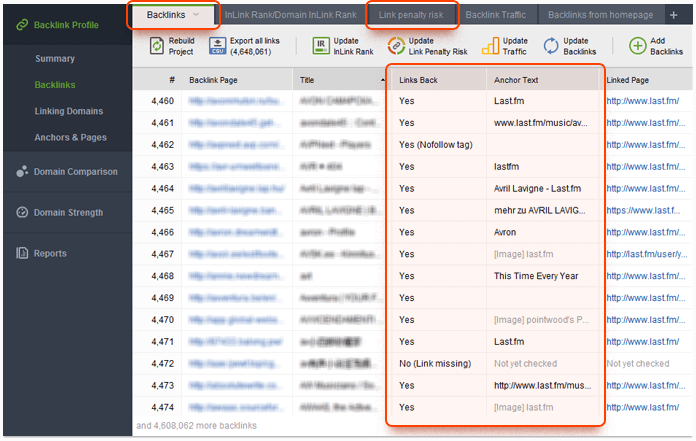 How they don't do it
1. Sitewide links.
Most SEOs stressed that they never, ever buy links from sidebar, footer, and other site navigation areas.
2. User-generated links.
The second most common "don't" was buying any type of user-generated links. These include blog comments, forum posts, bookmarks, links from communities like Reddit, etc.
3. People selling "backlink packages".
Getting a backlink package or service is one of the surest way to get your site under a Google penalty. Buying a package from someone of fiverr is probably the most reckless and dangerous thing you can do.
4. Link selling services.
One SEO mentioned a penalty (they are currently in the process of recovering from) caused by a client who bought a package from a link selling service. Stay away from centralized systems (like Sape); sooner or later, search engines penalize such networks and their "clients".
5. Dropped domains.
Buying links from dropped domains (domains that expired and were acquired by a new owner) is another no-no. These are commonly turned into article or link farms, even if they look decent at first sight. For tips on how to identify dropped domains, jump to Domain History.
6. Ad-heavy, thin content sites.
Similarly, stay away from websites that were created purely to generate revenue from ads and affiliate links. These are very likely to be penalized at some point (remember Fred?).
7. Sites that are not indexed in search engines.
I already mentioned this, but this point was stressed so strongly by the experts it's worth reiterating. Never get links from domains penalized by Google, and always do a quick check site:domain.com search before you make the decision.
8. Sites that openly state that they sell links.
This one is a no-brainer — if you visit a site and it screams "we sell links!" in your face, it's almost a given that it will be discovered by search engines (or reported to them by a good samaritan).
Before we go: some interesting stats on link selling
Last year, ahrefs did an extensive study on link selling. They picked 5 competitive niches (travel, fashion, fitness, finance, and weddings) and reached out to 50 sites in each. Here are some exciting results they found:
68% of sites replied that they do sell links. Out of the 68 webmasters that replied to the emails, 46 said they do sell links and 22 replied that they don't.
13% of the sites that agreed to sell a link stipulated that the link would be included in a post marked as "sponsored".
None of the sites insisted the link be nofollow.
$353 was the average cost of a link. The cheapest quote was about $101.
Bottom line
So, should your business buy backlinks? The right and safe answer is "no". It's incredibly risky — and yet, potentially, incredibly effective. If you're a gambler by nature and understand the risks… Well, it's your choice. If you decide to take the risk, make sure to go through the points above and avoid the don'ts.
Now, over to you. What are your thoughts on buying links? Any examples or experiences you'd like to share? Please let me know in the comments!
---
By: Masha Maksimava
Article stats:
| | |
| --- | --- |
| Linking websites | N/A |
| Backlinks | N/A |
| InLink Rank | N/A |