Six Link Building Strategies for Local SEO

Links have a massive influence on rankings. But even though it's a well-known fact, a lot of small business owners still underestimate and even deny the power of link building. The truth is, links define the authority of your webpages and your domain— the two factors that Google considers when ranking pages. So if you don't want to kiss your rankings goodbye, make sure to invest your time and effort in developing a good SEO link-building strategy.
Still not sure if you need to build local links? Then consider this: according to the latest research conducted by BrightLocal, 84% of SEO experts do think that link building is an essential task for their local business clients.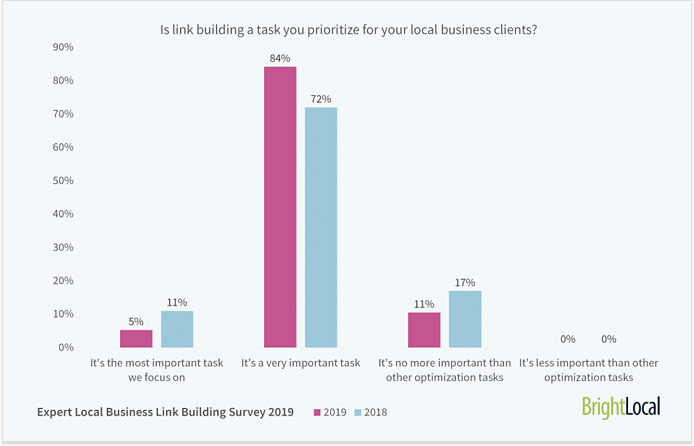 What's more, every expert in the survey confirmed that link building boosts local search rankings, with more experts this year calling this activity "very effective".
Now that you know that local link building is the key, let's proceed with the actual strategies. By the way, it's totally OK to use ordinary link building tactics for local SEO as well. However, I suggest taking a slightly different approach.
Why local link building should be different
The reason why local SEO and local link building in particular need to be done a bit differently can be boiled down to one core thing— when you type in keyword phrases with "local intent" like "pet store near me", Google uses a separate algorithm to come up with location-specific results.
As Greg Gifford, the Director of Search and Social at DealerOn clearly stated, the source of links pointing to your site can be totally irrelevant to your business— location is what matters the most. In other words, build local links first and grow your relevance among the local users. Other links, nationwide and industry-wide are still useful, but they are more of a bonus.
So let me introduce you to six powerful link building strategies that will help you find new prospects, boost your local business, and make your rankings go through the roof.
1. Uncover your competitors' backlinks
Who doesn't like spying on their competitors? Not SEOs. Revealing your top competitors' backlink profiles is the best link building strategy to start with. For two reasons:
It's a good opportunity to explore your local competition.

You can find backlink prospects that are already vetted by your competitors.
Armed with SEO SpyGlass, you can instantly see all the links pointing to your top competitors' pages.
Fire up SEO SpyGlass, create a new project for your site or open an existing one.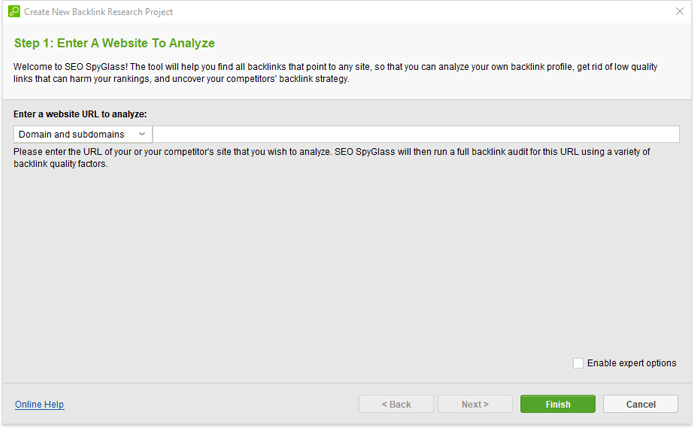 After that, switch to the Domain Comparison module and click Add Domains. In a popup window, enter your top competitors' websites and hit OK.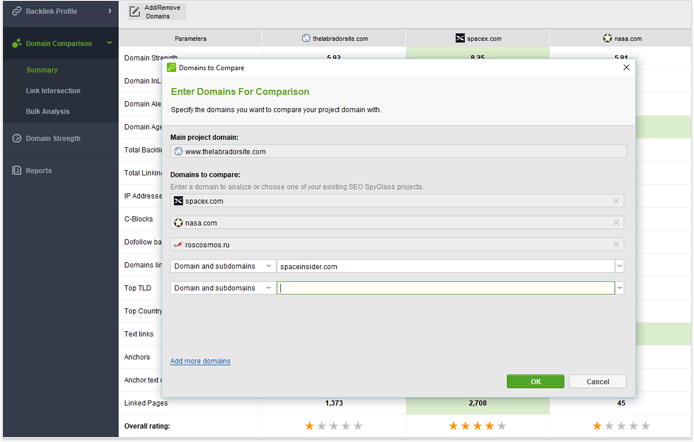 Now you can clearly see how your site stacks against competition and understand what it is that makes a given competitor stronger than you.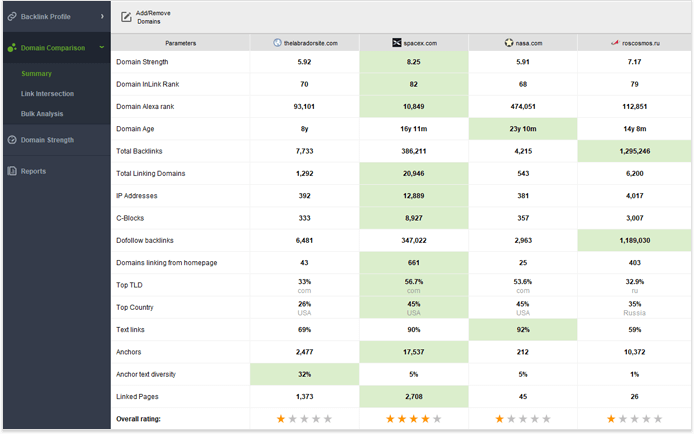 Now that you have a clear understanding of how to check backlink quality and what aspects need to be improved in your backlink profile, it's time to move to the Link Intersection to see what backlinks you have in common.
To look for new backlink opportunities, just hit Prospective domains in the drop-down menu on the left, and SEO SpyGlass will shortly come up with a bunch of websites that link to your competitors, but don't yet link to you.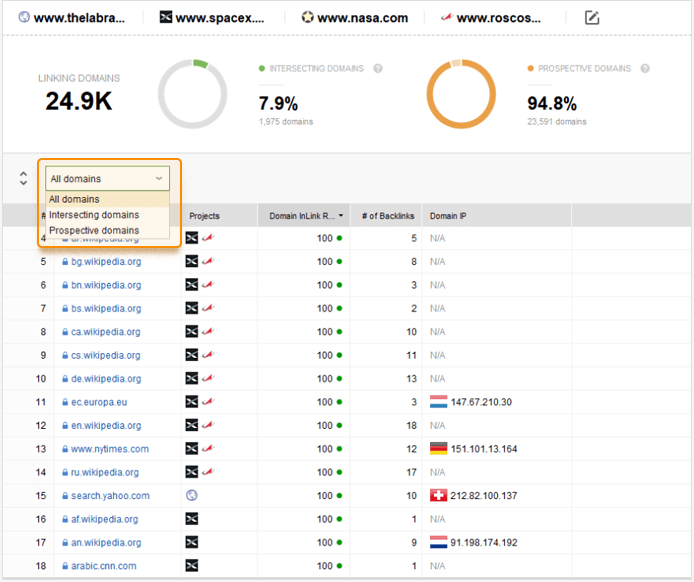 2. Submit guest posts to local websites
Needless to say, content marketing is still on the rise, and it's hardly going to change any time soon. Although guest posting for backlinks requires time and effort, it will definitely pay off with links, visibility, a new audience, and relevant traffic. But first and foremost, quality guest blogging starts with searching for relevant opportunities. And with LinkAssistant on your side, this task can be accomplished in almost no time at all— just pick a search method.
Since we're talking about local link building here, it's only right to hunt for some local blogs. To do that, we need to set up a custom search engine so that the tool only collects blogs in your geographical area.
To do that, start LinkAssistant and create a new project for your site.
Go to Preferences > Search Engine Settings

.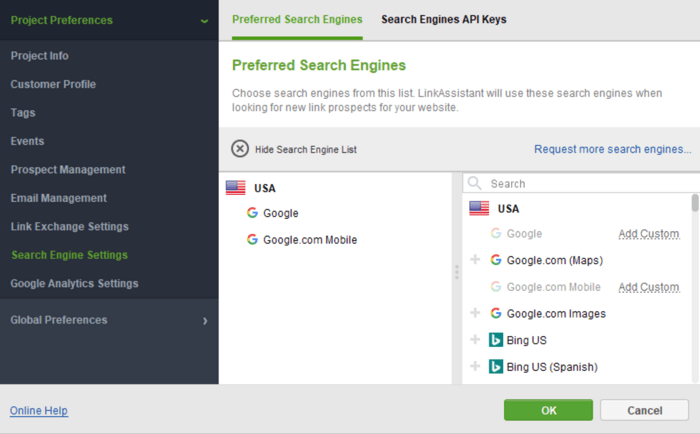 Now move to Add Custom next to the search engine of your choice, type in your geographical area in the Preferred Location field, and hit Apply. After that, just give it a short name and hit OK.

Now that you've set up your custom search engine, let's get down to collecting guest posting opportunities for you.
To do that, go to the Look for Prospects tab, choose Guest Posting as a search method, and hit Next.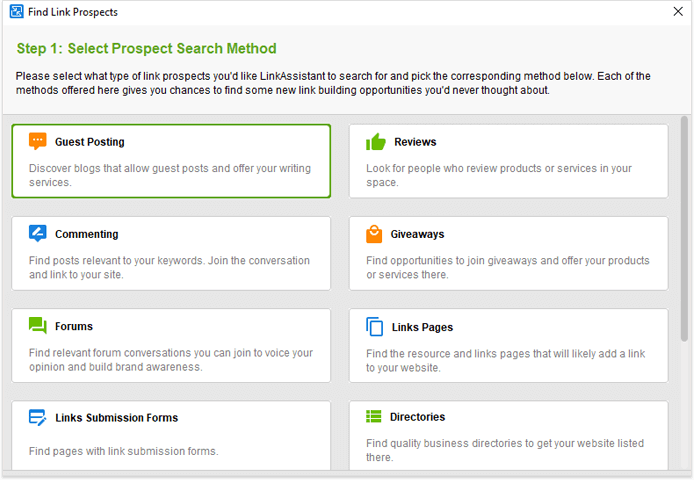 Now enter a couple of keyword phrases that describe your niche. In the Search engine field, choose your custom search engine and hit Next.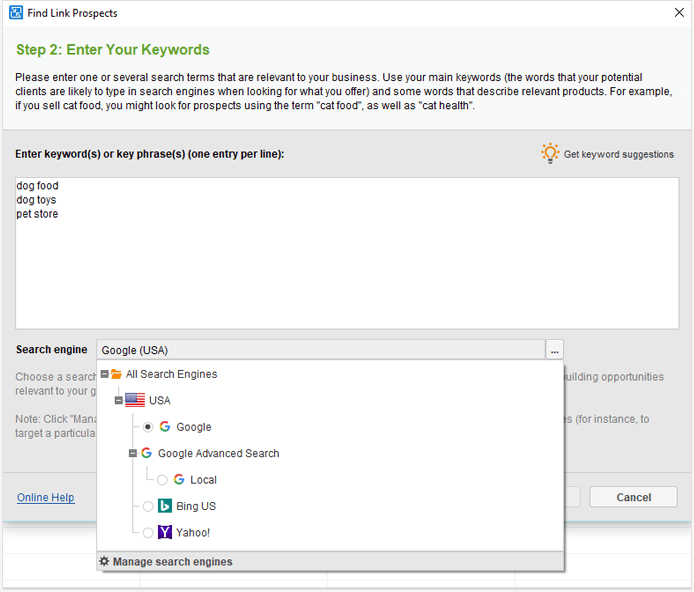 At the final stage, don't change any settings and hit Finish. Now give the tool some time to collect a bunch of new local guest posting prospects for you.
The only thing left to do is to write an awesome post with a couple of links to your site and pitch it to editors. By the way, you can email your prospects directly from LinkAssistant.
3. Leverage unlinked mentions
Sadly enough, a lot of customers who talk about your product or service on the Internet don't bother to link to your website. Therefore, chances are high that there are tons of unlinked brand mentions out there, bringing you much less profit than they could. So what I suggest is spotting unlinked mentions and turning them into linked ones.
Back in the day, it was really hard to keep track of unlinked brand mentions. Now with the help of a tool like Awario, you can effortlessly track, segment, and take more advantage of your mentions.
Open Awario and create a new alert by clicking on the Add alert button next to the Mentions tab.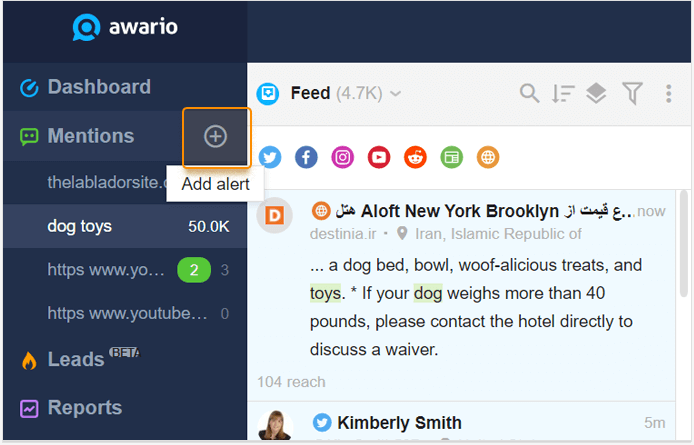 After that, you need to enter keywords that you want to track mentions of, and the tool will shortly come up with the full list of mentions.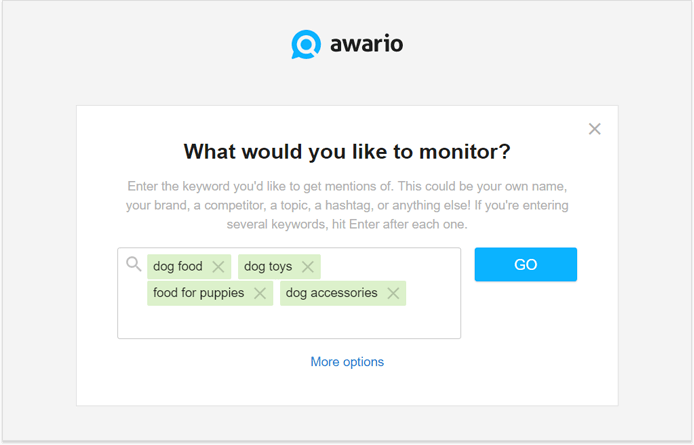 Now you need to go through them to spot the ones that are not linked. The only thing left to do is to get in touch with editors, asking them for the minor adjustment of linking the text that mentions your brand.
Obviously, to reach out to these people, you will need their email addresses. This is where a tool like hunter.io comes in very handy.
4. Get listed in local business directories
Citation building is another great strategy for collecting local links. Local citations do a very good job of helping users discover local businesses. But most importantly, they can significantly boost your local search engine rankings. For those who don't know what citation is, it's when the name, address, and phone number of your business are mentioned together.
Citations may appear on local business directories, websites and apps, and social platforms. However, the easiest way to build citations is through local business directories, which is exactly what we're going to do now.
As a rule, every city has some small directories, so it's quite easy to find relevant ones and have your business listed. The fastest way to spot local business directories is by running searches like:
Location "recommended links"
Location "add your site"
Location "add your business"
Location * directory
However, the same task can be done with a lot less time and effort wasted with the help of LinkAssistant.
Open LinkAssistant, go to Look for Prospects in the upper left corner, specify Directories as a prospect search method, and hit Next.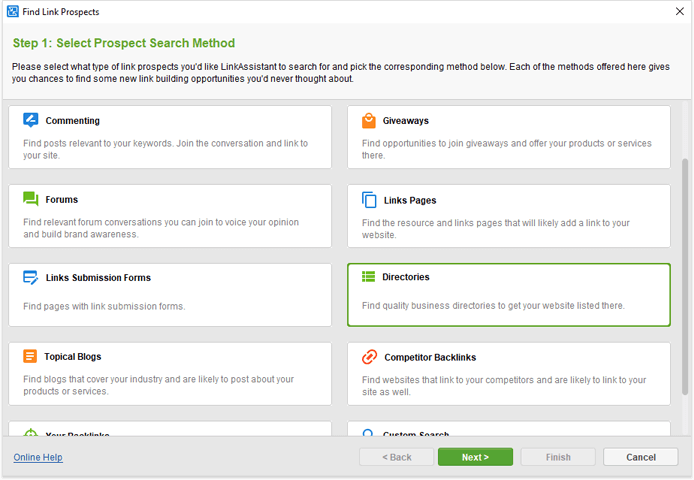 Enter keywords that best describe your niche to make the tool collect only relevant directories. And don't forget to specify your custom search engine to make the tool collect only local business directories.

After that, move to the Search engine tab, click on Google advanced search, select your custom location, and hit Next.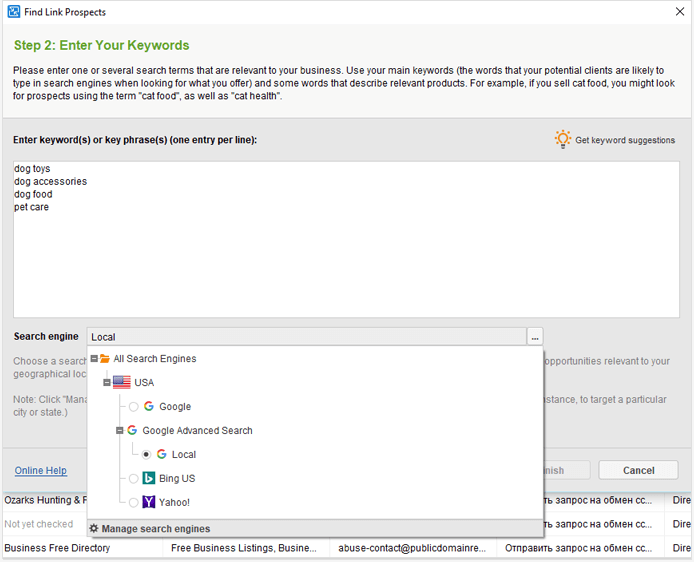 Finally, just leave the settings as they are and hit Finish.
Congrats, a whole bunch of local business directories are on the way!
5. Write about local events
Creating link-worthy content is yet another way to feed your backlink profile. Knowing that people are always interested in events going on in their geographical areas, you may think of adding a "blog" section to your site, for instance.
There you can publish information about local events or news. Most probably, people who are interested in local markets or garage sales, for example, will link to you. This is how you kill two birds with one stone— drive traffic to your site and earn local links.
6. Reach out to local influencers
Needless to say, influencer marketing is still on the rise. According to BrightLocal, the most valuable strategy for building local backlinks is through relationships with businesses and influencers.
When looking for local influencers in your niche, you may think of some government sites, local news media, or just bloggers in your area. The best practice is for them to be relevant to your niche. If you run a local coffee shop, try to reach out to some sites that overview local restaurants, for instance. Speaking of bloggers, you can offer them collaborations— your product or service in return for a link.
But there's also another approach— once you decide whom you're willing to reach out to, search for events they may be hosting in the nearest future. After that, attend the event, meet them in person, and see how you can help each other.
Track your results
Surely, link building is an uber-important activity, but keeping an eye on your links is by no means less important. So, in order to know whether your links are still live and haven't turned into nofollow, they need to be tracked. And there's no better tool for that than SEO SpyGlass.
Open SEO SpyGlass and create a new project for your site.

After that, move to Backlink Profile > Backlinks, right-click a header of any column and add the Backlink status and Links back columns to your workspace.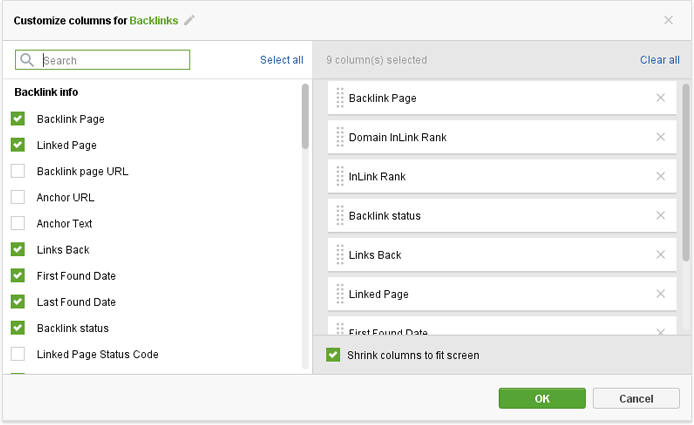 Once the columns are there, hit the update button and select Backlink Page Info, Linked Page Info, and Penalty Risk factors to be updated.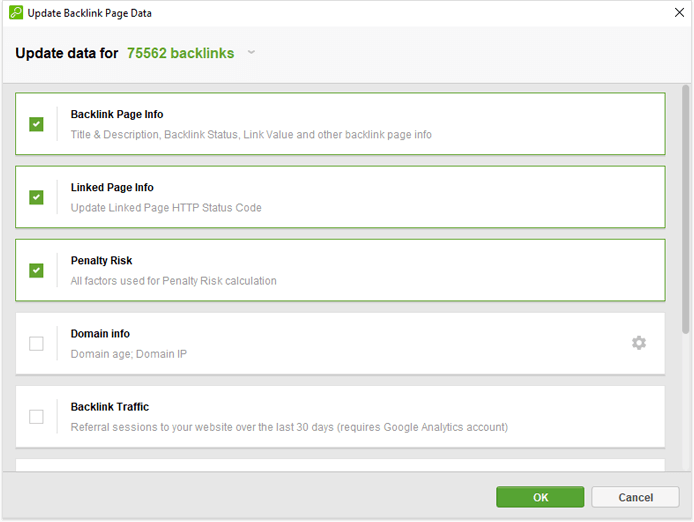 When it's done, pay special attention to the links with the nofollow statuses and to the ones with Penalty Risk over 70%— these links need to be investigated in the first place.
I would highly recommend keeping your finger firmly on the pulse and monitoring your link building progress on a regular basis.
Final thoughts
I want to emphasize that link building is not going anywhere any time soon. Of course, links take time to build, but if you want to boost your rankings and keep them high, link building should become your long-term commitment.
Please don't forget that since you are doing local link building, it's better to hunt for links coming from your location. What's more, try to give preference to quality links that are relevant to your niche and your rankings won't take long to grow.
Please don't hesitate to share your thoughts on these link building strategies and let me know if you have some other local link building ideas to be added to this list. In other words, see you in the comments, guys!
Article stats:
| | |
| --- | --- |
| Linking websites | N/A |
| Backlinks | N/A |
| InLink Rank | N/A |