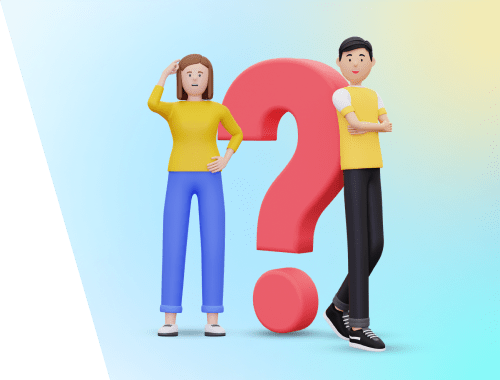 People Also Ask Ultimate SEO Guide

People Also Ask (PAA) is a Google SERP feature that shows most common questions related to the original search query and provides answers to them.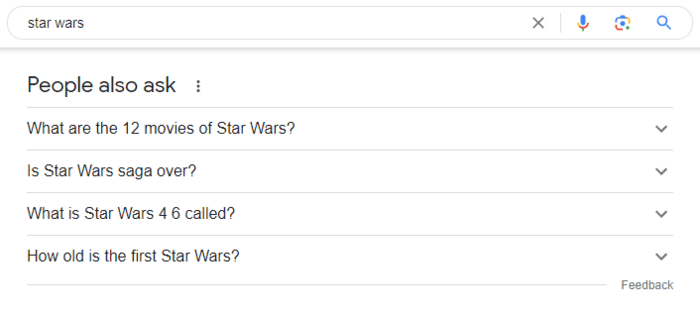 As with any SERP feature, PAA lures users' attention more than ordinary search snippets and can bring you traffic if your site gets there.
In this guide, I'll take a closer look at how People Also Ask works and give you useful optimization tips.
What People Also Ask is and how it works
Technically, People Also Ask is a featured snippet. It may appear in different SERP positions, usually between positions one and four.
The PAA box contains several questions related to the original query. As you click on one of the questions, the box expands to give you a detailed answer and adds some more questions related to the line you clicked. Besides, PAA offers you to proceed to the SERP for the question you clicked.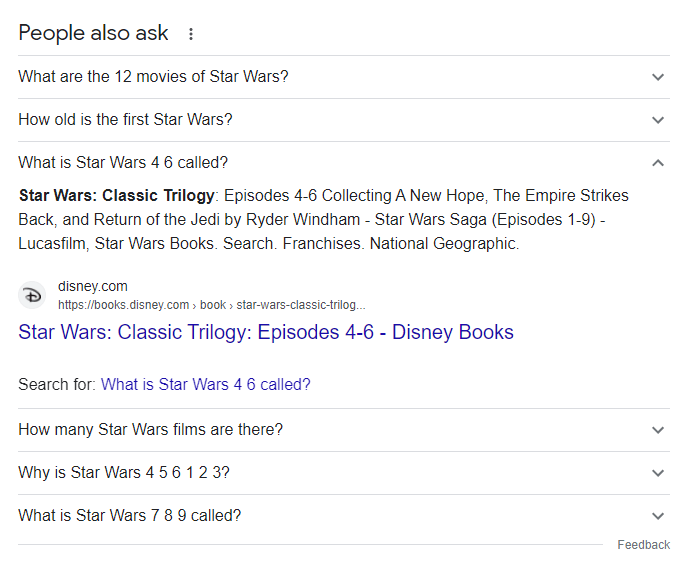 As of May 2023, the People Also Ask box appears in approximately 68% of desktop SERPs.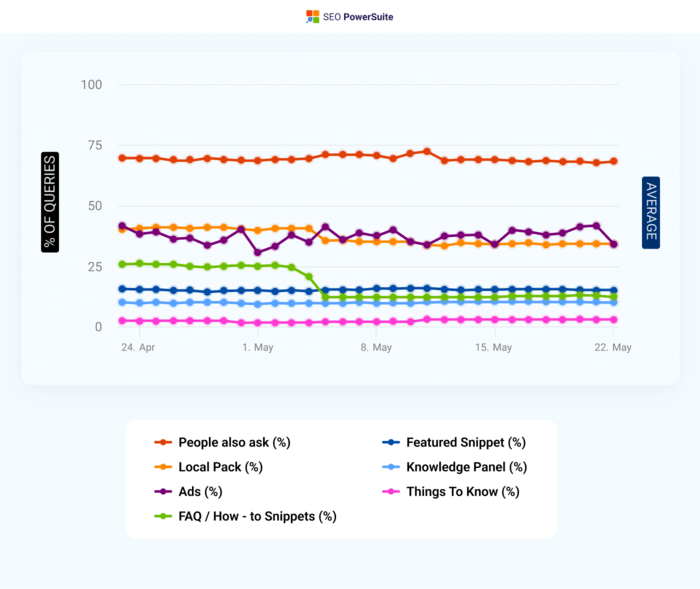 Why is People Also Ask so important for SEO?
As the People Also Ask box attracts users' attention (i.e. clicks), it would be unwise not to make use of it in your SEO strategy. Here's how:
Enrich your content strategy: As the PAA box contains questions that real people ask about the query, it's a good idea to use this feature as a source of new content ideas.
Get additional traffic for pages on the 2nd and 3d SERPs: It is not necessary for a page to rank high to get featured in People also ask. What's necessary is short but relevant answers.
Control branded searches: Owing brand SERPs is crucial for any business, so it would better be you who provides answers to any possible questions users may ask about your brand.
Occupy more SERP estate: PAA boxes give you the possibility to appear on the first SERP twice or even more — in addition to your regular search snippet. Having extra free (!) links to your site is definitely a go, so you can win more positions in addition to your search snippets.
How to collect People Also Ask questions?
Before you start optimizing for People Also Ask, you first need to find relevant questions that users may ask about your business or product.
Sure thing, you may try to think logically and envisage some of the possible questions, but their traffic potential will still remain kind of a mystery. So it's better to use some alternative methods to find keyword ideas and questions that are more likely to bring real value and clicks.
Google your keywords
This is the easiest and, at the same time, one of the most time-consuming ways of collecting ideas for PAA optimization. All you need is to google your keywords and take a look at real PAA boxes that appear in SERPs.
The good point here is that you see real questions that people ask about the topic. On the other hand, this method is pretty time-consuming, as you'll have to manually google every single keyword you target. What's more, the traffic potential of those questions will still be unknown.
Use PAA questions generators
There are many tools that can generate tons of PAA questions based on the target keyword. AlsoAsked is one of them. The free version allows you to initiate 3 sessions a day. All you need to do is type in your keyword and specify the language, location, and search depth. And here you are: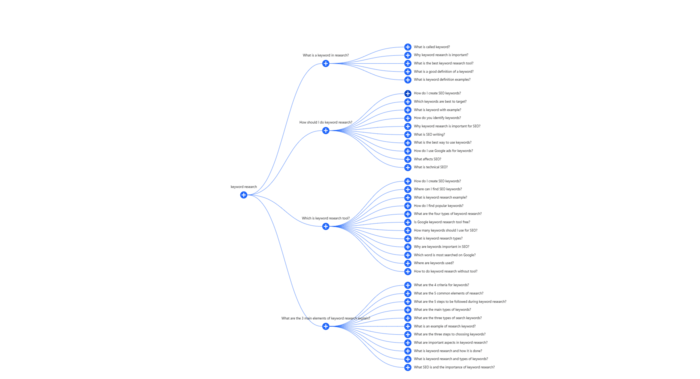 The list of questions is pretty rich and may give you new and quite unexpected hints to enrich your content. Note that not all of the questions can appear relevant, so look through the list carefully.
Use People Also Ask keyword research tools
As People Also Ask can actually be one of the keyword research methods, you can get question ideas from the relevant section of your keyword research tool.
Rank Tracker, for example, is a powerful tool that can parse all Google PAA blocks in any region you need. This way, you can easily collect real questions from Google SERPs in bulk with the key performance metrics. Unlike generated questions, results from Rank Tracker let you know what questions are potentially powerful and focus on them instead of blindly testing all the possible ideas.
Watch our video on how to get keyword ideas from People Also Ask in Rank Tracker.
To find questions from PAA boxes via Rank Tracker, go to Keyword Research > Related Questions, then select the People Also Ask method, enter your keywords and specify the location.

Download Rank Tracker
As you can see, the tool calculates expected visits (i.e. clicks), number of searches, competition, and keyword difficulty. This way, you're getting a better understanding of what queries to use and on what pages.
How to optimize for People Also Ask
People Also Ask SEO combines content optimization and on-page SEO efforts. So here is what you should do to get featured in the PAA box.
Evaluate your current content
Content creation and (or) optimization is the first step you need to do in terms of PAA optimization.
Once you collect enough questions with the methods listed above, you need to analyze your website to check if you already have relevant pages to optimize. If you don't, then create new pages to cover all the topics you need.
Tip: On our blog, we have a detailed guide on how to audit your content from scratch. It will be of much help if you have never done any content audits before.
If your site's content is actually groomed and you only need to optimize for PAA, head to Rank Tracker's Keyword Research > Ranking Keywords module and add your site to find all the pages ranking in the top 50 or top 100. Apply filters according to your PAA questions and check the pages found.
Keep your content informative
No matter if you're optimizing existing pages or writing new ones from scratch — make sure the information you provide is well-structured and logical.
Format your content so that questions are followed by answers immediately. The answers should not be very long — one paragraph is enough. If a question requires a several-step answer, make use of bullet points, each covering the key idea of every step.
Apply Question and Answer Schema markup
People Also Ask is technically a SERP feature, so Google needs to perfectly understand your content to be able to pull it there. And structured data is the best way to present information in the most digestible form.
In the case of the PAA optimization, it's a good idea to apply QAPage, FAQPage, Question, and Answer Schemas.
Adding question-related Schema markup on your pages also increases your chances to get an extended search snippet: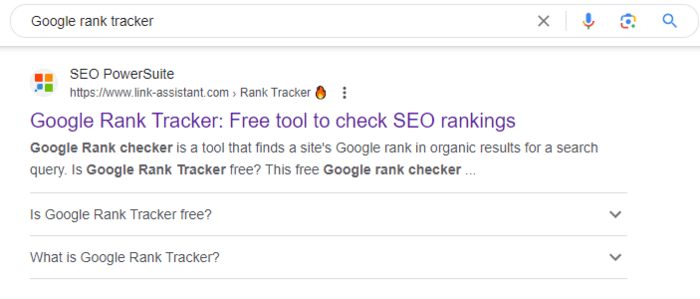 So it is definitely a killing-two-birds-with-one-stone method.
Note: Don't forget to test your Schemas before you apply changes. Besides, make sure you follow Google structured data guidelines, as applying incorrect structured data can do you more harm than good and even lead to a penalty.
Carefully revise vital meta elements
In addition to structured data, keep an eye on the HTML tags that are crucial for SEO. Meta titles, meta descriptions, H1 - H4 headings, and others – all of them help search engines navigate your pages and properly understand your content.
Tip. Use WebSite Auditor to analyze your website's SEO health and quickly spot on-page SEO issues, if any, and get fix suggestions (Site Structure > Site Audit > On-page):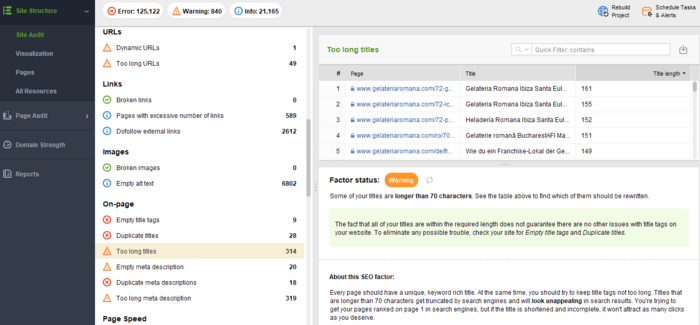 Download WebSite Auditor
To examine a separate page in more detail, go to Page Audit > Content Audit: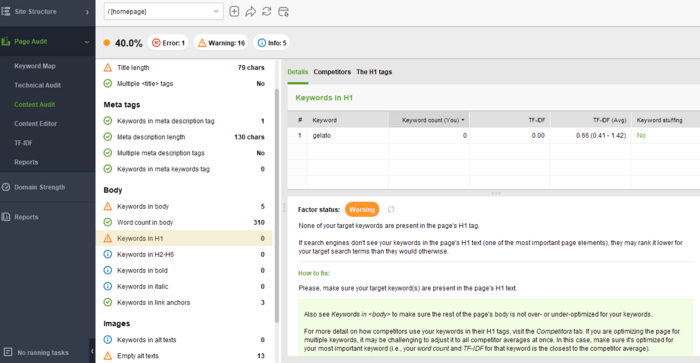 Download WebSite Auditor
Take care of your brand FAQ page
Brand-related queries should lead users to your website, not to any others. In this regard, create a strong FAQ page with all the possible questions related to your brand.
Provide clear and complete answers and, of course, don't forget to apply the FAQPage schema.
Fill out the Q&A section on Google Business Profile
If you run a local business, then having a complete Google Business Profile is a must for you.
In terms of PAA SEO, pay special attention to the Questions and Answers section. Try to envisage possible questions users may ask about your business and provide detailed yet clear and relevant answers. This will not only help you win positions in People Also Ask boxes but also help manage your brand reputation.

How to track your progress with People Also Ask
Sure thing, you will need to check if your PAA optimization works properly: whether rankings grow, does traffic increase, etc. And tune your strategy if something went not the way you expected.
In Rank Tracker, go to Target Keywords > Rank Tracking and look at the Google SERP Features column.

Download Rank Tracker
The People Also Ask feature is represented by the question mark icon. Green question marks mean that your site appears in the SERP in PAA. Gray icons mean that your site does not appear there, but you can improve the situation for the better.
What's next: People Also Ask and Generative AI search
As it's reported in May 2023, question-like queries have suffered a significant traffic loss compared to the previous time period (April 2023). SEOs think this may be related to the shifts in the SERP structure — organic results move lower, giving in to new blocks (sometimes beta-tested), rich results, knowledge panels, etc.
Besides, Google Search Generative Experience is making noise these days, as AI technologies become integrated almost everywhere on the web.
As it is seen from Google's lab experiments, the new section with a long, detailed, AI-generated answer is going to occupy most of the SERP viewport, like this:
As you can see, the snippet also features a couple of related questions and a list of websites where Google has collected the information from for a Generative AI block from.
What does this mean for SEO and, in particular, for People Also Ask SEO? You need to write even more detailed and relevant answers to PAA questions than ever before in order to make Google AI choose your page as a source of information for this new feature. Provided that PAA boxes will take lower SERP positions and will start getting fewer clicks, having your page featured in the Generative AI box will help you keep (or even grow) your traffic and stay afloat.
By the way, have you tried PAA optimization? Have you noticed anything unusual these days? Has your PAA traffic changed? Share your experience in our Facebook community.
Article stats:
| | |
| --- | --- |
| Linking websites | N/A |
| Backlinks | N/A |
| InLink Rank | N/A |