Yahoo Rank Tracker and 3 More Tools to Research Keywords for Yahoo!

Yahoo Rank Tracker: 3 Keyword Research Tools to Check Position on Yahoo!

In a series of recent posts, we reviewed what free keyword research tools are we provided by the major search engines today. Previously, we examined Google keyword tools and took a quick look at Bing's keyword toolbox. What's next? Exactly, the third largest search engine in the US search market. Now, we're going to see what keyword research SEO tools Yahoo has to offer.
Keyword research like many things in SEO is the area where you need to explore every possible opportunity out there. That said, it never hurts to try out new keyword tools and see what SEO data you can uncover with them. So let's get things rolling.
Yahoo! Search Assist
Like most search engines Yahoo! also has an auto-complete option called Search Assist. It is an in-built Yahoo! Hosted Search product, also offered as an add-on. Once you start typing your search terms into the search box, the search engine will try to guess your intent and complete the query for you. This feature saves users time and effort and helps them spell the keywords correctly. On the other hand, it also gives you a great source of keyword inspiration.

While Yahoo! Search Assist functions similarly to Google Suggest, it's a bit more advanced because it can add keyword suggestions both before and after your keyword, while Google and other search engines tend to focus on appending their suggestions at the end of your query.
Using Search Assist for keyword research is pretty straightforward and especially good at finding long tail keywords. Simply start typing in your seed keywords and see what suggestions pop up. Put down the suggestion that you think is relevant and add it to your SEO keyword list. Rinse, wash, repeat.
Yahoo! Keyword Research Tools in Rank Tracker
You can also make use of Yahoo! Search Assist suggestions in Rank Tracker keyword analysis software. Simply, go to Keyword research > Autocomplete tools, and select Yahoo! from the available keyword tools in the autocomplete dropdown menu. Feed in your seed keywords, and the SEO tool will bring you all possible keyword suggestions in just a couple of seconds. Then you can quickly check the search volume and competition for each search term on the list, and pick those Yahoo keywords that are worth targeting.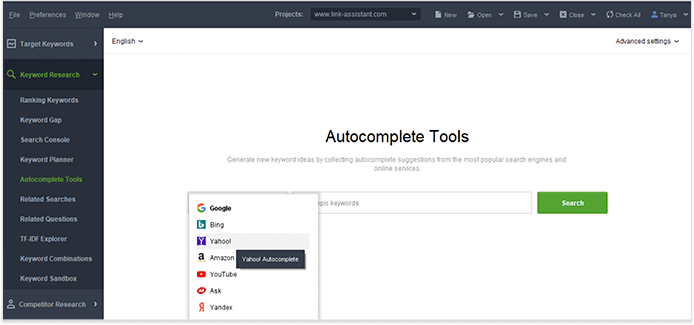 Related Searches
Another way you can uncover new keywords with Yahoo! is by exploring its related searches sections in the search results. There are 3 areas in Yahoo! SERPs where you can look for new keyword ideas. First, see ' Also try' links on top of search results with suggested keywords similar to yours. If your query fits within the Yahoo search marketing area, you will see the 'Ads' box with PPC phrases corresponding to your related keywords. And there is that awesome 'People Also Ask' section with popular related questions and best answers.
All these sections show you related keywords and concepts that might throw you a couple of new keyword ideas for your SEO or PPC campaigns.
Yahoo! Search Marketing
Just like Google, Yahoo! also provides its advertisers with a keyword research tool so they can find more SEO keywords to bid on and map them with their active marketing campaigns. Once known as the Overture Keyword Selector tool, the free SEO tool from Yahoo was dropped because of its low hits rate and poor performance. But not forever, as the company bid to come up with some revamped free keyword research tools. The new Yahoo! Search Marketing SEO tool analyzed Yahoo searches and generated keyword suggestions. Currently known as Yahoo! Gemini, or Native Ads, the advertizing platform is designed to run PPC ads on Yahoo! and, among all, to find new keywords for your advertizing campaigns.
As of 2020, Yahoo has issued the keyword planner in its beta version only, so the SEO tool endures certain limitations. To use the Yahoo keyword tools, head over to the Native advertiser platform and sign up for a free account. Click the 'Get started' link, and you'll be offered to create your campaign. In the advertizing panel, you'll get to the keyword planner tool under the Tools tab. You can enter your seed keywords directly in the keyword field or you can upload the keyword list in .csv or .txt format. The list should be comma-separated or contain only one keyword per line. You can enter up to 1000 keywords (it is recommended to have at least 50 keywords per ads campaign).
The tool shows you search volume data for each term on Yahoo! (Average Monthly Searches) over the set time range, shows audience breakdown by device and estimates the keyword performance. Basically, in its current version, it resembles Google keyword planner and is effective for search and CPC forecasts rather than as SEO keyword research tool.
SEO Tools to Track Ranks in Yahoo!
You can use the Rank Tracker SEO tool to check keyword positions across various search engines, including Yahoo! Go to Project Preferences and select to edit the Preferred Search Engines. Select the green "+" button next to the Yahoo! and Yahoo! Mobile, and they will be added to your search engines list. With the next ranks checkup, the keyword tool will collect SEO rankings in Yahoo!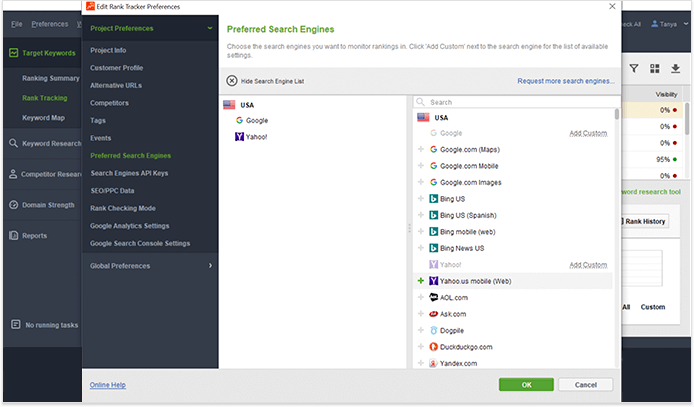 After your keyword research is done, you will have plenty of new keyword suggestions in your Sandbox. How to pick those best ones? Compare them by the keyword difficulty and visibility in Google and Yahoo. Map them to your landing pages and observe how your ranks improve after you've done SEO optimization on your pages.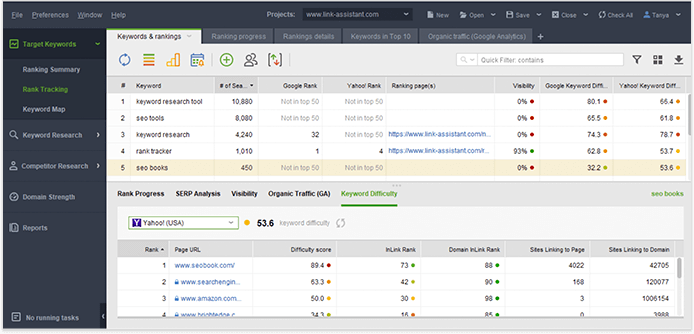 Hope these tools will help you build on your keyword lists and find great opportunities for both SEO and PPC. Happy keyword hunting!
Article stats:
| | |
| --- | --- |
| Linking websites | N/A |
| Backlinks | N/A |
| InLink Rank | N/A |