Gaining 8x More Traffic & 6x More Conversions in 12 Months [Case Study]

Gaining 8x more traffic & 6x more conversions in 12 months [Case Study]

By: David Sorauer
February 19, 2019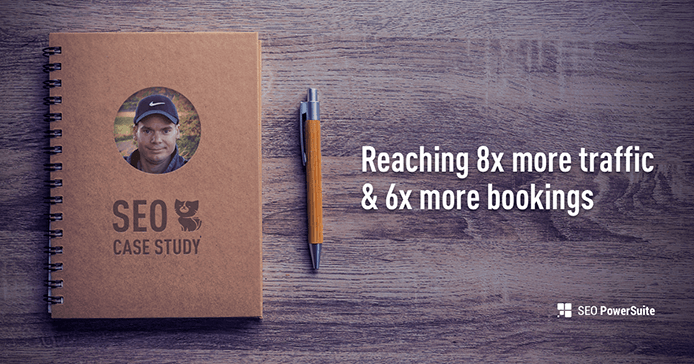 Hey, SEOs! As promised, we start sharing the real-world SEO case studies on our blog. You will learn how other digital marketers structure their optimization campaigns, what kind of challenges they face during the project, and what results they achieve. Hope you'll enjoy them!
About the author

David Sorauer is a Sydney-based digital marketer who's been running his own agency,
Evolocity
, for over 2.5 years. He likes traveling, technology, sports, and coffee.
About the project
The website I've been working on for the past 1.5 years belongs to the Pet/Animal niche. It's an established company with a decent market share, but their search visibility was not satisfactory, which resulted in a low number of online leads. That's why the company turned to me to work on their website and improve search visibility and conversions.
Here are a few project metrics before I started working on the website: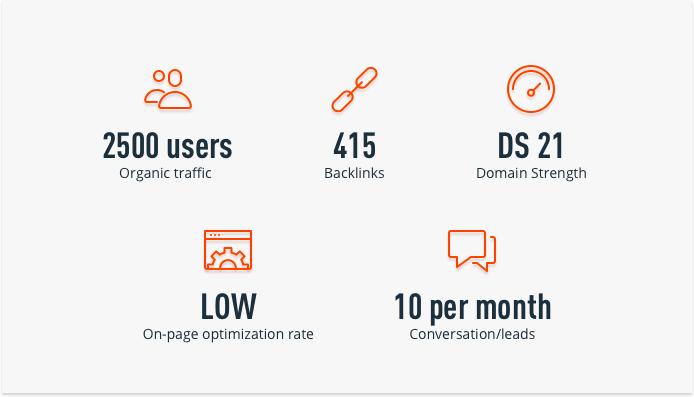 The site's rankings were high for some keywords, but not comprehensive.
Project goals
The two main KPIs I focused on while working on this website were, not surprisingly, traffic and conversions.
Conversions — this is what brings in revenue for the business, and where ROI is focused, so it's crucial.
Traffic — this is a general indication of the potential conversions, but it's not to be relied on in my experience. Many sites rank for irrelevant keywords, spam traffic, or keywords with poor buying intent, which isn't useful.
Project challenges
Time and budget were an issue, just like in all projects. Finding and building links is always challenging and can consume the entire SEO budget. That is why it is crucial to optimize your spending and use cheap link-building tactics.
Thankfully, LinkAssistant and Website Auditor helped me to save time on the more time-consuming SEO tasks.
Below, I've outlined the main SEO activities that helped me significantly improve the results for this company.
Website audit
It was essential to check all the technical problems first to see if there were any critical things to be fixed.
Even though the site was freshly rebuilt, all the content was taken from the old site and re-purposed to the new one.
A quick site audit check showed that:
A few important pages were not indexed
Many pages were missing titles and descriptions
Many pages weren't optimised for high-value keywords
There were redirect chains
The robots.txt and sitemap were set up incorrectly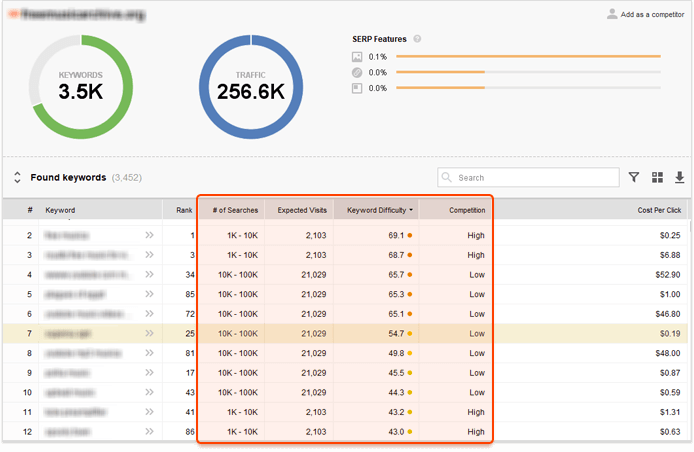 The site's visualization (one of my favourite features of Website Auditor!) showed that the internal PageRank was quite weak and needed to be optimised.
It's important that rank is distributed across the site's pages, and if top pages are too many clicks away from the homepage, they are not easily accessible by users and search engines.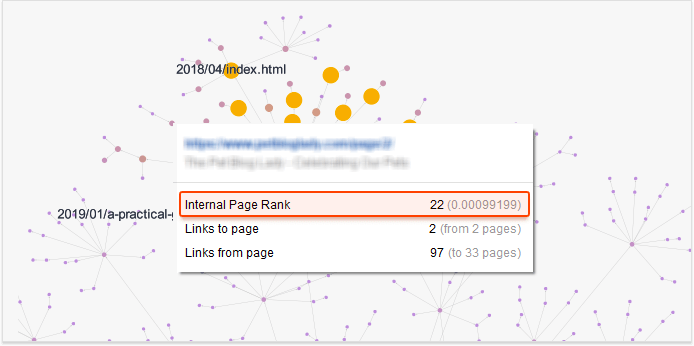 In addition to fixing these issues, I made sure that Google Analytics tracking was properly installed on the website and checked for any important messages in Search Console.
Pro tip: Don't treat a site audit check as a one-time task, I run it weekly because sometimes client's developers can apply certain changes that will impact your SEO progress.
Also, external links frequently break. So, my advice is to go and schedule a site audit check to run weekly/monthly and never lose sight of important issues: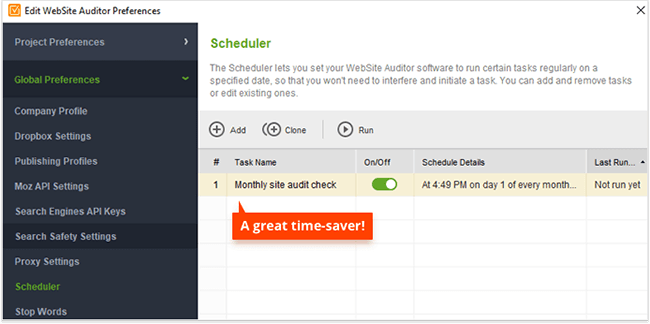 Keyword analysis
After analyzing the main keywords my client had targeted, I worked on researching more relevant queries.
First of all, I researched keywords with a significant transactional intent, that have reasonable search volume but aren't ultra-competitive. I've checked some of the top performing competitors URLs under the Ranking keywords module and noted down the queries with high potential.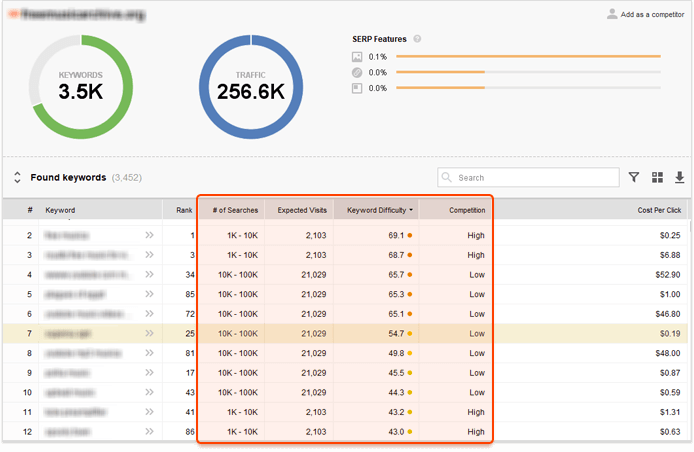 I then created a keyword map in Excel and replicated this in Rank Tracker keyword groups to track rankings for keywords that are crucial for the KPIs of this website.
There are currently 13 keyword groups in my project (but still growing) and 50 keywords that I consider critical for this project, out of the 400 keywords I'm tracking. Rank Tracker is super useful for growing your tracked keywords, as you aren't limited by keyword budgets like with other tools.
Pro tip: The client was focused on keywords that gave the business "bragging rights" over competitors, using complementary phases like "best" and "top rated". But I discovered these keywords didn't, in fact, bring much targeted traffic (or conversions) to the website.
Instead, I focused on local search keywords, such as those containing "near me" that have a high search volume, and these made a huge difference in traffic.
Finally, I scheduled a weekly rank checking task to track the progress of my SEO activities.
Content audit and on-page optimisation
Back again to WebSite Auditor, I checked how optimised the landing pages were and got an optimisation plan in my mind within a few hours:
Optimise page title/h tags/descriptions (this eventually improved the CTR in SERPs)
Optimise alt tags to get higher visibility in Image search
Fix duplicate content and add canonical tags where necessary
Optimise internal links
Add microdata where necessary
Pro tip: Make sure to check the TF-IDF module to get more keyword ideas and see what's relevant to your niche. There were some keywords that weren't ranking due to "keyword stuffing" and I found Website Auditor invaluable to guide me on correcting this.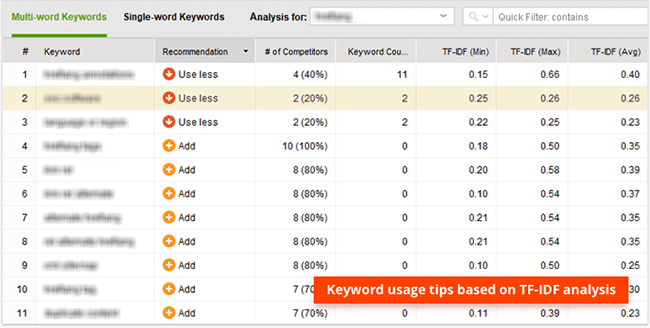 Competition analysis and link building
Before rushing to check all the SEO metrics of the top ranking websites, I carried out the classic SWOT analysis and looked at how good their content is, how much traffic they're getting, how good their UI is, etc. It was important to collect this information to get the full picture of the competition.
After that, I launched SEO SpyGlass and checked competitors' backlinks. These stats gave a clear overview and helped me identify the difficulty of competing with existing domains: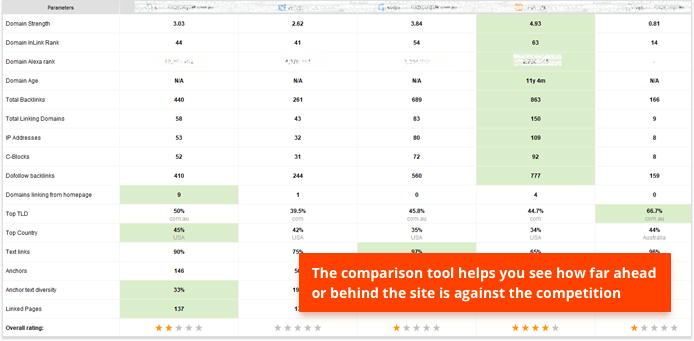 The link intersection tool helped me find lots of nice backlink opportunities for my client: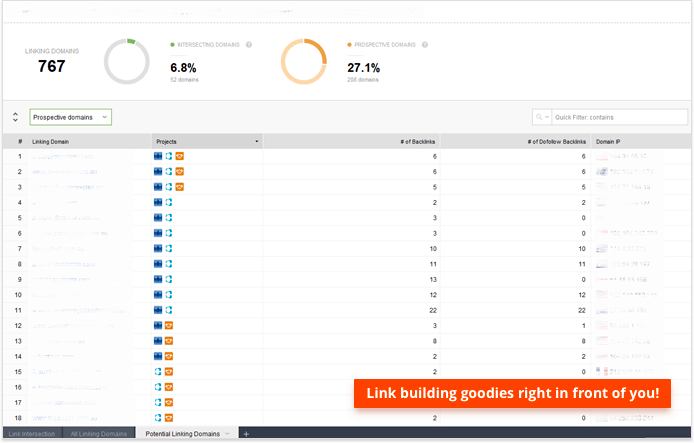 I employed white hat methods to reach out to topically relevant sites to offer guest blogging for links and collaborations. I also utilised in-house writers to keep costs low. In addition, LinkAssistant was used to build/track links.
Pro tip: Content creation can take a great amount of time, so if you're extremely tight on your resources, it's a bit difficult to scale the process.
In this case, you can keep content creation on the client side (if possible) and try the following local SEO link building strategies that don't require lots of content, but are much more scalable:
Reclaim backlinks by using reverse image search engines like Google Images. If you find site's images used without attribution (and this happens all the time), make sure to reach out and require to provide a link to the original content.
Look for unlinked brand mentions and try to turn them into backlinks. You'll be surprised how good your link acquisition rate may be with this one. To scale this process, set up brand alerts in a tool like Awario and reach out every time the new unlinked mention in a blog post/news article pops out.
Find broken backlinks to competitors' websites and suggest a fix by linking to your pages. From what I've seen, it still works pretty well. But keep in mind that you should find relevant pages and your content should be up-to-date and comprehensive if you want to get that link.
Results
Immediate benefits:
Increased rankings and estimated traffic for the keywords that we optimised. I found some high-value local search keywords that brought significant traffic too.
Overtime benefits:
Increased bookings and traffic. Especially for high-value bookings. As a result, conversions are now 6 times higher.
And here are a few vanity charts that showcase the results of my work.
Here's how the site's visibility improved after I started optimising the client's website:

And here's how the traffic's been growing:

Planned activities
I'll keep working on this project and plan to:
Build more high-quality links
Find new keywords
Add new pages
Improve the optimisation rate
Enhance the UI
On the whole, I'm pretty satisfied with this campaign and hope it'll keep bringing long-term results to my client.
Did you have experience with similar niche projects? Or maybe you'd like to ask David some questions related to his SEO campaign? Feel free to share your opinion in the comments below!
---

By: David Sorauer
Article stats:
| | |
| --- | --- |
| Linking websites | N/A |
| Backlinks | N/A |
| InLink Rank | N/A |