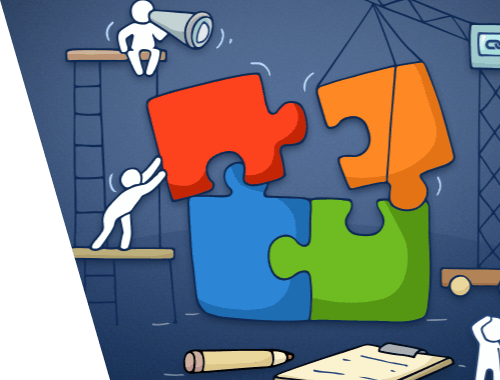 Building Your Backlinks the Right Way with SEO PowerSuite

Building your backlinks the right way with SEO PowerSuite

We all know that as far as ranking factors go, backlinks are a big one. PageRank went from public to private but never stopped being important. And a strong backlink profile is, was, and will likely continue to be one of the cornerstones of ranking.
This is why you must implement link building into your SEO campaign.
There are hundreds, possibly thousands of ways to attract links to your content. The actual link building tactics you turn to will depend greatly upon the resources you have at your disposal.
But whatever tactic you end up using, there are amazing tools that exist to make your job just a bit easier. This article is about the ways in which you can leverage the SEO PowerSuite toolkit to your advantage while running a link building campaign.
I. Beginning a link building campaign
Step 1. Assess your backlink profile
To conduct a comprehensive campaign, you'll have to perform some backlink research first and see where you currently stand.
First of all, you'll need to see all of the potentially harmful links from spam networks you might have gotten, to disavow them as soon as possible. Google is tough on spam links, especially since the Penguin update. You don't want to be hit by a penalty because of random spam.
To get the comprehensive data on your backlink profile, turn to SEO SpyGlass.
Research your website by creating a project, and let the tool collect the necessary information.
To begin with, take care of the harmful, spammy links, that might damage your chances at ranking. After the tool is done collecting the information, head over to the Backlink Profile > Backlinks.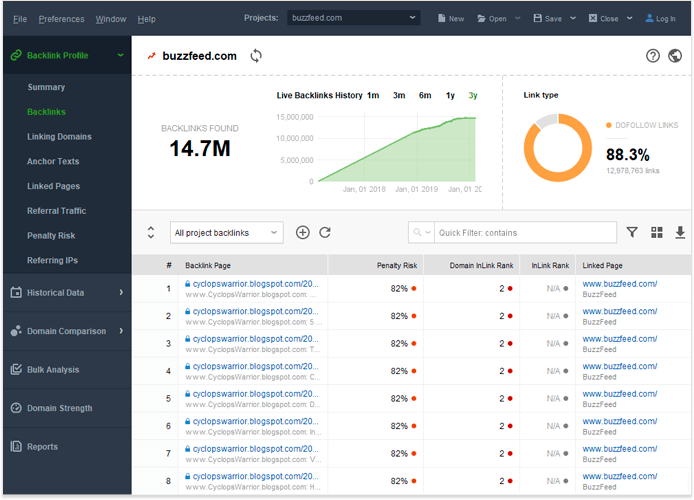 Sort all of the backlinks by the Penalty Risk they present. At the top of the list, you'll see the backlinks which are the most harmful, most likely to cause a penalty.
You'll need to get rid of those backlinks to eliminate the chance of getting hit with a penalty. For that, use our in-app disavow tool.
Step 2. Determine your core pages
Second, you'll need to see which pages are getting "organic" backlinks. This will be the "core" of your link building efforts. You will also later use those "core" pages by linking from them to your weaker content that you want to bring up in search results.
After you got rid of the spammy links, it's time to form a "core" of pages that already drew in a bunch of links and rank well. For that, head to Backlink Profile > Linked Pages. You'll get a layout of all of your pages.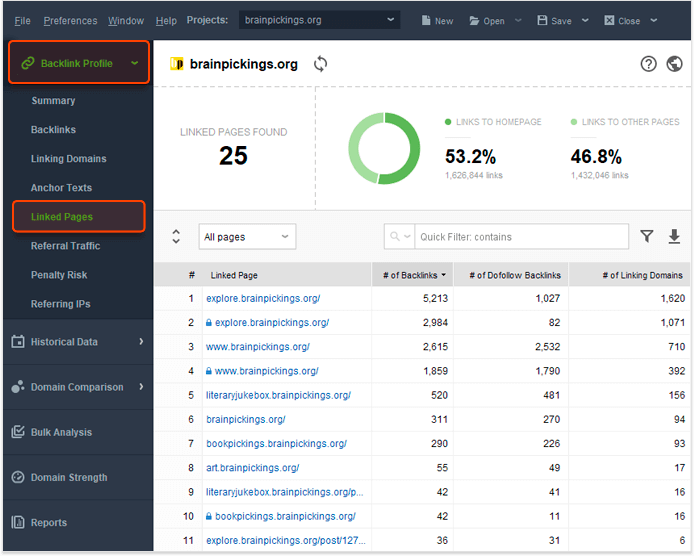 Just as important as the overall number of links, is the number of specifically dofollow links you got. The difference between "dofollow" and "nofollow" links used to be enormous, where a "nofollow" link restricted the link juice flow.
Today, a nofollow link is more of a hint than a straight-up restriction. Still, it's used as a hint for ranking algorithms that the link is not exactly a "first-party endorsement", and as such it's still very useful to distinguish between the do- and the nofollow links.
Sort by the number of backlinks your pages got, or just the number of dofollow links. For future use in your campaign, you can export the pages in a .csv format by clicking here.
The content that already went viral will be your initial asset when link building. As you're reaching out, it's useful to have an idea of what kind of content already attracted some organic backlinks.
You'll use it both to create more links to that content, as well as to have an example of what content for a particular topic usually "works".
Important: Distinguish between backlinks of different types
Very important to understand the principal differences between the types of backlinks you'll be looking for.
Remember that links from worthwhile, authoritative content, will always be preferable to links in local directories. Guest blogging links, in turn, will always be better than links in comments, and so on.
Step 3. See how your backlinks changed
To avoid surprise drops in rankings, as well as evaluate the success rate of your link building, and also to see if you might have stumbled upon a viral topic, you'll need to monitor how the link profiles of your pages and domain in general changed.
It's vitally important to keep an eye on the dynamics of your backlink profile. You need to keep an eye on:
Which link building tactics worked for your pages/domain well, to know which tactics to pursue further.
The links you lost for whatever reason, to try and get them back by contacting the domains that linked to you in the first place.
So this is important. To get the info you need, use the Historical Data module in SpyGlass.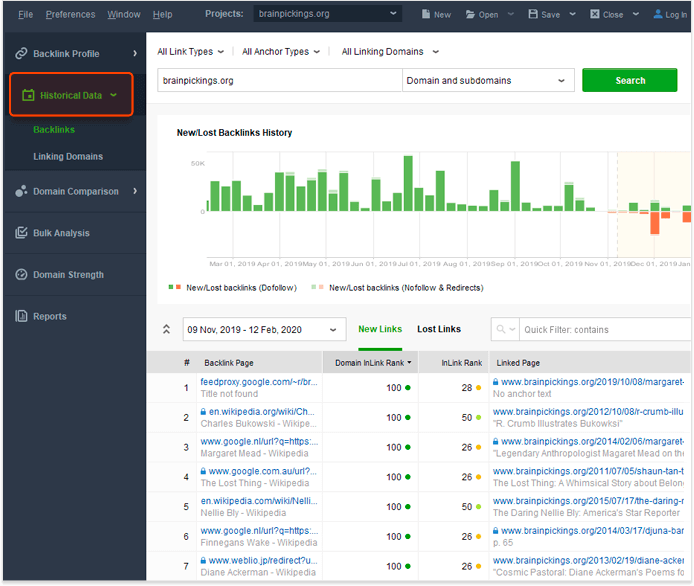 You can research any page in particular, or an entire domain if you prefer. Choose any date range within a year and get detailed statistics on it, down to a day. Look for correlations between the type of content you were posting and the links you've gained to form your future content strategy.
Important: Claim your lost backlinks
Maybe the most important stat you'll get is the number and the type of links you lost. At this stage, the important part is the Lost Links column.
Go there and see all of the links that for some reason no longer point to your page/domain.
You'll see the lost backlinks' status as:
Link removed
Not canonical
Redirect
Crawl error
A great idea would be to identify the biggest losers of backlinks among your pages first. Then, you methodically reach out to the owners of websites that used to have links to you. A lot of them will reinstate the link without much hassle.
II. Researching your niche
Now comes a very important step: discover the "top dogs" of the niche you want to rank in. What you need to do here is figure out what your competitors are doing to build their backlink profile, and who are the biggest influencers that you'll be working to get a link from.
Step 1. Collect your competitors' links
Since your competition definitionally operates at least in part of your particular niche, they will likely pursue the same sources of backlinks. It's much easier to research your competitor's links than to find your own.
Of course, you can simply create a project in SEO SpyGlass targeting your competitor's website. In the Backlinks menu, you'll get their entire backlink profile, along with the dates when they got certain backlinks.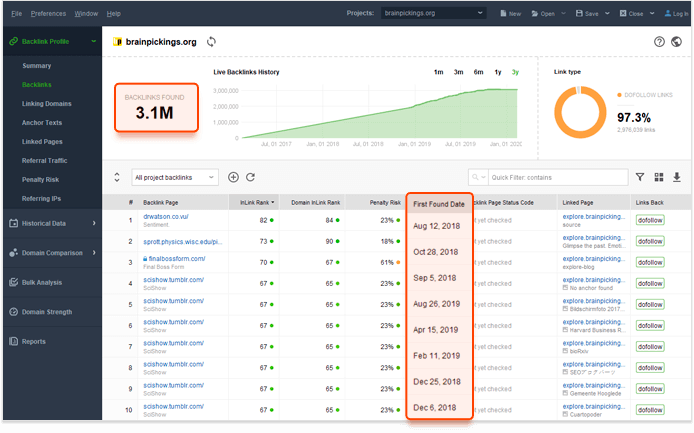 Organize the list by Domain InLink Rank or InLink Rank and see which backlinks would be the "juiciest" for you to get.
Look at their history
You can augment that method with a Historical Data module. It works the same way as with your domain. Put in the URL of your competitor, and get a picture of their backlink dynamics.
Monitor for a spike, and analyze what happened: you'll see not just that your opponent received a bunch of links, but also to which exact page.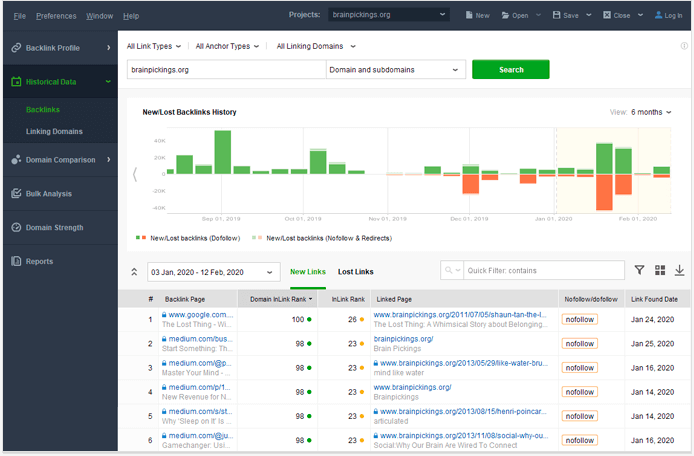 Use this knowledge, first of all, to supplement your content strategy with pages similar to those performing well.
You shouldn't copy anybody's content, obviously. What you should do is build your content on the foundation of the things that have already worked well for somebody else. Try to add something to what they are saying, and attract more of the similar links.
Now, this method of collecting link prospects is completely viable. That said, just because a website linked to one of your competitor's pages doesn't mean that they would be inclined to link to your stuff.
This is why you should augment your competition research and look up the links a number of your competitors have in common.
Find where your competitors' backlinks intersect
A much more efficient tactic would be to analyze a couple of your competitors at once, to find the backlinks they share that you don't have in your backlink profile yet.
If 3 or even 4 of your competitors, for example, have a link from the same authoritative source, there's a higher chance that you will be able to persuade them to link to you as well. You will be able to find certain "knowledge hubs".
A link from that kind of source would be, first of all, more valuable, since it's authoritative in your niche, and, second of all, easier to secure, since you know it's not a one-off occurrence for them to link to your type of website.
If you need to see what links your competition has in common, use the Link Intersection module in SEO SpyGlass.
Put in the URLs of your competitors, and let the tool do its thing.
You can research the pages on a particular topic, see what kind of links this kind of material gets. Alternatively, you could research your competition's entire domains, and see, in general terms, who links to your competition.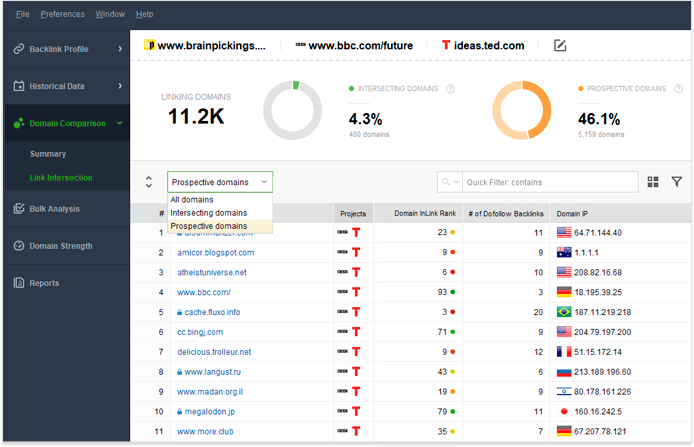 Click on Prospective domains. You'll see all of the domains that link to your competition, and not to you.
Use the download button in the upper right corner of the screen to download those prospective domains as a .csv file to save them for future outreach efforts.
Step 2. Find opportunities by monitoring linkless mentions
There's a huge chunk of your potential partners that you have no idea about.
There are clients, partners, and, most importantly, key influencers that won't link to the competitors you are researching.
This is where social listening comes in.
Social listening's function in your link building is two-fold:
You get to find new opportunities for future reachout.

It's good for your reputation to be able to engage in conversations about your niche all around the web.
By employing a social listening tool, like Awario, for instance, you'll get a chance to see every single mention of a topic/niche you're working with.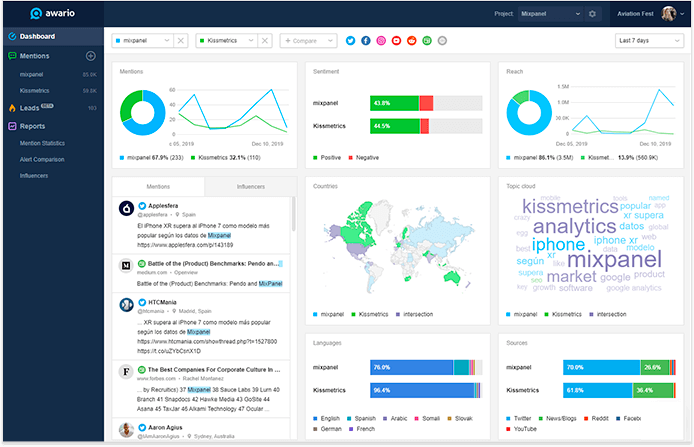 A huge number of websites, blogs, newsletters etc. mention you without linking to you. Either because they got lazy or just plain forgot about it. By reaching out to them, you can ask to make that mention into a link, and secure links you would've simply never seen otherwise.
You can also employ social listening when researching influencers. In every niche, there inevitably appears a host of bloggers, gurus, experts, willing to disseminate their knowledge to the audience of people hungry for insights.
By monitoring the mentions of a particular topic and niche, it'll be very easy for you to figure out who the top influencers for your field are. You can then contact them and offer a partnership directly from the app.
III. Conducting a link building campaign
Step 1. Determine the link building tactics you want to use
By this step, you should have a clear idea of how your backlink profile changed. You already got rid of the spammy harmful links, and have done some work to get back the backlinks you've lost.
So now you need to choose your link building strategy. Of course, there are many tactics available to any webmaster, and the best thing you can do is combine them if time and resources allow you to do so.
Any link building strategy will ultimately rely on what you can offer to the people you're reaching out to. So it will be either the content you create, or the products/services you offer.
If you're looking to attract links without creating content, look into joining some promo campaigns. You can contact the websites in your niche that are doing promotional campaigns, and join them.
By offering your product/service at a considerable discount and associating with a larger marketing entity, you'll get a boost in the form of both visibility as well as backlinks.
But by and large, the more effective way to build tier backlinks is by creating content for your website. It needs to be insightful, read really well, and be carefully optimized. That's your asset.
Then, having crafted a piece of content, you will start reaching out to the potential link prospects (if possible, disseminate that content to the key influencers you identified earlier), pointing out how it's relevant for them. If your content is good enough, the people working in your niche will want to link to it.
On top of writing for your own blog, you can increase your cred by doing some guest blogging. Before we were talking only about creating content for your own website. Now we're talking about external content.
Say you've collected a certain amount of "relevant" link prospects. You can then reach out to those prospects offering your content to them. A lot of the times a blog will agree to publish a quality piece of content from outside sources.
Be it a case study, an expert guide, or any other type of content. If it's well done and relevant for their niche, they might agree to publish and market it.
Important: Don't over-optimize your anchors
Google's algorithms have cracked down on the low-quality, near-automated guest blogging for links that have become the norm in recent years. Throughout content creation, you need to avoid over-optimized anchor text.
Try your best to avoid having your anchors be exactly the keywords you're targeting on the page you're linking to. Example being: if you link to the article titled "Link building with SEO PowerSuite" — and your anchor is "link building with SEO PowerSuite" — Google might very well consider that suspicious, and you'll have a certain penalty risk as a consequence of it.
Employ the synonyms, look for other ways to describe the content of the page you're linking to, only link from to relevant pages, and you'll be golden.
Step 2. Turn to a link prospecting tool
Once you've figured out what way you are going to search for link-building prospects, you should turn to a link prospecting tool.
This is a specialized tool that finds niche websites based on target keywords. So to make it work, you'll need to identify the perfect keywords for your website.
Once you have them, a link prospecting tool will analyze those keywords, and figure out what other domains are working in the same niche.
Start up Link Assistant. This is a tool created to be the HQ of your link building efforts. It's designed to:
House all of your link prospects collected by other methods
Identify new link prospects based on the keywords you're targeting
Be the base for your outreach campaign through its built-in email browser
Use the tool to keep all of your prospects in one place
First of all, you should add the link prospects that you've collected earlier. You can either do it manually, by pressing the Add button and then pasting the URL's of your prospects.
Or you can add them in bulk from the CSV file you've downloaded from SEO SpyGlass earlier. Go to File > Import > CSV file. Then add the file you've exported previously.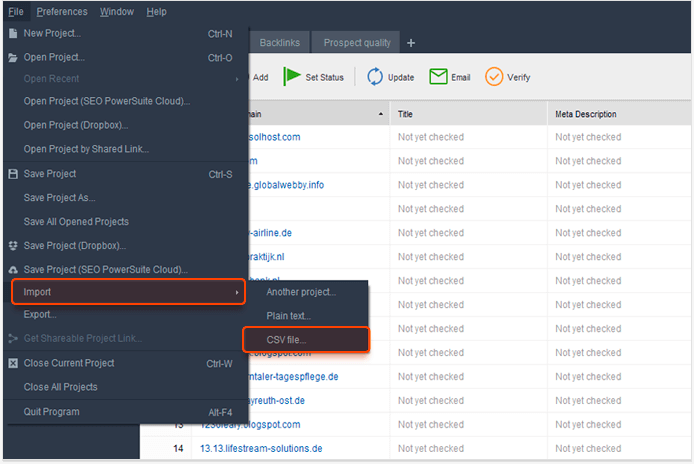 The list itself, on top of the domains, InLink and Alexa ranks, will also have Prospect Email, whenever it's accessible.
Use the tool to add new link prospects to your list
To collect additional link prospects, you need to create a project for your website, and click on the Look for Prospects button.
There, you'll get a chance to choose what kind of prospects you'll be shown. Based on the kind of engagement you want with your potential partners, you can choose one of the following link prospect search methods.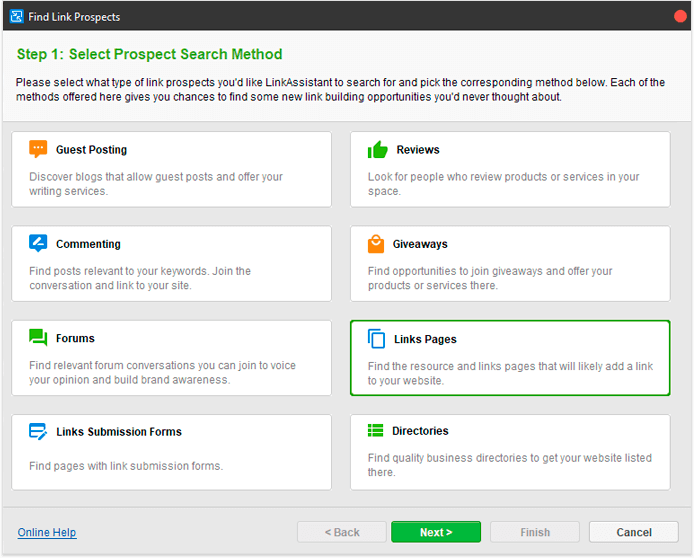 Once the tool is done collecting, you'll get a huge list of domains that are all targeting the keywords you've specified. Use the Browser module in the tool to check the pages collected immediately, and see how well they suit your brand's needs.
Important: Reach out through the tool itself
Use the emails collected by Link Assistant in the Email menu of the tool. To start your outreach, you can simply press the mail icon that appears when you hover over your prospect.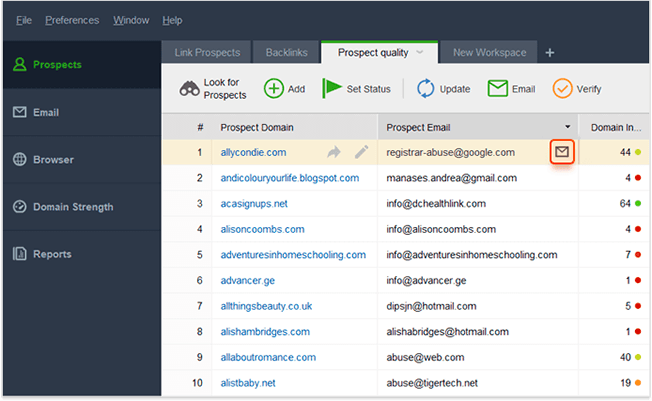 You will then be taken to an Email menu. There, add your work email information, and you'll be able to immediately reach out to any number of your prospects, read the replies, and also create or use the existing email templates for any occasion.
Step 3. Capitalize on broken links
A great way to augment your link building campaign would be to look for opportunities among the broken links. This tactic, if successful, can be an incredible well of high-quality links. But it requires some prior research and proceeding with caution.
Sometimes you come across, among your potential link prospects, a page with some broken, or completely outdated links.
You could reach out to the owners of those prospects and ask to replace the links on their website with a link to your, supposedly much better, content instead.
This tactic is comprised of three parts:
Research broken links on the websites covering your niche

Create (or find) some content that would be a perfect substitute

Shoot an email to your prospects offering to link to your content
Of course a lot of the times you won't be creating content specifically for a link, but instead using the content you already have up on your website. The toughest thing is to not look like spam. Websites all around the web get dozens of emails every day.
You need to avoid the email templates when you're doing outreach for replacing broken links. Simply state your business, your offer, and always make sure your content is relevant.
You can approach the first step in a couple of ways.
First, you can start with an entire relevant website. Create a project in WebSite Auditor for one of your prospects, and let the tool do its thing.
Then, you go to the Site Structure > Site Audit module. The tool will show all of their broken links if they have any (fingers crossed). Under Links, you'll see the info on all of the broken links of this website.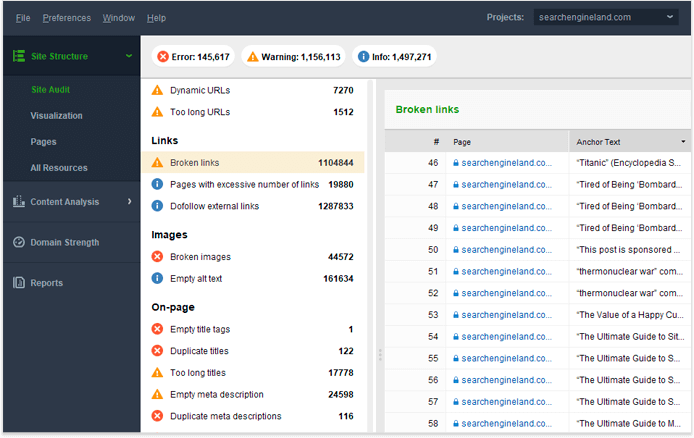 Look for links pointing to pages that you could substitute without much problem. It's much easier to offer your already existing content to link to, so you should look for those opportunities first. However, if that's not an option, you might have to create content specifically to replace that link.
Then, you reach out to the website you were analyzing and offer your amazing page to replace the old one. Link received!
You could also approach it on a page by page basis. Install a broken link checker Chrome extension, like Check My Links, for instance. Then, whatever page you're using, by simply clicking on the extension, you'll get an audit of all the links there.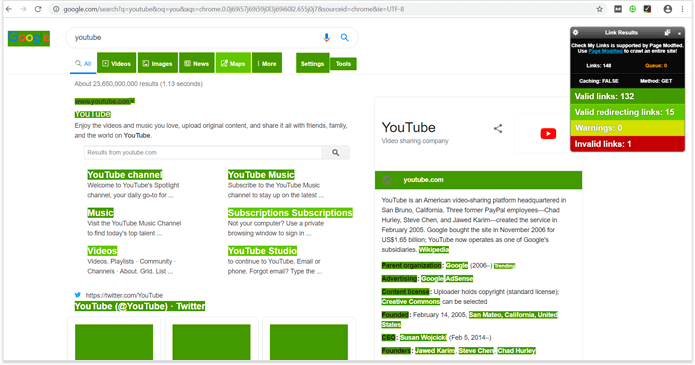 Look for articles, blog posts, and roundups, those usually have a bunch of links. The older the webpage, the higher the chances it'll have some broken links.
After that, it will all be a matter of your outreach. There's no guarantee that most (or any, really) of your prospects will respond to you, but do your best to keep your emails short, to the point, and make it about how you can help them.
Conclusion
Link building is a process that is possibly the most influential to rankings today, and it needs to be approached holistically. You can't attract valuable links without first creating some valuable content.
The value of your content, in turn, will be defined by how well you understand your particular market, how well you understand the dynamics of topics falling in and out of fashion.
Fundamentally, link building is the most ephemeral of all the SEO strategies. A lot of it is chance, and you take a leap of faith every time you write an email.
The tools in the SEO PowerSuite arsenal are created knowing that, and precisely to make it easier for anybody to conduct top-shelf link building, whether you're a first-timer or a veteran marketer.
---

By: Oleg Triers
Article stats:
| | |
| --- | --- |
| Linking websites | N/A |
| Backlinks | N/A |
| InLink Rank | N/A |