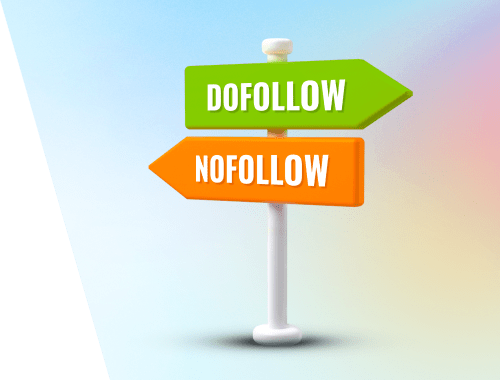 How to Find Nofollow and Dofollow Links on a Website

Nofollow and dofollow links remain a matter of discussion for a long time. And if things are more or less clear with dofollow links, nofollows keep causing confusion. Some say nofollow links are just meh, while others insist they are useful.
Today, I will spill some light on what nofollow and dofollow links actually are, show how to find them on your (and others') websites, and explain why you need to care about them.
What are nofollow links?
Nofollow link is a link that has a rel="nofollow" attribute, which tells Google not to follow the link and not to pass any PageRank value to the recipient page.
The nofollow attribute was introduced in 2005 as a measure to fight spam and PageRank flow manipulations. Initially, the nofollow tag worked like this: whenever Googlebot hit a link with rel="nofollow", it did not consider it a link to follow and did not pass any link juice through it. But instead of "defeating spam", Google got PageRank sculpting — a manipulative tactic when SEOs artificially used nofollows to streamline the PageRank flow to strengthen the pages they needed.
Sure thing, it didn't last long, and in 2009, Google changed the mechanism once again. It started distributing PageRank equally between all the links on a page, but only pass link juice through dofollow links, like this: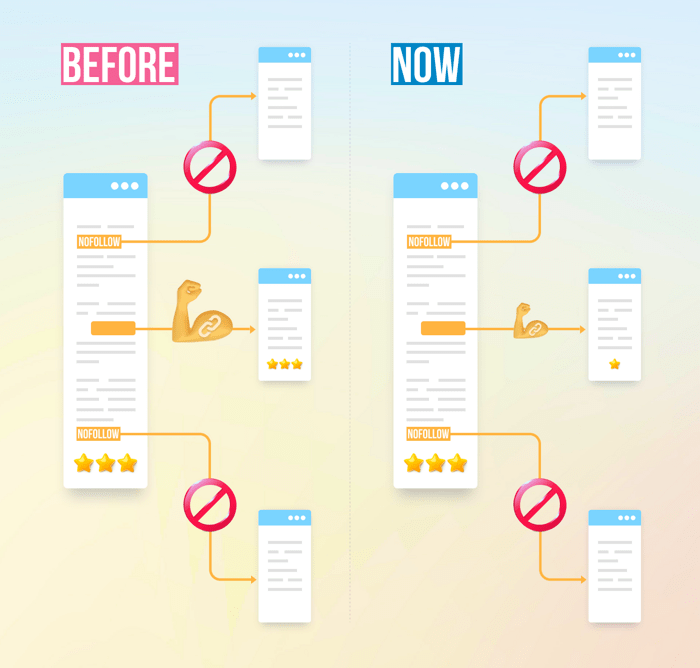 Today, the nofollow mechanism keeps working in the same way.
Types of nofollow attributes
Nowadays, in addition to rel="nofollow" itself, Google offers some more specific options to indicate nofollow:
rel="sponsored". Google guidelines suggest using this tag to mark sponsored, affiliate, and paid links.
rel="ugc". The UGC tag is meant to mark user-generated content. It is interesting that Google mentioned that you can remove this tag if you want to reward good content.
Actually, you can still use good old rel="nofollow" for affiliate and user-generated content — technically, they work alike. Google recommends applying these new attributes for new links but will issue no sanctions for your site if some older affiliate or UGC links have simple nofollow.
What are dofollow links?
Dofollow links are actually normal links that are followed by Googlebot and pass PageRank. Dofollow links do not have any special rel attributes. And dofollow are the links that are considered in SEO when it comes to link building.
Nofollow vs. dofollow: What's the difference?
The difference between dofollow and nofollow links is that dofollow links pass PageRank and nofollow links don't. Yes, this is the only obvious difference that is actually clear from the names.
How nofollow links impact SEO
As I've mentioned, nofollow links do not impact PageRank, as they do not pass it. That's why nofollow links are not taken into consideration when it comes to backlink audits and link-building campaigns.
Still, nofollow links are not useless as many SEOs, especially beginners, often think.
First, Google has explicitly stated that all the nofollow link attributes — nofollow, sponsored, and ugc — are treated not as directives but as hints, in order to "better understand how to appropriately analyze and use links". So you never know for certain how exactly Google will treat nofollow links.
Second, a nofollow backlink from super-powerful sources (like Wikipedia) does strengthen the recipient page. The thing is that nobody knows with the help of what — brand visibility, traffic, some kind of E-E-A-T signals, or something else. Probably, all of the above matters to a certain extent.
Third, nofollow backlinks are still backlinks and are a part of your reputation and mentions. The more times you are mentioned (in a good context, for sure), the more visitors you get. This may not be an SEO ranking factor but a nice way to drive attention to your business and reach your business goals.
Why do you need to find nofollow and dofollow links?
You have to be aware of dofollow and nofollow links and backlinks on your site for many reasons.
When it comes to internal linking, you should know that using nofollow links within a website will waste your site's overall authority. This happens because nofollow links take a share of a page's authority but do not pass it to the recipient page. This literally means that part of link juice will go nowhere.
In terms of outcoming external links, you should also be aware of what pages you link to with dofollow or nofollow. The thing is that dofollow links may unintentionally strengthen a page you don't want to share PageRank or connect with (because of competition or the recipient's reputation dilemma). This is important when you have to link to a source for the sake of user experience, but prefer to keep your authority on the safe side.
As for backlink building, here you need to monitor your dofollows and nofollows because only dofollow backlinks bring your page link juice. But at the same time, nofollow backlinks are not useless either, so your backlink profile needs regular grooming and balance.
How to find nofollow and dofollow links on your site
Finding dofollow and nofollow links on your website requires an advanced tool for SEO audit. You may choose any software that has enough capacity to crawl all the necessary pages. I'll proceed with WebSite Auditor, a powerful SEO audit software that carefully collects all of your site's pages and analyzes them in detail.
WebSite Auditor
Launch WebSite Auditor and select your project, or create a new one if you haven't used the tool before.
Then, go to Site Structure > Pages, select the Links & technical factors workspace, and here you are: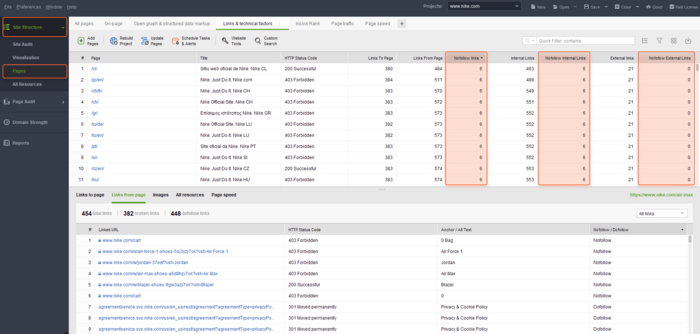 WebSite Auditor will show you the full list of your site pages and provide the details about the links each page has, including the number of links and, of course, the number of nofollow links.
To investigate each page in more detail, click the necessary URL in the Page column and look at the lower part of the workspace:

Here you can get more details about incoming and outcoming links and see which links are dofollow and which are nofollow.
How to find nofollow and dofollow backlinks
There are several options to find your and your competitors' backlinks and check on their dofollow/nofollow status.
Free backlink checker
Free backlink checker is a tool by SEO PowerSuite that lets you quickly discover up to 10,000 backlinks and get their key stats. All you need is to enter the domain you want to investigate and initiate the search.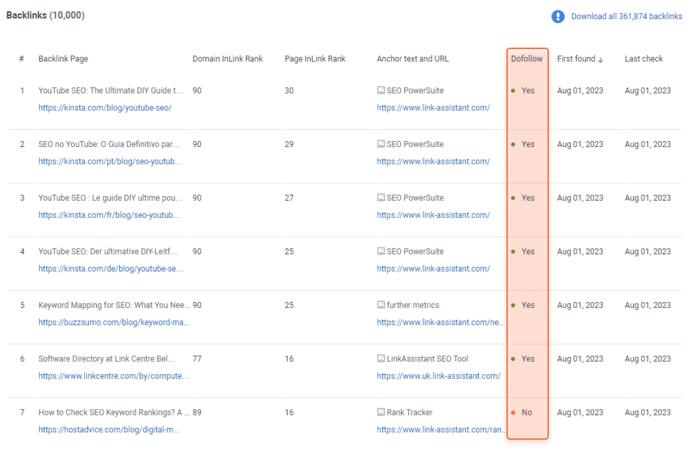 SEO SpyGlass
SEO SpyGlass is a powerful backlink analysis tool that gives you all the details about your backlink profile, tracks how it changed over time, and helps with backlink audits. Besides, the tool lets you investigate your competitors' backlinks, find backlink prospects for your site, and evaluate their potential and relevance.
New video: how to find dofollow/nofollow backlinks with SEO SpyGlass
So here's what you should do. Launch the tool and enter the domain under consideration (yours or one of your competitors). Then, go to Backlink Profile > Backlinks where SEO SpyGlass shows you the full list of a site's backlinks with their key metrics, status codes, and nofollow/dofollow values: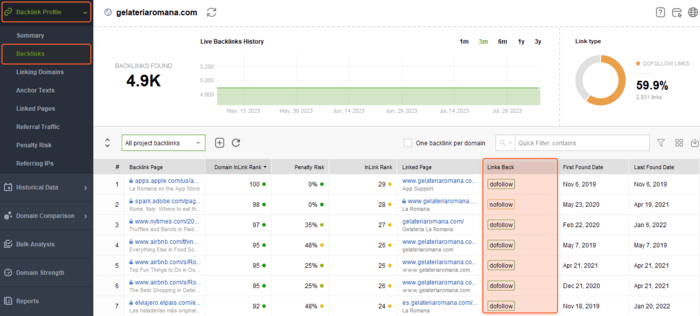 You can also filter the backlinks found to see only those dofollow or nofollow:

To sum it all up
The truth is that there are no useless things when it comes to SEO. That's why you need to pay attention to your dofollow and nofollow links during site audits. And now you know how to find all the dofollow and nofollow links and what to do with them.
Join our Facebook group to find more guides and share your experience.
Article stats:
| | |
| --- | --- |
| Linking websites | N/A |
| Backlinks | N/A |
| InLink Rank | N/A |