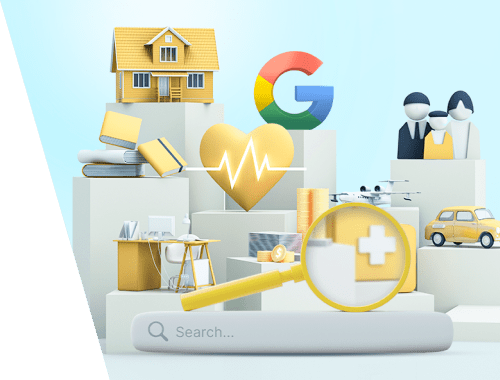 YMYL SEO: 5 Ways to the Top of the SERP

Information on the web can be as useful as it can be dangerous. There is content out there that can significantly affect our well-being and health. And sometimes, not in a positive way.
Search engines seem to understand the risks and try to regulate the SERPs' content in their own ways. As for Google, it has special algorithms that detect "potentially harmful" topics and applies special ranking requirements to them. Those topics are called Your Money or Your Life (YMYL).
Keep reading this guide to learn how to optimize YMYL pages so that they never see sudden ranking drops.
What is YMYL?
Google introduces the concept of Your Money or Your Life in the Guidelines for Quality Raters, i.e., the group of people who help Google evaluate the quality of the search results after certain algorithmic changes.
According to the Guidelines, YMYL is the name for topics that "... have a high risk of harm because content about these topics could significantly impact the health, financial stability, or safety of people, or the welfare or well-being of society."
Pages on YMYL topics require the most scrutiny for Page Quality rating. And thereby more work for SEOs.
What are YMYL topics?
There are several YMYL topic groups specified in the Guidelines: Health, Safety, Financial Security, Society, and Other.
Health
Health topics include the information that may affect physical, mental, and emotional health of a person or a group of people. It usually refers to advice about health, drugs, diseases, mental health, nutrition, and so on. Examples:
How Do Topical Drugs Reduce Back and Neck Pain?
Can You Take Vitamin C While Pregnant?
How to Help Someone Having a Panic Attack
Safety
Safety topics are closely related to Health topics. They refer to the content that may impact both the online and offline safety of a person or a group of people. Safety topics include cybersecurity, protective techniques and equipment, risks and hazards in the working place, etc. Examples:
How to Stay Safe on the Road: 8 Important Safe Driving Tips
18 Ways to Secure Your Devices From Hackers
How to Stay Safe in the Sun
Financial Security
Financial Security topics may affect people's financial state or their ability to support themselves and their families. Here you'll find pages on investments, taxes, retirement planning, home purchase, paying for college, buying insurance, etc.
This group of topics also includes pages and sites that allow users to make purchases, transfer money, pay bills, and so on. Examples:
Top 10 Retirement Investment Strategies
American Property for Sale
Best Private Student Loans of September 2022
Society
Society topics can impact trust in public institutions, or any other public interest. It refers to information about government processes, policies, people, laws, government programs, social services, international events, business, politics, science, and technology. Examples:
Smith & Wesson Sued by Families of Highland Park Shooting Victims
Voting and Election Laws and History
8 Government Regulations Business Owners Need to Know
Other
This group collects all the other topics that can hurt people's well-being and welfare but do not fit in any above-mentioned groups. These may be topics on household, education, career, and so on. Examples:
How To Choose the Career Path That's Right for You
10 Important Features to Consider When Buying a House
The Best Home Workout Equipment, According to Trainers
Now let's compare YMYL topics with non-YMYL topics to help you feel the difference.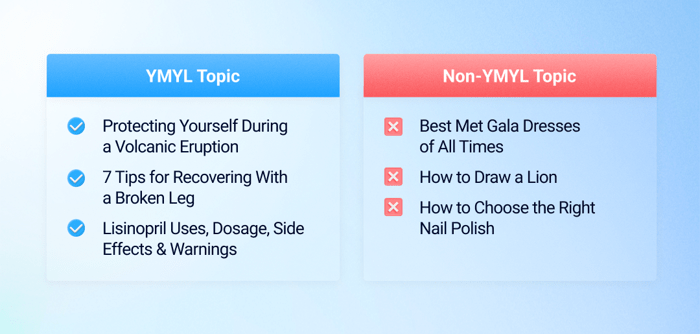 If you still doubt whether a topic belongs to YMYL, ask yourself, "Could even minor inaccuracies in content harm a person or even a group of people?" If yes, then the topic is likely a YMYL one.
What are the requirements for YMYL content to rank high?
Disclaimer: Google hasn't officially confirmed the use of specific ranking signals for YMYL content. All the tips enumerated below are the best guesstimations of the SEO community.
There are several factors that Quality Raters assess when it comes to YMYL content evaluation:
The Purpose of the Page
Expertise, Authoritativeness, Trustworthiness
Main Content Quality and Amount
Website Information/information about who is responsible for the content
Website Reputation/reputation about who is responsible for the content
Obviously, these points are not the ranking factors themselves. However, they give you clues about what Google considers high quality when it comes to YMYL content. And SEOs did notice a tangible growth in organic positions after having sites tuned to the Quality Raters' standards.
So, now I will expand on each quality factor in detail and share some tips on how to improve your rankings.
1. Page achieves its purpose
The purpose of the page is what the page is created for. Pages may navigate, inform, educate, sell products and services, express opinions, entertain, etc.
For YMYL content, it's crucial how effectively a page achieves its purpose: there is enough text to convey an idea, the information is clear, there is nothing that confuses visitors, there are no disruptive ads and intrusive pop-ups, etc.
If a page fails to fulfill its purpose, it's considered low-quality. That may mean lower rankings.
2. High E-A-T
Expertise, Authoritativeness, and Trustworthiness (E-A-T) are the factors that Google Quality Raters use to evaluate the overall quality of a web page. They include:
The expertise of the creator of the content.
The authoritativeness of the creator of the content, the content itself, and the website.
The trustworthiness of the creator of the content, the content itself, and the website.
Some topics may be covered by authors with little expertise or even amateurs (for example, chicken seasoning, restaurant reviews, and home decoration). But with YMYL everything is different. Here, non-professionalism won't work.
Google explicitly states that they do require the highest E-A-T standards for YMYL pages in their document How Google Fights Disinformation:
"For these "YMYL" pages, we assume that users expect us to operate with our strictest standards of trustworthiness and safety. As such, where our algorithms detect that a user's query relates to a "YMYL" topic, we will give more weight in our ranking systems to factors like our understanding of the authoritativeness, expertise, or trustworthiness of the pages we present in response."
Let's have a closer look at what you have to do in this regard:
Hire an author that is an expert in the niche
John Mueller of Google once said, "... sometimes those are small things like just highlighting better who is creating the content, where it's coming from, who has reviewed the content. Sometimes it's bigger things where you kind of realize, well, actually, if I'm writing about medical topics maybe I should make sure that I have a doctor or some medical professional actually review the content…"
So, we conclude that the expertise of a content creator does matter when it comes to YMYL topics.
If you can afford it, hire an expert to create content for you. It should be a person with medical accreditation if you cover health topics. If you need a text about global warming, hire a scientist to do that. In any case, find a professional from your niche.
It preferably should not be the jack of all trades kind of author. Your author can be an expert in several areas. However, as a rule, these are related industries. The relevance of the author's expertise is really important as it determines how well your content will rank for the niche-related keywords.
Create an author page and add a bio
Though Google claims that it's not a direct ranking factor, SEOs believe that having a dedicated author's page is a good practice. It proves the expertise of the author in Google's eyes thus increasing trust.
Describe the expertise of your author (education, awards – everything relevant to the topic) in detail, provide extra info if possible (social media accounts, videos, PDF files, photos), add links to other articles and/or interviews, scientific works, and anything that can prove experience in the niche.
This is an example of how 1% Health Care Project follows this advice: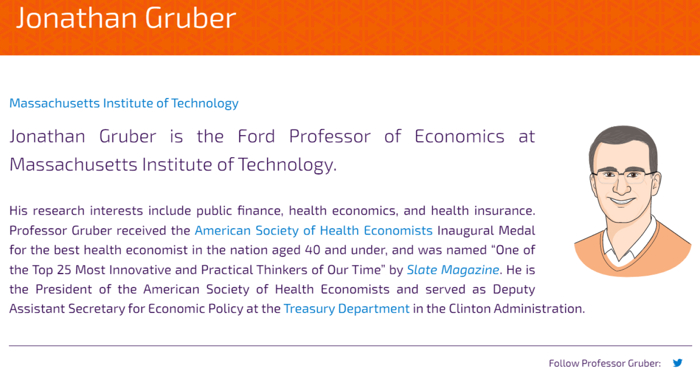 Still, if it happens that your writers are not experts, make sure your YMYL content is reviewed by those who are. Be sure to mention all involved in the process of content creation. Like this:

This is exactly what Google expects of YMYL pages, plus doing so will make your readers trust you more.
Get mentioned on niche platforms
It's great if your authors are featured on other expert platforms. For example, it can be guest posting on a credible blog or being a guest on some expert YouTube channels and niche podcasts, etc.
A strong online presence proves your author's expertise and can never be out of place.
It will also be great if, in addition to being mentioned in a text or description for a video, your expert has a bio on this resource. It may look like a photo and a short bio at the beginning or at the end of the page:

Improve page authority with PageRank
In How Google Fights Disinformation, Google claims that PageRank is one of the few signals that is used to assess E-A-T:
"How do Google's algorithms assess expertise, authority, and trustworthiness? Google's algorithms identify signals about pages that correlate with trustworthiness and authoritativeness. The best known of these signals is PageRank, which uses links on the web to understand authoritativeness."
So, focus on getting more backlinks from authoritative resources. After all, this is probably one of the first things Quality Raters will pay attention to – they will look for your site's mentions on resources such as Wikipedia, Forbes, and other authority sites.
Before you start your link-building campaign, you need to check out your site's backlink profile and domain authority and compare them with your competition. It will help you understand how many backlinks you need to acquire to be able to compete and outrank your competitors.
In SEO SpyGlass, go to Domain Сomparison > Summary, add your competitors and get the comparison chart with all important metrics: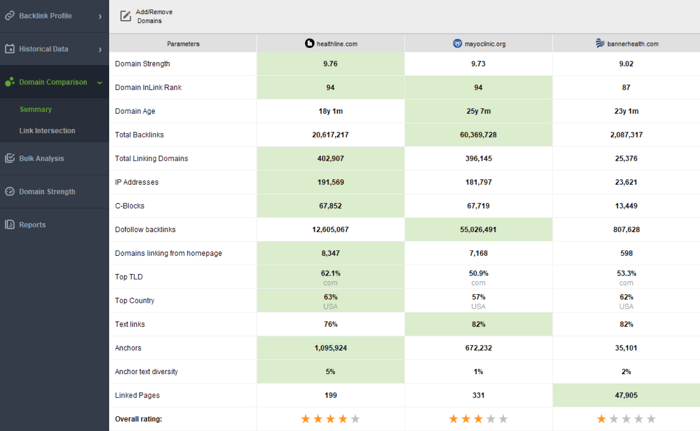 Download SEO SpyGlass
Then you need to discover domains that link to your competitors but not to you – these are your prospects.
From the Summary tab, move to Link Intersection and click Prospective Domains. You will get a list of domains that link to other YMYL sites. Pay special attention to the domains with high inLink Rank (custom metric based on PageRank formula) – they are worth targeting in the first place.

Download SEO SpyGlass
There are dozens of ways to find backlink prospects that you should try, e.g., with LinkAssistant, but I suggest focusing on your competitors first. Why? This way, you will immediately find out what other successful YMYL sites do and borrow their strategies.
To make your life a bit easier, here is a link prospecting template for fast and effective link building. Make sure to combine it with our link prospecting tool.
Remember: When running your link-building campaign, try to get dofollow links since they are the ones that pass PageRank.
However, getting nofollow links from credible resources is also beneficial. Though they don't pass ranking signals, nofollow links can drive relevant traffic to your site and help build brand awareness.
Audit your backlink profile
Getting new links is not the only important thing to do. You also need to monitor existing backlinks as they may be bad for your site.
Most SEOs believe that low-quality backlinks can do more harm than good. Earlier they simply disavowed them in fear of the Penguin update. But now, given Google's statements that bad links can simply be ignored, many SEOs prefer to ignore them (until they see the consequences).
But when we talk about YMYL and trustworthiness, toxic links can not only lead your site to penalty, they can make your site be associated with so-called "bad neighborhoods".
Your site about investments will barely benefit from links from gambling or porn sites, right? So, first, do the standard audit of low-quality links with SEO SpyGlass.
Go to Backlink Profile > Penalty Risk. You will get a list of all your backlinks along with their Penalty Risk scores.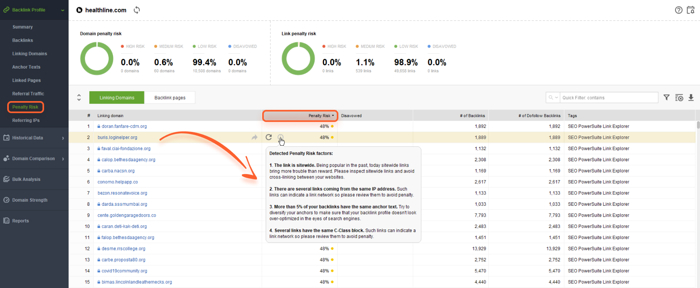 Download SEO SpyGlass
Everything marked as High Risk and links from inappropriate niches should be disavowed in the first place.
If you see links with Medium Risk, click the Info button to see details on each issue that occurred. If there is nothing criminal there, leave the link as it is.
Note: You can generate a disavow file right in the tool to later submit it to Google. If you want, you can disavow all the subsequent links coming from the specific domains.
Do not mix YMYL content and non-YMYL on one website
When you have both YMYL and non-YMYL content on your site, this may confuse Google. It may simply not know how to rank your site.
Here is what John Mueller said during his office-hours sessions:
"The other thing is, I think if you have a website that covers very sensitive topics as well as very trivial topics. Then it's always going to be challenging for Google's algorithms to figure out how to deal with that website. So regardless of anything around YMYL or E-A-T or anything, if you have this mix of very polar opposites almost with regards to content, then I would assume that Google's algorithms are always going to struggle with figuring out how to rank your website."
Thus, it will be safer to separate these two directions into two different sites. For example, you can create a subdomain or a clear subdirectory for a specific type of content.
Add schema markup
You may ask how schema markup can help improve E-A-T. Here is how: structured data gives search engines information about your site entities and relationships between them in a clear way.
Here are the schema types you can use: Person, Organization, Author, Reviewed By, and Citations.
Structured data helps Google build Knowledge Panel, and having one for your entities is extremely important for YMYL sites and authors. This way, you communicate the info about the author or organization directly to Google. It doesn't have to retrieve the data from different resources, which means it will consider you a trusted source quicker.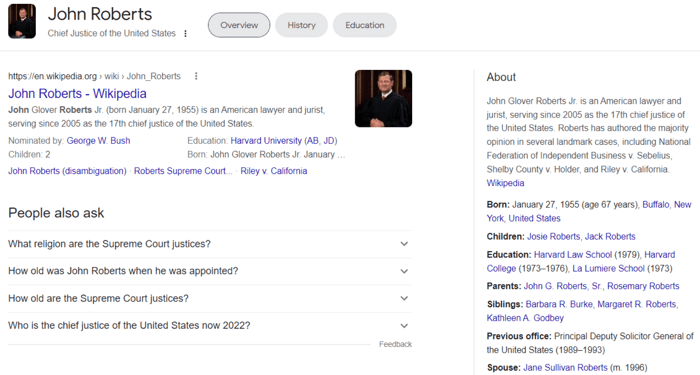 Add all the trust seals to your site
All the badges, certifications, testimonials, reviews, user success stories, etc., speak volumes about your trustworthiness both for users and for search engines.
For example, here's how Writer leverages this tip. There are security badges: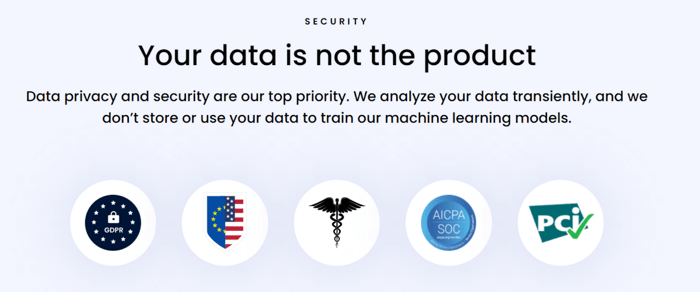 Also, there's a portion of customer reviews:
Enable HTTPS on your servers
HTTPS is an official ranking factor. Today, HTTPS is used by default by almost 80% of sites. However, there are many small sites (e.g., hospitals or insurance companies' sites) that still use HTTP.
For YMYL, enabling HTTPS is a must. So, if for some reason, your site doesn't have a TLS/SSL certificate, go get it. And don't forget to renew it annually.
Without HTTPS, 3rd parties can exploit unprotected communications to deceive your visitors so that they share their sensitive info or install malware.
Back up your content with links to trusted sources
It's not that if you cover YMYL topics, you should only care about backlinks. Outgoing links are important as well.
An experiment conducted by Reboot Online proved that relevant external links to authoritative sites do have a positive impact on rankings.
So, make sure your content links to credible and authoritative sources. Then, Google will trust you more (as it already trusts them).
3. High сontent quality
Google sings praises to quality content and claims that it is one of the most important ranking factors. This is especially important for YMYL content as such critical topics have the strictest quality requirements. I gathered the basic tips from Quality Raters Guidelines:
Make sure the amount of content is satisfying
Quality Raters Guidelines underline that the amount of content is crucial. However, it doesn't mean you should create huge pages with thousands of words just to please search engines.
Everything is simple here: the amount of content depends on how broad the topic is. The more aspects you need to cover, the bigger the word count should be.
You can use WebSite Auditor's Content Editor when writing or preparing SEO tasks for your copywriters – this will save you tons of time you can spend on other aspects of your SEO activity. The tool will suggest the optimal content length based on the analysis of your top-10 SERP competitors.

Download WebSite Auditor
Keep your content up to date
Information and facts change over time. And you should always keep track of those changes as your content should always be accurate.
In the Guidelines, Google also claims that fresh content is always in favor:
"Remember to think about the query and its current meaning as you are rating. We will assume users are looking for current information about a topic, the most recent product model, the most recent occurrence of a recurring event, etc., unless otherwise specified by the query."
So, regularly update your pages to keep them evergreen and get Google's approval. To learn how to do it correctly, read our guide on how to update old content.
Create a descriptive, helpful title
The Guidelines mention title as a signal of quality. And we know for sure that titles are vital.
Make sure your titles aren't misleading or click-baiting. Click-bait titles can ruin the reputation of ordinary sites, let alone YMYL ones. Besides, remember the purpose of the page – even a title should work for it. And a clickbait title is definitely not the thing that will help here.
Your titles should be descriptive and clearly reflect what the content is about. A common practice is to add a keyword at the beginning of it to state what your content is going to be about exactly.
Watch out for plagiarized content
Copying other people's works may lead to what is called scraped content. In plain words, duplicates.
When there are several search results with identical content, Google never places them all together on the SERP as users won't benefit from that. It will choose just one. And your page either wins or loses the battle.
So, you should not only write unique content, but you should also make sure nobody is copying yours.
And here lies the problem. You can hire honest copywriters, but how do you know if your content is stolen?
Your first option is not to bother yourself with such minor things and to rely on strong domain authority. In theory, it may help you rank your content higher than that of imposters'.
However, if you don't want to take a hands-off approach, you can use services like Copyscape's Copysentry to receive automated plagiarism alerts. The service also consults on what to do if your content is stolen.
Don't abuse monetization
Say no to disruptive or misleading ads and pop-ups and an abundance of affiliate links.
Of course, Google loves ads but only as long as they don't hurt the user experience. So, if you run a YMYL site, think carefully before placing any ads or pop-ups on your site.
Avoid the abundance of distracting ads and affiliate links. They may seem not worthy of an authoritative site. It may signal to Google that you are here not to help users but for advertising and monetization. That can result in poor search performance.
Make sure your content is well-organized
This is quite standard advice, but no less important: structure the content correctly, and write in a digestible way. If you write on a complicated topic, it does not mean that your visitors should struggle while reading your text.
You can check your content for readability with apps like Hemingway.
Literacy is also important. A text with poor grammar, even if written by an expert, won't be considered credible. The best thing you can do is hire a proofreader or at least use grammar and spell checkers.
4. Website information
Quality Raters pay special attention to the information available on YMYL websites.
In the Guidelines, they say the following:
"Understanding who is responsible for a website is a critical part of assessing E-A-T for most types of websites. High quality pages should have clear information about the website so that users feel comfortable trusting the site... Websites about YMYL topics demand a high degree of trust, so they generally need satisfying information about who is responsible for the content of the site. In addition, High quality stores and financial transaction websites also need clear and satisfying customer service information to help users resolve issues."
So, pay enough attention to the pages such as About Us, Contact Us, Team, Locations, etc.
Here is an example of the Family Legal Advocacy Group About page. The content is transparent and clear: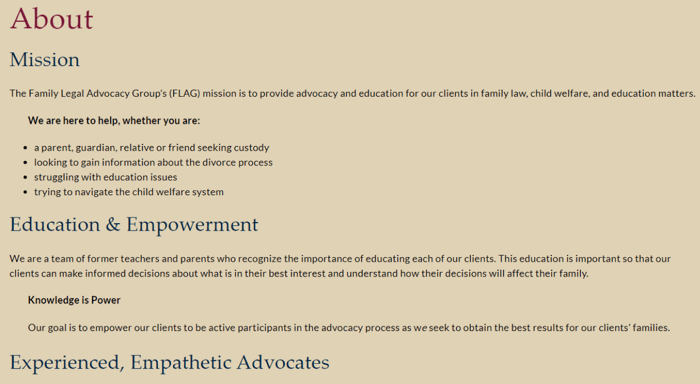 5. Website reputation
The reputation of your site is closely associated with E-A-T, so you should pay close attention to it.
Work on entity building and popularity signals
Active social media accounts with many followers and frequent updates can be a signal that your brand is in demand. So it makes sense to have them under your belt.
How do you do that? Establish social media presence: branded Facebook, LinkedIn, Twitter, Instagram, Reddit, etc. depending on what's popular in the industry. Since posts from social media can be ranked high enough, the users may think that you can be trusted just because you have a great account.
You should also get listed and be active on all the niche review sites. Though you can't control them directly, you still can manage your reputation there. Reply to all the comments and reviews you get, including the negative ones.
Encourage your customers and readers to leave positive reviews on your services or products (if it's relevant to your site format). You can also track the platforms where people may ask uncomfortable questions or speak badly about you and send your loyal customers there (if it is appropriate). This way, you can support the numerical superiority of positive reviews, which Google counts.
And finally, consider creating your Google Business Profile if you have a physical location and own a Wikipedia page. These processes are not the easiest and the fastest ones, but at least you should try. Add all important links to your site and speak about your accomplishments there – it will drive your brand recognition and authoritativeness.
Keeping track of your online reputation can be very complicated without tools like Awario or Google Alerts. With them, you can create alerts to learn about new brand mentions on the web. This way, you can easily track customer reviews, references, news articles, and other information created by individuals about your website.
It will help you timely address all possible reputation hazards.
Conclusion
YMYL SEO can be a tricky and time-consuming process. The absence of clear ranking factors only complicates the work. So, the only way to find out what works for your YMYL site is through raising content standards and experimenting. And I hope this article helped you understand what requirements Google has for YMYL content to rank high.
Have you worked with YMYL sites? Share your experience in our Facebook community.
Article stats:
| | |
| --- | --- |
| Linking websites | N/A |
| Backlinks | N/A |
| InLink Rank | N/A |