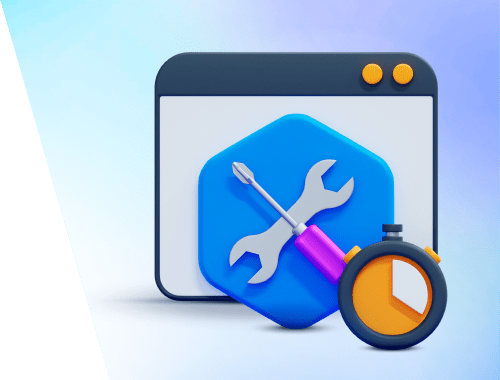 12 Quick Fixes to Boost Your Site's Performance

Managing a site isn't always a time-consuming or nerve-wracking process. Sometimes, all it takes is a simple tweak to see a significant improvement.
Today, I'm going to tell you about these quick fixes that will help improve your SEO, conversion rate optimization (CRO), and UX. So, read till the end.
1. Fix your headlines to be clear
Headlines and subheadlines are the first things people see once they land on a page. That's where you can either grab their attention or fail to do so.
Here is a quick test to see if your headlines are good: Imagine your website would be just your headline, subheadline, and a call to action. Then ask yourself: "Would anyone understand what my service/product is about and take action just based on my headline?"
If yes, don't touch your headlines. If not, consider fixing them.
However, there is a disclaimer part: Change your headlines only after a successful A/B test. Otherwise, you risk lowering your conversion rate instead of raising it.
While you can certainly get all creative with your headlines and subheadlines, it's important not to lose sight of the following rules:
Let's see a couple of good and bad examples in the wild. The good ones:
Mailchimp benefits from all the above-mentioned rules: there are USP (#1 marketing and automation brand), power words (win, more, revenue, sales), and keywords (marketing, automation).
Helpshift does pretty much the same: it sends strong messages, mentions benefits users will get, and is optimized for search engines.
Now let's move on to the bad examples:
Here, there is no headline at all, except for the plain welcome text marked as H2.
What's wrong with this landing page? The name of a company or service isn't the best headline for the homepage. It doesn't communicate your message as a business. Placing a product/service name in the upper left corner is quite enough.
2. Fix H1 - H6 HTML tags
H1 - H6 tags help to structure content on a webpage and make it more readable and accessible to users and search engines.
And while improved accessibility and better UX and SEO sound like something we all wouldn't mind getting, it makes sense to pay due attention to these semantic HTML tags.
What I mean:
3. Remove duplicate titles and descriptions
Google considers multiple pages with the same title tag and description as duplicate content. And the duplicate content issue is not a joke.
Duplicate titles and descriptions can negatively impact SEO because search engines will likely struggle to determine which page is the most relevant. This potentially results in lower rankings of the competing pages and a waste of your site's crawl budget.
Besides, duplicates can lead to inaccurate representation on SERPs, resulting in lower click-through rates and fewer visits. It's important to ensure that each page on your website has a unique and relevant title and description to improve SEO and attract more traffic.
Here is how to detect the issue and quickly fix it:
For example, such duplicates may appear due to pagination. The issue is easily fixed by adding the page number to the title and meta description:
4. Add the right CTA at the right place
It may seem like the design and placement of a call to action is such a small, almost insignificant thing. But it's not. There are case studies that claim that improving CTAs can result in a breathtaking conversion boost.
Conversions, however, aren't the only thing that CTAs affect. A well-designed and properly placed CTA makes it easy for users to find and complete the desired action. That, in turn, reduces frustration and creates a more positive user experience.
There is even more. Many CTAs are designed to collect user data, such as email addresses or demographic information. Skillfully planned CTAs can help you collect more valuable data that will help improve your marketing strategy in the future.
Disclaimer: Don't blindly change your site's CTAs. A/B testing is necessary before making any fixes. Also, use all kinds of click maps to analyze if users are clicking on your CTA buttons.
So what makes a CTA irresistible?
Let's compare good and bad examples. The good ones, to my mind:
The CTA is concise and clear and of the same type throughout the landing page.
Here is what I consider not the best-executed CTA:
The wording is inspiring but what should I expect, where do I go if I click? It is a bit unclear.
Here is another not-the-best approach to CTA placement:
There are too many CTAs per page. As a user, I'm confused.
5. Create a custom 404 page
A 404 page is a web page that appears when users try to access a URL that does not exist or is broken. As a rule, users see this plain 404 Not Found text in black and white. This page may become their journey's endpoint.
But a solution exists – a custom 404 page that redirects visitors to relevant content and helps them navigate through your site. Such a page can improve UX and prevent users from leaving your site.
How do you make a perfect custom 404 page:
Now let's see some examples starting with the best ones:
Tripadvisor placed creative text and added a couple of navigation buttons to direct people to useful pages.
Adobe did a great job placing product banners on the page and providing a link to the homepage.
Here are the examples of sites that didn't take care of UX and CRO:
Netflix could do better. There is no creativity, no care for user experience.
Here is another example, rather interesting but not beneficial for your site:
Figma created an interactive 404 page. Genius idea, but not CRO-friendly, though.
6. Place internal links to converting pages
You must have done internal linking for the sake of PageRank distribution and building topical authority. But have you ever tried linking to your high-converting pages from traffic-heavy, backlink-rich pages? I promise it will boost your conversion rates.
First, make a list of converting pages (Excel will do) – product pages, blog posts, and service pages. Consult Google Analytics to find ones. Then think through where you can place these links:
Remember, the key is to ensure that the internal links to your converting pages fit naturally into the context of the page and provide value to users.
7. Add badges for trustworthiness
Trust badges are visual indicators that a website has undergone some form of verification or certification, indicating that it is secure or popular.
If a website is new or relatively unknown or deals with sensitive information, trust badges can help increase users' confidence in your biz. That may result in improved conversion rates and reduced bounce rates.
But what badges should you add?
To add trust badges to your site, you will need to find the badge image from their providers, copy its code, and paste it into your website's HTML. Or you can use a special plugin or app that enables easy badge integration.
Here is my favorite example of trust badges placement:
8. Add user-generated content
User-generated content (UGC) refers to any content that is created by users of your website, such as reviews, comments, and social media posts. It has many benefits: UGC establishes trust with your audience, creates a sense of community around your brand, and provides social proof for your products or services.
Let's not forget that UGC can also help to increase the number of long-tail keywords that a website ranks for. This, in turn, can improve its visibility in search results.
Solid reasoning to think of adding some UGC, right? Now, let's see how you can approach this:
Now, let's see some real-life examples. This is how Gerber Life Insurance encourages clients to write a review:
And then they share these reviews on their site:
Amazon, for example, uses UGC not only to display it on their site but also as a way to help users sort through products. They have a feature called Request Review which sends an email to customers after they make a purchase, asking them to rate and write a review about the product. The average rating is shown on the product page, and customers can choose to see the highest-rated products.
9. Provide transcripts for audio and video content
A transcript is a text version of the audio or video content, which makes it accessible to users who are hard of hearing. Non-native speakers who find it difficult to grasp spoken language will also appreciate the effort. Besides, transcripts can also improve the SEO of your website by providing additional text for search engines to crawl and rank.
So, if you use such type of content, consider adding a transcript. Here is how to approach this:
Here is what it may look like on a page:
10. Add alt text to images
Though this tip seems trivial and not big news, I'm sure you'll learn something new.
When search engines crawl a webpage, they cannot "see" images in the same way that humans do. They rely on alt attributes along with their computer vision algorithms to understand the content of the image. By providing relevant alt text for your images, you improve your chances of ranking well in search results, including image search.
Additionally, alt text can improve the accessibility of your website. For users who are visually impaired and use screen readers, alt text helps grasp the content of the image and the overall message of the webpage.
So, how to write alt text correctly:
11. Update old/declining posts and delete unnecessary ones
By keeping your content fresh, relevant, and informative, you can attract more visitors, improve your SEO, attract new readers, and maintain credibility in your industry.
So, you need to update old/declining posts at least once in a while. For that:
During your site audits, you may notice that there is unnecessary content that no longer serves its purpose or adds value to your website. Such content can be deleted for sure.
However, make sure this unnecessary page doesn't have many incoming links (internal or external). Otherwise, choose redirection or page update. Read more about effective content pruning in our guide.
12. Add structured data
Structured data, also known as Schema markup, is a semantic vocabulary of standardized tags that are added to the page's HTML. These tags help a search engine understand the content and context of your web page and better represent it in search results.
How do you work with structured data:
Conclusion
Small changes can make a big difference. Try these 12 quick fixes – with no rush and with a bunch of A/B testing and SEO audits – and I'm sure you'll see positive changes.
If you have more ideas for quick fixes, share them in our private Facebook group.
Article stats:
| | |
| --- | --- |
| Linking websites | N/A |
| Backlinks | N/A |
| InLink Rank | N/A |