SEO + Social Media Audit: 10-Step Checklist
Article stats:
| | |
| --- | --- |
| Linking websites | 1 |
| Backlinks | 1 |
| InLink Rank | 18.0 |
The Complete
SEO + Social Media
Audit
Building a strong online presence for your biz (without paying for ads)

By: Alina Gorbatch
May 31th, 2016
It's no secret that a strong online presence is the key to your business success these days. However, despite being a huge business booster, digital marketing in all its shapes and sizes can often seem too overwhelming. Should you invest heavily into paid advertising? Or rather focus on tweaking your website's SEO? Or should you finally start a social media crusade?
As usual, the answer is "it all depends" — while paid advertising works magic for some businesses, it's not a solution for everyone (especially if you don't have infinite marketing budgets to lash out).
And that is why today I wanted to focus on SEO and Social Media — the two most powerful marketing channels that let you boost website traffic and attract new clients without losing your shirt on advertising. The today's checklist will help you pinpoint the strengths and weaknesses of your current search and social media strategy - or build one from scratch in the most effective manner.
Let the challenge begin.
SEO
Why is SEO important?
Among all digital marketing strategies, SEO is by far the most cost-effective one in the long run. At times when paid advertising bills you for every new customer, social media requires constant activity, and quality content takes up a lot of time and effort, SEO is almost a one-off headache. Once your brand is ranked high up in Google, customers keep coming to you for years and years to come. Sure, you have to monitor and fix things once in a while, but the effort is incomparable.
What difficulties do you face?
SEO is not just effective, it is also pretty complicated. You have to learn and implement a whole set of methods and tactics to end up on the first pages of Google.
Besides, Google regularly updates its algorithms and introduces new penalties, making it harder and harder to come up with a successful SEO strategy.
Audit your SEO.
We've arrived at the practical part of the checklist. Whether you are a business owner on a spree to promote your website on Google or an SEO specialist, you'll need reliable SEO software to use.
Tools you'll need:
---
In this guide, I'll use SEO PowerSuite tools to illustrate each of the steps. You'll get all features described below in SEO PowerSuite's free version; mind that to save or export your data, you'd need a Pro or Enterprise license.
Is your site suffering from a Google penalty?
Sometimes Google penalizes your website without warning you, for sins you didn't know you have committed. Then, until the penalty is lifted, whatever you do as part of your SEO strategy just won't work.
To check if you have been penalized:
1. Check for manual Google penalties in the Google Search console.
Manual penalties are issued by Google's webspam team, after they have reviewed a site's link profile and found it spammy. If you have received a manual penalty, you will most likely receive a notification in Google Search Console.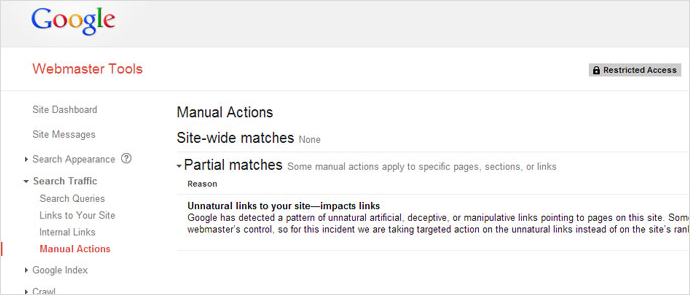 2. Check if there were any significant traffic drops that happened at the same time as automatic Google penalty updates were introduced.
With an algorithmic penalty you will not normally receive a notification from Google that your site has been hit. But you can still diagnose it by a sharp organic traffic drop that corresponds with the date of the update.
With the help of Rank Tracker you can see whether a Google update has affected organic traffic, keyword rankings or your overall search engine visibility.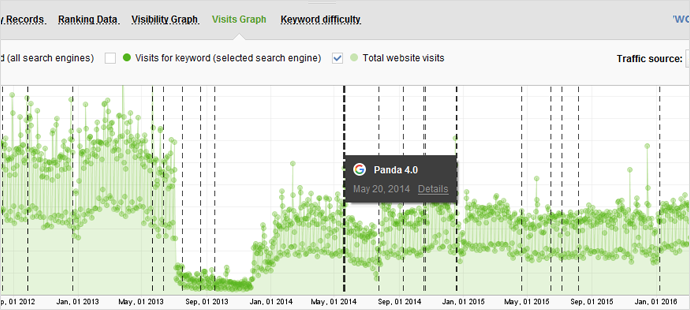 3. If you've spotted a traffic drop that corresponds to a Google update, make sure the traffic drop isn't caused by external factors.
Check for technical issues in the last few weeks before the traffic drop and make sure the drop in traffic is not a repeated trend caused by (say) seasonal changes in your market.
4. If you've found that you have been penalized, take action to lift the penalty.
Here is a cheat sheet on how to diagnose and fix any Google penalty.
---
Is your website well-built technically?
Technical problems may be holding your rankings back. Check if there is anything that needs fixing on your site.
1. Run a site scan using WebSite Auditor to check crawlability and indexing issues.

2. Explore the problem pages (the ones with Info, Warning, or Error status).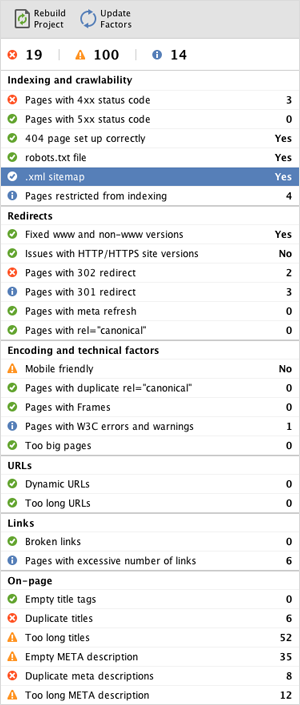 Pay attention to:
a) Robots.txt file. Check if it is in place by looking at the status of the Robots.txt factor in Site Audit.
b) Important pages blocked from indexing. Switch to the Pages restricted from indexing section in Site Audit to revise which of your pages are blocked.
c) Pages' response codes. Under Indexing and crawlability in the Site Audit module, go through Pages with 4xx status code, Pages with 5xx status code, and 404 page set up correctly to find HTTP response codes errors.
d) Pages with 302 redirects and meta refresh. Under Redirects in Site Audit, see if you have any 302 redirects or pages with meta refresh.
e) Unreadable URLs and dead links. Check URLs and Links in the Site Audit module to find URLs that are too long or broken.
f) Empty, too long, or duplicate titles and meta descriptions. Check the On-page section of the Site Audit module to see problem pages.
g) Mobile-friendliness. Check if your website is mobile-friendly. If it isn't, you'll lose positions in Mobile search and that means a possible sharp decrease in traffic.
3. Click on Recommendation to see how to get any of the mentioned issues fixed!

---
Are you targeting the right keywords?
Keywords are the cornerstone of your SEO campaign. If you pick the wrong ones (ones that won't bring enough traffic or take up too much of your effort), you are wasting your time.
Therefore, first you need to check if your existing keywords are a perfect match. And then make sure you are not missing any valuable keyword opportunities.
Easier said than done? Only if you don't have a handy tool to automate the process. So launch Rank Tracker and let's start.
1. Plug your current keyword list into Rank Tracker's Keyword Research module to find out the efficiency of your keywords.
a) Analyze the KEI (Keyword Efficiency Index) column. KEI is calculated as the (number of searchers)2 / competition. The green indicator here lets you choose keywords with lower competition and higher traffic potential.
b) Check keyword difficulty. Click on the keyword you'd like to check Keyword Difficulty for, navigate to the Keyword Difficulty tab in Rank Tracker's lower screen, and hit

to calculate the value. The higher the score, the more SEO work it'll take for you to unseat your competitors.

c) Analyze your keywords by their buying intention. Some keywords might bring a lot of traffic but not sales. These are purely informational keywords.
So, if you'd like to target only the best revenue-generating keywords, look at the Cost Per Click column in Rank Tracker's SEO and PPC Analysis tab.
Google AdWords' Cost Per Click gives you a pretty solid idea of how well a term converts — basically, the higher the cost, the better it'll sell (because the more an AdWords advertiser is paying per click, the more valuable that traffic must be for them).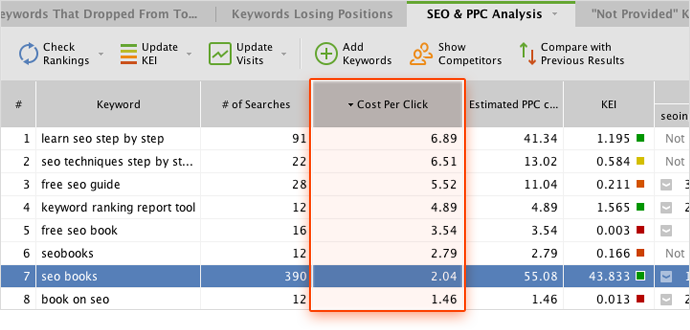 2. Look for keyword opportunities you are currently missing.
a) Combine multiple keyword research methods. Rank Tracker lets you use different research methods (Keyword Planner, Google Autocomplete, Related Searches, and Trends). Press , select a research method that will be used to get suggestions, and then repeat the search using other research methods.
b) Look for long-tail keywords (longer, more specific keyword phrases). Long-tail keywords often have a higher buying intention (Compare: "Sony laptop" vs "Sony laptop vaio i7 touch screen 8Gb). Use Google related searches — it produces keywords that are 1 word longer than your original keyword — perfect for long-tails.
c) Discover competitors' target keywords and add them to your list. Click Suggest Keywords and select Google AdWords — by Target Page. Type in your competitor's URL and click Next. Rank Tracker will dig out keywords from Google AdWords that are associated with the competitor's page.
---
Are you using keywords properly in your content?
Now you have all the right keywords. What do you do with them? Surely you can't just fill your home page with 500 keywords. They wouldn't fit, and that wouldn't make sense. The trick is to use the right keywords on the right pages in the right order.
This time open both your Rank Tracker and your Website Auditor, and let's start.
1. Create a Keyword Map for your website.
Your keyword map determines how your keywords will be arranged on your website pages. One of the main principles of a keyword map is the relevancy factor. Your keywords should be grouped by topic, and assigned to a page of this topic. Here Rank Tracker does the job for you: it breaks down your list of keywords into groups of similar keywords. Depending on your strategy, you may want to re-group some of the keywords. When you're done, use the Keyword Map module to find relevant pages for each group.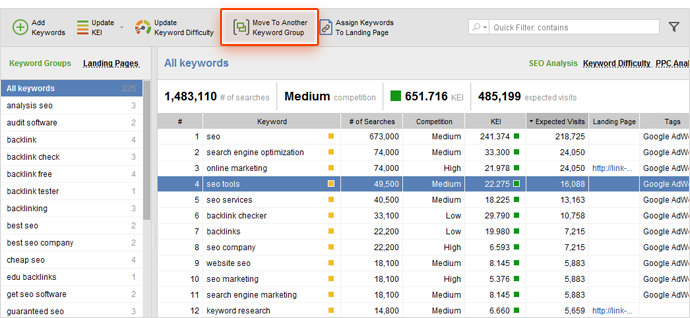 2. Make sure your Keyword Map reflects the Keyword Difficulty.
Switch to the Keyword Difficulty tab in the top right corner of your Rank Tracker workspace to check the difficulty score of individual terms or entire keyword groups. The most difficult keywords should be assigned to the most important pages (that generally have higher ranking potential). This way, the most generic terms will be tied to your homepage, while less important pages will include longer, more specific keywords with less competition. Introduce some changes if this is not the case.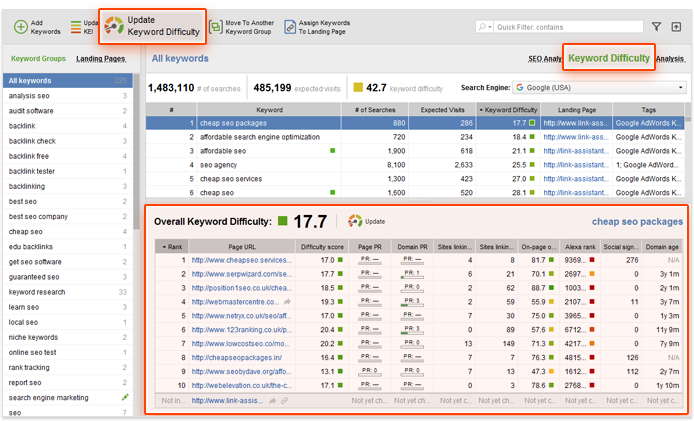 3. Check (and improve!) your content optimization.
Scan your landing page using Website Auditor. It will show you an overall optimization score of how you compare to top-ranking competitors, and all optimization stats that underlie this score.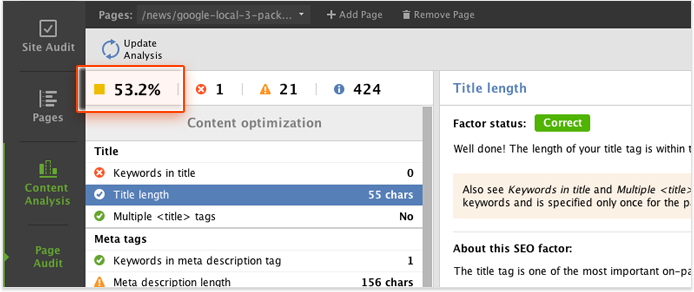 a) Place your keyword at the beginning of your title tag. Your page's title is crucial to SEO — it tells search engines what the page is about, so you need to make sure you it includes your keywords. Moreover, the closer your target keyword is to the beginning of the title tag, the more relevant it'll appear to search engines.
b) Don't forget about using keywords in your page's main content. As much as we attempt to please search engines, we should be interesting to readers first (and the engines will see that). However, clever use of keywords in your content is also important — it lets search engines understand which search queries that content is most relevant to.
c) Check if your heading tags are properly optimized. Use keywords in your headings. Your heading tags are strong relevancy signals to search engines, especially H1.
d) Make sure to use the right alt texts for images. As search engines can't analyze images or read text off them, use images' alternative attributes to tell search engine bots what the image is about. It's recommended that all of your images have alternative text, and that relevant keywords are used within it when possible.
e) Check for over-optimization. WebSite Auditor will also show you the average keyword usage stats of your top ranking competitors — and where your website lags behind or, on the contrary, goes overboard with keyword usage.
4. Make necessary changes to your content in WebSite Auditor's Content Editor.
By switching to the Content Editor module, you can edit your pages content right inside the software — to add or remove extra keywords and see the optimization stats recalculated for you as you type.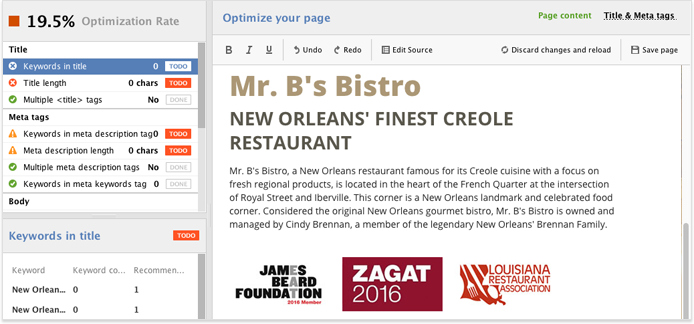 ---
How does your backlink profile compare to your competitors'?
Backlinks are as important in SEO as everything we've talked about up until now. True, it is possible to get to the top with no backlinks, but only if you're targeting extremely low-competitive keywords (and who wants that?). At the same time, keep in mind that low quality backlinks might result in your site being Penguin-penalized. So, how do we get around that tricky situation? With SEO SpyGlass.
1. Look at your competitors' backlinks and find out where you stand.
Create projects for your site and your competitors' sites. SEO SpyGlass will compare the number of links the sites have and provide you with important stats on dofollow backlinks, anchors, top total linking domains, and more.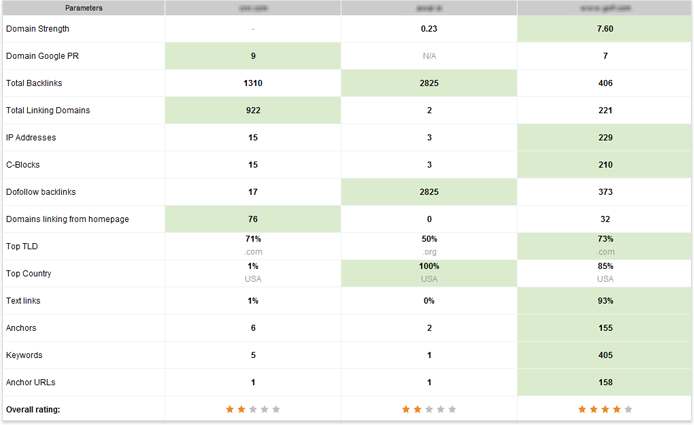 2. If you lag behind your competitors, choose a link building strategy and start growing your link profile.
For a strategy on how to do that, check out this link building guide.
---
Social
Why is Social important?
Indeed, why. Social media is a terrible thing. It makes you scroll through your Facebook page every time there is a deadline to meet :) But its other side is full of possibilities.
1. Life-saver for market researchers. It is cheaper, much less time-consuming, and it isn't outdated by the time business owners are ready to act on it.
2. A way to improve or create a word of mouth and build a reputation of your brand. According to Nielsen, 92% of consumers believe recommendations from friends over all forms of advertising. Social media creates a situation where all "followers" and "subscribers" are seen as friends, and their opinion matters the most when deciding on a purchase. Besides, social media gives you an opportunity to connect with your customers directly: thank them for their purchase, solve their problem, and reply to any of their complaints. Due to social media being a public platform, all this reputation-building goes for beyond one-on-one conversations. Millions of people observe how polite and helpful you are, and associate that with your brand.
3. Gives you an opportunity to add social selling to your business strategies. It enables you to find discussions of your product category online and offer your product directly to people who are looking for it.
4. Tells you everything about your competitors (if you listen): where your competitors promote their brands, how they do it, and whether they are successful or not.
5. Influencer marketing becomes much cheaper and often more effective. Influencer marketing has traditionally involved celebrities, sportsmen and models. However, with the growing popularity of online influencers that have hundreds of thousands views on average, the opportunity to market for free has arrived.
As I said, many opportunities.
What difficulties do you face?
Social media requires time and patience. Even with the best tools on the offer you or your team will have to spend a couple of hours a day to engage with your customers. And you won't get instant results. Social media is about building a reputation for your brand — this doesn't happen fast.
Audit your Social
So let's dive into optimizing your brands Social media strategy.
Tools you'll need:
---
Awario is a new social listening tool by the SEO PowerSuite team that we hope you'll find useful in your daily marketing routine. It searches the Web and social networks for all mentions of any given keyword (be that your brand name, your competitors or any topic of your interest)
Are you covering the right social media channels?
Nothing is worse for a social media marketer than wasting time on a platform that isn't producing results. No matter how popular Snapchat may get, it doesn't mean anything if it's not performing well for your business. So to put the first things first, you need to pick the right social media channels.
1. Determine where your target audience is.
What are the main social media networks where your brand should be represented?
This may seem like the easiest question — Facebook, Twitter, Google+, these are the names that probably come to mind. However, first of all, the social Web nowadays goes far beyond the social networks themselves: all kinds of forums and niche communities are the places where lots of your potential customers are. Secondly, even the top popular social networks may not be the right fit for YOUR particular business.
So, the very first step for you is to identify the social media channels where people talk most about all things related to your industry, products and services.
a) Come up with a list of topics related to your industry. Think of the topics that relate to your industry — these may be, for instance, auto insurance, fuel economy, auto leasing and others in the auto industry. Then, in your Awario account, create an alert for this group of keywords.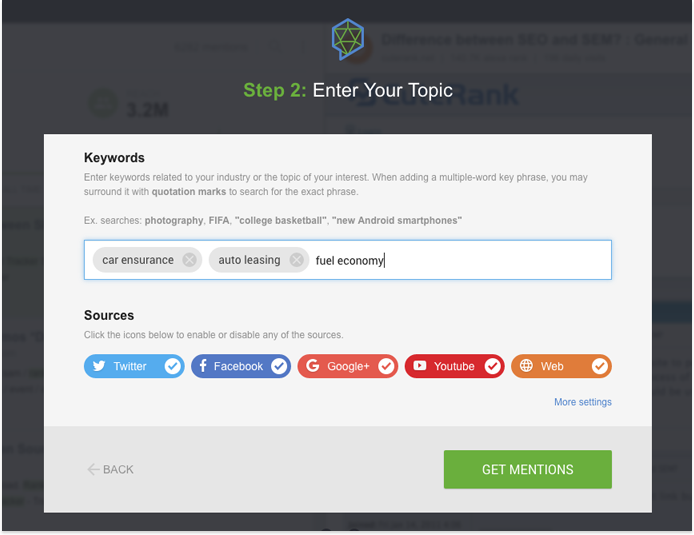 b) Identify the top social networks and communities where these topics are being discussed. Awario's Mention Analytics dashboard lets you see at a glance what social channels see the most of your industry discussions: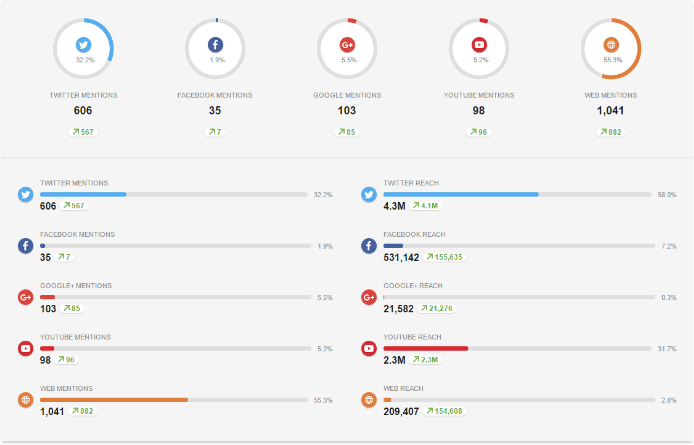 More to that, in Awario's Influencers report you'll find top websites across the whole Web, where the topics are being discussed: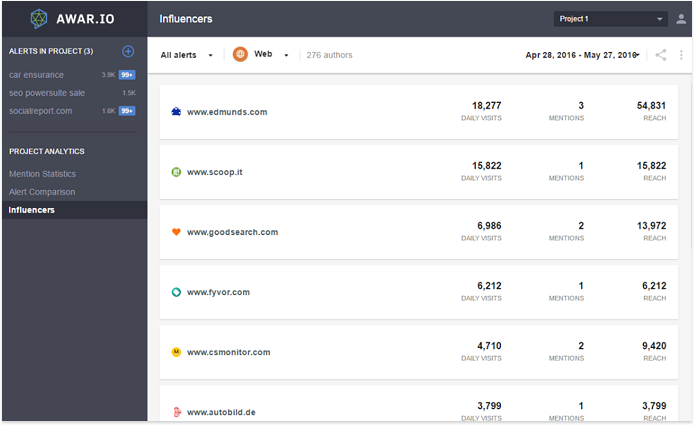 2. Make sure your brand is present on each of these social channels.
Do a complete review of every social media profile you have on these top-important networks.
Did you create a YouTube page a couple years back on a whim? Has someone on your team been trying to work with Quora?
3. Register accounts on the websites you're currently missing in your social media campaign.
You can use a tool like Namechk or Knowem to find existing social media profiles and find the available usernames.
4. Pay less attention to the networks that are not worth it.
If your social media campaign is focused on generating ROI, you don't want to waste your time and effort on the unprofitable channels. So, if the audience of this or that resource seems not to be interested in your industry topic, it may be a good idea to stop your activities on that source.
However, if you already have a social media presence on one of the questionable website, double-check their current performance, like referral traffic in Google Analytics and engagement, before taking any drastic measures.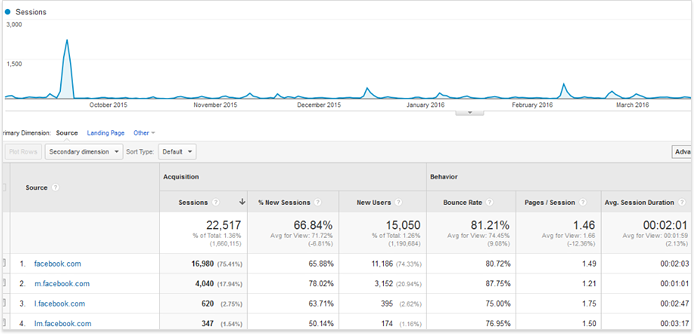 ---
Are your profiles complete, and branding consistent?
Your brand should be immediately recognizable across all of your social media profiles. When there's a disconnect between your Facebook, Twitter and Instagram profiles, it's difficult for customers and followers to determine which profiles are official, or if they're even following the right company.
Consistency is crucial.
1. Check all your social media profiles for consistency in imagery and message.
Are all avatars the same? Do backgrounds and other images follow theme/branding? Are all descriptions and URLs uniform?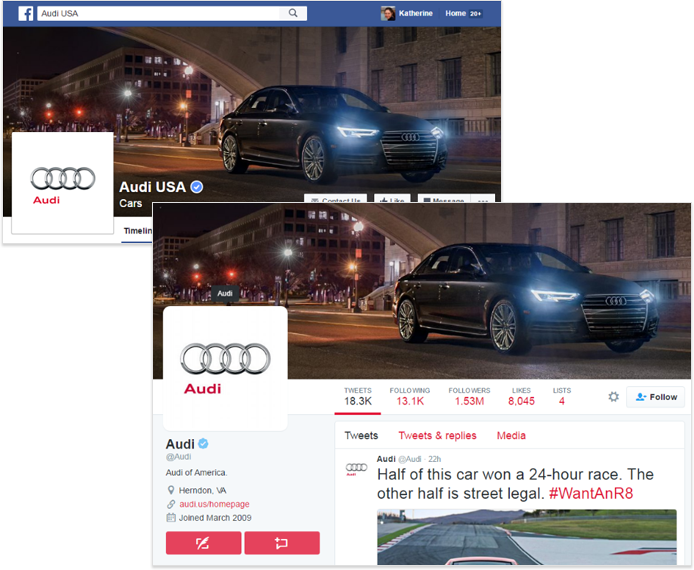 2. Check for completion of all most relevant details about your company.
Social networks offer a lot of customization these days, so it's easy to miss a spot. Therefore, you need to make sure that you're using these customization options to the utmost.
Are you using all three image locations on Twitter? Do you have both standard and square logos uploaded to LinkedIn?
3. Make sure you have a single official account for each network.
Perform a general search for your brand on all the major social networks; look also for unofficial accounts, either those set up by well-meaning employees and users or those created by rogues and spammers. Try to get rid of all the unnecessary duplicate accounts.
---
Are you using the right types of content?
Though being successful on social media involves much more than content creation… fresh, interesting and engaging content is something you cannot disregard. However, creating outstanding content might be a challenge, especially for the so-called "boring industries".
Where do you get inspiration for a new content topic? How do you make sure you never miss out on creating the content your customers are looking for? How do you know which types of content perform best in your particular niche?
This may seem like whole lot of questions, but you can answer them all by simply taking a look at your competitors.
1. Look at your competitors' top performing content.
To research your competitors, start by picking three or four of the top ones. However remember that competition research does not simply mean looking at your competitors' websites.
a) Identify the footprints that will help you find competitors' external content. Content strategy is not only about the internal content on the website, it's about all the external platforms your competitors are using. And you'll need to identify the footprints that will help you find their content: the names of their products, their brand name and their URL, the names of their guest-posting authors and so on.
b) Now create an Awario alert for each competitor: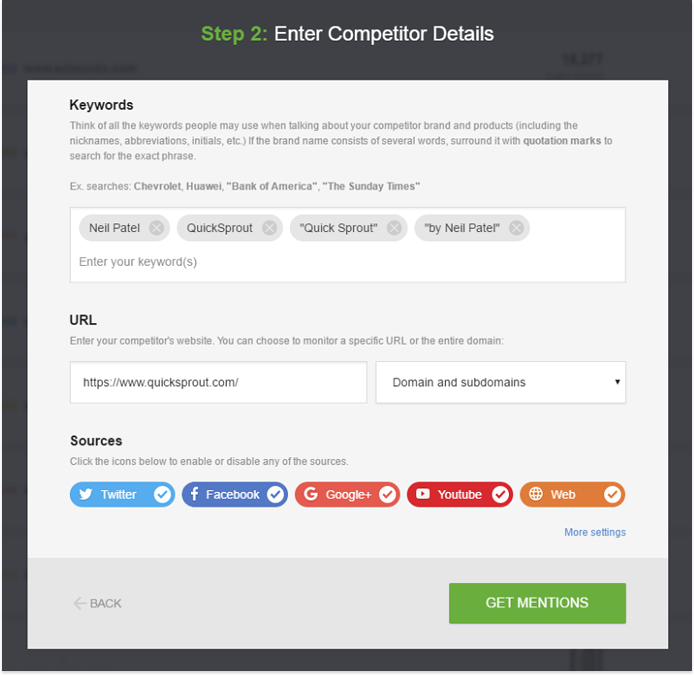 c) Identify the top performing competitor content. Awario will monitor the whole Web for the mentions of the keywords you've specified. So you'll get notified of all the new content your competitors publish. By default, all mentions in your workspace are sorted by date, however you can change the filter to Sort by Reach to see mentions from the most popular resources first.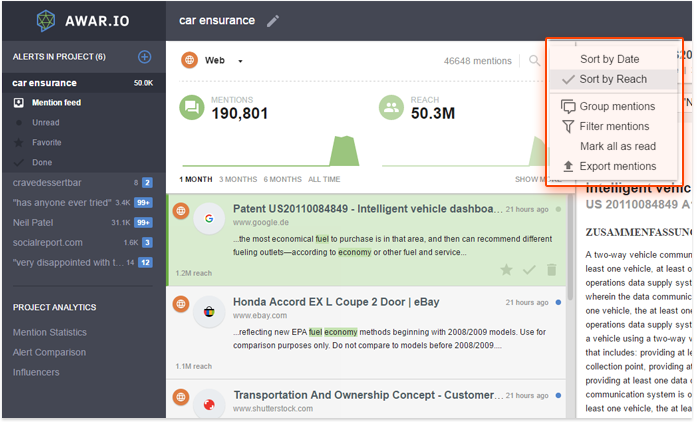 2. Draw inspiration from your competitors' best ideas.
Now you have a wealth of new content ideas, a better understanding of which types of content perform better in your niche, and lots of new resources to consider using in your marketing campaign.
Use this information to build a strong content plan.
---
Are you making use of influencer marketing?
Using social media influencers in your marketing is the practice of building relationships with the people who can build relationships for you. Whether an influencer's audience is small or large, an influencer can reach consumers via their blogs and social networks that your brand may not be able to.
The practice of influencer marketing isn't new. In fact, some may argue it's one of the most long-standing marketing techniques around. But building a high-quality influencer program today — especially in the digital age — is no small feat.
Are you utilizing the power of influencer marketing in your social campaign?
1. Discover the right influencers.
Influencer marketing starts with identifying people who produce and share content that can impact your business or your buyer's decision-making process.
Once you've created an Awario alert for the topics that relate to your industry, switch to the tool's Influencers report. Switching through different social networks in the drop-down menu, you'll see a list of the most influential people in your industry in each of the networks.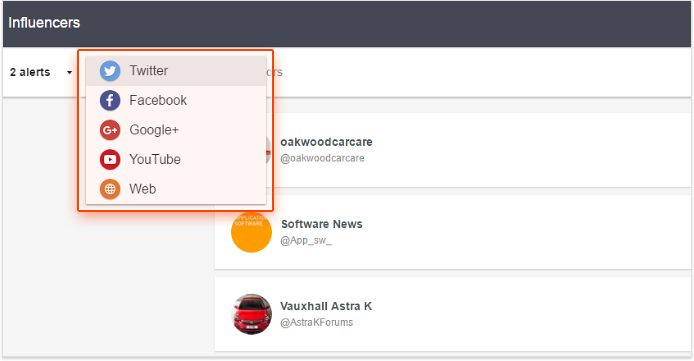 2. Monitor influencers for opportunities.
Once you've found your top influencers, start listening to them and monitoring their content to get a better idea of what topics they write about and what they share.
To do that, you can, first, follow their social media channels. And, second, create an Awario alert to keep track of their activities and publications on external sources: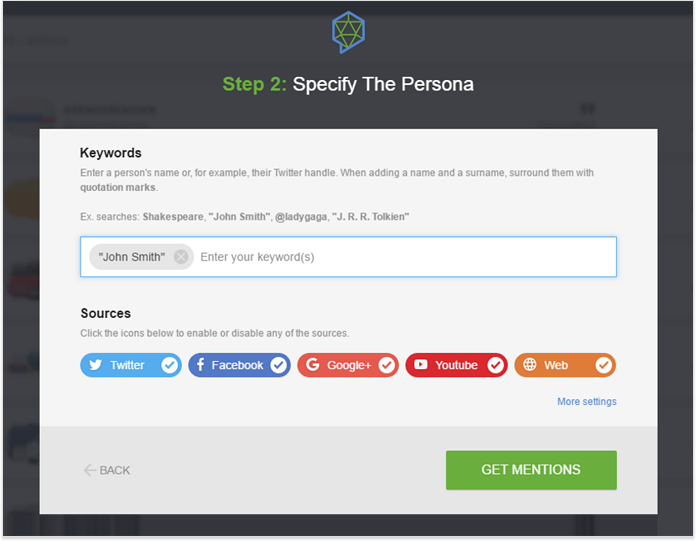 3. Take action and engage.
Start building relationships with your influencers with simple actions (follow, share, link). Get to know them, build trust, then plan initiatives that will let you work together.
And you can easily do that right from Awario's interface — the tool lets you react to each of the found mentions:

Are you utilizing social selling?
If you thought social media was just about being social, think again. Today it's about "social selling." Potential investors, employees, colleagues, clients and customers are literally at your fingertips. But it is up to you to build relationships and establish trust. And that is what social selling is all about.
Social selling is no longer optional for your business. It's a powerful strategy that can help sell your ideas, establish credibility, secure funding, attract talent and win customers.
So, how social media can help you find new customers? You can do that by creating an alert in Awario — just think of the right words that people use when they:
1. Complain about your competitor's product/service.
Comment on the post with an offer of your product, explaining that it doesn't have the mentioned problem.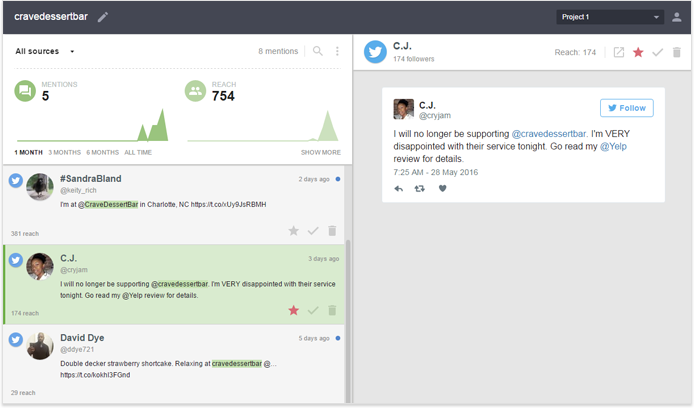 2. Find people that post about a problem that you can solve.
Comment on their post (a better choice, if you want to make your services known to a wider audience) or send them a personal message offering your product/service. If possible, use a free sample of what you are offering. Don't just offer — send one right into their inbox.
3. Search for people asking for advice in your product category.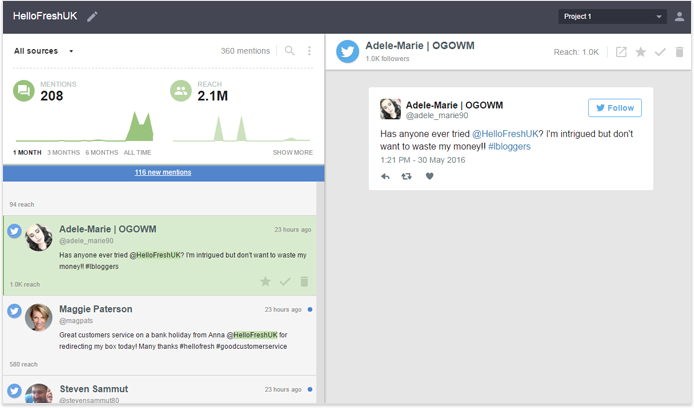 Not only offering your service, but providing a customer with an exclusive offer would raise your chances of success immensely. For example, you could comment on a tweet above that you offer discounts for groups over 10 people.
4. Of course, you have to monitor people asking for advice or reviews of your brand.
You should be the first one to share your opinion of the brand (a positive one, obviously). Otherwise there is a risk your competitor will talk to your potential customer about their product first, or leave a not-so-good review of your product.
---
That's a wrap! One last thing to remember is that while every marketing channel can be effective on its own, the real jackpot lies in utilizing several of them to compliment each other. With almost any kind of information readily available online, consumers have every right to get choosy and prefer a brand they can relate to, a brand with numerous happy customers, a brand that is responsive to its clients, etc. to a brand that is just one of those things. Divide your time between each of the channels that work in your industry (market research is your best friend), and make sure future clients can find you all around the Web, even if they don't know they're looking for you (yet).

By: Alina Gorbatch