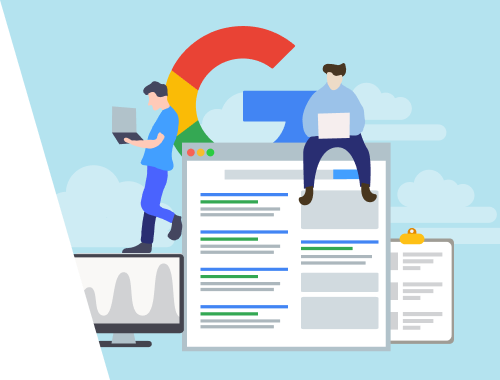 Google SERP Features: A Visual Guide to Search Result Types
The detailed visual guide to the modern Google SERP is aimed to help you make sense of the numerous types of search results on Google. Here you will find the most popular SERP features like Knowledge Graph panels, carousels, featured snippets, sitelinks, etc., and a few good SEO techniques that let you win a couple of SERP features for your site. I'm sure with this guide you will learn a few SEO goodies about how to get additional exposure in search results.
Contents
How search result types impact CTR and traffic
Over time, Google search has grown into an extensive knowledge base, able to construe the most complex queries and give out elaborate search results. Different result types are affected by a multitude of factors, require distinct optimization techniques, and offer varying degrees of SEO potential.
Before we dig in and explore the different types of Google listings, let's stop for a second over the types of SERP features and the influence Google rankings and layout have on traffic and CTRs.
That's clear everybody seeks to be number one. According to this impressive study of SERP features by Sistrix, there is drastic difference between the click-through-rate of positions #1, 2 and 3 of organic results. The average click rate for the first position in Google is 28.5%, whereas in the second position, the average CTR drops to 15.7%, and in the third position — to 11%.
In fact, the average CTR across top positions do not show the real picture. CTRs will vary depending on the type of the query and the rich results presented for the query on the first page in the SERP.
For example, rich sitelinks will create a higher CTR for the website having this SERP feature.
A Knowledge Graph SERP feature may lower the CTR for the first result. No need to click if the question is answered right in the Google search.
And PPC campaigns and shopping ads will impact CTR rates all down across the SERP, making competition really tough for the rest of the organic results.
Well, it all comes up to the question of search volumes, guessing keyword intent and correct bidding on your target keywords in every particular case.
How do I know my best SERP features
How do you know which pages of yours are presented with a rich SERP feature on Google? That is a tricky point to discover, as there can be thousands of SERP features and keywords which you cannot go through manually.
For the first quick check, let's have a look in the Search Console > Search Results. Under the Search Appearance tab you will see the most popular rich SERP features present for your ranking pages.
Before we switch to SERP feature types, I suggest trying the small but highly useful feature of Rank Tracker — which identifies search results of various types present for your keywords. You can easily spot the rich search terms which contain maps, paid advertisement, local features and news packs, videos or news — just with a click of the mouse.
All in all, I've grouped Google search results that appear on Google's result page into 6 types, each having their own subtypes.
Let's go in details over the most popular SERP features and the opportunities they offer for SEO and online advertising.
Knowledge Graph results
Since its introduction in 2012, Google's Knowledge Graph has expanded into one of the largest knowledge databases. Google analyzes trustworthy sources to build connections between entities and to present knowledge about them in a quick and clear way.
Knowledge Graph data appear as a compact summary to the right of the organic results list in the form of the Knowledge Graph Panel, or the Knowledge Card.
Instant Answers
While there are hundreds of types of rich answers ranking number 1, the so-called OneBox results will hardly bring traffic to your website. Those rich answers go without a link underneath. Trying to search for general knowledge facts, like weather forecasts, calculators, and real-time scores for sports, you will find the answers right in the search snippet. That's why they are sometimes called zero-click results.
As you enter your search query, you'll get the knowledge card right at the top of the SERP, without links to any particular website. However, you may be offered to find out more, usually to general knowledge informational sites powering the knowledge card.
Brand Knowledge Graph Panel
This SERP feature is displayed mainly for branded queries. The current version of the brand knowledge panel consists of the brand name, a logo, a link to the company site, a description of the company, and a list of the entity's social profiles. A branded Knowledge Graph panel can be extremely powerful: it gets the searchers' attention and is an explicit indicator of the company's authority and trustworthiness. Adding eye candy to the search results and page layout — more often than not eyes are instantly drawn to the knowledge panel, be sure to exploit it effectively.
To get a Knowledge Graph panel for your business, you've got to optimize for your brand the way that it grows into a reliable and fully-shaped Google entity. Thankfully, we do know which sources Google draws the information from for its Knowledge Graph. Here are the steps that will dramatically improve your chances to get listed.
1. Get on Wikidata.
Formerly, Google used to get some of the data for its Knowledge Graph from a data repository named Freebase. The project was shut down in 2016, and all Freebase data was transferred to Wikidata, a knowledge base operated by Wikimedia. Creating an entry is easy: Wikidata is more machine- than human-oriented, so you only need to specify a few details about your company to appear in the search results — instead of writing paragraphs of text like you would on Wikipedia. Also, Wikidata is a great starting point if you want to get your business on Wikipedia. Here's a guide to Wikidata to get you started.
2. Get a Wikipedia article.
Wikipedia is one of the main sources that feeds the Knowledge Graph: company descriptions and official website addresses almost always come from Wikipedia. You can create a Wikipedia page for your brand yourself, but my best advice would be to hire an experienced, trusted Wikipedia editor (there are plenty of white-hat companies available to choose from). Don't forget to include a link to Wikidata in your entry — this can improve your chances of getting the article approved.
3. Use schema markup for organizations on your homepage.
Schema markup is a type of microdata or, practically speaking, a chunk of structured HTML code on webpages that's not displayed to visitors, but is intended to be read by machines (search engines, web crawlers, or browsers) to help them understand the page better. Semantic markup is incredibly beneficial for all kinds of Google listings. For your business site's homepage, you'd want to use the organization type of markup. In your markup, be sure to specify your logo, contact info, social profiles, Wikidata, and Wikipedia pages — this is the information Google will likely draw from your site. Make sure to check with Google's instructions on customizing your markup elements, if you want to impress the Google algorithm.
4. Have your social media accounts verified.
To identify the social profiles for the panel correctly, Google seems to need them to be verified by the social networks. So what's a verified account exactly? It's a profile of a business or individual that is confirmed by the social network to be their primary official account. Across most social platforms, verified accounts have a blue verified badge next to the account name:
Just like the traditional organic results, social results have also evolved in the past years. For bloggers and influencers with significant social media presence and active community, social accounts come ranking in the top positions in organic results. Besides, the prominent Twitter box is here to stay. In the current layout of Twitter listings, you can click through the account's recent tweets without leaving Google.
Each social network has their own guidelines for getting accounts verified.
5. Contact Google to request a change.
Finally, when you already have a Knowledge Graph listing for your brand, and there's any part of it that doesn't look correct on the search engine result page, you can request Google to make changes to it. For this, you have to log into your site's Google account. Then go to the Knowledge Panel (make sure it's the right entity you are looking into) and click Suggest an edit.
6. Popular product listings
Google rolled out the Popular Products in early 2020 to diverse product search against the growing spread of marketplaces like Amazon. The Popular Products card is located in the Brand Knowledge Panel above Shopping ads for retailers in certain industries (initially for apparel and shoes, though currently popular products appear for all kinds of manufacturers).
This SERP feature is intended for users who want to make the best choice about the products rather than simply look where to buy them. Popular Products feature is powered from organic products listings and is actually a mashup of various organic search results, including images, ratings and reviews. To get the Popular Products card absolutely free, create a product feed in Google's Merchant Center and implement structured data.
Local results
The Local Pack (aka the Three-Pack)
Google's local pack SERP feature now consists of a map and 3 listings. The local pack listings largely depend on the searcher's location; clicking on one of those takes visitors to Google Maps with an extended view of the business they clicked on.
1. Claim your Google My Business listing if you haven't done it yet.
Most often, featured snippets appear with questions starting with 'how to', 'what is', and the like. Another quality signal for a featured snippet is that your answer gets a neutral, commonly acceptable tone.
The easiest way to do that is with Rank Tracker's Keyword Research module: at the start of your project, simply press the Suggest keywords button and pick Google Autocomplete as your suggestion method.
The Autocomplete Tools method will bring you hundreds of related keywords that may have a better traffic potential. The Related Questions feature will return popular results from Questions Autocomplete and from the People Also Ask SERP feature. You will get here long search phrases or even the whole sentences, as people tend to use voice search more frequently on mobile devices by means of voice search assistants.
When you've found your keywords, the results may include hundreds of entries. You can filter them by search volume, keyword difficulty and other SEO metrics, and pick the best ones to target relevant audiences and get a higher CTR on the SERPs.
2. Directly answer the question in your content.
Think how you can answer a question directly in your content, or add an FAQ section. Make sure to include the question itself, and a brief, direct answer to it. Keep in mind that for featured snippets, the structure of your answer is more important than your site's relevance and authority. Make answers explicit in your content; if your content is long-form, include a short TL;DR version with a question-answer pair.
3. Use schema markup (yes, again).
Semantic markup will allow Google to identify semantic entities on your site, and make extracting data from your content easier. Google may look at sites that use schema markup preferentially to find information for the answers box.
4. Optimize the page.
Just like organic SEO, getting into featured snippets requires some on-page SEO work. For starters, make sure you include your keywords and related terms in your content. You can analyze and optimize your page's content in live view with Website Auditor — the tool's content editing module will give you specific optimization advice and recalculate your optimization scores as you type. Free version will do.
By the way, here is a more in-depth article, a bit older, however, still valuable with a few tips on how to pick the right topic and page to optimize for a featured snippet.
Rich results
Rich results are SERP features that have some specific graphical element like stars, images, thumbnails and the like. Unlike the Knowledge Graph SERP feature, constructed by Google search algorithms, rich results are enabled with the help of structured data markup on each site.
Carousel results
There are a bunch of rich features presented in a carousel-like layout. However, each type of a carousel has its nuances in usage and the way it's generated.
Before 2017, Google returned carousel results in response to non-commercial, informational queries including keywords like 'best', 'top', etc., where the searcher is looking for a selection of options. Currently the carousel is active for commercial search queries as well. The carousel appears on a white background and in fact comprises a kind of a knowledge panel with a list of search results. The carousel listings don't include links to sites; clicking on one of them will simply get you to a new search results page. I bet one can hardly think of a direct SEO, local SEO or traffic advantage you can get out of the given carousel.
Carousel on mobile
The Carousel on mobiles displays multiple list cards from the same site. You can swipe through the cards in the carousel with the scores, descriptions and top cast, and then to decide whether to proceed to the streaming platform. Currently, the feature is enabled in combination with only some types of content, like recipes, courses, restaurants, and movies.
Image results
Image pack
Image result boxes are often incorporated into Google's organic SERP and appear on the first results page. Image pack is seen as a horizontal row of images relevant to the query. These results link directly to Google Images search, where little things called Vertical Searches come into play. If you've got a photo on Flickr with the appropriate content and tags, you'll also appear in Google Images.
1. Optimize image size.
You've surely heard that Google's all about speed, so it's in your best interest to get your images as small as you can, while maintaining the visual aesthetic. You can test your images in WebSite Auditor by going to Content Analysis > Page Audit. Add the page that you need to audit, switch to Technical factors > Mobile Friendliness and Page Speed.
There you will see all your errors and warnings about a bunch of factors related to loading speed and quality. Click on the details, and you will see the list of images that need to be compressed or resized.
If you need to check your images site-wide, switch to Site Audit > All Resources > Internal Resources > Images tab, and sort them by Size.
2. Use unique, original images only.
For obvious reasons, Google seldom ranks multiple copies of the same image. For images that appear across several sites, they'll do all they can to dig out the original version of the image and include it in the search results.
3. Mind image titles and alt attributes.
Image titles and alternative attributes help Google understand the content of the picture, so make sure you use those tags to make it absolutely clear. If relevant, include your target keywords in both the title and alt text.
4. Optimize your page copy and URL.
On top of the image-specific elements, Google uses the webpage as a whole to determine the relevancy of images to queries, so you'll want to also include your keywords in your content and URL, and optimize your page fully. Again, WebSite Auditor's Content Analysis module will let you do just that.
How to track:
You can easily track your rankings in the Images block with Rank Tracker. Just launch the tool, paste an URL to create a project for your site. Further, add your top keywords (the tool will find some by itself) and click Finish for the tool to check your ranks.
Whenever your images are found on the SERP, you'll see a double rank in the Google Rank column. The first figure stands for the position of the overall Universal block, and the second — for your image's position within that block. Click on the three dots next to the rank to see the type of the Universal block.
Video results
Trending videos
Like social listings, trending video results are integrated into organic results and have a customized snippet. They show the thumbnail of the video, the publication date, and the name of the video channel. If multimedia content is part of your marketing strategy, leveraging Google's video results is an absolute must-have.
Featured video
Featured video is a specialty SERP feature for TV and video production. Google your favorite hit or a movie trailer, and you will find a large embedded video at the top of the result page. The highlighted video contains the URL leading to the official source, information about the track and the artist, the genre, and top streaming platforms for download. Of course you can watch the video right in the SERP and even look through the lyrics. Music fans love it.
1. Create video content.
If you're new to video marketing, YouTube with its vertical searches — is your best bet. The types of videos that do best across YouTube are how-to videos and video reviews. Think of the topics you could cover, and produce videos to answer your audience's burning questions.
2. Optimize your video's file name, title, description, and tags.
The file name of your video when you upload it is the first thing you need to optimize: make sure it's concise, clear, and includes your keywords. The same goes for the video's title (remember that the title should also entice clicks and offer value to searchers). Putting your keyword at the beginning of the title is considered a best practice. As for your video's description, remember to include a link to your site at the top of it. Ideally, the description should be 200+ words long and clearly state what your video is about.
3. Maximize user experience.
You'll need to work hard both when creating the video and distributing it to boost views, comments, thumbs up, and reduce bounce rates — these are the factors that both Google and YouTube look at when determining videos' quality. You can see user experience stats in YouTube Analytics to spot areas you can improve.
4. Promote your videos.
Like with any type of content, social media exposure is good for both attracting traffic to your videos directly, and improving your Google ranks. Distribute your videos on social media, Quora, industry forums, and embed them in blog posts to gain those precious views and comments you're after.
How to track:
Rank Tracker lets you track your videos' rankings alongside your site rankings, in the same project. Just go to Preferences > Alternative URLs in Rank Tracker and add links to your videos. These can be any kind of links — YouTube, Vimeo, Wistia, etc. You can specify up to 100 URLs in total.
Additionally, you can add YouTube as a search engine in Preferences > Preferred Search Engines to track how your YouTube videos rank for your keywords across YouTube itself, not just Google.
Google News
Google News result blocks appear anywhere on the first results page, in-between organic listings, in response to queries matched with recent news posts. This block currently known as Top Stories can have up to three URLs, enhanced with a thumbnail image.
If content creation is a big part of your marketing strategy, you can become a Google News Publisher and therefore appear in news results — as long as you meet Google's guidelines for news sites. You needn't apply for that, though. The main requirement is that your content should be of high quality, fresh, unique, and non-promotional.
Alternatively, you might want to consider offering your content to be re-published by bigger publishers that already have an established presence on Google News. A good starting point is searching Google News for your industry terms to note the most frequent contributors.
How to track:
You can track your rankings in the News block with Rank Tracker if you enable Universal Search in Preferences > Rank Checking Mode.
Whenever your site is found within Google News, you'll see a rank comprised of two figures. The first stands for the position of the overall News block on the SERP, and the second indicates your position within that block.
However, you still need to track your site performance and page load speed and UI, since it's a crucial factor for the Core Web Vitals search algorithm update that will be finally on by May 2021.
When your site does not support AMP pages, consider adding Article structured data to your news. This may help Google understand your headlines and enhance your pages in the Article rich results.
Paid results
Google Ads
Ads from the Google Ads' search network are currently displayed in blocks either above or below the organic search results. These can appear across all kinds of Google results pages, for queries with explicit commercial intent. Paid results may look absolutely similar to the traditional organic results to an untutored eye: the only difference is the small 'Ad' label to the left top corner of the search result. Therefore, the sweetest and the most expensive is #1 spot which will impact CTRs of the rest of the listings.
Quite logically, by starting an Google Ads account and choosing an ad format. The success of your advertising campaign relies on your estimates and settings for your PPC campaign, and, naturally, on the budget you allocate to appear in paid results.
Google Shopping ads
Currently, paid shopping results appear as blocks of product images and links to the right of the organic listings. The block is displayed for queries with strong commercial intent.
Shopping ads may appear as part of the brand knowledge panel and let users choose items without even leaving the search page. The paid results in the Shop now section will include filters, prices, best buy highlights. You can compare prices, read user and critic reviews, and only then decide whether you want to proceed to the site of the shopping platform.
To submit your products to Google Shopping, you'll need a Google account and a Merchant Center account. Here's how to get started with paid search results. If you choose to give it a try, make sure you read this guide first. Google Shopping has some pretty complicated guidelines and policies that may need some digesting, but is usually cheaper than Google Ads.
Google Flights
Google Flights is Google's collaboration with ITA, a project that lets searchers discover flight schedules and rates through Google search. The Flights box includes the names of airlines/travel agencies with links. Clicking through takes you to a Google Flights page, where you can pick a fare and book a flight quickly. Google gets a commission from merchants for these sales. In some cases, you can purchase a ticket without even leaving Google.
There's no sign up form for you to fill out to be listed on Google Flights. Instead, you're encouraged to get in touch with ITA to be considered.
Hotel Ads
As part of branded Knowledge Graph listings for hotels, Google often displays in-card options to book a room with the hotel right from the SERP. How far we've come with the humble result page… — The providers you can book through include both the hotels' official websites and booking companies.
Get started with Google Hotel Ads by choosing an integration partner or contacting Google's team.
Note that from 2016 to 2019 Google operated Google Trips app, which was eventually shut down, however, many of its features (like saving notes and trips) have been incorporated in the Maps and Search features on the Google Travel website. It is an active Travel Advisory which suggests attractions, top sights and events. Flights and hotels are also there.
That's a wrap!
Those are the major types of Google search results and their distinct features. Which of those have you seen bring you the most visits? What are your thoughts on the possible future development of the Google SERPs? As always, I'm looking forward to a great discussion in the comments!
---