Link-Assistant.Com | Posted in category
GuestBox
Internet Marketing
guest post by Brittney Stephenson 
Have you had infographics on your mind, but no budget to hire a graphic designer?
Fortunately, along with the rise in popularity of infographics over the last few years has come a flood of inexpensive online tools that anyone can use to create them. And if you haven't been thinking about incorporating infographics into your content marketing strategy, you definitely need to start.
Why infographics? A HubSpot survey conducted earlier this year found that 62% of companies now publish a blog. There's a huge volume of content being produced on a daily basis, all vying for consumers' attention.  And while there's no denying that whitepapers, eBooks, and blog posts can be great for building industry authority and generating leads, this shouldn't be the only type of content you create.  People love information they can consume quickly and easily, which is why infographics are a perfect choice to change up a text heavy routine.
Need more convincing? Images create a lot more engagement on Facebook compared to text posts, and if they really hit the right mark, infographics can help build links and provide you with a great boost in traffic. The first infographic created for our company's blog is just over a month old, and it's already one of our most popular posts! It's also the most pinned image off of our website (you can see what other people are pinning from your site too by checking out pinterest.com/source/yourwebsite.com).
Here are 5 tools I recommend to get you started building your own infographics.
1. Spreadsheet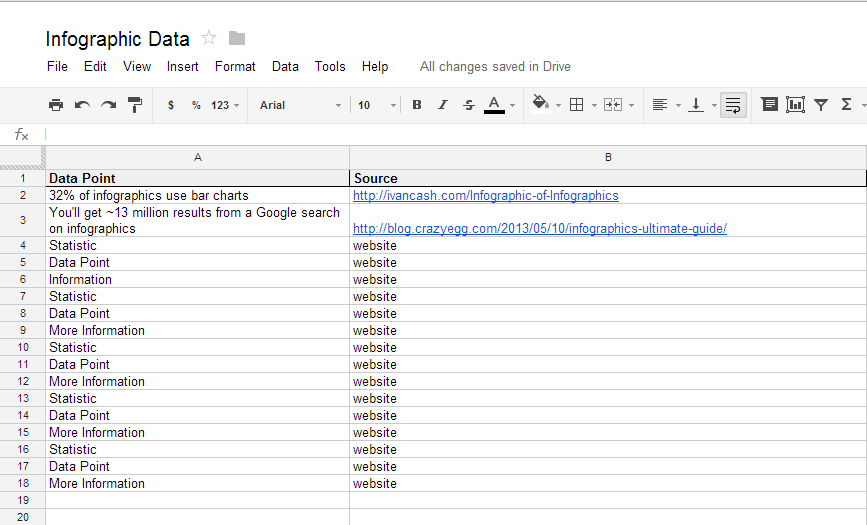 Before jumping into creating your infographic, you're going to need data. Lots of data. If your company has ever done a study or survey, an infographic is a great way to give it new life. But more likely you'll need to sift through a number of outside sources to gather information and insights related to your topic. A method that I've found helpful to organize all of this info is using a basic Excel or Google Docs spreadsheet.
If this seems simple, that's because it is! Having a column for facts and figures along with a column for corresponding website links or report titles allows you to keep track of the sources you're pulling data from. This is critical since including a list of sources at the end of your infographic adds credibility. Creating a spreadsheet is also useful because you'll almost always end up with more data points than you ultimately need. Having all of your information together in one place lets you see what the most interesting or unique points are, and what pieces of information fit together best.
Remember that data is the foundation for your infographic, and if you want to provide real value to your audience don't skimp on this step and rush straight into the design.
2. Pen and Paper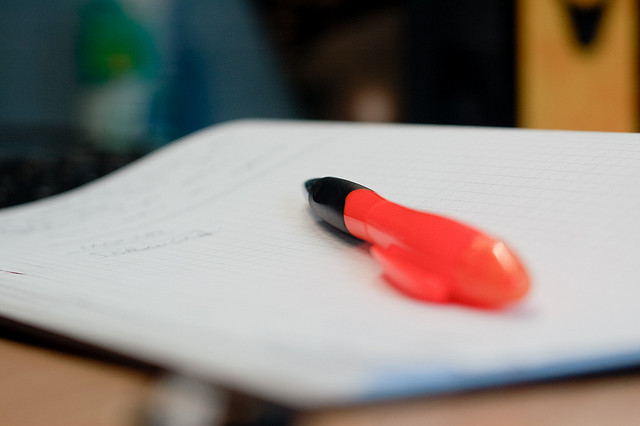 Image credit: Matt Foster
Sometimes it pays to act fact and jump head first into a project.
Believe me when I say that creating an infographic is not one of those times. The first time I tried to make an infographic I had a huge amount of data, but no direction for what I wanted the finished product to look like. Even though I was using a template from an online design tool, it still took way more time than I anticipated, and to meet my deadline I had to abandon my infographic and write a blog post on the topic instead.
That's why it's so important to use a pen and paper, or a whiteboard, to plan out your infographic before you start making it. This doesn't mean that you have to draw every single graph and icon. But what you should do is outline the information you want to include along with the overall flow of your infographic. Infographics tell a story, so think about what you want people to take away from yours. Drafting your infographic also gives you the chance to get feedback from other people and make changes that would be difficult or time consuming to do later on. Although this may feel like an unnecessary extra step, it will definitely save you time in the end.
 3. Infogr.am (Best Free Design Tool)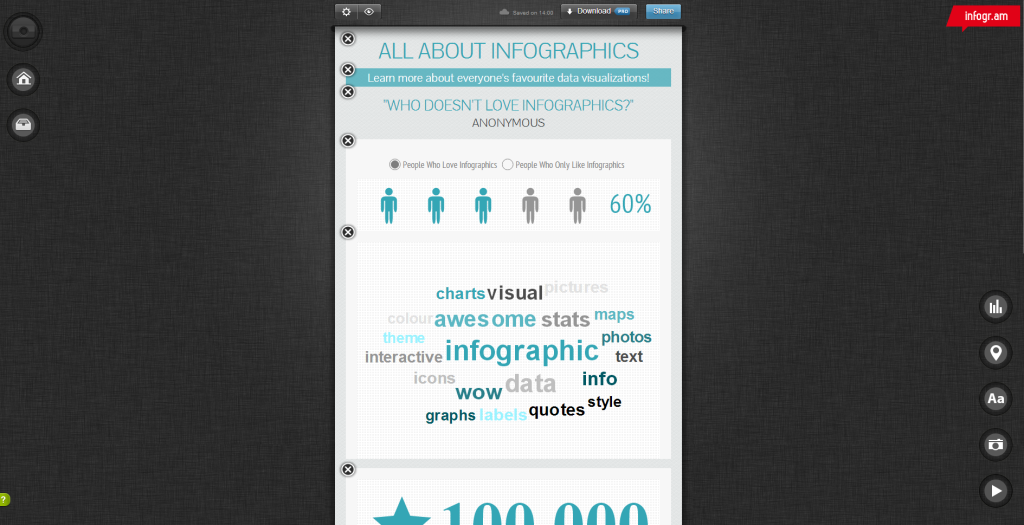 I've tried out a lot of free infographic design tools, and this one really stands out! While Infogr.am currently only has 6 templates, what they lack in design options they make up for with a huge variety of media and interactive charts you can insert into your infographics. There are 31 different graphs to choose from, along with maps, text blocks, videos, and the option to upload your own pictures. Another great feature is the ability to load data into your charts directly from Excel files. It's also really easy to change your layout by dragging and dropping boxes into place.
All of Infogr.am's designs are simple and attractive, and automatically colour code any charts or text you add to match (making your job a lot easier). The only downside of this is that it doesn't leave much room to customize the look of your infographic.
The final product is published to Infogr.am's website under your user profile, and you'll need to upgrade to a Pro account ($18 a month, on sale now for $9) if you want the ability to download your infographics as a PDF or PNG file. A Pro account also gives you access to 4 more templates.  If you're using the free version, when you complete an infographic you'll get an embed code that allows you to add it to blog posts, as well as the option to share it on social media. And if you're lucky, it may even end up on Infogr.am's featured list.
3. Piktochart (Best Paid Design Tool)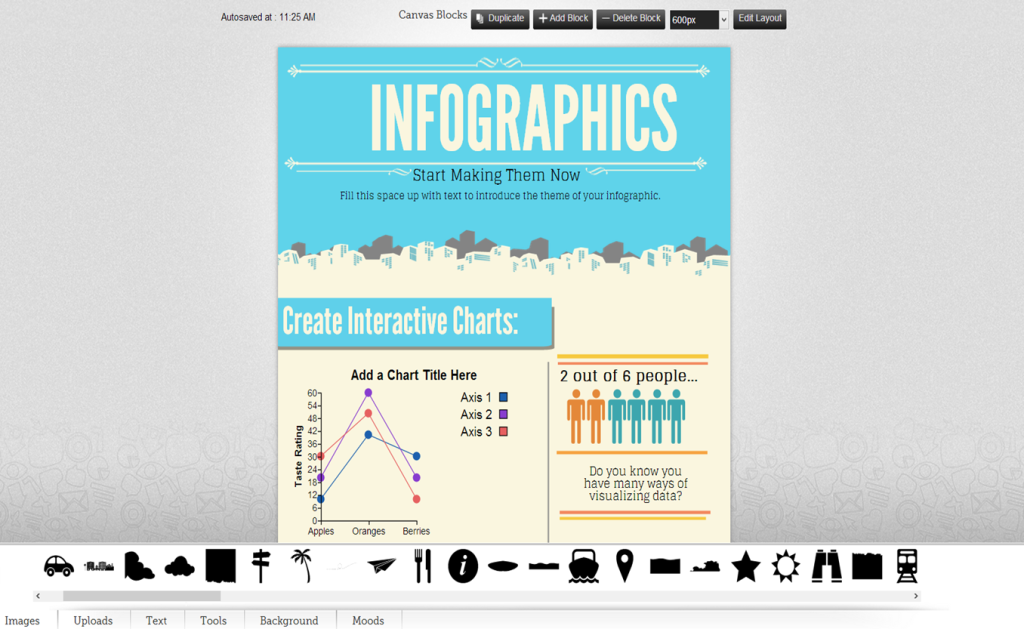 Piktochart is my top choice for an inexpensive infographic design tool, and it's the tool that I personally use most often. It's decidedly different from Infogr.am since it gives you complete control over every aspect of your design. You can select your background colour, font, shapes, icons, and graphs, as well as change the size and angle of everything you place on the page.
The free version lets you choose from 7 different themes and a number of icons and images, along with the ability to upload your own pictures. The paid version ($29 monthly, or $169 annually) gives you access to even more graphics and 108 different themes, with plans to add more every month! Both free and paid accounts let you export your infographic as a PNG or JPG file, and share it using an embed code.
Piktochart's themes are so customizable that you should really use them as more of a jumping off point, and try to personalize your infographics as much as possible. You don't want it to look exactly like everyone else's, do you? (Although I admit that in a pinch, it's useful to have a pre-made design you can just drop your data into.) Definitely take advantage of the option to add hyperlinks to text and images, such as adding social media icons that link directly to your brand's fan pages.
The only downside is that Piktochart can be a bit finicky, and doesn't come with a handy layers toolbar like Photoshop has. You'll have a much easier time if you keep your design simple - which is a great rule of thumb for infographics no matter which tool you're using.
With TimelineJS you can create interactive timelines that include photos, videos, tweets, maps, quotes, and more. And while timelines might not be what first comes to mind when you think of infographics, they're another unique way to visualize and share data. If you're struggling to think of marketing uses for timelines, consider making one for the history of your company, your industry, or another topic related to your business. You could even use this tool to create interactive client case studies.
Making a timeline is a pretty simple process as long as all the media you want to use is already online. TimelineJS provides a Google Docs spreadsheet for you to fill in with your dates, headlines, text, media, and links. Once that's done, you just need to publish your spreadsheet and then copy and paste the URL onto the site to generate an embed code. This allows you to easily share your timeline on your site or in a blog post.
Although TimelineJS provides a quick way to create a unique piece of visual content, no tool is entirely perfect. There aren't many opportunities to customize the look of your timeline aside from changing the font type. This means you'll have the same white background and black text as everyone else, unless you have experience with CSS files or you're willing to put in some extra effort. If so, take a look at this tutorial which walks you through the technical details of personalizing your timeline.
Once you've  decided on the right tools and created your own visual and valuable piece of content, check out these 4 great tips on how to build links using infographics.
Is there an infographic tool you love that I've left off the list? Share it in the comments below!
About the Author: Brittney Stephenson is a Marketing Assistant at Powered by Search, an inbound marketing agency based in Toronto. She has a passion for marketing strategy and all things digital. Feel free to connect with Brittney on Google+.
back to SEO blog