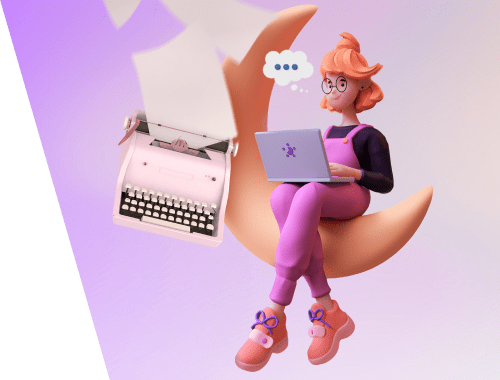 How to Assign a Task to a Freelance SEO Copywriter

Ordering a copy from a freelance copywriter is a common practice all over the world. This method offers much flexibility to both participants. Businesses save on hiring an in-house writer – writers accept orders from various businesses and get more money. But there's one very important thing for you to be careful about — it's a task or a statement of work. As freelance writers are unaware of your project details, you should prepare a super-detailed task to get a really good and high-quality copy.
The truth is that not only freelance copywriters need a detailed task — your in-house writers need it, too. No matter how long they have been working for you, they cannot guess your vision of the future text.
So, without further ado, let's see how to make a dream task for your copywriters.
1. Define the type of text
Always define the type of text you need, as language means may vary greatly depending on the text type.
You may need a text that's going to be one of the following:
Press release
Blog post
Website page text
Social media post
Mail copy
Ads text
Landing page
etc.
2. Define the aim of the text
Not every marketing copy is aimed at selling something. Your text may be as well focusing on forming the loyalty of your audience or proving your expertise. So it's crucial to formulate the aim of the text clearly so that copywriters (especially freelance workers) get a better understanding of what language means and calls to action they need to use.
In addition to the above-mentioned aims, you may need to promote a product or service or lure the attention of the press to some great business event. You may also need any kind of educational content to let people use your product easier or persuade them to buy it. It may be an advertising text, or some social media post to increase engagement or turn visitors into subscribers, etc.
3. Describe the audience that will read the text
Specify the target audience (TA) as detailed as possible. Provide your writers with the information about TA's occupation, age, interests, earnings, device and OS preferences, country, etc.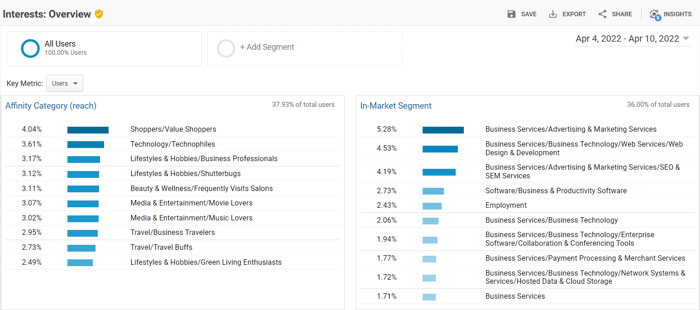 Don't forget to mention if the text's publication date falls on any holiday or special occasion.
If you have several buyer personas, mention if the piece of content you order has to target all of them. Say, your business is a gym, and your TA includes both actual visitors and their friends or partners who buy passes as presents. Likewise, if your content has to target a single group, mention this, too.
4. Describe the style of your future text
Different business needs require different styles of content. For example, you may need a text that is:
Scientific
Classical
Casual
Journalistic
Official
Humorous
Mixed
If you have a brand style guide, share it with a writer. This document includes all the instructions about the tone of voice, usage of jokes, slang, and so on. It would be great if you can show a writer a piece of text of the preferred style so that they can have a clear example of what you need.
5. Mention the publication platform
A publication platform may also influence what content will look like. Let's take SEO PowerSuite, for example. Our blog posts are different from the SEO guest posting we do on external resources, and different resources may also require different styles and linguistic means.
The language of PDF instructions on how to use a product is different from the language of a post for social media. A marketing newsletter is different from an official business offer. If you're going to place your piece of content on several resources, mention all of them if possible.
6. State approximate word count
Inform a writer of how many words or characters your content needs. Sometimes it's the platform that sets the limits, or it may be an industry trend to publish long or short pieces of content.
Don't think that freelance writers are aware of the exact content length standards for different platforms, or that they will be willing to google them. If you need a post for Twitter, don't just say "I need a post for Twitter" and hope that a writer knows how long it should be. Say "I need a post of 280 characters".
7. Give a list of keywords
Any content you publish has to bring maximum SEO value. So even if you order a text for marketing needs only, you should have a look at what keywords it has to rank for.
One of the easiest ways to check relevant keywords is Rank Tracker. For starters, choose any SEO keyword research method you like, and enter a couple of keywords that reflect the key idea of your content. Say, if you write about meat, then you can use the words steak, filet mignon, etc.

Download Rank Tracker
Look through the ideas the tool has generated for you. Chances are that you'll find far more popular keyword ideas for your topic.
Finding new keywords is fine, but how do you use them in your content? I suggest using WebSite Auditor to see further content advice. Go to Page Audit > Content Editor to see detailed instructions on how to make your content rank for a given keyword.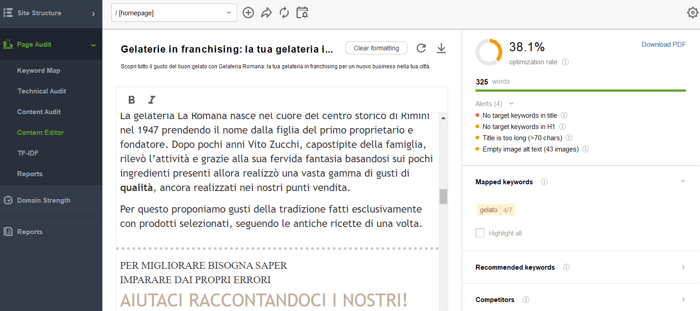 Download WebSite Auditor
This module analyses your top SERP competitors and offers content ideas based on these findings. Pay attention to the Mapped keywords and Recommended keywords sections — here you'll find more keyword ideas to enrich your content.
Export these recommendations as a PDF file and share them with your writer as a part of your task.
In addition to content instructions, send your writer the samples of your competitors' relevant content — WebSite Auditor has collected the top-ranking articles for your topic, too: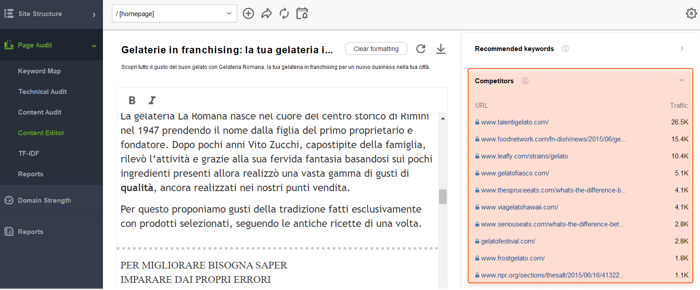 Download WebSite Auditor
This will let a copywriter better understand the context of your niche, learn more facts on the matter, and understand how to make your content more useful compared to your competitors.
9. Describe your idea of the title
Note! This is not the meta title. In this part, I'm talking about the title of your post. Most often, it is tagged H1 in the page's HTML.
If the content you order is meant to have a title, then share your ideas of what it should look like.
First, point out the keywords you want to see in the title. If you need some guidance and hints, go to the Content Audit section of WebSite Auditor. Then visit the Body > Keywords in H1 to see how your competitors use keywords in their titles. So you writers can use these best practices for inspiration.

Download WebSite Auditor
Second, navigate the writer on the style of the title. Tell whether you need a neutral or funny one, one in a journalistic manner, etc.
10. Provide links and anchor texts
If you want to link to any source in your content, then list these links in the task for copywriters. In addition, mention anchor texts for each link, and, if possible, the context these links should be used in.
Well, some copywriters may be aware of the basic SEO practices, as well as of the fact that links to credible sources are important. Still, it will not be wise of you to expect freelance writers to know every credible source in your industry. So, be ready to prepare a list of credible links in advance.
11. Mention formatting
If you have any formatting guidelines you use in your content, share them with a writer. This will help the author of your future text see how to format lists, quotes, and subheadings, where to use italics or bolds, etc. Otherwise, you will have to format the text on your own to correct everything that does not meet your guidelines.
12. Provide guidelines for creating a title and meta description
If you want to save some time on SEO work later on, provide your writer with the proper instructions on how to write a title and meta description.
First, a title and meta description have their length recommendations. These are:
~60 characters for a title;
~160 characters for a meta description.
Second, a title and meta description have to contain target keywords a page should rank for. As for the title, you can check your competitors' examples in the WebSite Auditor's Content Audit section:

Download WebSite Auditor
As for meta descriptions, WebSite Auditor will show you SERP benchmarks as you start editing your description in the Content Editor section:
Download WebSite Auditor
Copy these samples and send them to your writer as a source of inspiration.
13. Give information about your company
If the content you ask for has to feature any details about your company or its achievements, then provide a writer with a credible and relevant source of information. Collect the data in one document and keep it updated.
Also, give a link to your website, but don't make it the only source of information, because a freelance writer may not be aware of what information on your website is actually the one you treat as your competitive advantage. Moreover, the information may not be up to date.
A real-life example: a company ordered some content and sent their website as a source of information. When the content was sent for the final approval, it turned out that the information in the website's Our Partners section was outdated, so the references the writer used were not relevant.
Still, if you use your website as the actual business profile of your company, always keep the data fresh, and state the specific pages where a writer can take information for citations.
14. Set the deadlines
If you need the content done by a certain date, you have to inform your writer about this. Keep the term reasonable and consider the time needed for final edits. In most cases, it is not a problem, as most freelance copywriters state how many iterations of edits are included in the order, and how many days this is going to take.
Be reasonable and adequate — if you need, say, a 30-page guideline, don't expect this text to be done within a two-day deadline.
15. Be precise and avoid general phrases
Any personal thoughts on the future content are highly appreciated, as they let the writer better understand your idea and see what you will like. But using words such as beautiful, interesting, good, etc. will hardly be useful. Just because you and the writer have different opinions on what beautiful and interesting is. These general words may only be helpful if you are preparing a task for your in-house copywriter who knows your company and more or less understands what you mean by beautiful and interesting.
If you have some text samples that you like and want to see something of the kind for your piece of content, share the examples with your writer. And if you have some sources whose writing style you strongly dislike, send these examples, too.
One more real-life example: a freelance copywriter got an order and wrote a copy inspired by the style of magazine N, which was kind of a benchmark of a very good text for that writer. Still, the client sent the copy back with tons of edits and the comment "it's awful, as bad as magazine N".
To sum it up
As you can see, setting up a good task (or a statement of work) is also a kind of art that needs practice. So, if you do care about your business and the quality of your content, then take your time to fill your task with every detail you have seen in this guide. By the way, do you turn to freelance writers for content? Are you happy with the quality? Share in the comments.
Article stats:
| | |
| --- | --- |
| Linking websites | N/A |
| Backlinks | N/A |
| InLink Rank | N/A |